An alkaline diet, as the name suggests, is an eating plan that rests heavily on alkaline foods while excluding the acidic ones.
The pH scale ranges from 0–14, with zero being the most acidic and 14 being the most alkaline. Seven is neutral on the pH scale, water is considered neutral. 
By consuming foods that are high on the pH scale (alkaline), you can raise the pH of your body. An alkaline environment is inhospitable to the growth of various cancers and other ailments, thus potentially safeguarding your well-being.
Rules of an Alkaline Diet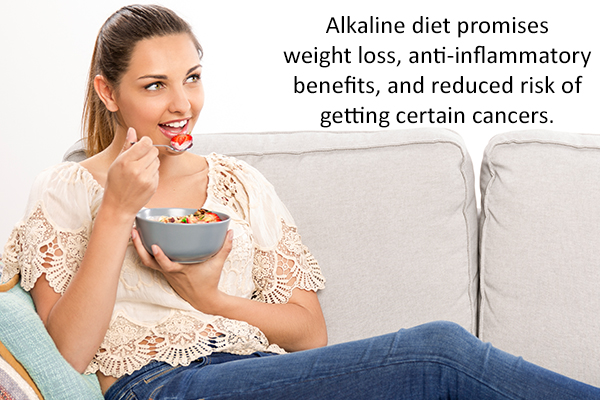 The alkaline diet has become a fad diet brought into popularity by many celebrities, including Gwyneth Paltrow and Kate Hudson, who swear by it. It promises weight loss, anti-inflammatory benefits, and reduced risk of getting certain cancers, as do many fad diets.
The concept behind this diet is straying away from food that causes additional acid in the body, such as animal products, many grains, processed foods, and refined sugars.
Animal products and grains are mostly acidic in nature, so people usually adopt vegetarianism or veganism to achieve their alkaline goals. Although several raw foods can be included in the alkaline diet, fruits, nuts, and vegetables are generally the top picks.
Does the Entire Body Have the Same pH?
The pH in your body varies depending on the organ or body system.
For example, human blood has a pH of about 7.35–7.45, while the stomach has a pH of 3.5. (1) The stomach has to be much more acidic than the rest of the body because the acid helps break down food.
The Effect of Alkaline Diet on Your Blood pH
A common misunderstanding is that an alkaline diet can help change the pH of your blood, which is incorrect. An alkaline diet can only change the pH in the urine, blood pH is tightly regulated in the body because it is vital to staying alive.
Toxins are excreted through the urine for the body to maintain homeostasis. The body tightly regulates its pH, especially that of the blood by excreting additional acid from foods such as red meat. 
Health Benefits Associated With an Alkaline Diet
Some of the suggested health benefits of an alkaline diet are weight loss, improved immunity, better cardiovascular health, and lowered risk of nutrient deficiencies. Two other contested advantages of this diet are as follows:
1. Reduces the risk of cancer
There is no solid evidence to support this benefit. But some medical professionals claim that cancer thrives in an acidic environment, and therefore, an alkaline diet may help with this.
However, other studies have shown that cancer can still grow in an alkaline environment, suggesting that there is no strong evidence to support either way.
2. Lowers inflammation
A reduction in inflammation appears to be another benefit of this diet. But some anti-inflammatory side effects may come as a result of the lifestyle.
Gluten (found in many processed foods) and dairy are known to cause inflammation and discomfort in the body. The alkaline diet removes these items from the diet, so you may feel some positive side effects.
Fruits and vegetables are loaded with antioxidants, which are also known to reduce inflammation in the body. (2)
Important Points to Remember Regarding an Alkaline diet
Here are some key guidelines when planning an alkaline diet:
When preparing meals, focus on whole foods, such as fruits, vegetables, legumes, nuts, and seeds.
Be sure to eat a variety of foods that can supply you with all the nutrients that your body needs to thrive.
Always consult your health care professional before starting a new diet.
Best Alkaline Foods for Breakfast
Most breakfast items tend to be animal products and grains, such as yogurt, eggs, and toast, all of which figure low on the pH scale and are acidic.
A great choice for an alkaline breakfast would be a banana and peanut butter. Other options could include a dairy-free yogurt paired with a piece of fruit, or a smoothie packed with vegetables, fruits, seeds, and nut milk!
Is Coffee Acidic or Alkaline?
Most coffees are acidic, usually sitting around a pH of 5. Some products claim to be alkaline coffee, but I would strongly suggest reading the label before purchasing because the genetic makeup of the bean and the process of brewing inadvertently create an acidic beverage.
Foods to Avoid When on an Alkaline Diet
The following foods should be avoided when following an alkaline diet as they are low on the pH scale:
Animal products, which include eggs, yogurt, meat, milk, and poultry
Refined sugars
Processed foods
Grains
The Links Between Alkaline Diet and Weight Loss
The metabolic process of the alkaline diet does not cause weight loss. But weight may be lost as this diet emphasizes whole foods, such as fruits, vegetables, nuts, seeds, and legumes.
To lose weight, the body needs to be in a caloric deficit, which means the body has to burn more calories than are being ingested. But the overall healthy function of the body relies on a wide variety of nutrient-dense foods to nourish it. Therefore, focusing on whole foods, which tend to be more nutrient-dense and less calorically dense, will result in weight loss.
One prime example of this is an avocado: not only is it loaded with omega-3s and other healthy fats, but it is also relatively low in calories, with one avocado containing around 250 calories.
As far as fruits and vegetables go, this is much higher compared to a cup of blueberries that will run around 50 calories a cup. Blueberries would be considered nutrient-dense but not calorically dense. (3)
Overall, if you would like to lose weight, you need to be in a caloric deficit, but for overall wellness, you need to fill your body with a wide variety of whole foods.
Role of Alkaline Diet in Heart Health
Although there is no strong evidence to support that the alkaline diet improves heart health, the whole-food choices may have a positive effect on your blood levels.
For example, since starting the alkaline diet, your cholesterol level drops. You attribute it to being in an "alkaline mode." But what is really occurring is you have reduced your consumption of animal products, which contain cholesterol.
Side Effects of Following an Alkaline Diet
From my research, the alkaline diet has no bad side effects because it is primarily plant-based. (4) Unless you have an allergy or aversion to any of the alkaline foods, it is considered relatively safe.
People with gastrointestinal reflux disease (GERD) may experience symptomatic relief through this diet, which excludes highly acidic foods such as chocolate, caffeine, juices, and sauces that usually aggravate their condition.
To clarify, an alkaline diet will not cure GERD but may help reduce the discomfort caused by it. 
Are There Any Medical Conditions That Can Worsen Due to an Alkaline Diet?
The diet focuses on whole foods, such as fruits, vegetables, legumes, nuts, and seeds. But there seems to be no data to support that an alkaline diet can aggravate certain medical conditions.
However, you can never be too careful and must always speak to a medical professional before starting any new diet.
Final Word
Alkaline diets are replete with nutrients, including potassium, magnesium, and bicarbonate that are mainly derived from fruits and vegetables, while being low in calories.
This dual advantage not only helps you maintain a healthy weight but also can potentially lower the risk of many other ailments, such as osteoporosis, cardiovascular disease, stroke, hypertension, cancer, and other chronic diseases.
Eating a variety of alkaline foods can make your internal environment less acidic, which is often conducive to biological and cognitive function.
This eating plan is essentially plant-based and is therefore unlikely to cause any adverse health effects, but it's best to consult your doctor before embarking on such a major dietary overhaul.
Was this article helpful?