Razor burns refer to irritation, redness, or rashes in the skin that develop due to improper shaving. The symptoms of a razor burn may appear after a few minutes of shaving as the blade creates friction on the hair and skin.
A razor burn can affect both genders and can develop on any shaved body part, including the legs and hands. However, it is more common in sensitive areas such as the underarms, pubic area, and face or in people with sensitive skin in general.
The discomfort associated with razor burns can last for a few hours to days, depending on the severity, until the skin heals completely.
Causes of Razor Burns
You may develop razor burns due to various reasons, including: (1)
Shaving dry, unmoisturized skin
Shaving in the wrong direction
Not using shaving creams or gels
Using an old razor with dull blades
Using clogged razors
Shaving too quickly or with force
Symptoms of Razor Burns
Razor burns can develop on any part of the body and present one or more of the following symptoms:
In addition, the friction between the razor blades and your skin can cause skin dryness and minute cracks on the skin, increasing the chances of infection.
Natural Ways to Treat Razor Burns
Razor burns can be quite discomforting and irritating. Fortunately, several at-home methods can help relieve the symptoms associated with razor burns.
1. Apply natural oils
The topical application of natural oils such as almond oil, coconut oil, and avocado oil can help manage the burning sensation, itchiness, tenderness, and redness associated with razor burns.
These oils also provide deep hydration to the skin and boost skin healing, owing to their anti-inflammatory properties.
How to use:
Simply massage the affected area with any of the aforementioned natural oils for a few minutes two times a day until the symptoms subside.
2. Dab some astringent liquids
The use of astringent liquids is a common, popular remedy for razor burns. These liquids not only help lower the inflammation caused by shaving but also improve other symptoms such as irritation and redness.
The most commonly used astringent liquids for razor burns include tea tree oil, apple cider vinegar, black brewed tea, and witch hazel.
How to use:
Soak a cotton pad or wet your clean hands with the astringent of your choice.
Apply it to the affected area directly and allow your skin to absorb the liquid completely.
Rinse the area with plain water.
3. Apply a cold compress
Applying a cold compress to your razor burns can reduce the swelling, itching, and discomfort, soothing your skin. The use of an ice pack immediately after shaving also helps prevent the formation of bumps and burns.
How to use:
Place an ice pack or a few ice cubes wrapped in a clean washcloth on your skin
Gently glide it over the affected area.
Repeat this remedy a few times a day.
Caution: Make sure to avoid directly placing ice on skin or leaving the ice pack for too long as it can lead to frostbite.
4. Apply colloidal oatmeal
Colloidal oatmeal is an excellent moisturizing and humectant agent that helps your skin stay moisturized for longer, (3) therefore improving razor burns. The use of colloidal oatmeal helps soothe and smoothen your skin to relieve discomfort.
How to use:
Take a colloidal oatmeal bath by adding oatmeal powder into your bathwater and soaking your body in it for a few minutes.
For your face, topical creams and masks containing colloidal oatmeal are widely available. Use them as directed on the label.
5. Cleanse with aloe vera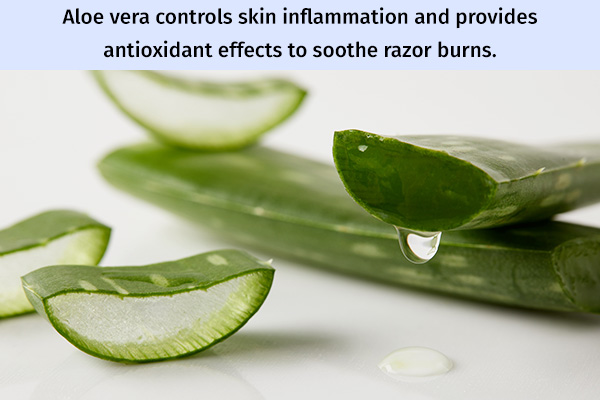 Aloe vera is popular for its skin-healing and skin-soothing properties. It also contains beneficial vitamins, nutrients, and enzymes that control skin inflammation and provide antioxidant effects to soothe razor burns.
How to use:
Apply fresh aloe vera gel directly to the affected skin.
An aloe vera-based cleanser is highly recommended for your face to cleanse and soothe your skin at the same time.
6. Apply a cucumber and milk pack
The topical use of cucumber has been shown to impart a cooling effect to the skin, helping soothe razor burns. In addition to this, cucumbers contain vitamin C, which boosts skin restoration.
Milk contributes to the skin-soothing properties of this skin pack, owing to its fat and protein content. It also moisturizes the skin. Therefore, the combination of milk and cucumber can help hydrate and soothe your skin, aiding in the treatment of razor burns.
How to use:
Peel a cucumber and blend it with ¼ cup of milk to form a smooth puree.
Cool the puree for about 10 minutes in the refrigerator, and apply it to the affected area.
Wash the area after 10 minutes and pat it dry.
7. Use OTC hydrocortisone creams
You can also use over-the-counter (OTC) hydrocortisone creams that improve the swelling, redness, and burning sensation associated with razor burns. (4)
How to use:
Apply the cream to the affected area as indicated in the label instructions. However, if the cream doesn't show results in a few days, make sure to consult your doctor for proper treatment.
8. Use aspirin
Aspirin is another OTC medication that can be used to treat razor burns. It works by providing anti-inflammatory effects, helping control the pain, redness, and swelling associated with razor burns.
How to use:
Grind a few aspirin tablets and mix them with water to form a thick paste. If you have dry skin, you can use olive oil instead of water.
Apply the paste to the affected area and wash it once dry.
Repeat this remedy two times a day until you see improvement.
Caution: Use this remedy only if you are not allergic to aspirin.
How to Prevent Razor Burns
Razor burns can cause a great deal of discomfort until it heals. While there are treatments available for razor burns, they may take a few days to heal completely. Therefore, it is best to take measures to prevent razor burns in the first place.
The following tips may be helpful in preventing razor burns:
1. Cleanse, exfoliate, and hydrate skin in the shower before shaving
Exfoliating your skin removes the dead skin cells and dirt from the skin surface, enabling the ingrown hair to come up to the surface. Doing so ensures a cleaner, smoother shave and prevents clogging of the razor blades, helping avoid razor burns.
Simply cleanse your skin using a gentle exfoliator while showering to prepare your skin for shaving. Since shaving dry skin can increase the chances of razor burns, it is suggested to soak the skin in warm water for 3–5 minutes before shaving. You can do so while taking a shower or bath.
2. Use a special razor for sensitive skin
The quality and type of your razor largely affect your shaving experience. It is advised to use a razor with three or more blades as it can provide a closer shave in fewer strokes, reducing the chances of skin irritation.
In addition, the razor blades should be clean and sharp to prevent razor burns. Electric razors work in a circular motion and cause the hair to stand, removing more hair in a single motion. This eliminates the need for multiple passes and greatly reduces the chances of razor burns. (5)
3. Use a lubricant-rich shaving gel
It is highly essential to apply shaving creams, gels, or moisturizing emollients while shaving your skin to prevent razor burns. These products form a protective layer on the skin that helps seal in moisture in the skin and prevents inflammation.
Moreover, hydrating the hair can help soften and swell it, reducing friction and irritation and enabling the razor to glide over your skin smoothly.
4. Follow a correct shaving technique
Shaving in different directions can increase the risk of skin irritation, ingrown hairs, and razor burns. To avoid these problems, shave in one direction, that is, in the direction opposite the hair growth. (6)
5. Shave gently or use a flexible pivoting razor
Applying excessive pressure while shaving can cause friction and razor burns. Therefore, shave with low pressure in smooth movements. Also, try shaving with short, gentle strokes instead of one single long stroke.
6. Rinse the razor repetitively
Unclean razors can increase the risk of razor burns. Thus, it is recommended to rinse your razor after every 2–3 strokes to dislodge any debris between the blades. Avoid rubbing or tapping the blades on a hard surface as it can damage the blades and the polymer coating on them.
7. Use an aftershave balm
Similar to hydrating your skin before shaving, it is also essential to moisturize your skin after shaving to keep your skin smooth and soft and thereby lower the chances of developing razor burns.
Make sure to use light moisturizers that hydrate your skin without blocking the skin pores. Avoid moisturizers containing artificial fragrances or chemicals. You can also use an aftershave product to help heal and protect your skin post shaving. (7)
8. Dispose of old blades
With multiple uses, it is common for razor blades to get blunt, damaged, or even rusty. Using an old blade not only increases the risk of razor burns but also makes your skin prone to cuts and therefore bacterial infections.
Therefore, it is important to change your razor blades if you notice any rust or dullness. You can also change your blades according to the time recommended on your pack of razor blades.
Razor Burns vs. Razor Bumps: What's the Difference?
Razor burns are characterized by the formation of a rash on the skin surface, often accompanied by itchiness, redness, and tenderness.
Razor bumps, on the other hand, refer to ingrown hair that forms due to the curling of cut hair back into the skin. This causes the hair to grow beneath the skin surface and appear as pimple-like bumps externally. Since razor burns and razor bumps are different, their treatment also differs.
When to See a Doctor
Razor burns generally can be treated at home and may even improve on their own with time. However, if the condition persists despite treatment, it is best to consult your doctor.
In addition, contact your doctor if:
The rash persists for weeks.
The discomfort associated with the razor burn interrupts your sleep or other daily activities.
You notice signs of infection such as blisters or pus.
Final Word
Razor burns are a common problem that produces red, irritating rashes on the skin. They generally occur due to a lack of skin care before and after shaving, using dull blades, or an improper shaving technique.
It is vital to improve your shaving routine to prevent razor burns. In general, make sure to use a clean, sharp razor, exfoliate your skin, and use a shaving gel or cream every time you shave.
You can treat your razor burns easily with a few at-home treatments that soothe your skin. Allow your skin to heal before you shave it again. Consult your doctor if the symptoms do not subside after a week of treatment.
Was this article helpful?