Sores on the scalp are not a common problem, and they can occur as a symptom of various scalp conditions. These sores present as bumps on the head and are often difficult to see.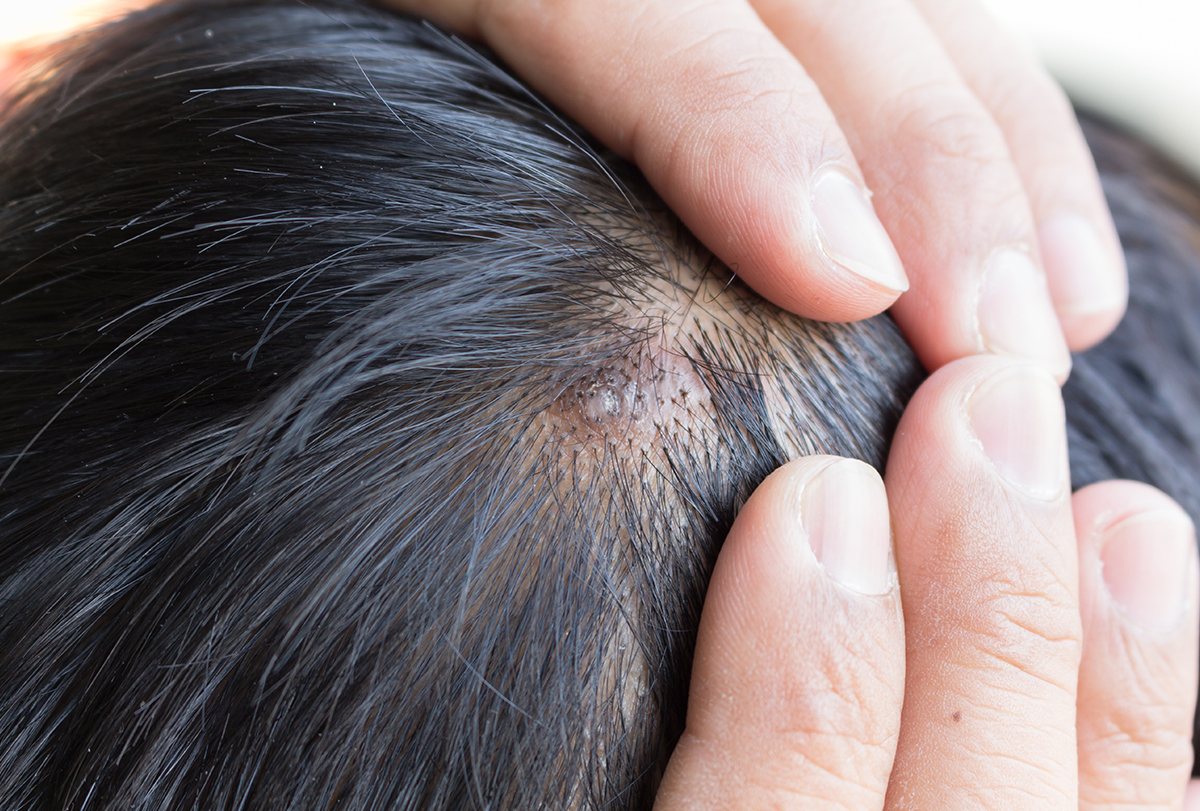 You may only realize that you have scalp sores when you brush or comb your hair and experience pain.
Scalp sores can cause itching as well. In some cases, they may be visible and become a cosmetic issue. Moreover, when not managed timely, scalp sores can cause seborrheic dermatitis and hair loss.
This article discusses the various medical treatments and self-care measures that you can take to resolve the problem.
Causes of Scalp Sores
Scalp sores can develop as a result of various conditions, including:
Acne cysts
Dermatitis
Folliculitis
Xerosis
Scalp ringworm
Psoriasis
Viral infections such as shingles
Impetigo
Pemphigus
Skin cancer
Environmental pollution
Treatment for Scalp Sores
The common treatment modalities for scalp sores include:
Acne medications: Depending on the type of the lesions, the doctor may suggest benzoyl peroxide, retinoids, salicylic acid, or resorcinol. If the condition is on the severe side, these medications may be coupled with oral antibiotics such as doxycycline.
Steroid lotions: Commonly used for the treatment of seborrheic dermatitis and psoriasis, steroid and corticosteroid lotions help control inflammation and improve erythema and burning symptoms.
Phototherapy: In severe cases of seborrheic dermatitis, the doctor may suggest phototherapy, which involves the use of ultraviolet light for treatment. (1)
Antibiotics: Topical or oral antibiotics such as retapamulin and mupirocin may be given for the treatment of impetigo.
Antifungal medications: Used in the treatment of scalp ringworm, oral antifungal medications include terbinafine and griseofulvin.
Treatment for lice: Also known as pediculosis capitis, scalp lice can be treated with malathion, benzyl alcohol, pyrethroids, ivermectin, lindane, permethrin, and trimethoprim-sulfamethoxazole lotions.
Treatment for scalp folliculitis: Scalp folliculitis can occur from infections by fungi, bacteria, or mites, each type requiring different medical approaches. Treatments may include the use of antihistamines, steroid ointments, antibiotics, and isotretinoin. Scalp sores due to cancer and autoimmune disorders can be improved by targeting the underlying cause through chemotherapy and immune-suppressive drugs, respectively.
Products for Scalp Care
While medications are needed to treat most cases of scalp sores, there are hair care products that you can use to clean your scalp and manage the symptoms. These products help control itching, inflammation, dryness, and infections.
Common products beneficial for scalp sores include:
1. Antifungal shampoos or creams
It is recommended to buy antifungal shampoos or creams that contain one or more of the following ingredients:
2. Antibacterial shampoos
Look for the following ingredients in your antibacterial shampoos for best results:
Tea tree essential oil (5)
Lemon essential oil
Lemongrass essential oil (6)
Manuka honey
Neem
Aloe vera
Allium extracts (garlic and onion)
Beta hydroxy acids
3. Antipsoriatic shampoos and gels
Your antipsoriatic shampoo or gel must have the following beneficial ingredients:
Salicylic acid
Selenium sulfide
Benzalkonium chloride
Coal tar (in low percentage)
Zinc complexes
Note: If you have light hair, it is best to consult your hairstylist or dermatologist on the use of products containing coal tar as it can cause hair discoloration.
4. Oils and serums
It is essential to keep your scalp nourished and moisturized to improve and prevent scalp sores. Go for scalp oils and serums that contain the following ingredients:
5. Exfoliators
You have a high chance of developing scalp sores if your scalp is not clean and has scalp buildup, which refers to the accumulation of dirt, dead skin cells, and chemicals on the scalp and inside the hair follicles.
Scalp mists and sprays can help cleanse your scalp, and the following ingredients are highly useful in doing so:
Plantain enzymes
African black soap
Lemon extract
Willow bark extract
Neem extract
Alpha/beta hydroxy acids
Self-Care Measures
In addition to medical treatment, some self-care measures must be incorporated into your daily routine to facilitate recovery and prevent complications.
Here's what you can do:
1. Maintain proper scalp hygiene
Make sure to shampoo your scalp and hair 2–3 times a week and exfoliate it once a week to prevent scalp buildup and infections. Rinse your hair after a workout if excessive sweat has accumulated on the scalp.
2. Comb your hair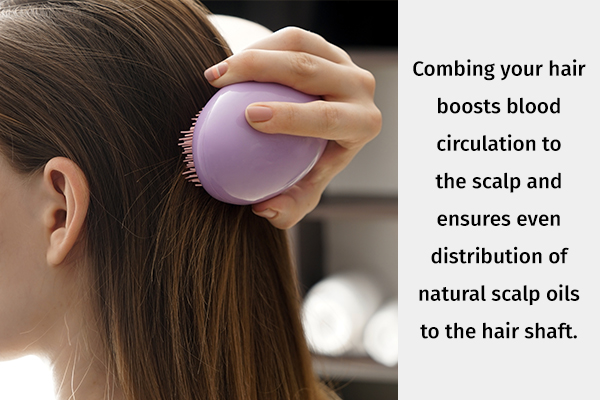 Combing your hair boosts blood circulation to the scalp and ensures even distribution of natural scalp oils to the hair shaft.
3. Avoid harsh hair products
Scalp sores often develop due to the use of products that contain irritant chemicals that can cause scalp dryness and also increase the risk of infections. It is best to steer clear of products containing parabens, sulfates, formaldehydes, and alcohol extracts.
4. Try wet combing
Spray your hair with water and conditioner, and then comb it using a fine-toothed comb to remove lice from your hair more effectively.
5. Use a warm compress
The application of a warm compress soothes the scalp, decreases pain, and boosts blood flow to the scalp. Make a warm compress by soaking a clean towel in warm water. Wring out the excess water, and wrap your head with the towel for 10–15 minutes.
6. Do not touch or scratch your sores
It is common to feel the urge to scratch your sores. However, scratching only increases the risk of infection, scars, and flare-ups. Therefore, avoid touching, scratching, or picking your sores.
7. Avoid sharing personal items
Scalp sores commonly result from an infection. Thus, avoid sharing personal items such as shower caps, combs, hats, towels, and brushes with others to prevent the spread of infection. You can clean your hair tools with bleach or 2% Lysol if you suspect you have been infected.
8. Wash infected clothing
Similar to toiletries, the infection from your scalp may transfer from towels, clothing, washcloths, and sheets. Wash all your bedding and clothing with hot water to get rid of the infection-causing microbes.
9. Refrain from going to your hairstylist
Avoid salon appointments until your sores have healed not only to prevent the spread of infection but also to avoid pain and irritation.
10. Improve your diet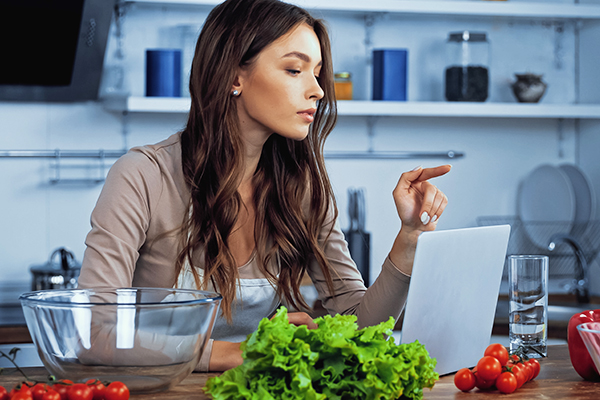 Consume foods rich in antioxidants and omega-3 fatty acids, which include fresh fruits and vegetables, fresh fruit juices, fish, chia seeds, flaxseeds, and nuts, to control inflammation. (8) Zinc-based foods can also help manage acne vulgaris. (9)
Limit dairy products, sugary foods, red meats, refined carbohydrates, soy products, peanut products, and high-glycemic foods in your diet. Drink plenty of water throughout the day to stay hydrated and to flush toxins out of the body.
11. Use a humidifier
You can use an indoor humidifier if you have skin dryness or scalp xerosis.
12. Manage stress
Practice stress management techniques such as yoga and meditation as high levels of stress can trigger flare-ups and worsen the condition.
Final Word
Scalp sores can be painful, very itchy, and highly bothersome. It is best to consult your doctor for a proper diagnosis and to get appropriate medical treatment.
You can use home remedies as adjunct treatment to promote fast healing. It is also vital to take self-care measures to prevent worsening and recurrence of the condition.
Was this article helpful?