Hair is an important part of your overall personality and should be tended to as such. (1) This is why your regular beauty regimen must include proper hair care as well.
Your hair is exposed daily to all sorts of environmental irritants, toxins, and pollutants, and these elements can significantly damage the quality of your tresses and impede hair growth. Poor hair health, in turn, feeds a lot of anxiety about one's appearance, which can lower your self-confidence. 
Different hair problems require different solutions depending on the underlying cause. This article will focus on a particular remedy that combines the hair benefits of onions and garlic to improve hair growth.
Minoxidil is the standard medication prescribed for stimulating hair growth, but it is a strong formulation that has to be used very carefully. Researchers are looking for more natural alternatives for easy and safe application.
Onion and garlic are two ingredients that are considered good for the hair and scalp, but how effective are they for reducing hair loss and accelerating hair growth?   
Role of Onions in Hair Growth: What Does the Science Say?
Onions are loaded with several hair-nourishing nutrients including potassium, calcium, magnesium, and vitamins C and B6, but the most important of them all is sulfur.
Every cell in the human body contains some amount of sulfur, but its highest concentration is found in the hair, skin, and nails.
When applied to the scalp, sulfur stimulates blood circulation under the skin to deliver more nutrients to the hair follicles while also relieving inflammation. Both these effects help the follicles to function better in order to jump-start hair growth and produce better-quality hair.
On the other hand, a sulfur deficiency is associated with increased hair fall and slow hair growth. Plus, onions are credited with antimicrobial and cleansing properties that can help prevent scalp infections, which are known to impede hair follicle activity, trigger hair loss, and slow down hair growth.
According to one research study conducted in 2002, crude onion juice was found to be an effective topical remedy for treating alopecia areata (which is an autoimmune disorder causing patchy hair loss). (2) However, there are no large-scale, credible studies to show that onion juice can help fight androgenetic alopecia or male-pattern baldness.
Yet another 2012 study showed that the sulfur-rich content of onion helps regenerate and activate the hair follicles, triggering hair regrowth. (3)
Role of Garlic in Hair Growth: What Does the Science Say?
Garlic essential oil (GO) is replete with sulfur compounds, which, as discussed earlier, are great for hair growth. Sulfur is a major component of hair-building cells, and this explains why it can make your hair strong, thick, and fast growing.
Moreover, sulfur relieves scalp inflammation and fights scalp infections, thereby maintaining optimum hair follicle function. It improves blood circulation in the scalp and thus facilitating better nutrition to the hair follicles. 
Plus, raw garlic contains a heavy dose of vitamin C, which is a strong anti-inflammatory agent and crucial for collagen production. Collagen is a structural protein made up of various amino acids, many of which are found in the hair-building protein keratin. Thus, your body can use the amino acids from collagen to make more keratin, which will then be used to grow healthier hair at a faster rate. (4)
Multiple studies have found topical garlic to be effective in reducing hair loss (5) and keratin loss, (6) but they were either conducted on a small sample size or a cell model. Thus, more large-scale human studies are needed to confirm these claims.
Additionally, these effects were mainly tested on patients suffering from alopecia areata, which is an inflammatory condition, and may not apply to androgenic alopecia or male-pattern baldness, which are hormonal and genetic.
How to Use Onions and Garlic for Hair Growth at Home
Note: The rich sulfur content of both onions and garlic can make this combination a bit harsh on your sensitive scalp. Applying concentrated amounts of sulfur can irritate, burn, or sting your scalp and also strip away its natural oils, causing dryness. Adding a carrier oil to the mix can help cut down the potency of sulfur and prevent these side effects.
You can use olive oil, coconut oil, or any other carrier oil of your choice. In this article, the preferred option is coconut oil, which deeply hydrates and nourishes the scalp for better hair growth. The soothing nature of this oil helps balance out the causticity of sulfur. (7)
Here are two simple ways to use onions and garlic together for improved hair growth:
Remedy 1
Blend 2 onions and 4–5 garlic cloves to make a paste.
Strain the paste to extract the juice and remove the pulp.
You can add a few drops of coconut oil to the mix for extra hair benefits and lesser scalp irritation.
Apply the juice to your hair and massage it into the scalp.
Wait for 10 minutes.
Shampoo your hair as usual.
Remedy 2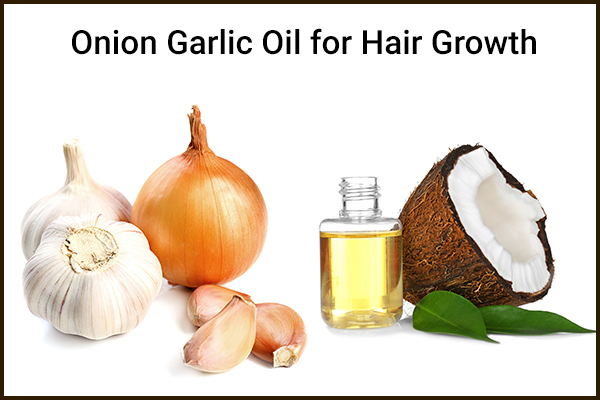 Blend 12 garlic cloves and a medium-sized onion to make a fine paste.
Add 6 tbsp of coconut oil to the paste, and heat the mixture for a few minutes so that the oil separates from the pulp.
Let the mixture cool down to room temperature.
Strain it to remove the pulp and collect the oil in a container.
Massage your hair and scalp with this oil.
Let it sit for a few hours or overnight.
Rinse it off with a mild shampoo and regular water.
Side Effects of Using Onions and Garlic Topically
Sulfur is a potent compound that can be a bit caustic when used in high concentrations. Both onion juice and garlic contain a lot of sulfur, which is why some people report adverse skin reactions after using them topically.
Some people have reported experiencing stinging, skin irritation, and burning even after applying garlic or garlic essential oil for a short duration. (8)(9)
Needless to say, the risk of such side effects will be higher when using onions and garlic together, so you have to be extra careful. It's highly recommended to patch test the remedy on a small area of skin before applying it to your scalp.
Moreover, people with sensitive skin or preexisting scalp conditions should consider safer and milder alternatives.
Conclusion: Do Onions and Garlic Really Help With Hair Growth?
Countless hair growth remedies are circulating on the Internet, but only a few of them have been proven effective after years (and in some cases decades) of studies. The combination of garlic and onion is one such remedy that has become increasingly popular among the general public.
Onions and garlic have been tested individually for their hair benefits. The idea is that combining them will yield even better results. Ample anecdotal evidence and some scientific literature support the topical use of onions and garlic to stimulate hair growth. (3)(10)(5)
However, more rigorous research on a large and representative sample size is needed to confirm the efficacy of using them together as a hair loss treatment or hair growth enhancer.
Was this article helpful?