Pediculushumanuscapitis, or the head louse, is a tiny 6-legged, pale-gray parasitic insect. Found on the head of people, these insects feed on small amounts of blood from the scalp.
They may also be present in the eyebrows or eyelashes. Head lice can live up to 2 days without a meal.
How Common Is Head Lice?
Head lice infestation is a common problem across the globe, with a higher frequency in developing countries. It is more prevalent among children 3–11 years old, especially girls. (1)
Children carry around 10–20 mature head lice at a time that can live up to 4 weeks if not treated. (2)
In the United States, approximately 6–12 million head lice infestations occur every year. (3) Therefore, there is a high cost of treatment, with $120–240 million for permethrin only. (4)
Who Can Get Head Lice?
While head lice can infest any person, regardless of age, gender, hair type, or profession, they are more commonly seen in:
Children aged 3–12 years
Girls (in comparison with boys)
Preschool and elementary school students (as they play closely together)
Family members of school-aged children
Employees of preschools, elementary schools, and daycares
Appearance of Lice on the Head
The lice may be present on the head in any of the following forms:
1. Eggs
Known as nits, hair lice eggs appear as tiny yellow or brown dots on the hair shaft, where the temperature is warm enough for their hatching. These are more common than adult forms.
2. Nymphs
The eggs hatch into baby lice known as nymphs, which take a week to mature. Nymphs feed on the blood for growth and survival.
3. Adult lice
These can live up to 30 days on the head by feeding on blood from the scalp and 2 days on any other surface. The lice look darker in people with dark hair.
Causes of Head Lice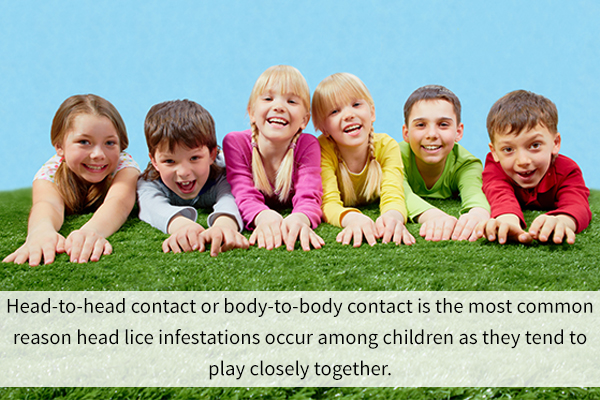 Head lice spread from one person to another through direct or indirect contact:
1. Head to head contact or body to body contact
This is the most common reason head lice infestations occur among children as they tend to play closely together.
2. Proximity to infected belongings
Infected clothing, pillows, blankets, stuffed toys, and combs stored in a locker or side by side with other items can result in the spread of head lice.
3. Sharing of items
Sharing things such as coats, scarves, hats, hair accessories, combs, towels, and brushes can spread head lice. In fact, the exchange of towels, headgear, and soaps was found to be the primary cause of head lice transmission among children. (5)
4. Contact with contaminated furniture
Items such as pillows, beddings, carpets, and cloth-covered furniture that were previously used by an infected person can spread lice for up to 2 days.
Symptoms of Head Lice Infestation
Head lice infestation generally manifest the following symptoms:
Itching and scratching due to lice bites
Scratch marks
Small red bumps as a reaction to the lice saliva
Tickling
A sensation of movement in the hair
Irritability
Difficulty sleeping
Enlarged neck glands
Medical Treatment for Head Lice
You may use over-the-counter products or prescribed medications for treating head lice.
1. Over-the-counter products
Various OTC creams and shampoos that kill lice are available at pharmacies. These products may contain the following agents:
Pyrethrin with additives (Rid): This compound is toxic to the nymphs. However, since it does not act on the eggs, treatment should be repeated after 10 days of application. Avoid using it in children below two years of age.
Permethrin (Nix): This ingredient is a synthetic version of pyrethrin and is used similarly, with repeated treatment in 10 days. Permethrin is found to be more effective than pyrethrin and piperonylbutoxide in head lice treatment. (6)
Dimethicone: This silicone oil acts by suffocating the lice and inhibiting its ability to regulate water.
Note: Apply OTC products as directed on their labels for their duration, dosage, and use. Rinse the hair over a sink with warm water thereafter.
2. Prescription medications
You may consult a doctor if OTC products do not work for you or the infestation is highly troublesome. The doctor may suggest medications containing:
a. Benzyl alcohol
This deprives the lice of air, thus killing them. Refrain from using this on children below 6 months. (7)(8)
Note: Benzyl alcohol is not sold for medicinal purposes in the US.
b. Malathion
This lotion is allowed to dry naturally after application and rinsed after 8–12 hours. Reapplication may be needed after 7–9 days.
c. Ivermectin
This product is toxic to lice and is found to be a safe and efficacious topical treatment in 0.5% concentration. (9)
Refrain from using it in children below 6 months or less than 15 kg or in pregnant and breastfeeding women as it can potentially cause neurotoxicity by crossing the blood-brain barrier. (10)
d. Spinosad
It is applied on dry hair, followed by a warm-water wash after 10 minutes to kill lice. It is safe for anyone above the age of 6 months, and reapplication is generally not required. (11)
Alternative Treatments
Multiple alternative treatments are available on the market that claims effective lice removal. These include:
Shampoos with herbs and oils
Suffocants such as mayonnaise, petroleum jelly, tea oils, margarine, and butter
Enzymes that claim to soften the glue by which nits hold on to the hair shaft
However, none of these treatments have been proven to be effective or safe and are not approved for the treatment of hair lice. Therefore, it is best to avoid their use.
Diagnosing Head Lice Infestation
The presence of lice can be detected through a close inspection of the head, which involves:
1. Checking the scalp
The presence of nymphs, adult lice, or nits on the hair shaft, located within ¼ inch of the scalp, indicates an infestation.
2. Observing movement in the hair
A magnifying glass can be used to get a closer look at the hair scalp to detect any movement.
3. Wet combing
Combs with tooth spacing lower than 0.3 mm are run through wet hair, catching head lice and nymphs. This procedure takes around 5–15 minutes, depending on the hair length and thickness. This technique is found to be more effective (around four times) and two times faster than direct visual examination in the detection of head lice. (12)
When to See a Doctor
While head lice can be resolved with treatment, you should consult a doctor if:
The treatment does not work, especially after two sessions.
The affected individual has crusting or open sores on the scalp.
The affected individual has enlarged lymph nodes or fever.
Final Word
Head lice infestation is a common problem and has no association with poor hygiene. It is important to get proper treatment once you are exposed to head lice. Additionally, ask all your family members and close contacts to check themselves for lice, and get treatment if they have an active infestation.

Continue ReadingHead Lice: Home Remedies, Do's and Don'ts
Was this article helpful?