Olive oil is famous for its taste in dishes and salads. It is a wholesome, much healthier alternative to other vegetable oils. However, are you aware that olive oil carries can do wonders for your hair?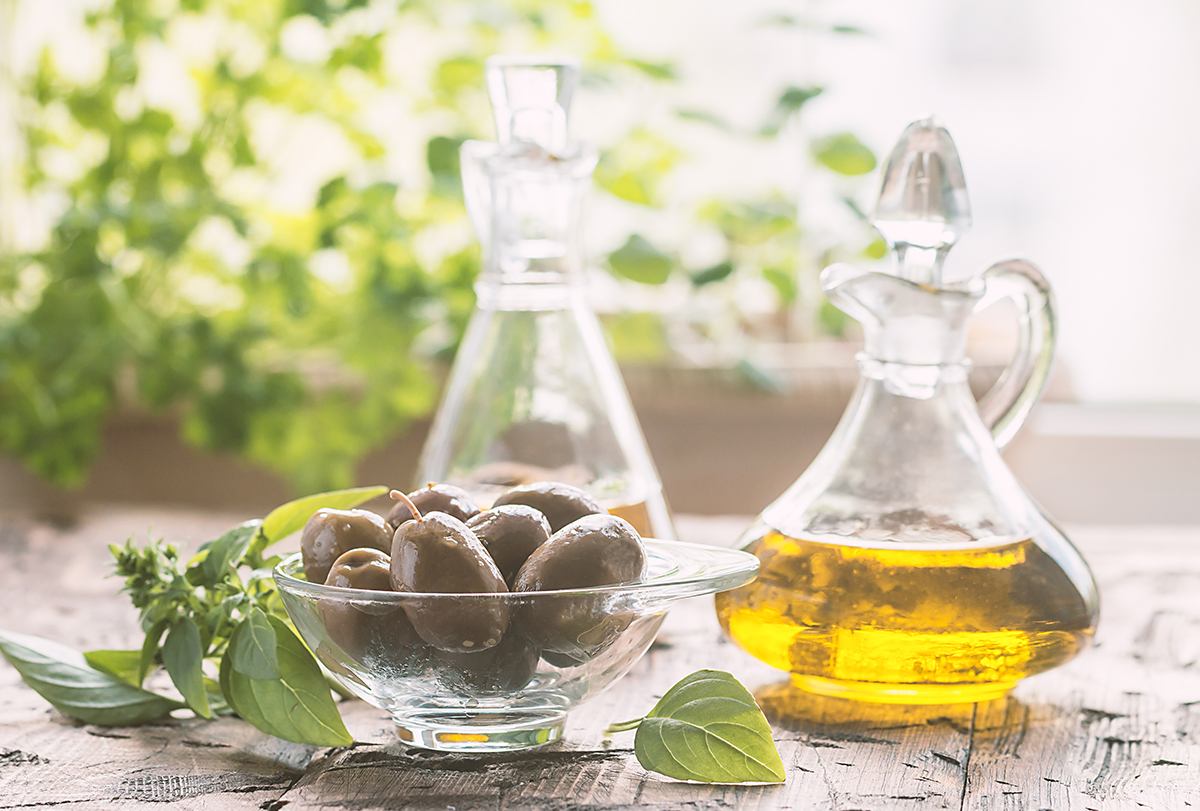 Olive oil has a rich chemical nature with components including oleic acid, palmitic acid, and squalene, which are emollients known to be great for hair. It works for a myriad of hair problems.
Olive oil is extracted from the fruits of Olea europaea, which is native to the Mediterranean nations. The seeds of the fruit are pressed gently to extract the oil.
Olive oil has been employed in hair cosmetics for a long time in many cultures. (1)
Pros of Applying Olive Oil to Hair
Here are some reasons that may encourage you to include olive oil in your hair care routine.
1. Promotes hair growth
Oleuropein, the primary component of the leaves and drupes of Olea europaea, is chemically from the group called polyphenols, which have many pharmacological properties. This component of olive oil makes it great for fighting hair loss or promoting hair growth.
A study found that the number and size of hair follicles in the subjects who were treated with oleuropein were substantially high. Results showed that olive oil can even be better than minoxidil for hair loss treatment. (2)
2. Protects hair from sun damage
Research has analyzed the sun-protectant effects of various fixed oils, out of which the SPF value of olive oil was established to be the greatest. (3)(4)
It is important to protect the hair from photodamage as UV radiation can have a negative influence on hair proteins, particularly keratin. UVB radiation from the sun is accountable for hair protein loss, and UVA radiation for hair color changes.
Olive oil has been evaluated to have protective action against UV radiation, especially extra virgin olive oil. Hydroxytyrosol, one of the pivotal polyphenolic components of olive oil, has been researched for its impacts on UVA-induced cell damage and has been shown to fight the reactive oxygen species generated by UV light. (3)(4)(5)
3. Inhibits fungal infection of the hair
Olive oil has an inhibitory effect on fungi such as Microsporum gypseum and Trichophyton vanbreuseghemii, preventing them from moving into the hair shaft.
A recent investigation demonstrated the antifungal action of the chemical constituents of olives, such as hexanal and nonanal, against various strains of fungi, including the infamous Candida spp.
So, the application of olive oil to the scalp can be very beneficial for curbing fungal infections of the hair. (5)
4. Treats scalp psoriasis
Psoriasis is a chronic inflammatory ailment distinguished by well-differentiated, erythematous plaques with white scales. Scalp psoriasis may happen by itself or in coexistence with other forms of psoriasis.
Scalp psoriasis is described by the presence of red, thickened plaques, either collected within the hairline or expanding onto the forehead, ears, and neck.
Notably, scalp psoriasis can be a reason for tremendous physical and social stress, with up to 97% of the affected people documenting that the condition hinders their everyday chores. (6)
Olive oil has exhibited encouraging outcomes against psoriasis when used in combination with various other ingredients.
Studies have shown some mixtures to result in substantial betterment in the signs of psoriasis such as redness, scaling, thickening, and pruritus. This effect is mainly caused by its antioxidant activity. (5)
5. Hydrates the hair
Olive oil can hydrate the hair because of its chemical constituents such as squalene, oleic acid, and palmitic acid, which are also antioxidants. These are emollients that can provide a protective barrier and thus aid in the sealing of moisture.
Squalene is inherently found in human skin cells. It has been established to lessen the damage from free radicals. However, aging can cause a decrease in the levels of squalene in the body, which may result in the development of dry skin or scalp.
So, the use of olive oil can be beneficial in the upkeep of moisturized hair. (7)(8)
6. Helps treat head lice
Pediculosis refers to a lice infestation that rapidly affects children and can spread to a healthy individual via direct contact with the hair of someone who is infected.
Even though topical products called pediculicides are available for killing lice such, as permethrin shampoo, alternative therapies are crucial because of the ongoing development of permethrin resistance. Various pediculicides also have safety problems such as irritation, burning sensation, tingling, and breathing difficulties.
One study found that an ozonated olive oil topical lotion is a possible alternative for the remedy of pediculosis because it works better in comparison to permethrin shampoo. The olive oil lotion had demonstrated substantial action in managing head lice.
Thus, olive oil can be a useful antipediculosis treatment. (9)
Cons of Applying Olive Oil on Hair
Though olive oil is highly beneficial for the hair, it also has some drawbacks.
1. Allergic reactions
While rare, some individuals may be allergic to olive oil as it is a weak irritant, and they experience unpleasant reactions such as itching, redness, and irritation when olive oil is applied to their hair or scalp. (10)
Thus, it is recommended to conduct a patch test and use it sparingly first to determine if it suits your hair and scalp, especially if you have eczema or other skin conditions.
2. Very greasy and difficult to wash out
Olive oil can be heavy and greasy, especially when applied in excess or to certain hair types. It may weigh down fine or thin hair, making it appear flat and oily.
Additionally, due to its thick consistency, olive oil can be challenging to wash out completely, leading to a buildup of residue on the hair and scalp.
Also, because of its texture and oiliness, olive oil can attract dirt and dust particles, making the hair appear dirty or requiring frequent washing.
3. Staining
Olive oil has a yellowish-green color that can stain fabrics, pillows, and hair accessories, especially if it's not thoroughly absorbed by the hair or rinsed out.
DIY Hair Masks Using Olive Oil
Here are a couple of hair masks using olive oil that you can prepare at home and apply to your hair.
1. Olive oil, eggs, and honey hair mask
Olive oil mixed with egg and honey makes for a great hair mask.
Mix the eggs, olive oil, and honey together in a small bowl.
Apply the mixture to the ends of your hair.
Cover your hair with a shower cap.
Give the ingredients about 20 minutes to sink in.
Wash the mixture off and let your hair air dry.
Eggs are rich in lecithin and thus have a nourishing action on hair. They contain a substantial amount of protein, which is responsible for facilitating hair growth.
Honey has antibacterial, antifungal, and antioxidant properties.
Research has shown that honey can be a promising treatment for itching, scaling, hair loss, dandruff, and lesions associated with dermatitis. A mixture of olive oil, eggs, and honey can be used as a remedy for a myriad of hair and scalp diseases. (1)(11)(12)(13)
2. Olive oil and aloe vera hair mask
Aloe vera can be used on the hair alone, but it also works nicely with olive oil.
Studies have demonstrated that aloe vera functions tremendously in fixing hair issues such as mild to moderate hair loss and dandruff. The use of aloe vera and olive oil can be great for hair and scalp health. (1)(11)(14)
Most-Asked Questions
What does "extra virgin" olive oil mean?
Extra virgin olive oil is obtained by naturally crushing olives without the use of any heating tool or chemicals to save their natural antioxidant and polyphenol content.
Does extra virgin olive oil have fewer calories?
All olive oils almost have the same calories.
Can I cook with olive oil?
Olive oil is excellent for all kinds of cooking.
Can olive oil last a long time?
Always check the expiry date of oils before buying them. Olive oils can last up to 18–24 months before becoming unappetizing. Extra virgin olive oil tends to last a shorter period of around 12–18 months.
Can I reuse olive oil?
Yes, experts say you can reuse olive oil.
How should I store olive oil?
Store olive oil in a dark and cool place.
Final Word
All in all, hair specialists declare that olive oil is rather safe to try for promoting hair health. However, have realistic expectations and the patience to wait for the results.
Also, if you have fine hair, refer to a dermatologist first to check which oil may be best for you. When used in the right way, olive oil may just surprise you with incredible results.
Was this article helpful?