The best way to manage an itchy scalp is to take preventive steps against it, such as regular baths and proper moisturizing. Additionally, you may need the help of some prescription medications or wet wrap therapy.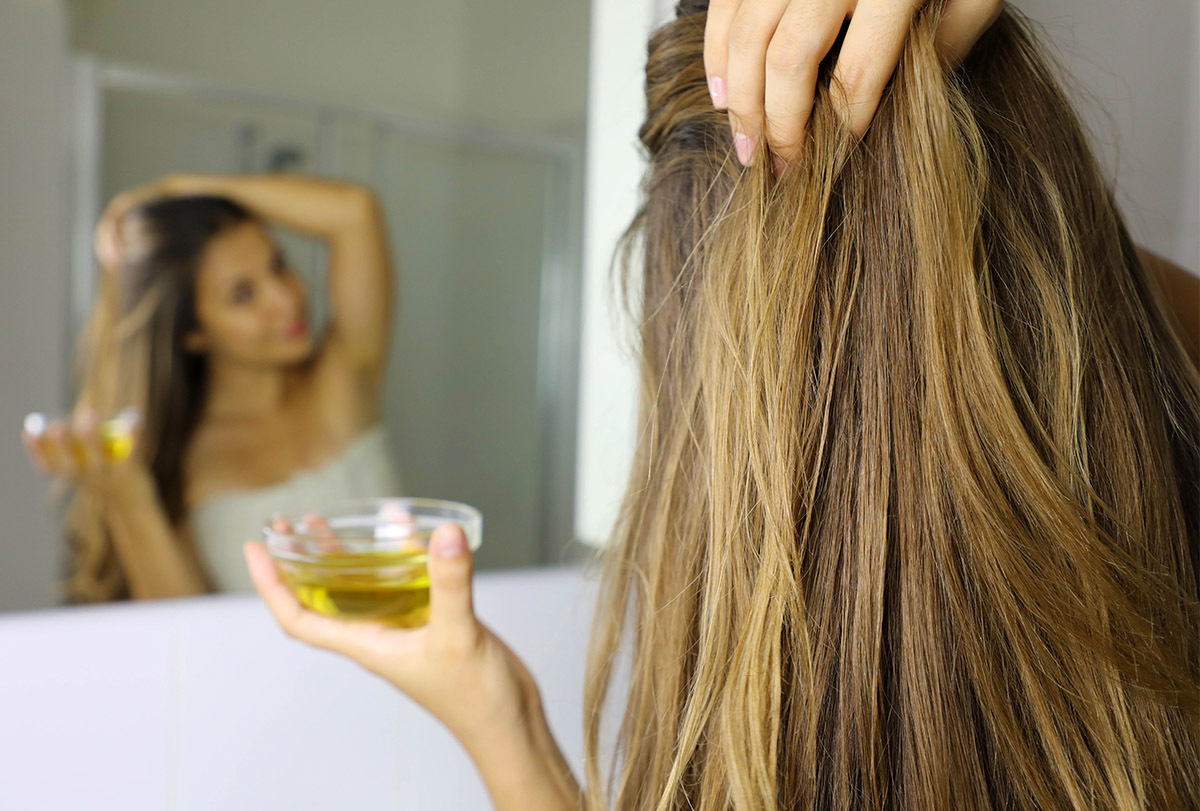 Home Remedies for Itchy Scalp
Here are a few simple home remedies to get relief from an itchy scalp.
1. Essential oils
Various essential oils, including lavender, rosemary, thyme, and cedarwood oils, mixed with carrier oils, such as jojoba or grapeseed oil, can be massaged onto the scalp to relieve itchiness caused by lice, dryness, and other conditions.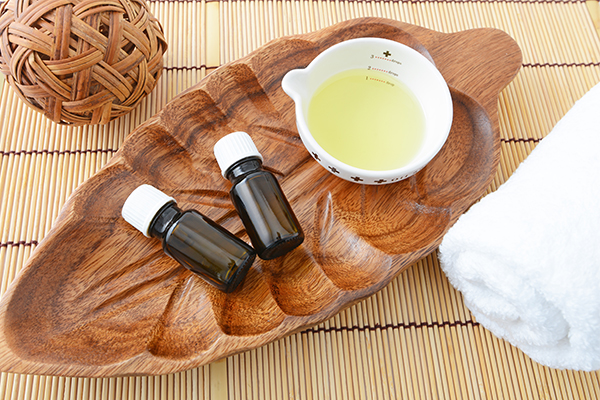 In one study, 1% tea tree oil killed all head lice in 30 minutes and, thus, was more effective than nerolidol. (1) Additionally, eucalyptus oil can also be used for the treatment of head lice owing to its safety, efficacy, and ease of use. (2)
How to use:
A head massage with diluted essential oils is one of the simplest ways to ease scalp irritation or itchiness.
Summary:
Essential oils possess antimicrobial and hydrating properties that can help cleanse and moisturize the scalp, meanwhile, the massaging action can stimulate blood flow in the area to further nourish the scalp.
2. Aloe vera
The application of aloe vera gel to the scalp twice a week can help improve hair growth and alleviate skin conditions. Moreover, aloe vera gel helps improve moisture and skin integrity and prevents the formation of ulcers. (3)
Aloe vera also acts as an antibacterial and antifungal agent that helps prevent dandruff formation as well as alopecia disease. (4)
Summary:
Aloe vera is a skin healing plant that can help hydrate and strengthen the scalp skin while banishing the growth of bacteria, fungus, and other germs due to its inherent antiseptic potential.
3. Witch hazel
Shampoos and lotions containing witch hazel are commonly used to prevent inflammation and redness in the scalp.
A study found that tonics and shampoos containing North American witch hazel (Hamamelis virginiana) were effective in treating scalp conditions such as scalp burnout and red scalp and in managing the side effects of topical minoxidil (used for male-pattern baldness). (5)
How to use:
There are several witch hazel based shampoos and hair products that you can include in your daily hair care routine.
Summary:
Witch hazel is known to exhibit astringent and anti-inflammatory properties, both of which can help alleviate various types of itchy scalp conditions and reduce scalp sensitivity.
4. Apple cider vinegar
ACV is one of the most widely used anecdotal remedies for a variety of health complaints, including the itchy scalp.
This mildly acidic liquid may help lower the pH of your scalp, loosen dandruff for easier shedding, reduce scalp inflammation, and fight off bacterial or fungal infections to make your head clean and comfortable.
This remedy has delivered good results for several users and gained considerable popularity on the internet, but lacks scientific support to conclusively establish its mechanism, efficacy, and safety. 
How to use:
Add a few tablespoons of ACV in warm water and pour this diluted mixture onto your hair and scalp after shampooing.
Massage the liquid into your head, and let it sit for about 5 minutes before rinsing it out with cool water.
Discontinue use if you feel even the slightest bit of irritation or discomfort. 
Note: You can use regular variety ACV which is readily available in any general store, or prefer raw organic ACV which is sold at specialty health stores or more high-end grocery shops. However, one must never apply concentrated ACV as it can irritate or burn the skin.
5. Mineral oil or olive oil
Head massage with mineral or olive oil is yet another remedy for itchy scalp that has delivered good results for many users.
The gentle massaging motion improves blood circulation in the area, facilitates better absorption of the oils, and softens or dislodges the skin flakes caused by dandruff or eczema. Both mineral and olive oil help deeply hydrate and nourish the scalp to reduce itchiness and irritation.
How to use:
Use your fingers to massage the oil of your choice into the scalp.
Let the oil sit for about an hour, and then wash it out of your hair.
Self-Care Treatment for Itchy Scalp
The following tips may be useful in managing and preventing itchy scalp:
1. Treat dandruff
Use anti-dandruff shampoos to minimize the white flakes of dandruff. You may need to apply antifungal creams, topical steroids, and keratolytic such as coal tar or salicylic acid.
2. Remove scales from the scalp
Massage your head with olive oil, petroleum jelly, or mineral oil to help loosen the scales and lift the crust.
3. Avoid scratching your head
Scratching aggravates the itching and can often damage the scalp, thus increasing the chances of an infection.
4. Examine your scalp
Part your hair to examine your scalp for any scalp growth. You may ask a family member to do this for you.
5. Treat ringworm
Use special shampoos and oral antifungal medications to manage ringworm.
6. Avoid sweating
Stay under the shade or in cool, (60–70°F) well-ventilated rooms.
7. Get rid of lice
Apply anti-lice shampoos and creams such as those containing 1,2-Octanediol. This ingredient inhibits the louse's ability to retain water, thus killing it from dehydration. (6) To prevent lice infestation, refrain from sharing hats or combs with people who have lice.
8. Stay hydrated
Consume sufficient water and other liquids to prevent dryness and itching in the scalp.
9. Clean your bedding
Any towels, bedding, or clothing used by an infected person should be dry-cleaned or washed in temperatures above 130°F.
10. Keep the skin moist
Do not use hot water for bathing. You may add baking soda, bath oils, or oatmeal (in a mesh bag) to your bath. Use moisturizers and lotions to hydrate the skin. A colloidal oat skin-protectant lotion can help subside the symptoms of scaling, roughness, dryness, and itching. (7)
11. Do not rub the skin when drying
Pat your skin dry instead of rubbing it.
12. Get enough rest
You may consult your doctor for medications, such as antihistamines if you experience sleep disturbances because of itching.
13. Eat healthy
Consume foods such as fish, eggs, and brazil nuts to help promote healthy hair growth.
14. Avoid using styling products
Refrain from using gels, hair sprays, and other products, especially until the condition is resolved.
15. Refrain from using alcohol-based products
Alcohol can aggravate the condition.
16. Reduce your stress
Perform daily exercises and practice relaxation techniques, such as breathing exercises and yoga, to help manage stress.
17. Protect your scalp from the sun
Since sun exposure increases the risk of skin cancer, it is important to apply a broad-spectrum sunscreen on all the exposed areas of the skin before stepping out.
It is equally important to moisturize your skin regularly to strengthen your skin barrier. Choose your skincare products wisely, keeping in mind your skin type, any dermatological issues that you may be suffering from, and the ongoing season. (8)
Wear full-sleeved clothes and a wide-brimmed hat for added sun protection. It's best if you remain indoors when the sun is at its peak, i.e., between 10 am to 4 pm. Moreover, you should avoid using sunlamps or going to tanning booths, which can predispose you to skin cancer.
Wash Your Scalp Regularly
Most cases of the itchy scalp can be relieved with regular washing using a medicated shampoo. It cleans the scalp and hair of sebum and dirt. It can also help alleviate irritation associated with conditions such as seborrheic dermatitis. (9)
Generally, anti-dandruff shampoos used to relieve itchy scalp may contain the following ingredients:
Zinc pyrithione: Scalp lotions and shampoos containing zinc pyrithione help improve seborrheic dermatitis. (10)
Piroctone olamine: A second-generation anti-dandruff agent, this ingredient is less toxic than zinc pyrithione and thus safer for use.
Tar: Shampoos containing tar have been used for severe scalp conditions for long. However, they had a strong odor, due to which newer formulations that are simple to use and well-tolerated have been introduced.
Antifungal agents: These help fight fungal infections that may cause itching.
Selenium sulfide: This is an anti-dandruff and antifungal agent that is also used for the treatment of seborrheic dermatitis and other conditions.
Note: Avoid using shampoos with tar as it can discolor light-colored hair. Change your shampoo product frequently as one product may lose its effectiveness after prolonged use.
What People Ask the Most About Itchy Scalp
Is itchy scalp contagious?
Itchy scalp is not contagious, but some conditions that cause itchy scalp may be infectious. Scalp ringworm, for example, can easily spread, especially in children aged 2–10 years.
Is itchy scalp a severe condition?
Itchy scalp often results from dryness or a mild skin problem and can be treated easily. However, in some rare cases, it may stem from cancer or its treatment.
Final Word
Itchy scalp can be effectively treated with a combination of natural remedies, traditional treatment, and self-care. However, it is important to consult your doctor before trying herbal remedies to prevent any dangerous interactions with your medicines.
Additionally, herbal remedies should not be used by pregnant or breastfeeding women and those with high blood pressure, diabetes, or mood disorders.

Continue ReadingCauses and Medical Treatment for Itchy Scalp
Was this article helpful?