Onion juice and coconut oil have been used for hair growth across the world for centuries.
Onions contain a large amount of sulfur, a nutrient essential for making the hair-building protein called keratin. More keratin synthesis makes your hair thicker, stronger, and longer.
Coconut oil, on the other hand, helps condition, strengthen, and nourish your hair.
How to Use Onion and Coconut Oil for Maximum Results
Coconut oil and onion help improve hair quality and hair growth in different ways. They can be used individually, together, or mixed with other nourishing ingredients to formulate easy hair remedies.
Here are a few simple DIY ways to use onion and coconut oil for your hair:
1. Onion juice, coconut, and honey hair mask
Honey also helps increase hair growth and cleanse your scalp.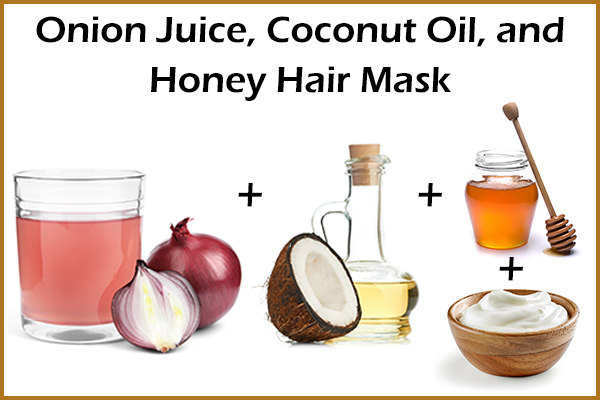 Ingredients:
1 tbsp honey
4–5 tbsp onion juice
1 tbsp coconut oil
½ tbsp yogurt
How to use:
Mix all the ingredients well to form a paste.
Apply this paste to your hair and massage for a few minutes.
Let it rest for at least half an hour.
Wash your hair and repeat the process once a week.
2. Coconut cream and onion juice hair mask
Ingredients:
¼ cup onion juice
4 tbsp coconut cream
How to use:
Mix the two ingredients well to form a hair mask.
Apply this mask to your scalp and hair.
Massage it in circular motions and let it rest for a couple of hours.
Wash your hair with a mild shampoo.
3. Herbal hair oil for hair growth
Ingredients:
4 cups organic coconut oil
2 red onions, sliced
¼ cup almond oil
5 hibiscus flowers, dried
2 tbsp brahmi powder
How to use:
Heat the coconut oil and mix all the other ingredients in it.
Let the solution rest overnight.
Strain the oil the next morning and massage it onto your scalp and hair.
Repeat once or twice a week for best results.
Refrigerate the remaining oil for later use.
4. Onion hair rinse
Ingredients:
How to use:
Boil the onions in the water until it reduces to half.
Let the onion water cool, and then use it to wash your hair.
Repeat once or twice a week for best results.
Benefits of Onion for Hair Growth
Onions are filled with beneficial nutrients that can improve the quality of your hair. They contain:
Sulfur: Hair is basically composed of a protein called keratin, (1) which contains plenty of sulfur. Thus, sulfur is needed to make keratin, which is then used by the body for hair formation. In fact, it is the sulfur present in hair cells that make your strands strong and flexible. Onions are full of sulfur, which stimulates hair follicles to grow new healthy hair and also helps the hair grow for longer periods of time. (2)
Antioxidants: Onions contain plenty of antioxidants that help neutralize the activity of free radicals, which are reactive oxygen molecules that attack healthy cells to cause hair damage, inhibit hair follicle activity, and scalp inflammation. Quercetin is a particularly potent antioxidant (3)(4) found in onions, and so is vitamin C.
Other essential nutrients and compounds: Onion also contains biotin, folic acid, manganese, copper, and flavonoids, all of which help nourish and strengthen your hair.
Onions are a staple in most kitchens and cost next to nothing. Plus, extracting their juice is as simple as it gets. So, this hair remedy is a great and reasonable alternative to the high-priced hair products that usually come riddled with damaging chemicals and often fail to deliver the promised results.
Onion juice does not guarantee results either, but there is enough anecdotal evidence that makes it worth a try.
Benefits of Coconut Oil for Hair Growth
Coconut oil is a staple household item in many Asian countries. It is extremely beneficial for the skin and hair and is even touted as a remedy for weight loss.
Coconut oil helps your hair grow stronger and thicker as it is:
Permeable: Coconut oil is rich in fatty acids including lauric acid and caprylic acid, which have a low molecular weight and are intensively lubricating. Therefore, this lightweight oil easily seeps into the hair follicles and hair shafts to hydrate and nourish them from within. (5) This helps prevent hair breakage and split ends, thus allowing your hair to grow to its full length. (6)
Soothing: According to Ayurveda, hair loss is connected to excessive body heat, which can be mitigated through coconut oil. This anti-inflammatory oil helps soothe the scalp, making a favorable environment for hair follicles to function properly.
Protective: Coconut oil forms a thick layer over the scalp to protect it from environmental irritants such as dust, smoke, and heat that can damage the hair roots. (7) Plus, it helps seal the moisture inside your hair to keep them soft and hydrated for longer.
Evidence of Effective Use
There aren't enough studies to corroborate the hair benefits of onion juice, but plenty of general users found this remedy to be quite useful.
A decade worth of research only yielded a single study that showed that topical crude onion juice can prove helpful in treating hair loss. This study was published in the Journal of Dermatology in 2002. (8)
As far as coconut oil is concerned, there is no direct evidence to prove that it can promote hair growth. What it can do is nourish, hydrate, and strengthen your hair.
Hydrated hair is less likely to break, split, or fall out and can therefore grow to its full length. So, coconut oil can indirectly help your hair grow longer but doesn't directly trigger hair growth.
How to Apply Onion and Coconut Oil Safely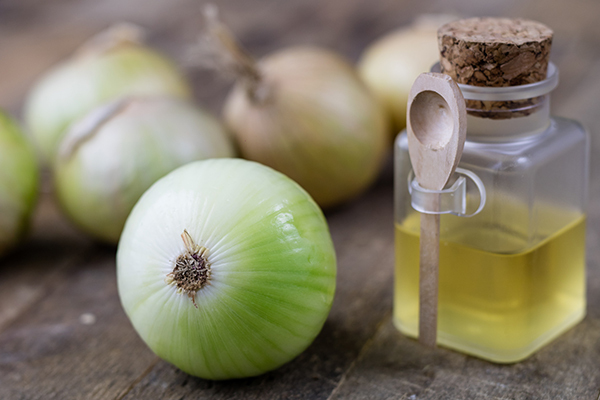 The first rule is to patch test these topical ingredients before applying them to your hair and scalp. This will help rule out unknown allergies or adverse reactions. Simply apply a small amount of the ingredient behind your ear lobe and wait for a few minutes. If you experience any irritation thereafter, it's best not to use the remedy.
Don't apply copious amounts of coconut oil as that won't increase its benefits but will only make your hair look greasy. Moreover, more shampoo is needed to remove the excess oil, which in the end can make your hair drier.
Some people have reported developing scalp rashes and eczema after frequent application of coconut oil, but these side effects are extremely rare.
Onion juice is slightly caustic and may cause scalp dryness or irritation if used excessively. So, don't use it in large amounts or too frequently.
Be careful when applying onion juice on your head as it can drip into your eyes and sting or make them red.
What Happens if I Leave Coconut Oil in My Hair Overnight?
It's suggested that you don't leave coconut oil in your hair for more than 2 hours, or else it can clog your hair follicles or trap impurities.
Final Word 
Onion and coconut oil are credited with multiple hair benefits, but you have to use them properly and consistently to get the desired results. Bear in mind that these are mainly anecdotal remedies and not certified cures for your hair woes.
The idea is to incorporate them into a holistic hair care regimen to improve the health and appearance of your tresses. If you suffer from hair conditions such as severe hair thinning, don't rely on these remedies as a standalone treatment.
Hair loss can be triggered by many different underlying factors that need to be identified and then treated, often with medication. Trust your dermatologist to guide you in this regard and with their approval, you can use these remedies along with your main treatment.
Was this article helpful?