Bitter gourd or bitter melon (Momordica charantia) is also called balsam pear or karela in different regions. It is grown in the tropical and subtropical regions of the world and is particularly famed for its antidiabetic effect. (1)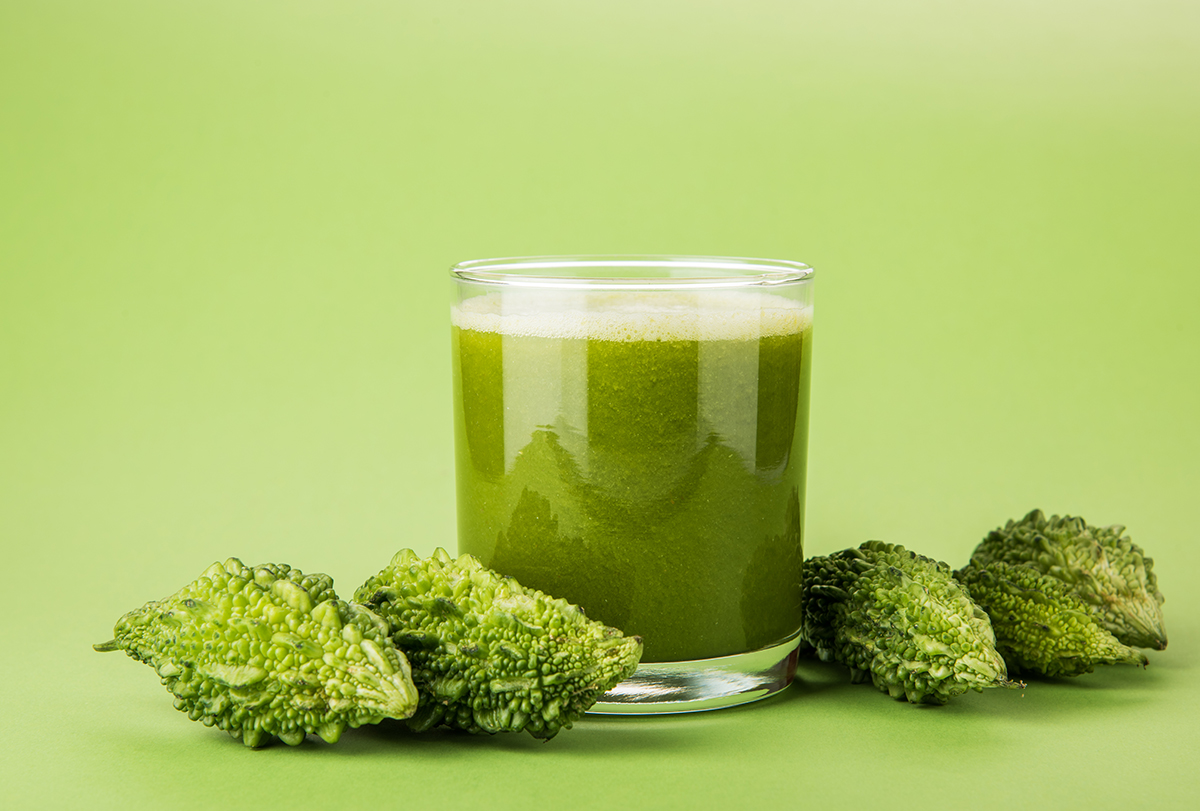 It is rich in vitamins A, C, B1, B3, and B9, along with some minerals. It also possesses many bioactive phenolic compounds, alkaloids, flavonoids, and saponins that make it the most antioxidant rich in its family (bottle gourd, ridge gourd, snake gourd). (1)
How to Prepare Bitter Gourd Juice
To make bitter gourd juice, blend ½ cup of peeled and de-seeded bitter gourd, the juice of half a lemon, and a small pinch of Himalayan pink salt. Strain the mixture and drink on an empty stomach.
Benefits of Drinking Bitter Gourd Juice
Experience these positive health effects when you drink bitter gourd juice.
1. Controls blood sugar
Animal studies have identified the consumption of bitter gourd to reduce blood glucose levels, increase insulin activity, and reduce the complications of diabetes such as excessive thirst and excessive urination and also reduced the excretion of glucose via the urine. (1) However human studies have not established conclusive results.
It is important to note that bitter gourd and its juice is useful for people with type 2 diabetes and there is not evidence of it lowering blood glucose levels without appropriate medication. (2)
2. Boosts immunity
Bitter gourd also shows strong antiviral activity and can increase the activity of immune cells to fight against infection-causing viruses. It also shows antiparasitic and antibacterial activities and has been used in the treatment of malaria and a range of antibiotic-resistant bacterial infections. (3)
3. May reduce obesity
Some reports have suggested that bitter gourd can reduce body weight due to a high-fat diet. It increased the activity of enzymes involved in the digestion of fat and prevents the accumulation of fat in muscles and fatty tissues. (4)
4. Can reduce blood pressure
Apart from its role in managing diabetes and reducing the amount of fat in the body, bitter melons have also recently been found to be beneficial in the management of high blood pressure.
In animal studies, the juice of bitter melons prevented the increase of blood pressure of rats with a salt-sensitive diet. It also improved renal function and increased the functioning of nitric oxide, which is responsible for relaxing blood vessels and reducing blood pressure. (5)
However, more human trials are needed to replicate similar beneficial results.
5. May protect the skin against damage
Hyperpigmentation following exposure to the sun or a flare-up of acne is a common skin concern.
Extracts of the bitter melon leaf have been found to have a protective effect on the skin by reducing the activity of melanocytes, which are cells that increase melanin production and cause hyperpigmentation or dark spots. It can also protect the skin against sun damage. (6)
The young leaves of the bitter melon plant can be eaten as a vegetable or can be pounded and turned into a paste for topical application to improve skin condition.
Most-Asked Questions
Can bitter melon juice help against cancer?
Some studies have shown the anticancer effects of bitten melon juice against breast cancer cells, and the juice is used to stop the growth of cancerous cells. (3)
However, it can only be used as a preventative measure and not as a means to replace medication.
Should pregnant women consume bitter gourd juice?
Bitter gourd juice has been traditionally used to induce abortions, and pregnant women are advised against consuming it. (3)
Can I drink bitter gourd juice every day?
Yes, you can drink it daily, preferably in the morning before eating or drinking anything else.
Final Word
Bitter gourd juice is highly famed for its antidiabetic effect and ability to reduce blood glucose levels while also increasing insulin activity. A small glass of bitter gourd juice every day can also protect against obesity while boosting immunity.
Was this article helpful?