Acne is a common skin problem that generally affects the face. However, acne can occur anywhere on the body, including the shoulders. Your shoulders have a high concentration of hair follicles and, therefore, oil and sweat glands, making it prone to acne formation.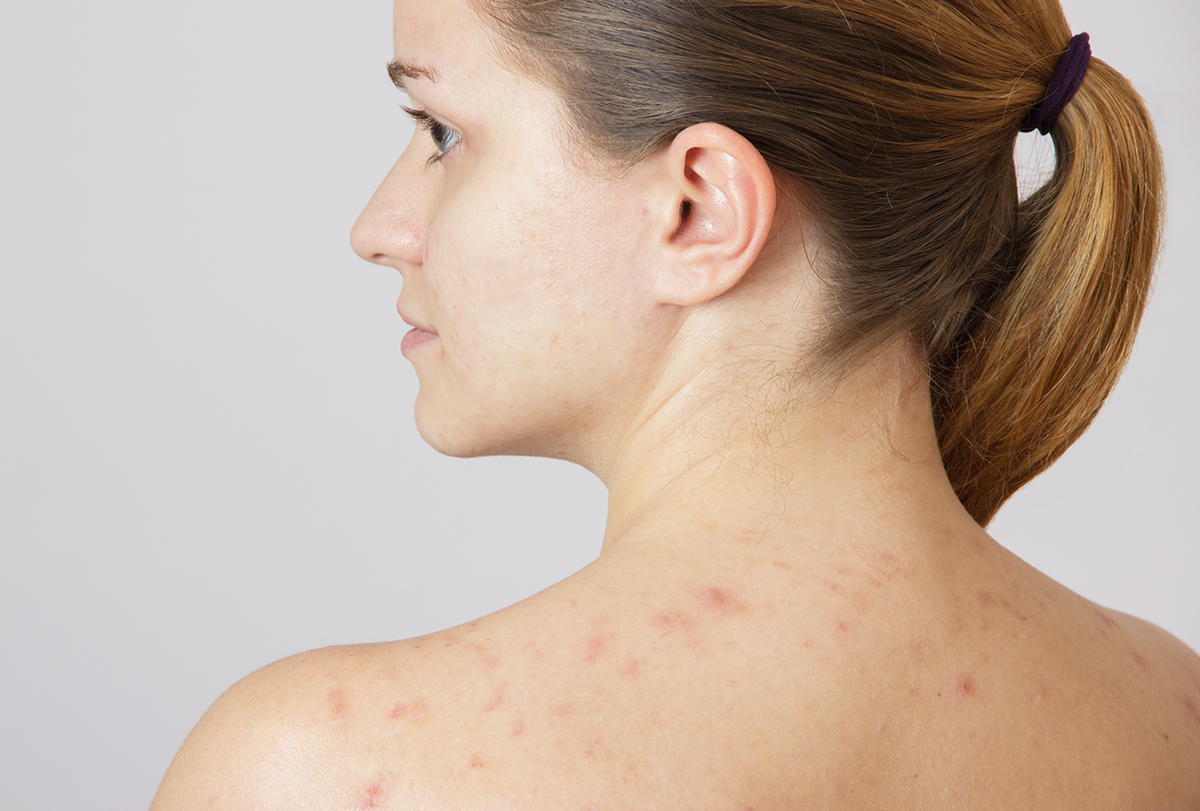 Shoulder acne develops due to the clogging of pores, generally by sweat and oil. It is more common in men than in women.
Shoulder acne is highly similar to acne on the face but may be more painful as the lesions are larger due to the wider pores. Fortunately, acne can be easily treated with medications and a good skin care routine.
Causes of Shoulder Acne
Many factors contribute to the formation of acne on the skin, such as on the shoulders, including:
1. Excessive oil production
Your skin contains sebaceous glands that release natural oils known as sebum, which is responsible for maintaining skin hydration. However, an excess of sebum production may be harmful to the skin as it clogs the pores, increasing the chances of pimple formation.
2. Hormonal fluctuations
Acne is a common problem in people undergoing hormonal changes, such as teenagers, pregnant women, and women on their menstrual cycle. Hormonal fluctuations generally increase sebum production, leading to acne.
3. Wearing tight-fitting clothing
Tight-fitting clothes that stick to the skin can trap sweat and acne-causing bacteria, increasing the chances of clogged pores and breakouts.
The risk increases when you wear such clothes during a workout or when playing sports as the body releases more sweat and heat during active physical activity.
4. Taking steroids
Steroids can increase the androgen levels in your body, triggering the sebaceous glands to produce more oil. The effect is largely seen in the shoulders and back, increasing the risk of acne in these areas.
5. Using hair products
Hair products such as oils and waxes can rub off on your shoulders if you have long hair, clogging the pores and leading to acne flare-ups.
6. Obesity
People who are overweight or have a weaker immune system are more prone to shoulder acne.
7. Waxing or shaving
The irritation associated with waxing and shaving can increase the chances of acne formation, especially if these hair removal techniques are performed incorrectly.
8. Pityrosporum (Malassezia) folliculitis
This medical condition is characterized by a yeast infection in the hair follicles that leads to itchy acne eruptions. (1)
Treatment for Shoulder Acne
The treatment for shoulder acne is a combination of medications that combat the acne-causing bacteria and manage the associated symptoms such as redness, pain, and inflammation.
You may either use over-the-counter medications or consult your doctor for prescription medications.
Topical treatment
The commonly used topical medications for acne include:
1. Benzoyl peroxide
Benzoyl peroxide-based creams reduce the inflammation and therefore the frequency of shoulder acne flare-ups.
2. Retinol
Retinol is a derivative of vitamin A that exfoliates the skin of dead cells and also boosts skin cell turnover. These actions prevent the dead skin cells from clogging the pores and also treat the existing acne scars by revealing new, younger skin cells.
3. Clindamycin
Clindamycin is an antibiotic that curbs bacterial infections and controls the swelling caused by shoulder acne. (2)
4. Nadoxin creams
Nadoxin is another antibiotic that prevents acne-causing bacteria from multiplying by blocking the synthesis of bacterial proteins necessary for growth and survival.
5. Antifungal creams
Your doctor may prescribe antifungal topical creams along with antibacterial creams for Pityrosporum folliculitis. These creams will also reduce the swelling, redness, itching, and discomfort associated with the condition.
6. Chemical peels
Chemical peels are generally an in-office treatment, but you can also find kits to use at home.
Your doctor may prescribe chemical peels using salicylic acid or glycolic acid to treat your acne. These work by gently exfoliating the skin and removing the top epidermal layer, revealing a new, healthier skin layer. They also aid in unclogging the pores by penetrating deep into the skin. This helps clear the acne and acne scars as well. (3)
You may be advised to get a tricholoroacetic acid (TCA) peel if you have chronic cystic acne that doesn't improve with any other topical treatment. TCA peels not only remove the bacteria and dead skin cells but also reduce acne scarring and pigmentation. (4)
Oral medications
The following oral medications may also be prescribed for the treatment of shoulder acne, depending on its severity:
Isotretinoin: Another vitamin A derivative, isotretinoin treats acne by reducing oil production, controlling bacterial growth, and improving skin cell turnover to prevent clogging of pores.
Oral antibiotics: Oral antibiotics are only prescribed if topical medications fail to show improvement. Make sure to complete the antibiotic course and avoid overuse to prevent resistance development.
Final Word
Shoulder acne, while highly similar to other acne types, can be quite discomforting due to its location. Your clothes may constantly rub against the affected skin, aggravating the problem. Therefore, it is best to seek timely treatment for your shoulder acne.
You can use over-the-counter topical creams to manage the problem. Maintaining good skin hygiene is also vital. If the treatment doesn't work, consult your doctor for prescription-strength topical and oral medications. Taking preventive measures is also important to avoid acne formation in the future.

Continue ReadingHow to Manage and Prevent Shoulder Acne
Was this article helpful?