Breakfast is the most important meal of the day. It is the first meal you consume after a break of 10–12 hours, so naturally, it should be rich in nutrients, wholesome, and filling.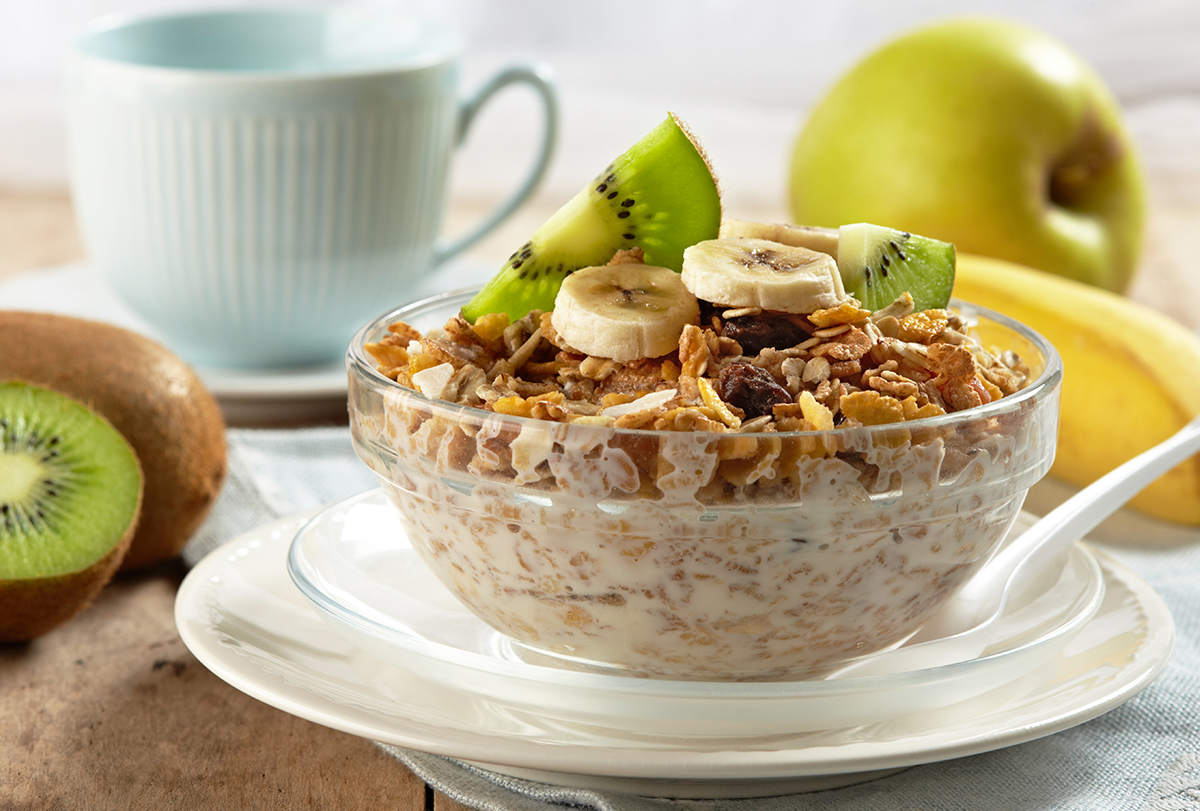 However, making a wholesome meal means investing time when on most mornings you are in a rush to make it to school, work, or other daily commitments. This often results in missing breakfast or eating a quick meal that is filled with simple added sugars, fat, or additives.
In recent years, breakfast has been linked to weight management, diabetes, heart diseases, and cognitive performance. (1)
Multiple studies have shown that short-term effects of skipping breakfast include increased risk of overweight, obesity, and diabetes. Long term, it can create unhealthy habits in youth. (2)
Quick and Easy Healthy Breakfasts
What you may not realize is how easy it is to make healthy and delicious breakfasts. Here are some of them.
1. Omelet
Omelet made from eggs is the most popular breakfast food around the world. It is fairly inexpensive and can be seasoned according to taste to make a palatable and nourishing breakfast.
Eggs are low in energy but nutrient dense, particularly rich in selenium and vitamin D. Eating one egg a day has been linked to good health outcomes. (3)
Moreover, eggs are abundant in protein, and a high-protein breakfast is associated with reduced hunger after breakfast and reduced chances of weight gain. (4)
You can add your choice of veggies and cheese to your omelet or have it with whole-wheat bread, flatbreads, or oats to increase the nutritional content of the meal.
2. Oats
Breakfast containing oats is gaining swift popularity. Oats are replete with beta glucans, which have a major role in lowering cholesterol levels and managing diabetes. It improves the growth of gut bacteria and aids digestive health. It can reduce inflammation in the body and ultimately reduce the risk of many diseases. (5)
Studies have found children who consumed oats for breakfast had a better nutritional status than those who consumed other breakfast choices such as pancakes, sweet rolls, or doughnuts. (6)
Oats can be consumed warm or cold as overnight oats, mixed with fruits and nuts, and, to increase their nutritional profile, mixed with protein sources such as chia seeds, nut butters, or protein powders.
3. Whole grains
Whole grains can be consumed for breakfast in the form of whole-grain bread, flatbread, and muffins. The Indian subcontinent makes many breakfasts using flat rice, fermented rice batter, and broken wheat.
Whole grains and their products contain lots of beneficial fiber that not only provides essential nutrients but also reduces the risk of heart diseases, type 2 diabetes, disorders of the digestive system, and even cancers. (7)
4. Yogurt
Yogurt is a great source of protein, calcium, zinc, vitamin D, vitamin B complex, and probiotics. It is beneficial for many health conditions including type 2 diabetes, heart diseases, and age-related changes. (8)
Various types of yogurts are available such as Greek yogurt and Icelandic skyr, which vary in nutritional content and can be chosen based on preference.
Yogurt can be combined with fruits for a more wholesome meal. The probiotic and prebiotic combination of the meal can make it nutrient dense and reduce the need for high-fat and high-calorie foods, which lead to weight gain. (9)
5. Fruits
Fruits such as bananas, apples, pears, peaches, and berries are good choices to consume in the morning. They are an easy-to-grab breakfast that can be eaten on the go and can prevent you from skipping breakfast altogether.
Whole fruits provide good amounts of fiber, which can prevent the chances of many diseases such as diabetes, heart diseases, overweight, constipation, and irritable bowel syndrome. (10)
However, a large serving of fruit at a time can be harmful to those with a high blood sugar level, and experts advise spreading fruit intake throughout the day. (11) You can also combine fruits with nuts, oats, granola, or whole-wheat cereals to increase the feeling of fullness after eating a fruit-rich breakfast.
Points to Remember
Packaged whole-grain cereals, muesli, and pancake mixes are widely available nowadays. These may come across as convenient meal choices and they oftentimes are; however, you need to keep the following things in mind before making these purchases:
Check the nutritional label for added sugars, preservatives, and additives.
Read through the ingredient label for whole-grain ingredients to make a well-informed choice.
There are recipes online that can allow you to bulk-make, muesli which can be used for a quick wholesome breakfast on the go alongside yogurt and fruits.
Most-Asked Questions
How can I make sure I eat a healthy breakfast?
Preparing a healthy breakfast takes only 5–10 minutes.
Set your alarm a little earlier to give you time in the morning, or you can prepare the ingredients the night before, such as overnight oats, chopped fruits and nuts, and chopped veggies. It will cut down the time you need in the morning, motivating you to eat a healthy breakfast.
How can I make overnight oats?
Several recipes are available online that you can choose to follow according to your taste preferences.
A basic overnight oat recipe includes oats, milk of choice, chia seeds, sweetener of choice, and cinnamon or other spices of choice. All the ingredients are mixed and stored in the fridge. The next morning you can top it with your choice of fruit before eating.
Final Word
Breakfast is the most important meal of the day and should be treated as such. Making a nutritious and healthy breakfast is not difficult if you choose the right ingredients.
Eating the right foods for the first meal of your day can set a healthy tone for the rest of your day while also providing the right nourishment for your body to fight off diseases.
Was this article helpful?