A migraine is not just a headache, but a "headache on steroids." It is one of the most debilitating neurological disorders and manifests itself in a variety of symptoms – painful recurring headaches being the most common.
In the USA, more than 37 million people suffer from migraines. (1) According to a 2015 report by the American Headache Society, the prevalence of migraine headaches is high, affecting roughly 1 out of every 7 Americans annually.
Migraines and headaches are leading causes of outpatient and emergency department visits and remain an important public health problem, particularly among women during their reproductive years. (2)
To deal with migraine headaches, people often go for over-the-counter or prescribed painkillers. But a singular dependence on swallowing pills is not always a good solution, as it can engender long-term side effects.
Enter essential oils work as a complementary aid in the treatment of migraines and helps make the condition more manageable by attenuating the symptoms.
Essential Oils to Deal With Migraine
Here are some essential oils you can use to treat migraines.
Note: Pregnant women should consult their doctor before using any essential oils, and all essential oils used should be of therapeutic grade.
1. Peppermint essential oil
Peppermint oil is one of the most commonly used essential oils to treat migraine headaches. It contains menthol, which works as a muscle relaxant and pain reliever.
A 2015 study published in Frontiers in Neurology found that a topical gel with 6% menthol decreased pain intensity after two hours. (3)
Another 2015 review published in the Asian Pacific Journal of Tropical Biomedicine suggested that peppermint oil is beneficial for alleviating headaches. (4)
In another review, peppermint oil also works to palliate the severity of headaches. (5) Plus, peppermint essential oil does the trick to ease nausea that comes hand in hand with migraine headaches.
How to use:
Dilute 2 or 3 drops of peppermint oil with 1 or 2 teaspoons of coconut oil, olive oil, or any vegetable oil, and rub it on your shoulders, forehead, and the back of your neck.
Also, you can put a few drops of peppermint oil in a diffuser to disperse the oil into the air. Since excessive menthol can irritate the mucous membranes, it's best to diffuse the oil for only 15 minutes at a stretch.
Note: A maximum of 5% dilution should be used for optimal benefits. Moreover, peppermint oil can be neurotoxic when applied too close to the face. Thus, use it with extreme caution, especially when young children are involved.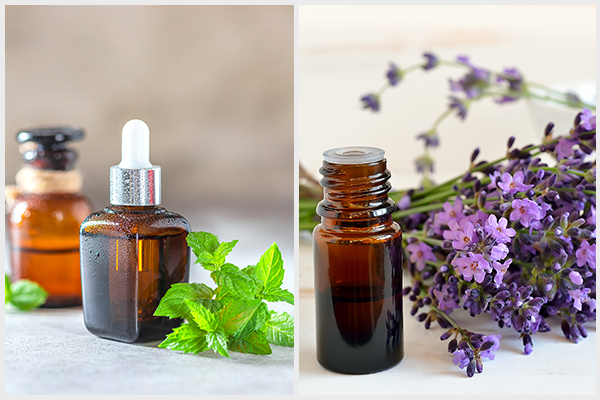 2. Lavender essential oil
Lavender oil, being anti-inflammatory in nature, helps to mitigate the damage caused by headaches and migraines. It also dilates the blood vessels. It even helps you sleep better and reduces stress, thereby addressing two of the most common triggers of migraine attacks.
A study published in European Neurology in 2012 suggests that inhalation of lavender essential oil may be an effective and safe technique for the management of severe migraine headaches. (6)
A 2013 study published in Evidence-Based Complementary and Alternative Medicine further corroborates these findings by proposing lavender oil inhalation as a beneficial migraine management method. (7)
Moreover, this stance is strengthened by a study published in the Journal of Herbal Medicine in 2016, which reports that participants using lavender for three months reported a reduction in the frequency and severity of their migraines. (8)
How to use:
Add 5 drops of lavender oil to a bowl of warm water. Cover your head with a towel, lean over the bowl, and take deep breaths for up to 15 minutes. Inhaling these therapeutic vapors will work to tone down your headache.
You can also use a roller bottle containing 10 ml of coconut oil or any vegetable oil mixed with 15 drops of lavender oil (or 5% for maximum safety and effectiveness). Massage some of this oil mixture behind your ears, at the back of your neck, or on your temples.
Note: Topical application of lavender oil for young boys who have not reached puberty is possibly unsafe as it may cause hormonal imbalance. As a general rule of thumb, it's well advised to keep essential oils out of the reach of children.
Also, it's important to note that you have to use true lavender essential oil, not fragrance oil. A company that takes their oils seriously will usually have the Latin or botanical name on the bottle, as in this case, Lavandula angustifolia. One should stop using lavender oil 2–3 weeks prior to any surgery as this oil is associated with slowing down the nervous system.
3. Eucalyptus essential oil
Eucalyptus essential oil is traditionally used to treat different types of headaches, including those experienced by migraine sufferers. This essential oil works best for migraine attacks that are caused by chronic sinusitis.
According to a 2009 study published in the Journal of Agriculture and Food Chemistry, the leaves of the eucalyptus plant exhibit potent anti-inflammatory activity. (9)
Another 2013 study published in Evidence-Based Complementary and Alternative Medicine extends further support to the above findings by highlighting the pain-relieving and anti-inflammatory effect engendered by inhaling eucalyptus oil. (10)
How to use:
Mix 1 drop of eucalyptus oil into 1 teaspoon of any carrier oil and apply it on your forehead, temples, and chest.
Alternatively, add a few drops of eucalyptus oil to a large bowl of hot water and breathe in the vapors.
You can also put a few drops of eucalyptus oil on a handkerchief and inhale the smell from time to time.
Note: For treating migraine, it's best to use the therapeutic-grade essential oil of Eucalyptus globulus. Application of undiluted oil may cause serious burns, so always dilute eucalyptus essential oil as directed.
Also, because eucalyptus oil reportedly reduces blood sugar level, it should be taken with precautions by patients with diabetes and its use should be discontinued 2–3 weeks before any scheduled surgery. People who have asthma should exercise extra caution when using this oil, as it can end up triggering their symptoms.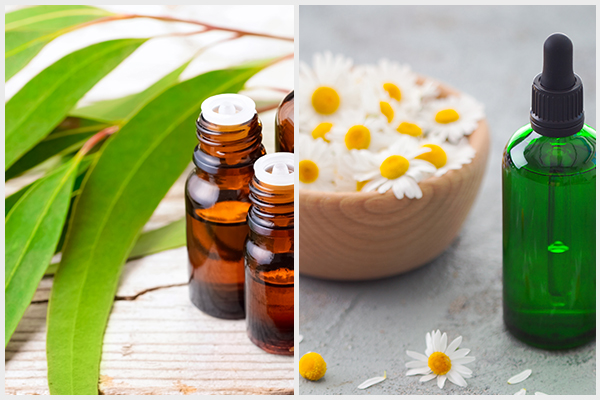 4. Chamomile essential oil
The anti-inflammatory properties in chamomile essential oil can help reduce migraine headaches. A 2014 study published in Medical Hypotheses hypothesized that chamomile oil is a novel but effective medicine for the relief of migraine pain. (11)
Chamomile essential oil, specifically therapeutic-grade roman chamomile (Chamaemelum nobile), is particularly prized for the treatment of migraines as it helps with insomnia, anxiety, and stress, which are some of the common culprits of a migraine attack.
How to use:
Dilute a few drops of chamomile essential oil with 1 or 2 teaspoons of any carrier oil and use it to massage your temples and forehead.
Also, put a few drops of chamomile essential oil in a bowl of hot water and inhale the steam.
Using a blend of Roman chamomile and lavender together may be effective in curbing migraine episodes. When making a blend of the two, use 7 drops of lavender and 7 drops of Roman chamomile in a 10 ml bottle for analgesic effectiveness.
5. Rosemary essential oil
Rosemary essential oil is another effective option in the migraine-relief essential oil basket. It helps treat headaches because of the stimulating, anti-inflammatory, and analgesic properties of the chemotype 1,8-cineole. It has a calming effect on the body and helps reduce stress and insomnia, common triggers of headaches.
A 2008 study published in the Journal of Medicinal Food suggests that rosemary oil has anti-inflammatory and pain-killing properties. (12)
Another 2013 study published in Food Chemistry goes on to highlight the traditional use of rosemary as a medicine to treat headaches, owing to its anti-inflammatory and pain-relieving properties. (13)
How to use:
Add 1 or 2 drops of rosemary herb to a cup of tea, water, or soup, and drink it when experiencing migraine attacks.
Also, you can mix 2 drops of rosemary oil with 2 drops of peppermint oil and 1 teaspoon of coconut oil. Use this to massage your temples, forehead, and the back of your neck.
Note: Rosemary oil should not be used by individuals suffering from seizures or bleeding disorders as the oil can aggravate the problem. Consumption or application of rosemary oil should be avoided at all times in pregnancy as it may stimulate menstruation and cause uterine contraction or miscarriage.
Inhalation of oils high in 1,8-cineole should be avoided in young children, as it can give rise to serious breathing problems.
6. Marjoram essential oil
Marjoram essential oil is much touted for its antidepressant, anti-anxiety, and sedative properties. Furthermore, it works as a muscle relaxant, reducing the muscle pain associated with tightness.
Another feather in its cap is marjoram oil's ability to mitigate stress and tension headaches. In fact, researchers have advanced marjoram as a beneficial agent for overall brain health owing to its effectiveness in strengthening brain tissue. It is on account of this healing property that marjoram oil has emerged as a promising ingredient for treating headaches induced by hangovers or drug and sugar withdrawal. (14)
How to use:
Fill your room with the aromatic goodness of marjoram by adding a few drops of marjoram sweet essential oil to a vaporizer or burner.
For added therapeutic benefits, blend it with Roman chamomile oil and let the soothing and calming fumes do their magic in thwarting those irritating background tension headaches.
Note: Be sure to purchase only high-quality, medicinal-grade essential oils from suppliers who use organic growing procedures and proper distillation methods.
Causes of a Migraine
While the specific cause for migraines is still unidentified, these headaches are generally thought to be a result of certain sensory disruptions in the brain chemicals, nerves, and blood vessels.
Furthermore, a majority of people who battle this affliction are genetically predisposed to it, i.e., it runs in their family.
The following factors have been identified as some of the common triggers for a migraine attack:
Stress
Strong stimuli like loud noises, bright lights, sun glare, and pungent odors
Certain foods such as cheese and salty and processed foods
Hormonal changes such as fluctuations in estrogen brought about by menstrual periods, pregnancy, or medications like oral contraceptives, hormone replacement, and sleeping pills
Changes in the weather or the atmospheric pressure
Disruption in the wake-sleep pattern
Physical exertion
Fasting or staying hungry for long breaks
Symptoms of a Migraine
The onset of this problem usually occurs during childhood, adolescence, or early adulthood. Migraine headaches typically last from 4 to 72 hours and vary in frequency from daily to less than once per year.
Symptoms of migraine vary depending on its four stages:
1. Prodrome
The first stage of a migraine is the prodrome stage wherein you can get an inkling of an impending migraine attack 2–3 days in advance. This stage can be identified by the following symptoms:
Constipation
Mood swings, from depression to elation
A general feeling of exhaustion and frequent yawning
Stiffness in the neck
Food cravings
2. Aura
While most people experience migraines without aura, in some cases, the headache is accompanied by certain sensory, motor, and speech disturbances. These symptoms often set in gradually, intensify over time, and last for 20–60 minutes.
The aura stage is characterized by the following symptoms, which are associated with the nervous system:
Seeing flashes of light and bright spots
Temporary loss of vision
Feeling a loss of strength in the muscles or numbing in the face or one side of the body
A prickle or a tingle in the face, arms, or legs
Difficulty speaking
3. Attack
This phase is the most severe of all the stages as this is when the acute pain begins. It can continue for hours to days and sometimes occurs in tandem with the aura phase. The symptoms associated with this stage are:
Pulsating or throbbing pain in the head
Hypersensitivity to lights and sounds
Feeling dizzy or lightheaded, sometimes even fainting
Localized pain on one side of the head, either left or right or front or back
Nausea
Hazy vision
Prevention of a Migraine
Identify your migraine triggers and avoid them the best you can.
Learn stress management.
Get ample sleep, and maintain a steady sleep cycle.
Don't starve yourself for long periods.
Stay hydrated.
Get rid of your smoking habit.
Exercise regularly.
When to See a Doctor
It is not completely uncommon for a stroke to camouflage as a migraine, given the similarity in their symptoms. It is imperative that you seek prompt medical help if you experience:
Sudden drooping on one side of the face
Slurred speech
A sudden and severe attack without any forewarning symptoms
Fainting
Unusual weakness in the limbs
Fever
Expert Answers (Q&A)
Answered by Dr. Mathew Stokes, MD (Neurologist)
How to stop a migraine headache in its tracks?
It is important, first, to recognize when a migraine is coming on. The sooner the treatment is given, the more effective it will be in stopping the migraine.

The ability to identify subtle symptoms that precede a full-blown migraine attack such as fatigue, irritability, focus problems, or a mild headache, can help in faster and more complete treatment of the headache.
Can migraines cause any permanent neurological damage, if left untreated?
The most damaging consequence of leaving your migraine problem untreated is a gradual loss of productivity and the difficulty of living with pain. However, there is no specific, structural, or neurological damage that occurs as a result of migraine.
Can frequent migraines be symptomatic of brain tumor?
While headaches and migraines can be seen as a symptom of an underlying brain abnormality such as a brain tumor, this is uncommon and often brain imaging is not needed. Oftentimes when we get imaging done for migraines, the results turn out to be normal without outlining a specific cause.

One important contributor to why people get migraines is genetics. People with migraines often have other family members who also have them. The scenario of a patient with a family history of migraine and normal imaging is far more common than finding a structural cause such as a tumor.

In cases where there are other symptoms (such as numbness, weakness, or vision changes) it would be more concerning and would likely prompt your doctor to get imaging of your brain. Even in this scenario, there is a good chance that things will be normal.

Migraines are a complex neurological condition that can frequently have additional symptoms such as dizziness, visual symptoms, eye redness or swelling, or even numbness and weakness.
Is there any permanent cure for migraines?
Unfortunately, we do not have a "cure" for migraine at this time. We have been able to find new ways to treat them and there is ongoing research to find safe and effective ways to help those suffering from migraine. Migraines will often change in frequency and severity over time and for many people they will improve, or even resolve, with time.
Does caffeine mitigate or aggravate the intensity of migraine headaches?
It depends on the person. Some people find that caffeine helps with their migraines, while it acts as a trigger for others. In general, overuse of caffeine tends to be a cause of headache as it makes one increasingly dependent on it. People who drink a lot of caffeine can get headaches when they miss out on their usual caffeine intake.
What natural remedies can be used to get instant relief from a migraine?
There are a number of natural options for both instant migraine relief and migraine prevention. We will often use magnesium in patients who are having migraine. Additionally, some people have used ginger as a treatment for ongoing migraines.

The herbal extract Boswellia is an anti-inflammatory that can also be used. These medications are available as a combination treatment or can be used individually. Essential oils can also be helpful for some people. Common essential oils used for migraine relief include peppermint, lavender, and helichrysum. Again, these therapeutic oils are available in combination forms or they can be used on their own.

Magnesium, as well as Riboflavin (Vitamin B2) and feverfew have been studied and can be used for the prevention of migraines as well. There are also some devices that stimulate the nerves or use magnetic pulses to treat migraine, and these can be prescribed by a physician comfortable with their use.
Can chronic migraines trigger memory loss in people?
People with chronic pain will often have trouble concentrating and have difficulty with memory. This is not necessarily a result of any structural changes in the brain that cause memory loss, but a result of having chronic pain.
What exercises or special massages are recommended to get relief from migraines?
There is not a specific exercise, but regular physical activity is important for patients with migraine. This could include walking, jogging, biking, or anything else that gets you up and active. People feel better in general when they are getting regular exercise.

Some people with headaches and migraine can have neck stiffness and pain. Stretching and strengthening the neck muscles can be helpful in this regard. Massage may be helpful with neck relaxation as well.
Can migraine headaches be induced by certain food choices?
Migraine can definitely be triggered by certain foods and this, again, depends on the person. If a person is getting frequent migraines, they should keep track of what foods may be triggering their headaches. Avoiding such dietary triggers can often be very helpful in preventing migraines.

Some common food/drinks that can induce a migraine episode include chocolate, red wine, certain cheeses, citrus fruits, foods containing MSG, or certain food dyes. Again, such migraine triggers vary from person to person and patients have to keep a close watch on what works for them and what doesn't.
Why are women more prone to migraines in comparison to males?
This is a good question but we don't have a comprehensive explanation for it presently. One thing that certainly contributes are hormonal differences between men and women and it is thought that the fluctuating levels of estrogen may play a role.

This is supported by a couple of things we see in migraine. One is that women often find migraine symptoms fluctuate in relation to their monthly cycle. Additionally, in children we actually see migraine more commonly in boys while they are school age and this changes as they reach puberty.
Final Word
It is important for a person with migraine to keep track of what triggers headaches and what helps their particular condition. Migraine is different for everybody, so a person with migraine needs to pay attention to what it is that they are experiencing.
There are apps that can be used to track the frequency of migraines along with other factors. These can be helpful to both the patient and provider in understanding how headaches are affecting an individual and what may be helpful in treating the patient as well.
Was this article helpful?