Much has been said and written about the importance of a healthy lifestyle and nutritious diet for staying in the best of physical and mental state. While there is no denying the importance of these two key elements, there is also no harm in exploring other, slightly unconventional, routes to improved health.
It is in this context that essential oils have emerged as effective trailblazers with promising outcomes for a myriad of health issues, including a list of cognitive problems, such as mental fatigue, low clarity, poor intellectual performance, impaired concentration, impaired memory, poor memory recall, and lots more.
The best way to capitalize on the brain-stimulating properties of these aromatic compounds is to use them in aromatherapy.
The idea behind aromatherapy is to reap the psychological effects of essential oils by inhaling them as the sense of smell is the strongest of the senses and is best able to influence brain activity. The olfactory bulbs are part of the limbic system and are directly connected to the areas of the brain that process emotion and learning.
This is demonstrated in a 2006 study published in the International Journal of Neuroscience, which suggests that aromatherapy massage may reduce anxiety levels and improve self-esteem. (1)
However, before learning how to use essential oils to boost your brain power, it's important to know which essential oils are the best.
Best Essential Oils That Boost Your Brain Power
Here are the best essential oils for brain health.
1. Lavender essential oil
Lavender essential oil has calming and relaxing properties that help put your nervous system in a parasympathetic rest-and-digest state. This soothing effect on the nerves helps relieve nervous tension and depression. It also gives a boost to cognitive abilities. (2)
A 1998 study published in the International Journal of Neuroscience analyzed the effect of aromatherapy with lavender and rosemary essential oils on mood, electroencephalogram (EEG) patterns of alertness, and ability to do math computations.
Researchers found that the lavender group showed increased beta power suggesting increased drowsiness, had less depressed mood and reported feeling more relaxed, and performed math computations faster and more accurately following aromatherapy. (3)
A 2012 study published in the Journal of the Medical Association of Thailand reports that compared with the base oil, lavender oil increased the power of theta (4–8 Hz) and alpha (8–13 Hz) brain activities. (4)
Another 2015 study published in the Journal of Evidence-Based Care highlighted the potential of aromatherapy with lavender essential oil for reducing depression and stress among hemodialysis patients. Subsequently, this method was proposed as a complementary treatment that can work to improve the quality of life of these patients, with little to no complications. (5)
2. Rosemary essential oil
Rosemary essential oil works as an effective cognitive stimulant, thus helping improve memory and mental focus. A major active chemical compound in rosemary essential oil is 1,8-cineole, which has been found to aid in the absorption and retention of information. (6)(7)
In fact, the memory-enhancing effects of rosemary oil have been considered akin to drugs used for the treatment of dementia. It is also good at increasing brain-wave activities and can be used as a preventive tool against neurodegenerative conditions such as Alzheimer's disease.
Also, the smell of rosemary essential oil may help enhance prospective memory, which is basically the ability to remember upcoming events in order to complete future tasks.
A 2012 study published in Therapeutic Advances in Psychopharmacology further corroborated the beneficial effect engendered by exposure to rosemary aroma on cognitive performance and mood. (6)
Note: It's best not to use rosemary oil for the treatment of infants and children, as it can have damaging respiratory repercussions for your young ones. Prolonged exposure to rosemary oil can slow down or even temporarily stop breathing in children.
3. Lemon essential oil
The refreshing and soothing aroma of lemon essential oil is renowned for its ability to uplift dwindling spirits and mood. However, what makes this essential oil all the more precious is its ability to promote longer concentration spells in people, who are otherwise bordering on ADHD. By improving the attention span, this oil also helps facilitate greater retention of information.
It also has calming and clarifying properties that are helpful for calming your mind, especially when feeling angry, anxious, or run down, and even helps reduce stress. (8) Furthermore, this essential oil inhibits key enzymes linked to neurodegenerative conditions and prooxidant-induced lipid peroxidation.
In a 2009 study published in Psychogeriatrics, researchers analyzed the cumulative effect of aromatherapy on patients with Alzheimer's disease, using rosemary and lemon essential oils in the morning and lavender and orange in the evening. (9)
At the end of the study, aromatherapy was found to work as an efficacious nonpharmacological therapy for dementia with some potential for improving cognitive function, especially in patients with Alzheimer's disease.
4. Peppermint essential oil
Peppermint essential oil can stimulate the mind to support memory, focus, concentration, and mental performance. Plus, it has a muscle-soothing property and a brain-relaxant effect that bolsters mental clarity.
A 2013 study published in the Journal of Alternative and Complementary Medicine analyzed the effect of inhaled peppermint essential oil and other oils on mental exhaustion and moderate burnout. The study concluded that inhaling essential oils may reduce the perceived level of mental fatigue or burnout. However, further research is warranted. (10)
Moreover, the scent of peppermint has demonstrated considerable potency in improving overall cognitive performance by stimulating the areas of the brain that are responsible for alertness (such as the brain's reticular activating system). (11)
5. Cinnamon essential oil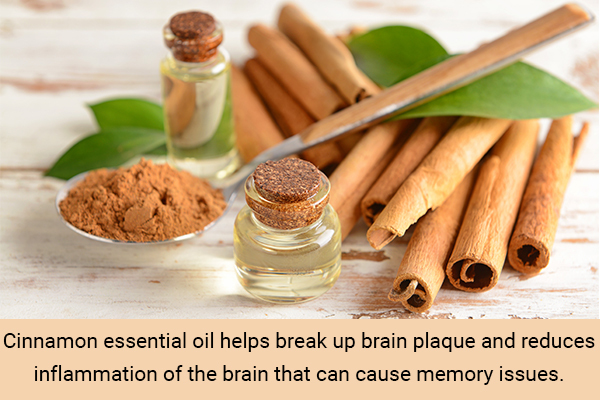 The stimulating power of cinnamon essential oil benefits brain health by fighting mental fatigue and improving cognitive function related to attention, virtual recognition memory, working memory, and visual-motor speed.
Additionally, it helps break up brain plaque and reduce inflammation of the brain that can cause memory issues. It is also effective in preventing and delaying the symptoms of Alzheimer's disease.
A 2014 study published in Evidence-Based Complementary and Alternative Medicine highlights the benefits of this essential oil for the treatment of Alzheimer's disease. (12)
How to Use Essential Oils to Improve Brain Health
There are different ways in which you can use these potent aromatic plant extracts for enhanced brain power and mental health. The five best methods to tap the health benefits of essential oils are as follows:
1. Handkerchief method
The handkerchief method is perhaps the most convenient and straightforward technique, which requires you to directly inhale the therapeutic goodness of the essential oil at regular intervals to maximize its benefits.
In this method, you just need to put 2 or 3 drops of the essential oil of your choice on a handkerchief, tissue, or cotton ball and sniff it occasionally throughout the day. You can continue to reap the mind-healing benefits of essential oils even while sleeping by placing the handkerchief near your pillow before you turn in.
2. Pot and water method
Another method that you can try is the pot and water method.
How to use:
Put water in a small pot.
Add 6 or 7 drops of the essential oil of your choice.
Allow the water to boil until it's steaming.
Turn down the heat and keep the pot on the burner for a few minutes to allow the essential oil to disperse into the air.
If possible, walk around the house with a pot of steaming essential oil water to ensure that the aroma spreads to every corner.
3. Aromatherapy bath or massage
Another easy way to utilize essential oils is through an aromatherapy bath or massage. Similar to other methods, you can add a few drops of a single essential oil or a concoction of different essential oils of your choice to your bath or even your liquid soap and shampoo.
This is the perfect way to unwind after a long day and wash off the grime and the stress that may be weighing you down.
For an aromatherapy bath:
Mix 3 drops of an essential oil or a combination of essential oils in 1 teaspoon of carrier oil, such as olive oil, coconut oil, or sweet almond oil.
Add this oil blend in your bathtub filled with water and mix thoroughly with your hand.
Enjoy this relaxing bath for 15 to 20 minutes, a few times a week.
You can also create a foot bath by adding 2 drops of an essential oil to a foot tub filled with water. Mix thoroughly, and then soak your feet in it for 15 minutes.
For aromatherapy massage:
Put 1 ounce (2 tablespoons) of carrier oil, such as sweet almond oil, into a bowl.
Mix 10 to 12 drops of the essential oil/oils of your choice in it.
Massage your forehead, temples, and/or back of the neck with this oil.
Do this a few times a week.
Note: Exercise caution when using or applying these oils to ensure that they don't get into your eyes.
4. Homemade solid perfume method
Solid perfumes, when used in conjunction with select essential oils, can be effective in administering a positive impact on your brain health. For this purpose, you can use a blend of different essential oils or choose just one depending upon your preference.
How to use:
Open a container of any commercial solid perfume or homemade solid perfume.
Put a couple of drops of essential oil on top of it.
Close the lid properly.
Whenever you need it, just dab a small bit of the perfume on your temples.
5. Candle diffuser method
Another simple method to use essential oils is to employ a candle diffuser to spread the rejuvenating aroma of these incredible healing agents.
Candle diffusers are readily available on the market, particularly in shops that sell essential oils.
Put water on the top bowl of the candle diffuser and add a few drops of essential oil in it.
Light a tea light underneath so that the heat evaporates the essential oil into the air around you.
You can also use an electric diffuser.
Note: As essential oils can be inflammable, be careful when using a candle diffuser.
6. Essential oil reed diffuser
A reed diffuser helps release the healing and relaxing aroma of essential oils into the air.
When making a reed diffuser at home, make sure to pick a container with a narrow opening at the top so that the oil evaporates slowly.
Take a small glass or ceramic container with a narrow opening.
Put ¼ cup of fractionated coconut oil in the container.
Add 20 to 25 drops of a blend of essential oils of your choice.
Mix the oils with a wooden stick or simply a reed diffuser stick.
Put 4 or 5 reed diffuser sticks in the container.
Flip them after a few hours to place the opposite ends of the reed in the oil to help the oil travel up the sticks.
Continue to flip the sticks once a week to refresh the scent.
Reed diffusers are an easy find on the market.
7. Mister method
Another convenient method to make the most of these essential oils, even when you're on the move, is to package and use them via a mister.
The compact bottle enables the spread of the brain-boosting fragrance of the oil even to the most remote corners of the house.
How to use:
Add 1 to 6 drops of essential oil to a spray bottle filled with distilled water.
Give it a nice shake and spray the oil-infused water in and around your surroundings.
Use it as needed and change the water frequently.
Final Word
These wonder tonics have earned the stamp of approval from both herbal practitioners and modern medicine practitioners who swear by the undeniable brain benefits of various essential oils.
Their faith is only further consolidated by research such as the 2014 study featured in Complementary Therapies in Medicine, which found that aromatherapy massage could exert a significant influence on multiple neurobiological indices, namely, EEG power spectrum pattern, salivary cortisol, plasma brain-derived neurotrophic factor, and quantitative psychological assessments. (13)
Was this article helpful?