Dizziness is a broad term that refers to a feeling of imbalance and unsteadiness, but people who experience it usually have a hard time explaining how it makes them feel.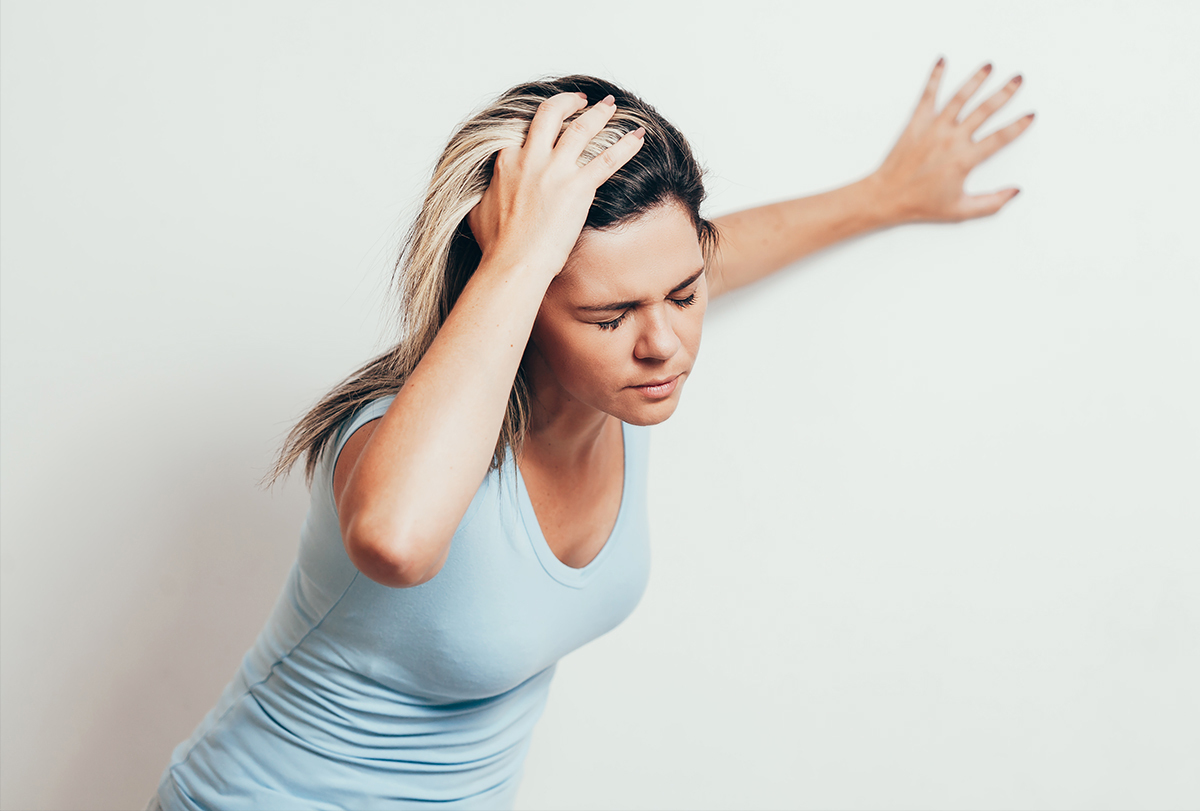 By and large, dizziness can be of two types:
True dizziness, which implies feeling faint, off-balance, and woozy
Vertigo, which means feeling spatially disoriented wherein you get a false sense that your surroundings are spinning or that you are spinning
Everyone experiences occasional dizziness, which usually passes with a bit of rest. However, for some, the problem can be far more chronic.
Since dizziness disrupts your body's sense of balance and spatial orientation, it can make you more prone to falling, walking into things, and other accidents.
Is Dizziness Common?
Nearly 26 million people in the United States visited the emergency room on account of dizziness or vertigo over a period of 10 years, with a median of 3.6 diagnostic tests per patient. (1)
One population-based study revealed that 24% of people aged above 72 years in the United States suffer from dizziness. (2) Although dizziness can affect people of all ages and genders, women are more prone to it than men. (3)
Causes of Dizziness
Dizziness is not a condition in and of itself but a symptom of an underlying health issue.
In most cases, the dizziness is short-lived and not really a cause for concern. Dizziness, especially vertigo, is often caused by the poor functioning of the inner ear balance.
The following inner ear problems are some of the common culprits behind vertigo:
Meniere's disease: This is common in people with a preexisting migraine problem and involves a fluid imbalance in the inner ear.
Benign paroxysmal positional vertigo (BPPV): Most cases of vertigo are attributed to this condition.
Vestibular neuritis: This is characterized by inflammation in the inner ear, usually due to an underlying infection.
Labyrinthitis: The labyrinth in the ear can become inflamed or swollen, giving rise to dizziness.
Other causes of dizziness include:
Dehydration
Atherosclerosis (hardening of the arteries)
Osteoarthritis of the joints in the neck
Orthostatic hypotension or a sudden drop in blood pressure
Low blood sugar levels
Acute heart attacks and strokes 
Certain medications such as dopamine agonists, antihypertensives, antibiotics, anticonvulsants, antidepressants, antipsychotics, antihistamines, pain medications, and anti-inflammatory drugs
Migraine headaches
Motion sickness
An infection of the brain or spinal cord
Stress and anxiety 
Fever
Alcohol or drug abuse
Symptoms of Dizziness
Dizziness is itself a symptom. However, this sensation of discomfort in your head is often accompanied by other symptoms, such as:
Light-headedness or weakness
Loss of body balance causing general unsteadiness
Feeling dazed or confused or having muddled thoughts
Brief episodes of blurred vision
Nausea and vomiting
Collapsing
Temporary loss of consciousness or blacking out
Heart palpitations
Headache
Difficulty in hearing
Ringing in the ears
Medical Treatment for Dizziness
Dizziness is medically managed through the following:
1. Physiotherapy
Vestibular rehabilitation or balance training aims to improve your general body coordination, de-stress your neck and shoulder muscles, and train your eyes to move without moving the head.
The exercises help to offset the inner ear imbalance by repeatedly practicing the head movements that trigger dizziness until the time you build a tolerance. This simple, low-cost intervention can be extremely beneficial for the management of first-stage dizziness.
2. Canalith repositioning
This maneuvering technique is especially helpful for treating benign paroxysmal positional vertigo (BPPV).
Canalith repositioning involves a series of head movements to force the calcium deposits that cause BPPV out of the ear canal and back to their normal position to restore proper vestibular functioning and balance.
3. Medicines
The doctor may prescribe certain medications to help you cope with bouts of dizziness and vertigo, depending upon the underlying cause. These include anti-nausea medications, preventive migraine medications, steroids, or antibiotics.
Avoid taking over-the-counter drugs to relieve dizziness, such as meclizine (Antivert, Bonine), unless your doctor specifically recommends them.
4. Psychotherapy
Doctors often recommend psychotherapy to patients whose dizziness stems from anxiety disorders. Your therapist can help you develop effective coping mechanisms to manage your anxiety, thus helping prevent future episodes of dizziness and vertigo.  
5. Surgery
Surgery becomes the final resort when all other forms of medical therapy fail to correct the underlying structural problem. This is particularly true for certain types of vertigo, such as the one associated with Meniere's disease, caused by gradual changes in the inner ear anatomy.
Diagnosis of Dizziness
Dizziness can result from a whole range of potential health issues, and you may have to undergo a thorough medical evaluation to identify the exact cause.
Unless you know what is causing your dizziness, you will not be able to treat it appropriately. Thus, a proper diagnosis is the first step toward addressing this problem. The doctor will review your medical history and inquire about your symptoms to get a clearer understanding of your condition.
He may also order tests to provide insights into the internal functioning of your body, the results of which will guide the doctor toward the actual source of the problem.
The commonly prescribed tests for diagnosing the cause of dizziness or vertigo include:
Blood pressure reading
Electrocardiogram (ECG) to rule out any cardiac etiology
Hearing tests
Balance testing (ENG), especially in the case of vertigo
Videonystagmography (VNG) to evaluate the inner ear function and balance
Magnetic resonance imaging (MRI) of the head
CT scan of the brain
Complications
Here are a few complications associated with dizziness:
Losing your body balance and mental acuity while driving, crossing a busy street, charting a flight of stairs, operating machinery, or lifting heavy objects can lead to accidents. So, it is best that you halt all such high-risk activities until the feeling passes.
You should even refrain from exercising in this unsteady state as it can make you prone to falls and injuries, while the physical exertion can make the problem worse.
Frequent or chronic dizziness can keep you from accomplishing even the most basic, mundane tasks and seriously affect the quality of your life.
This spatial disorientation can be especially problematic for older adults who are at a greater risk of falling and fracturing their bones.
Always keep in mind that dizziness can be indicative of a serious underlying problem, including diabetes, cancer, or a heart condition, which may worsen if they remain undiagnosed for too long.
When to See a Doctor
You should visit a doctor if:
Your dizziness or vertigo is stressing you out or hampering your daily activities.
The dizziness is persistent or recurrent.
You experience any kind of hearing loss, tinnitus, any sounds in your ears, blurred or double vision, and any changes in your eyesight.
Your face, arms, or legs become numb or weak.
The dizziness is associated with chest pain or palpitations.
You experience fainting spells or feel like you are on the verge of fainting.
You have frequent headaches or a fever higher than 101°F (38.3°C).
Final Word
Dizziness is a common complaint that can occur due to a wide range of underlying reasons, but it is mostly mild and harmless and resolves after resting for a while. However, you must get a thorough medical evaluation if the problem becomes more persistent or frequent.

Continue ReadingDizziness: Home Treatment and Self-Care
Was this article helpful?