Tennis elbow, medically known as lateral epicondylitis, is an overuse injury caused by repeated trauma to the tendons that connect the forearm muscles to the elbow joint. It mostly occurs when you use your arms or wrists to do the same action again and again such as in tennis, which explains the name of this condition.
However, this injury is not limited to tennis players alone but can affect anyone who uses their wrist or arm to perform repetitive or strenuous tasks such as painting, plumbing, excessive use of a computer mouse, and chopping/slicing cooking ingredients.
The repeated movement and strain create tiny tears in the tendons that trigger pain, swelling, and stiffness in the area. These symptoms make it difficult for you to freely move the arm and affected joints, such as the elbow and wrists.
The good thing is over 90% of cases resolve with nonsurgical treatment. (1)
Moreover, there is also a golfer's elbow, known medically as medial epicondylitis. Tennis elbow and golfer's elbow are both overuse injuries that are caused by activities that require repetitive motion of the arm and wrist.
The difference between the two conditions lies in where the elbow is inflamed. Tennis elbow affects the outside of the elbow while the golfer's elbow affects the medial or inside portion.
The famous cricketer Sachin Tendulkar suffered from tennis elbow, so did Venus Williams, Bjorn Borg, Aleksandra Wozniak, Andy Murray, Juan Martin Del Potro, and last but not the least Tiger Woods.
Home Remedies for Tennis Elbow
Here are some natural ways to soothe and heal a tennis elbow injury.
1. Use a combination hot and cold therapy
Combination hot and cold therapy involves alternate applications of cold and warm compresses to ease the discomfort caused by tennis elbow.
The cold temperature first constricts the underlying blood vessels, reducing blood flow in the area and thereby relieving inflammation or swelling. Plus, it numbs the pain by desensitizing the underlying nerve endings for a temporary period. (2)(3)
This is followed by the use of topical heat, which expands the underlying blood vessels and increases blood flow in the area. (4) With more blood come more nutrients that help repair the injured tissue.
Moreover, the warmth helps loosen the underlying muscles, increasing the mobility of the affected joints.
How to use:
Take a hot bottle of water and wrap it in a towel, and then take some ice cubes and use another cloth to cover them.
Apply the cold compress directly to the affected area for 1 minute.
Replace with a hot compress for 3 minutes.
Continue the cycle for at least 15 minutes.
Perform a couple of times every day until there are positive changes.
2. Turmeric can aid in healing
Tennis elbow is characterized by swelling and stiffness in the forearm muscles that make it painfully difficult to move the wrist, hand, and elbow.
Turmeric is known to possess strong anti-inflammatory properties that can help relax these muscles for improved range of motion. It contains multiple antioxidants that promote faster healing of the damaged tendon. Moreover, turmeric works as a natural analgesic that relieves the pain associated with this injury.
Most of these medicinal effects can be traced back to the main active ingredient of turmeric, namely, curcumin. (5)
3. Use ginger
Ginger contains several beneficial nutrients and bioactive compounds. One of them is gingerol, (6) which may alleviate the pain and inflammation caused by a tennis elbow while also speeding up tissue repair.
How to use:
Apply boiled ginger root directly to the affected area to get quick and long-lasting relief.
Mix some ginger and honey in water, and drink this tonic 1–2 times every day until the condition improves.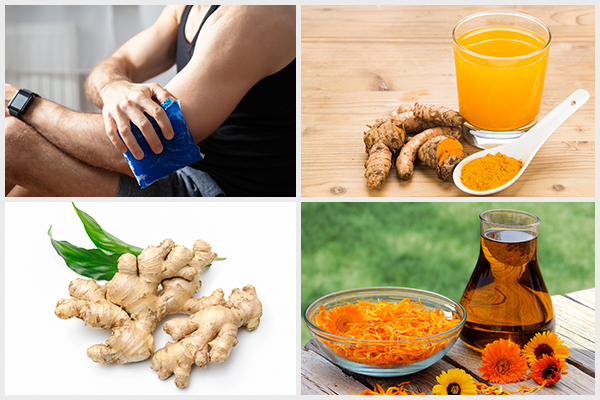 4. Get a calendula oil massage
Massaging calendula oil onto the affected elbow and surrounding area can help reduce pain and swelling. (7)
The topical stimulation enhances blood circulation in the area, thereby relieving muscle stiffness, which makes it easier for you to move the affected arm or elbow. Plus, it brings more nutrients to the site of injury, which speeds up the healing process.
How to use:
Apply a few drops of calendula oil to the affected area.
Gently rub it in by moving your thumb back and forth over the sore tendons.
Do these two or three times daily until the pain goes away.
5. Try using fenugreek seeds
Fenugreek seeds exhibit potent anti-inflammatory effects (8) that help mitigate the pain, swelling, and soreness caused by tennis elbow. This healing agent also promotes tissue repair so that you can recover faster from the injury.
How to use:
Grind 2 spoons of fenugreek seeds into a thick paste, dissolve it in some milk, and apply the mixture to the affected area for 2 hours daily.
Alternatively, you can mix the paste of fenugreek seeds in lukewarm water and drink this concoction daily.
6. Comfrey oil can help bring down inflammation
Comfrey oil can bring down the swelling and muscle stiffness associated with tennis elbow due to its natural anti-inflammatory effects.
Additionally, it works as a mild painkiller to make the area hurt less. (9) This symptomatic relief allows better flexibility and movement in the affected joints.
How to use:
Gently massage a few drops of comfrey oil on the inflamed area twice daily until the symptoms subside.
Place warm comfrey leaves on the affected area for 15 minutes.
7. Use the medicinal virtues of St. John's wort
St. John's wort is a medicinal herb credited with significant analgesic and anti-inflammatory properties that can help provide quick and easy relief from tennis elbow. (10)
How to use:
Steep 2 teaspoons of dried herb in some hot water for 10 minutes, strain the liquid into a cup, mix in some honey, and drink. Consume 2 cups of this therapeutic tea every day.
Apply the essential oil of this herb to the affected area a couple of times daily for several days.
Note: Consult your doctor before using this herb if you are on any prescription medication.
8. Consume garlic
Garlic is replete with selenium and sulfur, both of which help minimize pain and inflammation triggered by tennis elbow. (11)
How to use:
Heat 2 tablespoons of mustard oil in a pan, and sauté 4 cloves of crushed garlic in it until they turn brown. Then, strain the oil, and let it cool down to a comfortably warm temperature, which is safe for application. Gently massage the oil on the affected area for a few minutes, and let it sit for several hours. Do this twice daily for a couple of days.
Chew 2–3 cloves of raw garlic every day.
You can even consult your doctor about starting a garlic supplement. 
9. Drink white willow bark tea
White willow bark contains salicin, which acts as a natural painkiller that can ease the discomfort caused by tennis elbow. (12)
How to use:
Steep 1 teaspoon of dried willow bark into 2 cups of boiling water for about 15 minutes.
Strain the tea and consume while still warm.
Do this every day until the condition improves.
Self-Care Tips for Managing Tennis Elbow
Doctors often recommended the following self-care measures to promote speedy recovery from a tennis elbow injury.
1. Rest your elbow
The first and most important thing to do is minimize the use of the affected elbow for a few days or weeks to avoid further injury to the tendon. Don't engage in any activity that puts a strain on your forearm or exacerbates the pain in the area.
Resting the area will allow the inflammation to subside through the normal healing process while reducing the risk of additional tissue damage.
2. Stretching can help
Resting the injured area is crucial, but complete inactivity for too long can render the arm stiff and immobile.
Thus, you should try some mild exercises such as bending the wrist into flexion or extension to the extent that you feel slight tension but not severe pain. Hold each stretch for 30 seconds and repeat 3 times.
Moving the wrist this way will help stimulate the damaged tendons connected to it so that they can heal quickly and the affected arm can regain optimum mobility.
3. Gently massage your elbow
Gently massaging the painful tendon in various directions helps break down the scar tissue formed over it. Plus, it stimulates blood circulation in the area, which dissipates inflammation and brings more nutrients to the damaged tissue for faster healing.
4. Compress the affected area
Wear a compression brace or elastic medical bandage over the affected elbow and forearm to keep the damaged muscles and tendons in place. This will protect the injured area from any sudden or forceful jolts during everyday activities.
The compression device should be snugly fitted but not too tight as that could restrict blood flow in the area or put too much strain on the affected bursa.
5. Elevating the elbow can help
Rest your elbow comfortably at a raised surface above your heart level. This may help increase blood flow to the affected joint, thereby reducing inflammation and throbbing at the site.
6. Mindful healing
When recovering from a tennis elbow caused by playing tennis or golf, you may have to give up the sport temporarily to avoid further damage and make a gradual return to it as the tissue heals.
As you get better, your doctor may allow you to play again but at a reduced frequency and following safe techniques. Plus, consult your doctor or physical therapist about tips for leading a fully active life without aggravating the injured elbow.
Prevention of Tennis Elbow
Here are a few measures that can help reduce your risk of developing a tennis elbow injury:
Regularly exercise your arms to keep them strong and flexible.
Always stretch and warm up your arms before a workout, sporting activity, or any other repetitive movements.
If you play tennis, squash, or badminton, it is important to use a racquet with padded handles and observe the proper techniques to minimize the risk of injury. Don't grab the racquet too tightly as this will put unnecessary strain on your hand and wrist.
Try simple exercises to stretch and strengthen your wrist and forearm muscles.
If you are engaged in an activity that involves repetitive motion of the arms or wrists, take frequent breaks to allow your muscles and tendons to relax and recover.
Exercises to Include for Tennis Elbow
The following exercise should be done only after the pain has subsided. These are explained in the book The Complete Sports Medicine Book for Women.
Sit on a chair next to a table.
Place the forearm on the table, palm facing down and elbow bent, with the wrist and hand hanging over the edge.
Hold a light weight in the hand.
Slowly raise and lower the hand by bending and straightening the wrist, keeping the forearm planted firmly on the table.
Do 3 sets of 10 repetitions with 1 minute of rest between repetitions.
As the exercise becomes easier, increase the weight.
Next, while standing and with both arms held out in front of the body palms downward, wind up a 450-g (1-lb) weight that is attached by a rope to a piece of wood with the diameter of a broomstick (the rope will be attached to the center of the device with the hands grasping on either side). The weight should almost touch the ground when the rope is unrolled.
Roll the weight up and down 5–6 times by using the strength of the forearm extensor muscles (the rotation of the stick is upward and toward the body); stop if pain is felt. Repeat the exercise every other day.
Gradually increase the weight. Do not increase the number of times that the weight is rolled up. As heavier weights are used and as tissues become stronger, frequency should decrease to once every 7–10 days.
Final Word
Tennis elbow is a common but debilitating injury that can significantly limit the use of the affected arm, wrist, and hand. It damages and weakens the tendons while also causing a lot of pain and inflammation that are aggravated by the slightest wrong movement.
Thus, you will find it increasingly difficult to lift or even hold things and engage in sports or any other strenuous activity. The discomfort and disability aside, this condition can generally be cured without surgery.
You have to work with a doctor and a physical therapist to slowly rehabilitate the injured arm to its full strength and range of motion. The above-listed remedies are to be used as an adjunct to the main medical treatment. These natural interventions can help reduce your dependence on pain medications.
Was this article helpful?