A C-section is also called a cesarean delivery (1) or cesarean birth. It is the delivery of a baby through surgical incisions made in the abdomen and uterus.
Some women willingly opt for a C-section instead of vaginal delivery to avoid the pain, while some are advised by their doctors to do so in view of certain complications.
Whatever be the case, recovering from surgery tends to take a little longer than vaginal childbirth. But there are things you can do to assist in the healing process.
How Common Is a C-Section Delivery?
About 1/3, or 33%, of all deliveries in the United States, are C-sections. (2)
Conditions Considered for a C-Section
A C-section may be recommended for many reasons. Sometimes, C-sections are performed when there is a contraindication to a vaginal delivery or a trial of labor. Examples of these may include:
Problems with the placenta. Two specific examples include placenta previa, (3) which occurs when the placenta is covering the cervix, blocking a vaginal delivery of the baby, and placenta accreta, (4) which occurs when the placenta grows into the uterine wall and is a rare condition.
A history of extensive surgery on the uterus, such as removal of a fibroid
An active genital herpes infection
Certain positions of the baby, such as the baby being sideways or transverse, in the uterus
Breech presentation of the baby
Very large baby
Preexisting medical conditions of the mother, such as high blood pressure disorders
Medical conditions of the baby
There are occasions where a C-section is indicated during labor, before a vaginal delivery can be achieved. This can be due to:
The cervix not dilating, called arrest of dilation
The baby not descending in the pelvis despite pushing, called arrest of descent
Concerns about the well-being of the fetus and/or mother
Sometimes, women request a C-section themselves. Women with a prior C-section may choose to have a scheduled repeat C-section.
Important Tips for a Fast Recovery From a C-Section
Having a healthy pregnancy is the best way to promote a healthy recovery. Staying active during pregnancy is important, as long as your doctor says it is safe. Eat healthy and avoid excessive weight gain. Managing medical conditions both before and during pregnancy can help too! (5)
In the first few days after a C-section, there are three top priorities to speed up recovery:
1. Early ambulation
Getting out of bed and a bit of walking around can help speed up recovery. Most hospitals encourage women to get out of bed around 12 hours after a C-section. (6) It can be hard to do, but nurses and staff are there to assist you! It can be as simple as moving from the bed to a nearby chair.
Staying still in bed increases the risk of developing a blood clot in the legs or lungs. (7) You will also be encouraged to use the bathroom as soon as the catheter in the bladder is removed.
2. Advancing to a regular diet
Starting to eat regular food as early as 2 hours after the C-section can help get the intestines moving and can decrease nausea and vomiting. Even something as simple as chewing gum can help reduce nausea and vomiting postoperatively. (8)
You don't have to eat a normal amount, and sometimes appetite can be decreased for several days, but eating good, healthy food can help. (9)
3. Pain control
Having pain controlled is very important. If pain is uncontrolled, rehabilitation is slowed down. High pain scores may also get in the way of caring for your newborn baby.
Your doctor will prescribe medication that is safe for breastfeeding. Most women need pain medication for several days, if not weeks, after a C-section.
Proper Home Care for a Fast Recovery
Take pain medication as needed. Your doctor will provide you with a prescription and instructions for use.
Abdominal binders can help with pain control. They are often given in the hospital but are also available for purchase. If you love it, wear it as much as you want – just not in the shower! If you don't like it, don't wear it. It's to help with your pain. Abdominal binders do not change how toned your muscles will be or how flat your stomach will be after recovery. (10)
Move and stretch. Exercise is usually postponed for 6 weeks after delivery. However, gentle movement and stretching can help a woman feel more in tune with her body and its recovery. It can also help ease cramps and sore muscles.
Maintain a healthy diet as it provides energy and hastens recovery.
Continue taking a prenatal vitamin to round out any deficiencies in your diet.
Mild anemia is common during pregnancy and after a C-section. (11) Your doctor may recommend an iron supplement to help increase your blood levels again. Iron supplementation for anemia can improve fatigue (and other symptoms you may have). Taking iron with vitamin C or some other acidic foods can help with absorption. Avoid taking iron with dairy products, as they can decrease absorption.
Vaginal bleeding is normal and can last up to 6–8 weeks after delivery. Even if the bleeding seems light, know that it can increase after breastfeeding or sitting/lying down for long periods. Wear overnight size pads to avoid bleeding through the smaller pads. If you're unsure if your bleeding is normal, check in with your doctor. (12)
Avoid constipation. Constipation is a known side effect of surgery and pain medications. Eating a healthy, fiber-rich diet and drinking plenty of water can help minimize constipation. Fiber supplements and stool softeners can be helpful too. 
Ask for help. Let your family and friends know what they can do to help you! You have a new baby and just had surgery – your family and friends are there to support you, and you probably have some good suggestions on how they can do this!
Foods That Aid Healing After a C-Section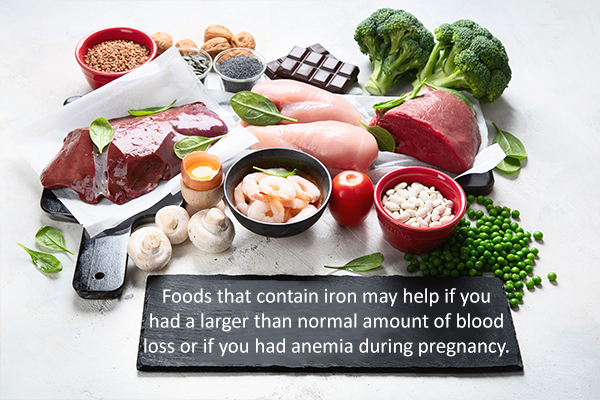 There is no specific diet women must follow. Eating healthy foods is important. Foods that contain iron may help if you had a larger than normal amount of blood loss or if you had anemia during pregnancy.
Avoiding constipating foods and increasing intake of fresh vegetables and fruits can minimize constipation associated with surgery and pain medications. Staying well-hydrated, specifically with water, is also helpful.
Final Word
A lot of people assume that only a vaginal delivery is normal, while a cesarean is not. This is patently false, as different forms of childbirth suit different people for different reasons.
In some cases, natural childbirth can be risky for the mother and baby due to certain suspected or unforeseen complications, and the safer route is to go for a C-section. You must consult your ob-gyn about the most appropriate procedure and then take a final decision.
As with any surgery, there is always the risk of some complications, but these can be easily averted if you are in the hands of a good doctor and medical team. Moreover, you have to stick to doctor-prescribed guidelines for post-operative care to make a quick and complete recovery.
In case you do experience any unexpected pain, discomfort, or other issues, consult your ob-gyn without delay to rule out anything serious.
Was this article helpful?