Office workers doing desk jobs have been at the most risk of a sedentary lifestyle, and recently, with the rise of work-from-home culture, there has been a marked reduction in physical activity levels. People working from home often work longer hours, eat improper meals, and very rarely get any exercise.
Studies have demonstrated that long-term sedentary behavior with little to no physical activity can increase health risks including poor heart health, diabetes, cancer, and overall mortality. (1)
In addition to poor physical and mental health, a sedentary lifestyle also results in lower work performance and enthusiasm. (1)
In many studies conducted in various countries, the use of standing desks was found to be the best way to improve general health in office workers. (1)
Sit-stand desks are even better; they can be changed to both sitting and standing positions and are an easy way to transition into incorporating some physical activity into the schedule.
The Effects of Using a Standing Desk on Health
It might seem a whimsical idea that a standing desk to beneficial health effects. However, extensive research has been done into how a sit-stand table might help. Some of its health advantages are as follows.
1. Controls blood sugar
Since a sedentary lifestyle can cause poor health including unmanaged blood sugar levels, there is a chance a sit-stand desk can help improve these parameters.
Several clinical trials have reported a significant decrease in fasting blood sugar levels and some amount of fat mass when a standing desk was used. However, it cannot replace aerobic exercise in improving heart health or weight loss. (2)
In one study, reducing total sitting time resulted in an improvement in insulin sensitivity in people with obesity, ultimately reducing blood sugar levels, which may improve type 2 diabetes. (3)
2. May reduce weight gain
Though standing desks cannot help you lose weight, they can be helpful in preventing weight gain.
In one study, 1 hour of standing time was helpful in reducing approximately 1 kg of overall weight. Waist size was also noted to be reduced at the end of the 1-month follow-up. (4)
3. Reduces blood cholesterol levels
Using standing desks also has short-term benefits. In officer workers, using a sit-stand desk and increasing standing time in an 8-hour shift resulted in decreased cholesterol levels at the end of 8 weeks. (5)
In another study, the use of adjustable desks also resulted in improved parameters in school children as sitting for long periods can raise blood cholesterol levels. (6)
4. Improves heart health
A sedentary lifestyle is one of the biggest risk factors for developing heart diseases.
A study found a positive relationship between a desk job and a risk of heart disease in people with obesity. The utilization of a sit-stand desk in such individuals improved parameters associated with heart disease. (7)
5. Reduces back pain
Prolonged sitting periods are associated with increased lower back pain. Even a 2-hour intervention of using a sit-stand desk resulted in improved lower back pain. (8)
Though further study is required to identify the impact of using a sit-stand desk on chronic lower back pain, standing for a brief period during work hours can help.
6. Improves mental health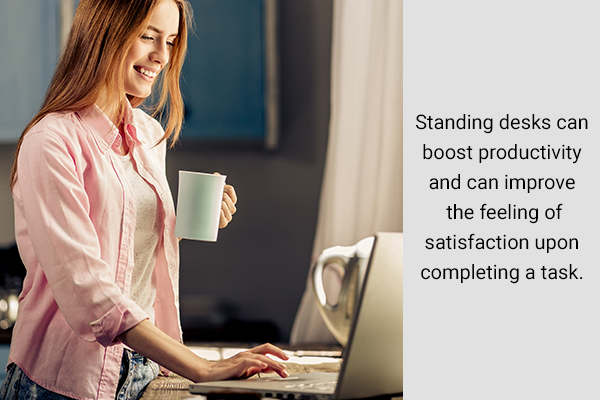 Several studies have explored the role of sit-stand desks in the improvement of mood and mental health.
There is a strong relationship between a sedentary lifestyle and increased anxiety. Since standing desks can prove to be an intervention in a sedentary lifestyle, there is a possibility to experience an improvement in mental health if they are used. (9)
Additionally, since standing desks can boost productivity, they can improve the feeling of satisfaction when completing a task.
7. Can boost productivity
Participants of a study using both sitting and standing during their workday reported better performance on their work tasks. They reported feeling a greater engagement with their work, improved alertness, and enthusiasm. (10)
Using a standing desk though did not affect the rate of task completion.
Precautions to Consider
While there may be health benefits attributed to a standing desk, you must also be cautious in its use.
Standing for too long may result in foot and leg pain. It may also cause swelling in the foot as the blood pools in the leg and feet.
Prolonged standing may cause tiredness and dizziness.
It is also important to remember that a standing desk does not replace exercise. It merely mitigates some effects of a sedentary lifestyle.
Most-Asked Questions About a Standing Desk
How long should I stand?
Almost all researches covered in this article mention a standing period of up to an hour. It is recommended that you stand for 30 minutes to an hour after every 1–2 hours of sitting.
Will a standing desk improve posture?
Making use of a standing desk improves back pain associated with long periods of sitting, but it will not likely help with back pain that occurs due to other reasons.
Similarly, it may help improve posture by taking pressure off the neck and upper back, but it will not help with issues such as scoliosis or other spinal problems.
Final Word
Due to the rise in sedentary lifestyles, it is very important to pay attention to ways that their consequences can be dealt with. The use of standing desks has become increasingly popular and can offer a respite from long periods of inactivity or sitting.
From bringing about better blood sugar control to relieving back pain, a standing desk can be effective when used for 1 hour for every 2–3 hours of sitting.
Was this article helpful?