Urination is your body's way of getting rid of toxins and other waste materials. The color of your urine is indicative of your internal health and is something that you should keep a check on to preempt any potential health issues. (1)
Pale-yellow or clear urine is considered to be a sign of good health. But there are many factors that can make your urine change its color, including medications, foods, and illnesses, among others. (2)
On the other hand, higher fluid intake makes your urine turn clearer. (1) Read on to know what the color of your urine says about your health.
What Is the Natural Color of Urine?
The normal urine color spectrum ranges from a light yellow to deep amber. The pigmentation of normal color is due to a pigment known as urochrome. Urochrome is synthesized via hemoglobin breakdown.
The color of your urine is also dependent on the degree of urine dilution and concentration based on hydration and dehydration, respectively. (3)
Urine Color and Its Health Implications
Here's what the color of your urine says about your health:
1. Cloudy or murky
Cloudy or murky urine can be due to:
Dehydration
Kidney stones
2. Red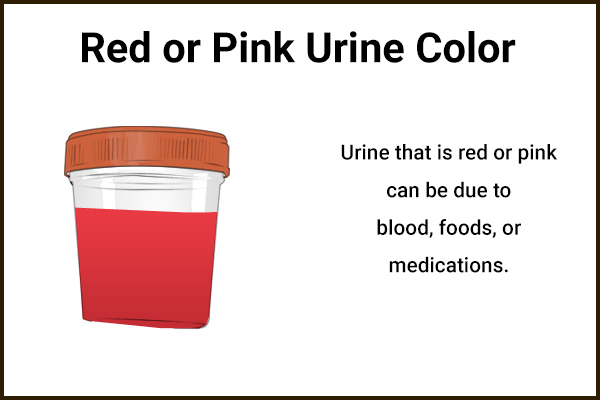 Urine that is red or pink can be due to blood, foods, and medications. (5)
Blood in the urine is also known as hematuria and can be caused by:
Urinary tract infections (UTI)
Kidney cysts
Bladder stones
Enlarged prostate
Cancerous or noncancerous tumors
Strenuous exercise such as running
Lead or mercury poisoning (6)
Red/pink urine can also be caused by certain foods such as:
Medications that cause red urine include:
Rifampin (Rifadin, Rimactane) – antituberculosis medication (8)
Phenazopyridine (Pyridium) – used to numb the urinary tract
Senna-containing laxatives
3. Orange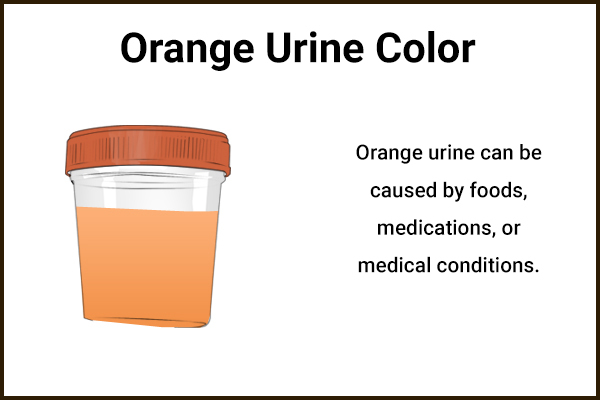 Orange urine can be caused by foods, medications, and medical conditions.
Foods, vitamins, and supplements that lead to orange urine include:
Vitamin C
Vitamin B12
Beta-carotene
Medications that can cause orange urine include:
Sulfasalazine (Azulfidine)
Phenazopyridine (Pyridium, Uristat)
Amoxicillin (Moxatag)
Doxorubicin (Adriamycin)
Certain laxatives
Certain oral contraceptives
Certain chemotherapeutic drugs
Medical conditions may also result in orange urine, such as:
Liver or bile duct dysfunction with the presence of pale stools
Adult-onset jaundice
Dehydration
4. Brown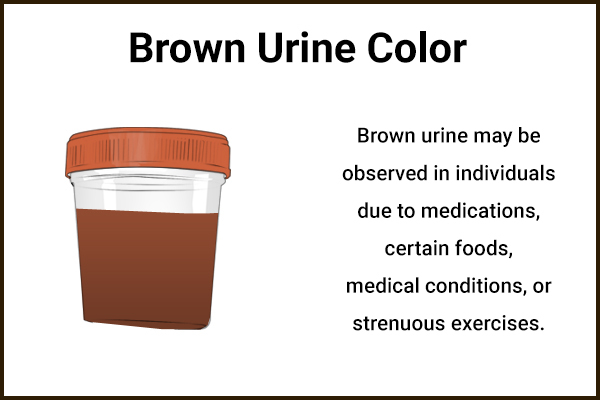 Brown urine may be observed in individuals due to medications, certain foods, medical conditions, and strenuous exercises.
Foods that may cause brown urine include:
Large amounts of fava beans
Rhubarb
Aloe
Medications that lead to the browning of urine include:
Antimalarial drugs such as chloroquine and primaquine (9)
Antibiotics such as metronidazole and nitrofurantoin
Senna- and cascara-containing laxatives
Muscle relaxants such as methocarbamol
Medical illnesses may also manifest as brown urine, such as:
Dehydration
Liver disease
Porphyria
5. Blue or green
Urine that is blue or green in color can be due to dyes, medications, and medical conditions. Dyes such as methylene blue can cause blue- or green-colored urine. (10)
Additionally, some medical tests performed to detect the function of the kidneys and the urinary tract use dyes, which can lead to blue-colored urine.
Medications that cause blue or green urine include:
Antidepressants (amitriptyline)
Anti-inflammatory drugs – indomethacin (Indocin, Tivorbex)
Cimetidine (Tagamet)
Promethazine (Phenergan)
Propofol (Diprivan)
B vitamins
Medical conditions that can alter normal urine to blue or green urine include:
Blue urine: Familial benign hypercalcemia, also known as blue diaper syndrome (11)
Green urine: Pseudomonas-induced urinary tract infections (12)
6. Colorless
Colorless urine is an indicator of excessive hydration. Although adequate hydration is essential, excessive water intake can disturb electrolyte levels. It is essential to drink 64 ounces of fluid daily to maintain adequate functioning of your body. Overconsumption of water can cause urine to turn pale.
Other causes of colorless urine may require a visit to your primary care physician. Causes may be due to:
Liver abnormalities such as cirrhosis
Viral hepatitis
Diabetes
What Is the Composition of Urine?
Urine consists primarily of water, urea, creatinine, ammonia, and inorganic salts. An abnormal urine composition can help identify several diseases. (13)
Age, gender, race, certain types of foods, medications, and exercise can alter the composition of urine. Urine composition also fluctuates throughout the day depending on your body's needs.
When Is a Urine Test Recommended?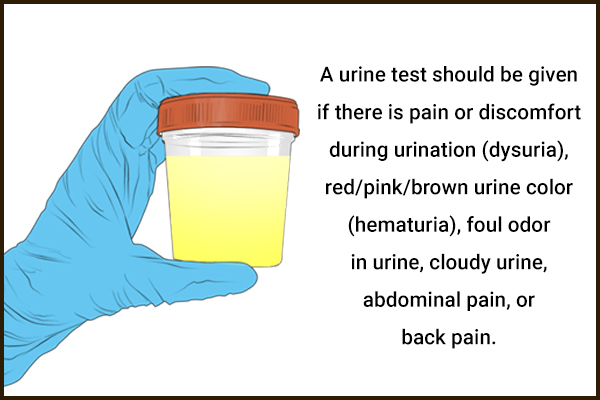 A urine test can be administered to understand your health better. It can be given during routine examinations for health maintenance, admission to a hospital, suspicion of pathology, or monitoring an ongoing ailment.
A urine test should be given if there is pain or discomfort during urination (dysuria), red/pink/brown urine color (hematuria), foul odor in urine, cloudy urine, abdominal pain, and back pain. (14)
A urine test may be performed as an initial test to screen and better understand certain medical conditions such as: 
Urinary tract infections (UTI)
Liver disease
Diabetes
Hypertension
Dehydration
Gout
Other screenings that can be done by urine include:
Urine pregnancy test
Toxicology screen
Pregnancy health
Bacterial STI
How Much Urine Is Excreted in a Day by an Adult?
The amount of urine excreted in a day is variable. However, the average adult excretes urine approximately eight times a day.
The variables include the quantity of fluids consumed such as caffeine and alcohol as well as the overall diet. Pregnant women and the elderly generally excrete urine more frequently than other individuals. (15)
Excessive and frequent urination may be due to other medical conditions and requires a visit to your primary care physician. Such conditions include:
Urinary tract infections
Kidney disease
Enlarged prostate
Vaginitis
Interstitial cystitis
Can Liver Problems Change Urine Color?
Yes, certain diseases can cause increased levels of direct bilirubin in the bloodstream, which is then excreted via urine. A high bilirubin concentration in urine can change its color.
What Can Smelly Urine Indicate?
Foul-smelling urine can occur from dehydration, multivitamin intake, infection of the urinary tract, kidney disease, uncontrolled blood sugar in diabetics, and consumption of certain foods such as asparagus.
Final Word
It is important to maintain routine health visits with your health care provider to preserve good health. A visit to your care provider is essential if you are unsure about your health and the aforementioned changes in your urine are present.
Your care provider may initially administer a urine test to better understand your health, followed by a more specific test to rule in or rule out disease if abnormal results are present.
Was this article helpful?