Your hands do a lot of grunt work every day and suffer a great deal of skin damage as a result. This, coupled with the fact that your skin naturally becomes drier and thinner as you get older, has made dry, rough hands a common problem, especially in adults.
Proactive skin care from a young age can help limit premature aging, but a lot of people limit their skin care regimen to their face alone. 
Other factors that can render your hands increasingly rough, flaky, and dry include cold or arid weather, inflammatory skin conditions, allergies, excessive exposure to water, coming in contact with chemicals and other irritants due to your occupation or household chores, and frequent hand washing or bathing, all of which can strip the natural oils and inherent moisture from your skin. 
Hand dryness can be temporary or prolonged depending upon the root cause. In most cases, simple home care and avoiding the causative agent may be sufficient to heal your hands.
But if you don't respond well to home treatment or develop severe dryness accompanied by other symptoms such as skin fissures, blisters, itching, pain, redness, or swelling, it is best you see a dermatologist about it. Untreated cases of severe hand dryness can cause bleeding or infection.
This article covers some important home remedies and self-care tips to restore the moisture and softness to your dry, rough, and cracked hands along with certain preventive measures to avoid the problem altogether.
Home Remedies for Rough and Cracked Hands
Here are some easy-to-do home remedies to moisturize, soften and repair the rough, damaged skin of your dry and cracked hands.
1. Moisturize with plant oils
Plant oils such as coconut oil, (1) olive oil, argan oil, jojoba oil, castor oil, and other oils that contain vitamin E are great for moisturizing and repairing your skin without causing any undue irritation or other side effects.
Their skin-healing properties can be traced back to their rich phenolic content, which helps curb inflammation and fight free radicals. These therapeutic oils also easily penetrate into the skin to hydrate it at a deeper level and then lock in the moisture by forming a protective seal over the skin. Moreover, plant oils have many nutrients that help nourish the cracked skin. (2)(3)
How to use:
Wash your hands with lukewarm water and pat them dry.
Gently massage a few drops of any plant oil of your choice into your hands.
Reapply when the moisturizing effect starts to wear off or after washing your hands. 
2. Apply jellies and waxes
Petrolatum jelly feels greasy and heavy on the skin, but it provides intensive moisturization for severely dry skin. 
Due to its thick consistency, petrolatum jelly forms a dense, impervious coating over the skin that protects it from external irritants and preserves its water content. (4) It also exhibits robust antimicrobial activity that can help ward off skin infections.
Two of the most popular brands of petrolatum jelly are Vaseline and Aquaphor. (5)
Beeswax is another hydrating agent that forms a thick barrier over the skin to prevent transepidermal water loss. It also contains compounds called sterols and a considerable amount of vitamin A, which are both known to promote skin regeneration. (6)
Beeswax can therefore facilitate the shedding of dead skin and stimulate the growth of fresh skin in its place. This can help heal your dry, cracked hands. Before using beeswax, conduct a patch test to make sure you are not allergic to it. 
How to use:
Apply the jelly or wax directly to your dry hands after washing them with lukewarm water.
Apply any plant oil and then cover it with petrolatum jelly or beeswax.
3. Try oatmeal
Colloidal oatmeal has been used in folk medicine as a topical remedy for centuries to address various skin conditions, including xerosis (dry skin), eczema, erythema (skin redness), pruritus (itching), and burns.
In recent years, this anecdotal use of oatmeal has been substantiated by scientific evidence. Several studies have demonstrated the antioxidant, anti-inflammatory, and skin-healing properties attributed to colloidal oat extracts, which can be used for treating hand dryness. (7)(8)
The topical application of oatmeal moisturizes the skin, curbs the underlying inflammation that is often responsible for dryness, minimizes the skin damage caused by free radicals, and also helps in the shedding of dead skin cells to make room for new ones.
How to use:
Mix 2 tablespoons of ground oatmeal, ½–1 teaspoon of honey, and a little water in a bowl to form a paste.
Gently rub this mixture on your hands for a mild scrubbing effect and to stimulate blood circulation in the hands.
Let it sit on the skin for 10 minutes.
Rinse it off with lukewarm water.
4. Use honey
Honey is a great moisturizer and humectant for all skin types, which has been corroborated by considerable research. A humectant is any substance that attracts water to keep things moist. Topical humectants such as honey trap moisture into your skin to keep it soft and hydrated.
Moreover, honey exhibits antiseptic, antimicrobial, anti-inflammatory, antiallergenic, and antioxidant properties that can help protect and repair your skin. In fact, honey has been widely used in remedies to address various skin diseases. (9)
In the context of hand dryness, honey will serve not only as a great hydrating agent but also as a mild exfoliator to slough away dry, flaky skin. (10)
How to use:
Directly apply slightly diluted organic honey or medical-grade honey that is available at pharmaceutical stores to your hands. Alternatively, you can mix honey with petrolatum jelly or any natural fats to make a paste and then apply it to your hands. You can also add rose water to the mixture for added moisturization. (11)
Let it sit for 10–15 minutes.
Rinse it off with lukewarm water.
5. Apply aloe vera gel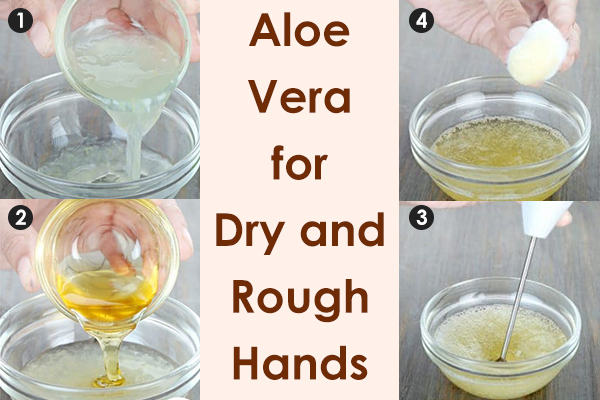 Aloe vera gel is renowned for its skin benefits, so it's no surprise that this therapeutic substance can help with healing dry and rough hands.
Mucopolysaccharides are sugar molecules found in aloe vera gel that are known for their humectant properties. Thus, aloe vera gel not only imparts moisture to the skin but also helps seal it in for long-lasting hydration and softness.
Moreover, aloe vera gel is full of antioxidants that help fight free radical damage and delay skin aging. It readily seeps into the skin to stimulate fibroblasts into producing more skin-building proteins called collagen and elastin, thus enhancing skin elasticity and texture. (12)
How to use:
Cut open a fresh aloe vera leaf and scoop out the gel.
Gently massage the aloe vera gel into your hands for a few minutes. Alternatively, you can mix the aloe gel in natural fats or honey to make a paste and then apply it to your dry hands.
Leave it on for 10–15 minutes.
Wash your hands with lukewarm water.
6. Treat with natural fats
Natural fats such as milk cream, shea butter, (13) cocoa butter, (14) mango butter, (15) and avocado butter can be used as effective hand moisturizers. They contain healthy fatty acids such as linoleic acid and oleic acid that are easily absorbed to deeply hydrate and nourish the skin.
Moreover, the topical application of these natural fats forms a protective coating over the skin that seals in its inherent moisture. (2)
How to use:
Directly apply any of these natural fats all over your hands like a regular moisturizer.
Purchase hand moisturizers that contain any of these natural fats as an ingredient.
7. Gently scrub with sugar or rice
Sugar granules or uncooked ground rice grains are both considered mild abrasives, which means they have a gentle scrubbing effect on the skin. Thus, a sugar or rice scrub can safely be used to remove dead, flaky skin from your dry hands without causing further damage or irritation.
Once the dead skin is shed, new skin grows in its place. This gentle exfoliation helps stimulate blood circulation and skin regeneration, leaving your hands feeling soft and supple.
How to use:
Mix sugar or ground grains of raw rice and honey to prepare the scrub.
Apply the scrub to your hands and gently rub it in circular motions for a few minutes to remove the dead, flaky skin.
Wash your hands with lukewarm water.
Apply a hand moisturizer.
8. Apply OTC creams
If home remedies fail to provide adequate relief, you may need nonprescription creams or ointments to ease the discomfort. The choice of topical treatment will depend on the nature of your symptoms and the underlying condition.
For instance, you may want to try topical steroids that are available over the counter, such as 1% hydrocortisone ointments, to manage the itching or dryness caused by inflammatory skin conditions such as eczema and dermatitis.
Prolonged or excessive use of steroids can cause skin thinning and other dangerous side effects, so it's best to consult your doctor before use. Stick to the prescribed dosage and use, as mentioned on the product label or as instructed by your doctor.
Always apply the cortisone product first and then the moisturizer when using the two together.
Note: Many anti-inflammatory and itch-suppressing creams or lotions contain chemicals that can irritate your sensitive skin or cause allergic reactions, which can worsen your condition.
Thus, it's important to go through the ingredient list before applying any new OTC product to your dry, flaky hands. It's even best if you run it by your doctor to avoid such problems later.
Self-Care Tips and Preventive Measures
You can ease the dry skin in your hands or prevent them from going dry by following these self-care and preventive measures:
1. Moisturize your hands
Moisturize your hands with a hydrating hand emollient every day, and reapply it every time you wash your hands or as often as you need.
There are three types of hand moisturizers to choose from, namely, lotions, creams, and ointments:
Lotions have a thin consistency but can leave your hands feeling utterly greasy because of their oily composition. Moreover, lotions often contain alcohol that can irritate your dry, cracking skin.
Ointments such as Aquaphor and regular petrolatum jelly are also quite greasy and have a thick consistency, but they are very good at trapping moisture to keep your hands hydrated and soft. Ointments are generally recommended for intensive dryness.
Cream moisturizers are perhaps the best pick since they are readily absorbed to provide deep hydration without being greasy or heavy on the skin.
All in all, creams and ointments offer better results and lesser greasiness as opposed to lotions, making them the more preferable choice.
Ingredients to look for in a hand moisturizer include jojoba oil, lanolin, dimethicone, hyaluronic acid, ceramides, salicylic acid, lactic acid, corn husk, mineral oil, and shea butter.
The best time to apply a moisturizer is after hand washing when the skin is still a bit damp but not entirely wet. This layer of moisturizer helps seal the water in your skin.
2. Use hypoallergenic skin products
Use cosmetics and skin products that are labeled "hypoallergenic," as they are gentle enough for sensitive skin. This is because they don't contain common skin irritants such as alcohol, scents, dyes, or skin-peeling chemicals like alpha-hydroxy acids and retinoids that are commonly found in regular skin products.
3. Wear soft/comfortable fabrics
Wear soft, comfortable fabrics, such as cotton and linen, that don't rub against your irritated skin.
4. Drink plenty of water
Drink plenty of water to hydrate your skin from the inside.
5. Apply a cold compress
Apply a cool compress to soothe the itchiness and skin irritation in your hands, but the relief will mostly be temporary.
6. Use minimal amounts of soap while bathing
Use minimal amounts of soap while bathing, mostly to wash the dirty or sweaty areas such as your underarms, groin and genitals, feet, and face.
7. Do not scratch your hands
No matter how itchy your hands get, try not to scratch or rub them as it will only worsen your condition. The friction can further damage the flaky skin and pave the way for infection.
8. Avoid long and hot showers
Avoid long and hot showers that could further strip the moisture from your skin. Instead, bathe with lukewarm water for no more than 10–15 minutes and only once a day. The longer your skin remains immersed in water, the drier it will get.
9. Use a humidifier
Use a humidifier in your home during winters or if you live in a dry environment to impart moisture to your living environment. Install the equipment in your bedroom or wherever you spend most of your time.
10. Use a liquid bandage for dry or cracked hands
The dry skin of your hands develops cracks and stings painfully when it comes in contact with any harsh substance or after rubbing against a surface.
An easy way to avoid this is to cover the cracked skin with liquid plastic bandages, which last for about a week. This plastic coating protects the irritated skin by preventing it from coming in contact with anything else. This helps relieve pain and promote skin healing.
After the wound caused by cracked skin is washed and dried, put the liquid on. You can easily get liquid bandages at any pharmacy without a prescription. However, bear in mind that they often come with a high alcohol content that can aggravate your irritated skin. So, before applying a liquid bandage on your dry hands, it's better to run it by your doctor.
11. Apply sunscreen before venturing outdoors
The harmful UV rays of the sun can damage and dry out your skin. So, it's important to apply a broad-spectrum sunscreen with a minimum of SPF 30 on all the exposed areas, including your hands, before venturing out.
12. Always wear gloves while handling chemicals
Always wear gloves while handling chemicals, chemical-based products such as detergents and dishwashing soaps, grease, and other irritants. Also, protect your hands from the chilly winter wind by putting on gloves before going out.
13. Manage stress
Stress can aggravate inflammatory skin conditions, such as eczema, typically resulting in dry and flaky skin. So, you should try to keep your mind at ease to prevent such stress-induced flare-ups. 
Restful sleep for 7–8 hours is a must. You can also try other relaxing techniques such as yoga, deep breathing, and meditation or go for a high-energy workout to release stress. Listening to soothing music, massages, and engaging in pleasurable hobbies can all help with stress management.
14. Consume foods with high omega-3 content
Eat foods with high omega-3 content such as flaxseeds and freshwater fishes as part of an overall well-balanced diet. (16)
Most-Asked Questions About Dry and Rough Hands
Why is constant hand washing so harsh on the skin?
The epidermis, which is the outermost layer of the skin, is made up of oils and wax that trap moisture within the skin.
Regular soaps contain certain chemical detergents that mix with water to release froth bubbles that can strip away the natural oils from your skin. Thus, repeated handwashing with soap can deplete the skin moisture over time and leave your hands rough and dry.
Also, the loss of skin oils compromises the barrier function of the epidermis and triggers transepidermal water loss.
Can foot cream be used to treat dry hands?
It may not be wise to apply foot creams on your dry, flaky hands since most of them contain ingredients that could further irritate your skin or trigger an allergic reaction.
The skin of your foot is tougher and thicker than that of your hands, which is why what works with your foot may not suit your hands. Hand care products should be gentle on the skin. If you are out of your hand lotion, you can use body lotion to moisturize your hands rather than foot creams.
Can drinking coffee make the skin more dry?
Coffee is mainly composed of caffeine, which is a known diuretic. A diuretic is any substance that increases urine output from the body.
By that logic, excessive coffee or caffeine intake can substantially increase water loss from the body through urination, gradually resulting in dehydration. A dehydrated body will naturally have dehydrated skin.
While all this makes sense, studies have not yet found a credible connection between coffee drinking and dry skin. (17) In fact, scientific evidence points to the contrary with several studies highlighting the skin benefits of coffee. (18)
Final Word
Hand dryness is a common skin problem that may not qualify as a grievous health threat, but it can certainly lead to a lot of discomfort and inconvenience. You need your hands to perform countless everyday tasks, which can gradually wear them out.
While you can't give up on using your hands, you can minimize their skin damage by making the above-discussed hand care routine an integral part of your daily skin care. Most cases of hand dryness are mild and temporary and resolve with simple home care.
But if you don't tend to your hands properly, the dryness will get worse and make your skin flake or crack. Severely dry skin may become increasingly sensitive and sting painfully at the slightest touch or exposure to irritants. If your hands don't seem to heal with preliminary home care, visit a dermatologist for a thorough checkup and proper treatment.
Medical help should also be sought if your discomfort becomes so unbearable that it keeps you up at night or comes in the way of your daily activities. If your hand shows any deep cuts, blisters, pus, bleeding, or signs of infection, call your doctor immediately.

Continue ReadingPossible Causes of Dry and Rough Hands and How to Treat Them
Was this article helpful?