Sometimes, you may notice a pimple or boil on your throat. These are like bumps in the back of your throat that are usually due to some kind of irritant.
They can appear due to a lot of reasons and generally are not considered to be a serious health issue. However, in some cases, they might require a quick check from your doctor.
Look into the details of pimples or boils on the throat by reading on.
What Are the Causes of Pimples or Boils on Throat?
Here are some possible reasons for having a pimple or boil on the throat.
Infections
Pimples, boils, or bumps on the throat are sometimes caused by infections that can be due to bacteria, viruses, or fungi. Some of the common infections include:
1. Tonsillitis
The tonsils are lumps of tissue at the back of the throat that can get infected, leading to tonsillitis, which is more common in children and teenagers. Tonsillitis makes the tonsils look red and swollen and sometimes have yellow spots.
Complications from tonsillitis are rare, but a buildup of pus around the tonsils may occur and go away on its own without treatment. (1)(2)
2. Herpes
Herpes simplex is a virus that can cause different infections depending on where it affects the body. It can occur around the lips, oral cavity, throat, genitalia, or all over the body. Cold sores are one type, which show up as small blisters and can cause a sore throat.
The symptoms of herpes come and go in cycles, with active periods followed by times without symptoms. The first episode of herpes is usually the worst, with fever, muscle pain, swollen lymph nodes, and headaches.
However, as time goes on, the outbreaks become less frequent and less severe. (3)
3. Thrush
Oral thrush is an infection caused by a type of yeast fungus called Candida albicans, which grows in the mouth and throat. Usually, candida is a normal commensal and present in all individuals in a minor range.
However, sometimes it can overgrow beyond the normal limits and cause an infection. When this happens, you might see white spots or patches and red, sore areas in your mouth and throat.
It can cause a burning sensation in the mouth and difficulty eating food. (4)
4. Mononucleosis
Infectious mononucleosis is a disease that causes fever, sore throat, and swollen lymph nodes in the neck. It also causes unusually large cells in the blood. It is mainly caused by a virus called the Epstein-Barr virus.
Mononucleosis may cause spots on the throat. In one case study, a patient who had white spots on his tonsil that kept growing in number and also appeared on his other tonsil was diagnosed with mononucleosis. (5)(6)
5. Strep throat
While most sore throats are caused by viruses, strep throat is caused by a type of bacteria called group A Streptococcus (GAS). This infection affects the throat and tonsils and may cause white patches or streaks of pus on the tonsils, as well as small red spots on the roof of the mouth called petechiae. (7)
6. Hand, foot, and mouth disease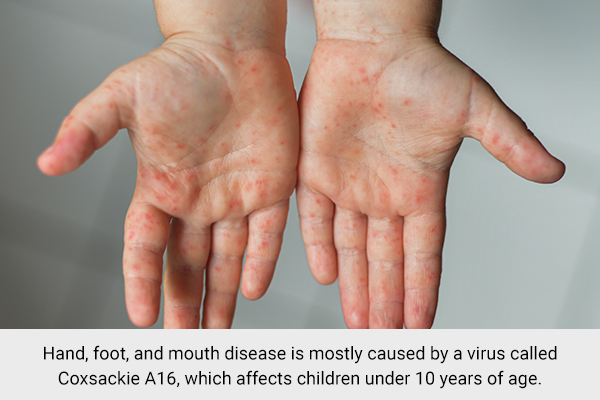 Hand, foot, and mouth disease is mostly caused by a virus called Coxsackie A16, which affects children under 10 years of age.
The disease usually starts with a fever and sore throat, and the child may lose their appetite and feel unwell. After 1–2 days, painful sores can appear in the mouth or throat. It is moderately contagious and spreads through direct contact with infected mucus, saliva, or feces.
Hand, foot, and mouth disease often occurs in small outbreaks during the summer and autumn months. (8)
Cobblestone throat
Cobblestone throat is defined as a throat irritation that causes bumps in your throat. It occurs due to excessive mucus secretion in the throat or extra thickening of the oral mucus.
The accumulation of excessive mucus leads to irritation and cobblestone throat. It can occur due to many reasons such as: (9)
Allergic reaction
Respiratory infections
Dry air
Treatment for Pimples or Boils on Throat
The treatment of pimples or boils on the throat depends upon their underlying cause.
1. Antibiotics
If the boil is caused by a bacterial infection, your doctor will prescribe antibiotics. The most common bacteria that cause tonsillitis is called Streptococcus pyogenes, and if antibiotics are needed to treat it, penicillin is usually the first choice. (1)
Patients diagnosed with pharyngitis or an infection caused by group A Streptococcus are usually prescribed penicillin or amoxicillin due to their low cost and few side effects.
Symptoms may begin to improve within 1–3 days after starting treatment, and patients can usually return to work or school 24 hours after beginning treatment. (10)
Note: Antibiotics only help with bacterial infections, such as bacterial tonsillitis. Most sore throats will get better on their own in about a week, without needing any special treatment.
When you have a cold and a sore throat, which are typically caused by viruses, antibiotics won't work.
Also, taking antibiotics may have associated side effects and can cause antibiotic resistance (a condition where antibiotics stop working on a patient) if not taken properly. So, only take antibiotics after advice from a healthcare professional and complete the full course of antibiotic therapy. (11)
2. NSAIDs
If you are suffering from pain, discomfort, or inflammation, your doctor may also suggest that you take some over-the-counter medication such as nonsteroidal anti-inflammatory drugs for symptomatic relief.
To help manage the pain and fever associated with infections such as group A Streptococcus pharyngitis, the Infectious Diseases Society of America (IDSA) suggests the use of acetaminophen or NSAIDs. (10)
3. Antifungal medication
If the bumps are due to a fungal infection such as oral thrush, your doctor will prescribe antifungal or antimycotic medicines. They can be applied directly to the mouth or swallowed to help treat the infection. (12)
Note: If the bumps are due to a reason other than infection, then the treatment will depend on the same after a thorough diagnosis. Some chronic conditions also lead to pimples or boils on the throat such as oral cancer, which would require chemotherapy and supportive treatment. (13)
Management of Bumps on Throat
Bumps in the throat can be very painful and a source of discomfort even if they are not causing any serious health issues.
Here are some remedies or ways to manage these at home.
1. Maintaining proper oral hygiene
It is extremely important that you thoroughly brush your teeth twice a day and also use mouthwash that has antibacterial active ingredients to keep infections at bay.
Additionally, you can gargle with salt water to manage throat symptoms. Gargling is a good way to keep these pimples from growing. (14)
How to do salt water gargles:
Dissolve ½–1 teaspoon of salt in a glass of warm water.
Take a mouthful of the saltwater solution.
Tilt your head back and gargle with the saltwater solution for at least 30 seconds.
Spit the solution out into the sink.
Repeat until the entire glass of saltwater solution is used up.
Rinse your mouth with plain water.
2. Eating right
Sometimes, bacterial infections can be due to excessive sugar intake.
Changing your diet can help reduce the pain from mouth sores. Make sure that your diet is not aggravating your condition, and do not eat foods that may irritate your digestive tract.
Eating right involves:
Consuming soft foods that are easier to chew
Avoiding hot or alcoholic drinks that can irritate the sores
Using honey instead of sugar to sweeten your food (12)
3. Preventing allergies
If you suffer from food allergies, make sure that you stay away from allergens. Food allergies are also known to cause boils on the throat, which can be very uncomfortable to deal with.
If you do not know what you're allergic to, pay close attention to what you are eating and whether you experience an inflammatory reaction afterward.
4. Staying hydrated
To manage boils on the throat, it is important to stay hydrated by drinking enough water. Proper management of oral lesions involves controlling pain, providing supportive care, and staying hydrated.
This means that along with treating the symptoms of the lesion, it is also important to maintain hydration levels to aid in the healing process. Drinking water can help reduce the discomfort and inflammation associated with oral lesions, including pimples or boils on the throat.
Therefore, staying hydrated can be an important aspect of managing and treating such lesions. (15)
Most-Asked Questions About Pimples or Boils on Throat
What are the common symptoms of having pimples or boils on your throat?
The most common signs and symptoms experienced by people who have pimples or boils on the throat include:
Pain in the throat
Difficulty swallowing
Blockage in the nose
Fever
A sudden change in the voice
Are pimples or boils on the throat also associated with bumps?
Pimples or boils can sometimes be accompanied by small bumps or nodules in the surrounding area. Other conditions can also cause bumps in the throat, so it's best to consult a healthcare provider for an accurate diagnosis.
Can bumps in the back of the throat be a result of cancer?
Oral cancer can appear as a single lump, sore, or red or white lesion. It is usually seen in men over the age of 40, but it is becoming more common in younger people.
Any oral lesion that lasts for more than 3 weeks should be viewed with suspicion and requires a biopsy. (13) Detecting oral cancer early can lead to better treatment, cosmetic and functional results, and survival rates.
How is the cause of boils on the throat determined?
If you have a pimple or boil on your throat, visit your ENT specialist, who will be responsible for diagnosing the cause of the problem.
They will examine your throat and look at the physical characteristics of the bumps, which include their color and size. They may also do further tests such as blood testing to see if it is bacterial or viral in nature, and they will suggest the course of treatment accordingly.
Final Word
Pimples or boils on the throat are bumps at the back of the throat that may be caused by infections or irritants. Although most of the time they are not a serious health issue, sometimes they may require a quick check from a doctor.
The possible causes of throat pimples or boils include tonsillitis, herpes, thrush, mononucleosis, strep throat, cobblestone throat, and hand, foot, and mouth disease. It is essential to maintain proper oral hygiene, try salt water gargles, and eat healthily to manage throat boils.
Changing your diet can also help reduce pain from mouth sores. Preventing allergies and avoiding irritants can also help prevent pimples on the throat.
Was this article helpful?