Chest congestion is a common symptom of influenza, bronchitis, and several other respiratory tract infections that trigger an overproduction of mucus.
When you inhale a microbial pathogen or external irritant, the mucous membranes are stimulated to produce increased amounts of phlegm to trap the foreign invader. The infection-causing agent is then coughed out from the respiratory tract along with the excess mucus.
It is when these slimy fluids accumulate in the lungs that you may experience a feeling of heaviness and tightness in the chest, which is referred to as chest congestion.
Causes of Chest Congestion
Chest congestion may be caused by any of the following:
Allergens
Asthma and reactive airway disease
Bronchitis (inflammation of the bronchial tubes)
Chronic obstructive pulmonary disease (COPD)
Pneumonia
Congestive heart failure
Signs and Symptoms of Chest Congestion
The buildup of mucus in your respiratory tract not only restricts airflow but also adversely affects your paranasal sinuses, ears, throat, and voice.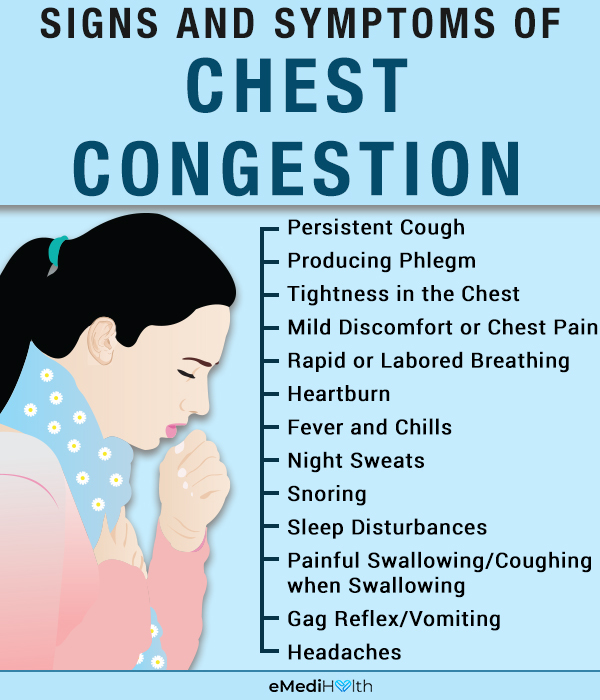 The pooling of the excess mucus in the lungs leads to chest congestion, which is usually accompanied by the following symptoms:
Tightness in the chest
Mild discomfort or pain in the chest
Rapid or labored breathing
Heartburn
Night sweats
Snoring
Sleep disturbances
Impaired hearing and olfactory function (sense of smell)
Headaches
Pain when swallowing or coughing when swallowing
Gag reflex or vomiting
Medical Treatment for Chest Congestion
The following types of medications are generally used to relieve the symptoms of chest congestion. (1)
1. Cough expectorants
Chest congestion is caused by the accumulation of mucus in the respiratory tract, which is generally triggered by viral respiratory infections such as the common cold or flu.
Cough expectorants such as guaifenesin help to dilute the consistency of thick, coagulated mucus to make it easy to expel. Low doses of guaifenesin are used in many cough syrup preparations and in combination with decongestants, antipyretics, and cough suppressants. However, overdosing on any of these medications to get more of guaifenesin can trigger dangerous side effects, so stick to the prescribed dosage.
Guaifenesin, in larger and more effective doses, comes in tablets ranging from 400 mg to 1,200 mg per tablet. The total dose should not exceed 2,400 mg daily, and it should be distributed throughout the 24 hours.
Caution:
The main drawback of guaifenesin is the potential for stomach irritation, so it is recommended to take this drug after eating.
Pregnant and lactating women should not take guaifenesin unless advised by their ob-gyn. There is no definitive evidence to suggest that guaifenesin can affect your pregnancy or be passed onto the baby through breast milk, but the FDA has not entirely dismissed the potential risks. It's best to err on the side of caution.
2. Cough suppressants
Cough suppressants are a class of medicines that are generally used to treat dry cough. It reduces the cough reflex, which decreases the urge to cough.
Dextromethorphan (DM) is an over-the-counter cough suppressant that alters the nervous system response to airway irritants and, consequently, reduces the cough reflex.
Caution:
Dextromethorphan can react negatively with certain commonly prescribed medications, especially antidepressants.
Cough suppressants in general can make expectorating the airway contents (phlegm) difficult.
3. Mucolytics
Mucolytics help in clearing the mucus from the airways, lungs, bronchi, and trachea. Examples include nebulized sodium bicarbonate and nebulized acetylcysteine, both of which help in making the phlegm less sticky, loose, and easy to cough out.   
Note: Acetylcysteine can cause constriction of the smooth muscles in the bronchi and usually requires a prescription.
4. Decongestants
Dilated blood vessels may cause blockage of the nasal passages. A decongestant called pseudoephedrine shrinks the blood vessels within the nasal airways and relieves congestion.
Note: If you are breastfeeding, consult your physician before using any decongestants as they may reduce lactation.
5. Antibiotics
Antibiotics are specifically used to treat bacterial infections and are largely ineffective in fighting viruses that are mostly responsible for chest congestion.
However, antibiotics can help relieve some of the symptoms of the viral infection, provided they are taken in the correct dosage and with a doctor's prescription.  
Taking antibiotics when they are not needed may result in the emergence of resistant microbes, which may need stronger antibiotics that are only administered in a hospital setting.
Caution:
Some medicines may have adverse interactions when used together. Consult your doctor before starting any over-the-counter drug or complementary medicine (vitamins, herbal products).
Avoid giving aspirin or any medicine containing aspirin to children younger than 19 years, unless recommended by your healthcare provider. It may predispose your child to Reye's syndrome, a rare condition that usually affects children in the wake of a viral infection and can cause serious liver or brain damage.
Diagnosing Chest Congestion
Chest congestion, along with a chronic cough, may indicate allergy or asthma. It is important to contact your physician to obtain a proper diagnosis. The doctor usually considers your symptoms and medical history and performs a physical evaluation to determine the triggers of your allergic reactions.
Physical exam entails the visual inspection of your throat and ears and examining the lymph nodes in your neck. Some noninvasive diagnostic tests may also be recommended by the doctor, including:
1. Sputum and nasal discharge tests
A sample of your sputum or nasal discharge is examined to identify the infection-causing agent.
2. Chest X-rays
X-rays enable the doctor to assess the extent of congestion and detect any structural abnormalities within the respiratory tract.
3. Pulse oximetry
A small clip-like device that has a sensor is placed on your finger or toe to measure the oxygen saturation in your blood.
Risk Factors for Chronic Cough
The following are the risk factors for chronic cough:
Cigarette smoking increases your likelihood of developing a chronic cough, even after you have quit the habit. Direct smoking or secondhand inhalation of tobacco smoke causes chronic inflammation in the airways and the lungs.
Exposure to someone with a contagious respiratory infection increases your risk of picking up the infection easily.
People with preexisting allergies have a tendency to break into uncontrollable coughing spells when exposed to specific allergens.
Environmental irritants whether occupational (allergens, organic dust, or toxins) or household (smoke from cooking on a coal fire, pet dander, etc.) – may trigger a cough.
Chronic lung diseases such as COPD, bronchiectasis (enlarged airways), and asthma, and previous lung infections that left scars can increase susceptibility to developing a chronic cough.
Women are more likely to develop chronic cough than men as they are born with a relatively sensitive cough reflex.
When to See a Doctor
Chest congestion may exhaust you and disrupt your daily routine. The signs and symptoms of chest congestion usually subside in 3–5 days. If they continue for more than 7–14 days, seek prompt medical consult.
If you experience any of the following symptoms, immediately contact your doctor:
Coughing up blood
High fever
Difficulty breathing
Shortness of breath
Recent exposure to a person with tuberculosis or whooping cough
Swollen leg and shortness of breath especially when lying flat
Wheezing while breathing
Mucus discharge, which may be green or yellow in color
Heaviness in the chest that causes difficulty sleeping
Final Word
Although chest congestion is fairly common and nonthreatening, it can hamper your overall quality of life by disrupting your breathing, sleep, and daytime activities.
It can be the result of an allergy, cold, or flu and can generally be treated with a combination of over-the-counter medications and home remedies that provide relief by loosening the mucus and clearing the airways.
However, you may need a medical evaluation if the condition becomes persistent or recurrent despite proper care, mainly to rule out any serious underlying cause.

Continue ReadingHome Remedies to Reduce Chest Congestion
Was this article helpful?