The common cold refers to a group of upper respiratory symptoms such as a stuffed nose, throat congestion, and cough. It is caused by a number of viral infections.
It is common all over the world and usually does not require any medical intervention. Most cases of colds last for a week or two and can be managed with the help of some handy home remedies.
Homes Remedies to Relieve Common Cold Discomfort
Here are the most effective home remedies that can bring relief from a common cold. (1)(2)
1. Consume garlic
Garlic contains potent antimicrobial compounds that may help fight off the viral infection that causes a cold, such as allicin.
Garlic is also filled with anti-inflammatory properties that may help soothe the nasal passages and clear up a stuffed nose. (3)(4)
How to use:
Eat at least 4 cloves of raw garlic in a day for faster relief.
You can also boil 4–5 garlic cloves in a cup of water to make garlic tea. Add a teaspoon of honey and drink it.
Note: People on blood-thinning medications or who have a bleeding disorder should avoid consuming garlic.
2. Use honey
Honey contains widely proven and powerful antimicrobial properties. It also has a demulcent effect and can help cure cough.
Filled with antioxidants, raw unadulterated honey can be a potent home remedy for the common cold. (5)(6)(7)
How to use:
Add a teaspoon of lemon juice to 2 teaspoons of honey.
Consume this mixture on an empty stomach.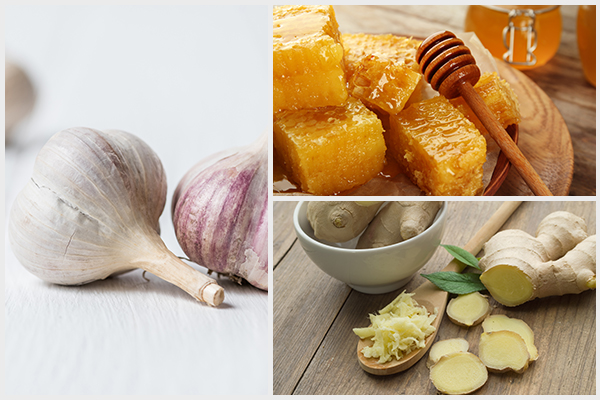 3. Drink ginger tea
Ginger contains active compounds called gingerols, which have strong antibacterial and antiviral properties. You can consume ginger in many forms such as ginger teas and ginger supplements. (8)(9)(10)
How to use:
Add a tablespoon of crushed or chopped ginger to a cup of boiling water.
Steep this tea for a few minutes.
Strain the liquid, and you may add a teaspoon of honey for extra benefit.
Drink the tea.
4. Consume vitamin C-rich foods
Vitamin C is an immune-boosting nutrient and can help improve your overall immunity and protect you from frequent infections. It can also help speed up recovery.
According to some studies, vitamin C may be required in very high doses to help fight the common cold. Hence, vitamin C supplements are sometimes recommended by doctors to fight off the flu or a severe cold. (11)(12)
Note: Do not take any supplements without the advice of your doctor.
How to use:
Consume fruits and vegetables rich in vitamin C every day. These include oranges, lemons, spinach, pineapple, and guava.
5. Drink turmeric milk
Turmeric contains an active compound called curcumin, which is an excellent anti-inflammatory agent and can provide relief from cough, runny nose, and sore throat. It also has antimicrobial properties that can help fight the infection. (13)
How to use:
Add ½–1 teaspoon of turmeric to a cup of warm milk.
Drink this turmeric milk.
6. Drink cinnamon tea
Cinnamon contains phenolic compounds and other plant chemicals with potent anti-inflammatory properties. It also contains antioxidants that help your body fight infections. (14)
How to use:
Add 1 tablespoon of cinnamon powder to a couple of cups of water.
Boil this tea for a few minutes.
Strain and drink the tea.
Prevention for the Common Cold
Steer clear of the common cold by following these preventive tips:
Wash your hands with soap often.
Do not touch your face often.
Distance yourself from people suffering from a cold.
Drink hot beverages such as tea for quick relief from cold and cough.
Take plenty of rest to restore your energy.
Consume a diet rich in fresh fruits and vegetables.
Discard used tissues as soon as you use them.
Most-Asked Questions About Common Cold
Do antibiotics help fight common colds?
No, do not take antibiotics to fight a common cold unless advised by a doctor. Most cases of common colds are caused by viral infections and cannot be treated by antibiotics.
Taking antibiotics without a prescription can lead to much more dangerous complications such as antibiotic resistance. (17)
Antibiotics are prescribed by doctors only when there is a secondary infection in your respiratory tract.
What are the possible complications of the common cold in a child?
Some rare complications of the common cold include:
Ear infections
Sinusitis
Pneumonia
Throat infections (18)
What is the difference between the common cold and flu?
The common cold, as the name suggests, is a common infection that only affects the upper respiratory tract – the nose and throat. It usually resolves within a week or two.
The flu is a more serious infection that can cause a fever, body aches, general weakness, etc. The flu vaccine can help prevent the flu but does not prevent the common cold.
Final Word
The common cold is usually a mild condition that can be treated with home remedies. If you do not feel better even after trying these remedies, you can take over-the-counter medicines for cough and cold.

Continue ReadingCommon Cold: Causes, Symptoms, Treatment, Risk Factors, and More
Was this article helpful?