Garlic contains nearly 33 volatile organic sulfur-containing compounds (VOSCs) that are released into the air when it is crushed, chewed, or cut and produce its characteristic smell.
Allicin is one such sulfuric compound that is the chief constituent of garlic and is mainly responsible for its strong musty odor. (1)
When you eat raw garlic or foods that contain garlic, the VOSCs are released into the mouth to give you garlic breath, which may persist for an entire day. (2)
Similarly, using your hands to peel, crush, or chop garlic can make them smell like garlic for a long time. The pungent odor is so stubborn that simple hand washing may not suffice to get rid of it.
This article will share some ingenious ways to get rid of that pungent odor in no time.
Ways to Remove Garlic Smell From Your Breath
Here are some measures to reduce garlic breath:
1. Brush your teeth
Maintaining proper oral hygiene is the best way to avoid bad breath, or halitosis. The most basic step for that is brushing your teeth with fluoride toothpaste twice a day (morning and night) as well as after eating strong-smelling foods like garlic.
The scrubbing of the dental surfaces helps remove any food residue that will otherwise rot over time and invite foul-smelling bacteria to make your breath smell bad.
Make sure to brush your tongue as well for a thorough cleaning. Do this as soon as you are done with the meal to prevent the sulfuric garlic compounds from binding to the oral surfaces, which can make the stink difficult to get rid of. (3)
It may be wise to keep a spare toothbrush and toothpaste on your work desk so that you can freshen up your mouth after lunch. 
2. Use a mouthwash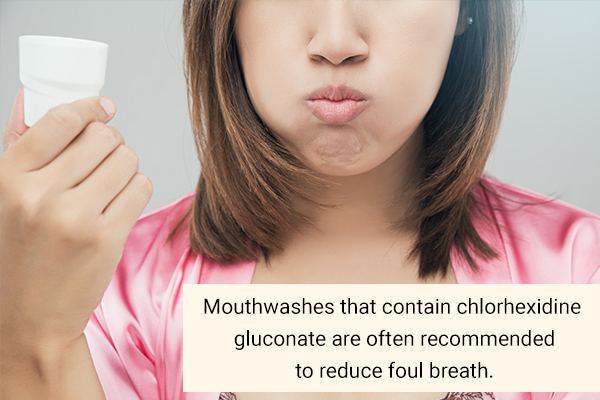 Mouthwashes that contain chlorhexidine gluconate are often recommended to reduce foul breath. They work by killing the malodorous bacteria in the mouth, and the effect usually lasts for several hours.
Swishing this liquid in your oral cavity helps dislodge any food debris stuck in the corners and crevices that are hard to reach with a toothbrush. Needless to say, rinsing your mouth with this medicated solution can help banish the pungent smell that lingers in your mouth after eating something garlicky.
Mouthwashes usually have a strong minty fragrance, which masks the unsavory smell of garlic and the sulfuric fumes released by oral bacteria.
Other ingredients to look for in your mouthwash include cetylpyridinium chloride, chlorine dioxide, and zinc chloride. (4)
3. Chew gum
Chewing gum is a quick and easy way to get rid of bad breath, provided it has the right ingredients. It should ideally contain:
Lactobacillus, which is a probiotic or good bacterium that helps counter the malodorous bacteria in the mouth
Zinc acetate, which helps neutralize the VOSCs produced by oral bacteria that lead to bad breath
Not just that, the act of chewing stimulates the flow of saliva, which helps flush down any food or garlic residue in the mouth.
4. Drink green tea
Green tea that does not undergo fermentation during the drying process is credited with multiple therapeutic effects. This is largely due to the presence of certain polyphenolic compounds called catechins, which possess significant antioxidant and antibacterial activity. (7)
These compounds help reduce malodorous bacteria in the mouth, saving you from bad breath. Similarly, they may help neutralize the sulfur compounds released from garlic that can stink up your mouth.
A 2014 NCBI report found green tea mouthwash to be more effective in fighting halitosis than normal green tea extract. (7) But in another 2016 study, green tea was quite ineffective in deodorizing the VOSCs responsible for the garlic smell. (2)
So, even though there is considerable anecdotal evidence to support the use of green tea for reducing garlic breath, more extensive clinical studies are still needed to determine its actual efficacy in this regard.
However, there is no harm in trying this remedy, which poses no health risk and can facilitate better digestion. Drink a warm soothing cup of green tea after having a garlic-heavy meal.
5. Drink rosemary tea
Rosemary is a perennial, sweet-smelling plant that is indigenous to the Mediterranean region but can be found all over the world. (8) Its main constituents are caffeic acid and rosmarinic acid. (9)
A 2016 study showed that rosmarinic acid fared better than all other tested compounds in banishing garlic breath. (2) Its pleasant aroma can cover up the stubborn sulfuric smell of garlic.
Thus, drinking rosemary tea after consuming garlic may keep your mouth from smelling like it.
6. Chew parsley
Parsley has a strong refreshing fragrance that can help cover up your garlic breath. All you need to do is chew a few sprigs after the meal.
There may not be much scientific evidence to support the deodorizing effect of parsley on garlic breath, but it is widely used in Italy as an antidote for halitosis. (10) Give it a try and see how it fares for you.
7. Chew cardamom
Cardamom is often used as a mouth freshener because of its warm spicy aroma that stems from its chief active component called cineole. This fragrance helps mask the off-putting stench of garlic that sticks in the mouth after consuming it.
Cineole also exhibits strong antiseptic properties that help kill foul-smelling bacteria in the mouth, thereby reducing bad breath. (11)
So, just chew some cardamom after consuming garlicky foods to keep your mouth smelling fresh.
9. Drink milk
Adding milk to garlic-laden dishes or drinking it after eating them helps wash down the smell that will otherwise linger in your mouth. Milk is full of water and fat, both of which neutralize the malodorous VOSCs released from garlic to a great degree. (12)
Ways to Remove Garlic Smell From Your Hands
Follow these steps to get rid of garlic smell from your hands:
Wash your hands thoroughly with soap and water right after you are done handling garlic. If you wait too long, the sulfuric compounds will get absorbed into your skin, making it difficult to remove the smell.
Apply a pleasant-smelling lotion all over your hands to mask the garlic smell to some degree.
Rub your hands against a stainless-steel counter, faucet, blade, or pan, and then rinse your hands again. This should help diminish the stench of garlic from your hands to a great extent. Anecdotal evidence suggests that the chromium found in stainless steel helps neutralize the foul-smelling sulfuric compounds rather than letting them bind to your skin. (13) However, more scientific studies are needed to properly verify this claim.
Final Word
Garlic smell is quite strong and stubborn. Interacting with someone while your breath or hands reek of garlic can be very embarrassing.
If you are ever stuck in such a situation, try these easy and inexpensive ways to deodorize your mouth and hands. If one remedy doesn't work for you, try another until you find the one that suits you best.
Was this article helpful?