Fibromyalgia is a chronic musculoskeletal disorder characterized by pain and stiffness in the muscles and joints throughout the body. This condition significantly hampers your mobility, sleep, and overall quality of life. (1)
Fibromyalgia is quite a common condition and can affect people of all ages and genders, but it is seven times more prevalent among women, especially middle-aged ones. Due to this sex difference, it is sometimes overlooked in men.
People suffering from systemic rheumatic disorders also have an increased risk of developing fibromyalgia. (2)
Fibromyalgia is still without a permanent cure, but there are things you can do to manage its symptoms and reduce flare-ups. This article will share some tried-and-tested treatments and remedies that have been proven useful in relieving fibromyalgia.
Causes of Fibromyalgia
Fibromyalgia is an idiopathic ailment, which means its root cause remains unknown. It causes soft tissue pain but without any evidence of underlying tissue inflammation.
Here are some factors that are believed to contribute to the development of this fibromyalgia. (3)
1. Abnormal pain messages
Current research suggests that fibromyalgia may be a neurosensory disorder that disrupts your ability to regulate the sensation of pain. (1)
It is said that this condition may alter the way your central nervous system processes the pain signals carried around the body. (4) This could be the result of changes to chemicals in the nervous system.
2. Genetics
Your genes may contribute to the onset of fibromyalgia but only to a small extent. This is why certain people develop fibromyalgia after undergoing some form of physical or emotional trauma while others don't. (4)
Moreover, people with a family history of fibromyalgia are more likely to develop it than those with no such family history. This also indicates that your genes may play a role in the development of this condition.
3. Possible triggers
Distressing events that cause severe physical or psychological trauma can trigger the onset of fibromyalgia. People may develop this condition after going through a serious car accident or grappling with post-traumatic stress disorder (PTSD).
In fact, several people with fibromyalgia report having experienced:
Some major traumatic event as kids or adolescents
Prolonged emotional stress at home or at work (4)
Symptoms of Fibromyalgia
The main symptoms of fibromyalgia are as follows. (5)
1. Widespread musculoskeletal pain
The predominant symptom of fibromyalgia is chronic musculoskeletal pain, which may be localized to certain parts of the body in the beginning but eventually spreads throughout the body. This pain usually starts in the neck and shoulders but gradually encompasses both the upper and lower halves of the body.
Fibromyalgia is mainly associated with muscle pain, but patients often experience joint pain as well. (1)
2. Fatigue
Reeling with persistent pain in the muscles and joints takes a lot out of your body and renders it extremely tired all the time. Thus, fatigue is another characteristic symptom of fibromyalgia.
The fatigue particularly gets worse after waking up from sleep and in the mid-afternoon. Even the slightest movement and the smallest of tasks can aggravate the pain and fatigue.
However, staying inactive for too long can also exacerbate your symptoms by causing stiffness in the muscles and joints. This is why patients report waking up with stiff joints in the morning.
Moreover, the discomfort in the body makes it difficult not only to move around but also to get a good night's sleep. Patients often suffer frequent sleep disturbances, which means they wake up unrefreshed even after 8–10 hours of slumber. (1)
Your body needs uninterrupted sleep to properly rejuvenate itself both physically and mentally, but fibromyalgia makes this impossible to achieve. The lack of restful sleep leaves you exhausted, drowsy, and unable to focus.
3. Cognitive impairment
The constant pain, physical exhaustion, and sleep problems caused by fibromyalgia can compromise your brain function or mental acuity. This is known as "fibro fog," which hampers your ability to think clearly and quickly.
Patients often find it difficult to concentrate on a particular task, stay attentive, and accomplish activities that involve rapid changes in thought.
4. Other symptoms
About 30%–50% percent of people with fibromyalgia tend to develop anxiety and/or depression at the time of diagnosis.
Over half of the people with fibromyalgia suffer from headaches, which include migraines and tension types of headaches.
Treatment for Fibromyalgia
Fibromyalgia does not have a permanent cure, and its treatment mainly aims to provide symptomatic relief and improve quality of life. (6)
There is no standard treatment strategy for fibromyalgia as its symptoms vary from patient to patient. What works for one individual may not work for others.
Plus, you cannot address all the symptoms with a single treatment, so you will have to employ a combination of interventions to comprehensively deal with this condition.
You are expected to work with your doctor to come up with the best treatment plan for you.
The main treatments recommended for fibromyalgia are as follows.
1. Talking therapies
Fibromyalgia gives rise to chronic pain and disability, which tend to persist throughout your life since there is no cure for it yet. The prospect of living with long-term pain can render patients hopeless and depressed, which will inadvertently hinder their ability to manage their symptoms.
For this reason, fibromyalgia treatment typically includes talking therapy, wherein the patients are given professional counseling to cope with their condition in the best possible manner.
Two of the most commonly recommended talking therapies for fibromyalgia are:
Acceptance and commitment therapy (ACT) – ACT aims to help patients with fibromyalgia to come to terms with their condition to reduce its negative impact on their psychological health. The counselor will guide them in accepting things that are beyond their control while working toward favorable changes that can make their life better. This therapy has been proven useful in reducing sleep problems, intensity of pain, and negative thoughts and feelings associated with fibromyalgia.
Cognitive behavioral therapy (CBT) – CBT can help foster positive behavioral changes and positive thinking in patients with fibromyalgia to make it easier for them to manage their condition and improve their overall quality of life.
2. Medications
Doctors sometimes prescribe antidepressants to manage long-term pain disorders such as fibromyalgia, but only to patients aged 18 years or above. This medication can help induce better sleep and reduce anxiety or depression caused by fibromyalgia, thereby improving overall quality of life.
However, antidepressants are highly addictive; thus, you need to take them judiciously according to your doctor's instructions. They also come with some adverse side effects that you need to discuss with your doctor before starting use.
Commonly prescribed antidepressants for fibromyalgia are:
Amitriptyline
Citalopram
Duloxetine
Fluoxetine (Prozac)
Paroxetine
Sertraline
Diagnosing Fibromyalgia
There is no specific test for diagnosing fibromyalgia. This condition can manifest differently in different people. Thus, it doesn't present the same symptoms in all patients.
Plus, it shares many common symptoms with several other conditions, making it even more difficult to diagnose.
Doctors usually diagnose fibromyalgia through the following steps:
Inquiring about your symptoms and their impact on your daily life
Physical examination – This is done to check for visible symptoms of other conditions. For example, swollen joints are indicative of arthritis rather than fibromyalgia.
Additional tests – These include urine and blood tests as well as imaging tests such as X-rays and other scans to rule out other conditions that present symptoms similar to fibromyalgia. (7)
Risk Factors for Fibromyalgia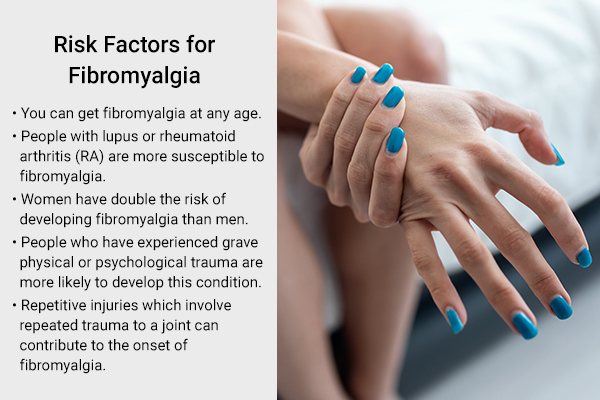 Here are some common factors that can increase your chances of developing fibromyalgia: (8)
You can get fibromyalgia at any age (even in childhood), but it is most prevalent among middle-aged people, and its risk increases as one gets older.
People with lupus or rheumatoid arthritis (RA) are more susceptible to fibromyalgia than those who do not have these conditions.
Women have double the risk of developing fibromyalgia than men.
People who have experienced grave physical or psychological trauma are more likely to develop this condition.
Repetitive injuries that involve repeated trauma to a joint, as in the case of frequent knee bending, can contribute to the onset of fibromyalgia.
Illness (such as viral infections) can also increase your risk of developing this condition.
If fibromyalgia runs in your family, you have a higher risk of developing this condition than those with no such family history.
Individuals with obesity or overweight are more prone to fibromyalgia.
Final Word
The underlying cause of a condition has to be understood to treat it successfully. But since scientists have not been able to determine the causative factors responsible for fibromyalgia, it does not have a permanent cure.
Treatment for this pain disorder mainly aims to provide symptomatic relief through a combination of nonpharmacological therapies (physical, psychological, and behavioral) along with necessary medication. (9)

Continue ReadingHow to Manage Fibromyalgia Pain and Flare Ups
Was this article helpful?