You may have heard of potassium in relation to blood pressure and how it can be useful in balancing out the excess amount of sodium in the body to bring blood pressure down.
But do you know what other roles potassium plays in the body? And what happens when you don't get enough potassium?
What Is Potassium?
Potassium is a mineral that is involved mainly in maintaining fluid balance in and around the cells of the body, but it also plays other important functions such as: (1)
Activating enzyme reactions
Conducting nerve impulses
Contracting the muscles
Balancing stomach enzymes
Maintaining electrolyte balance via kidneys
Reducing blood pressure
Potassium Deficiency
The body gets its potassium from dietary sources, and the amount of potassium in the body is determined by the amount of intake and excretion via urine and sweat. Within the body, potassium is distributed in various cells of the blood, muscles, and organs, and this contributed to potassium balance. (2)
Normal potassium levels need to be maintained at 3.5–5.0 mEq/L. If your potassium levels are lower than this, chances are you may have hypokalemia. (2)
Moderate hypokalemia can be managed by increasing the intake of potassium through the diet or using potassium salts. However, if levels fall below 2.5 mEq/L, which is considered severe hypokalemia, you may require hospitalization. (2)
Signs of a Potassium Deficiency
A lack of potassium affects many organs and physiological processes. Here are some indications that may help you identify if you need to increase your potassium levels.
1. High blood pressure
High blood pressure, or hypertension, increases the risk of other heart diseases.
The American Advisory Committee issued its 2010 Dietary Guidelines showing a strong relationship between potassium and hypertension, where a higher intake of potassium can directly lower blood pressure. (3)
Studies have shown that potassium supplementation resulted in a 5.9 mmHg reduction in systolic pressure and 3.4 mmHg in diastolic pressure in people with high blood pressure. In normotensive adults, or people with normal blood pressure, potassium supplementation reduced blood pressure by 3.11 and 1.97 mmHg. (3)
Therefore, elevated blood pressure may be a sign that you need to consume more potassium through your diet.
2. Poor bone health
There is an elevated risk of falling in aging adults, which can lead to fractures and other injuries. The primary reason for this is lowered bone mineral density, which leads to brittle bones prone to breakage. (3)
Potassium deficiency can be one of the reasons you have poor bone health. Potassium is involved in the formation of new bone cells and strengthening the existing ones. It also prevents bone loss thereby improving overall bone mineral density. (3)
3. Kidney stones
The kidneys have the ability to reabsorb many minerals, preventing the body from facing excessive losses. However, a lack of potassium may result in the kidney not absorbing calcium properly, leading to the creation of kidney stones. (3)
Studies have shown that high potassium intake lowers kidney stone risk, and a deficiency may cause lead to the development of painful stones. (3)
4. Other symptoms
Some other symptoms of hypokalemia include a feeling of weakness and lethargy that can lead to fainting spells, muscle cramps, lack of mental clarity, difficulty in passing stool, numbness, erratic heartbeat, an excessive feeling of thirst, and excessive urination. (4)
Causes of Hypokalemia
Hypokalemia, at its root, is a deficiency of potassium, and improper dietary intake and excessive losses through urine or the gut are the major causes of potassium deficiency.
Other reasons for developing hypokalemia include: (2)
Drugs that cause excessive urination
Endocrine disorders
Kidney stones
Genetic diseases
Vomiting
Long-term laxative use
Digestive obstructions
Magnesium deficiency, which can increase potassium deficiency
Managing Hypokalemia
Consumption of potassium is the easiest way to manage potassium deficiency. Low-sodium salts often contain potassium chloride as a substitute and can be consumed to fulfill a potassium deficit in the body.
Additionally, you can include potassium-rich foods in your diet such as potatoes, prune juice, tomatoes, plain yogurt, white beans, bananas, fresh orange juice, and green peas. (3)
Most-Asked Questions
How can I raise my potassium quickly?
Consuming potassium-rich foods and potassium salt is the easiest and fastest way to raise potassium levels in the body.
How do I know that my potassium levels have risen?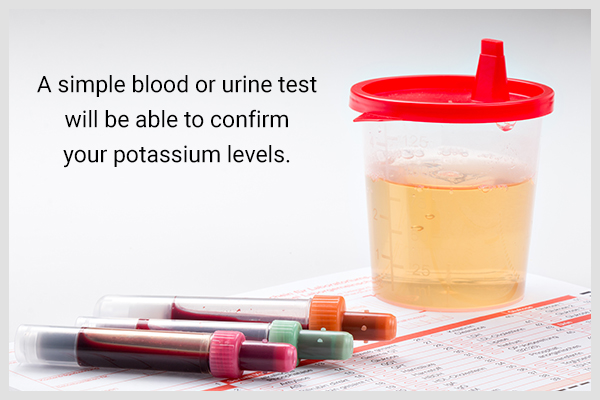 When the symptoms discussed in the article start to feel better, your potassium levels may have normalized. A simple blood or urine test can confirm your potassium levels.
Can drinking a lot of water lower potassium levels?
Yes, drinking excessive water can create the need to urinate, which is a reason for potassium loss via the kidneys.
Final Word
Potassium is a mineral that is necessary to maintain the healthy functioning of the human body. It controls fluid balance and maintains blood pressure, muscle movements, and bone health.
Signs of potassium deficiency include lethargy, feeling weak or tired, numbness, erratic heartbeats, and even mental fog. It is important to identify and rectify these symptoms immediately before worsening.
Was this article helpful?