Chickens are one of the most widely domesticated birds in the world. The preference for chicken meat and its impact on health are major reasons that have facilitated the growth of the chicken industry for meat and egg production.
Broiler chickens are bred specifically for meat supply, and the modification of their feed and genetic selection have allowed them to have a high amount of meat. Since these chickens are solely raised for meat, their eggs are often fertilized to produce a new generation of birds. (1)
However, manufacturers sell unfertilized broiler eggs as well to meet rising demands. However, some experts believe broiler eggs are actually not good for your health!
Health Risks Associated With Eating Broiler Eggs
The variety and amount of nutrients in eggs are largely dependent on the feed of chickens.
For instance, broiler chickens fed a diet rich in vitamin E produces eggs with a richer vitamin E content in the yolks. (2) While this may seemingly make broiler a good source of nutrients, the harmful effects outweigh the benefits.
1. Broiler eggs contain drug-resistant antibiotics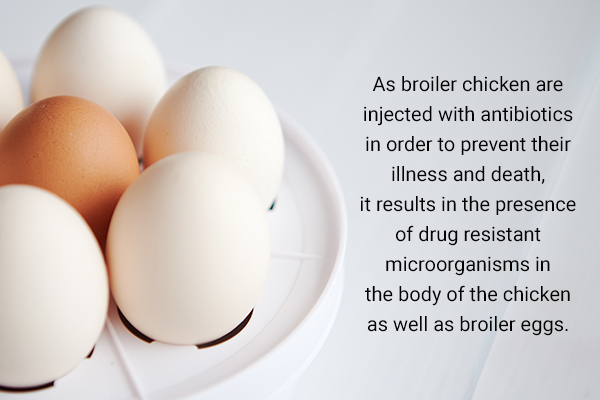 Broiler chickens are injected with antibiotics to prevent illness and death. (3) This practice results in the development of drug-resistant microorganisms in both the broiler chickens and their eggs.
Studies have found broiler eggs and chicks hatched from these eggs to contain E. coli and enterobacteria that are resistant to antibiotics. (4) Eating these eggs can pass these drug-resistant bacteria on to humans.
Drug resistance in disease-causing bacteria is one of the biggest health burdens of the current times, (5) and if broiler eggs can be a source of these bacteria, it is indeed better to avoid them.
2. Broiler eggs interfere with hormones
Studies have found the consumption of broiler meat to be a cause of hormone disruption in humans. This is because these chickens are injected with hormones to increase their meat yield and to increase their egg-laying capacity. (6)
These hormones are passed to the eggs, (7) and when broiler eggs are eaten, these hormones interfere with hormones in the human body, resulting in issues with fertility. (8)
Recommendations
Recently, farmers have been raising hens in a cage-free environment where they are allowed to roam freely on the farms. This results in healthier chickens that are less likely to get sick.
While cage-free chickens may not be as "meaty" as broiler chickens, they are certainly free of the health risks associated with them.
You can contact a local farm that raises hormone-free and antibiotic-free chickens and get your egg supply from them.
Can Broiler Chickens Be Hormone-Free?
There are laws in the United States that prohibit the "injection" of hormones or steroids in all types of poultry. However, broiler chickens may have naturally high hormones due to selective genetic breeding.
Therefore, it is better to avoid broiler chickens and eggs altogether.
Practical Takeaways
Broiler eggs come from broiler chickens that are raised specifically for their high meat content.
Because of the rise in demand, some manufacturers inject their chickens with hormones and antibiotics, which make their chickens and eggs poor food choices for human health.
Opt for cage-free, antibiotic-free, and hormone-free eggs from local farms.
Was this article helpful?