Coconut oil is available in many forms for human consumption – it can be refined, bleached, and/or deodorized. In recent years, a new formula of unrefined virgin coconut oil is gaining more attention. (1)
This oil is known for its stability, which means it is suitable for cooking because it is more resistant to oxidation than some other oils. (2)
However, this plant oil may not prove to be the healthiest choice for regular consumption since it contains a high amount of unhealthy fats but no other redeeming nutritional quality.
What Are the Healthier Alternatives to Coconut Oil?
Here are some cooking oils that can be used as healthier substitutes for coconut oil.
1. Olive oil
Unlike coconut oil, which is replete with saturated fats, olive oil is mainly composed of unsaturated fats, which are far healthier.
About 75% of olive oil is made up of a monounsaturated fatty acid called oleic acid, and the remaining 25% is a combination of polyunsaturated and saturated fatty acids. Moreover, extra virgin olive oil (EVOO) has a significantly higher antioxidant content than all other cooking oils.
What makes olive oil even more beneficial is that most of its therapeutic phenolic compounds are highly bioavailable in humans. (3) Bioavailability refers to the rate and extent at which the active form of a nutrient or drug is absorbed and reaches the bloodstream to engender its desired effect.
Individuals with cardiovascular disorders or those who are at an increased risk of developing heart disease are often advised to switch to a Mediterranean diet, which mostly uses olive oil.
Several studies have highlighted the anti-inflammatory, antioxidant, and vasodilatory properties of EVOO that can help reduce the buildup of fats, cholesterol, and other plaque in the arteries (atherosclerosis), the primary risk factor for heart attacks and strokes. (4)
ALSO READ: Olive Oil: Nutrition, Types, Uses, and Benefits
2. Sunflower oil
Sunflower oil is extracted from the pressed seeds of sunflowers. It is extremely lightweight and mildly flavored. Thus, it is easy on the digestive system and taste buds as well.
Sunflower oil remains stable at high temperatures. It can be heated up to 230°C without releasing smoke, which makes it ideal for deep-frying. Sunflower oil has an impressive health profile, which is low in cholesterol and high in unsaturated fats, including oleic acid.
This oil contains generous amounts of both monounsaturated and polyunsaturated fatty acids, along with other beneficial nutrients such as vitamin E, vitamin K, and phytosterols.
In recent years, sunflower oil has emerged as the second most sought-after cooking medium. This popularity is largely attributed to its high content of polyunsaturated fatty acids, which help improve lipid metabolism inside the body. (5) The better the lipid metabolism, the lesser your cardiovascular risk.
3. Avocado oil
Avocado oil does not figure among the traditional edible oils as it has recently entered the market, but it has earned a lot of praise for its rich nutritional value, pleasantly mild taste, and smooth buttery texture.
This oil has a slightly grassy flavor but is much less pungent than olive oil once cooked. It is mostly preferred for light cooking, such as baking, grilling, or sauteing.
Avocado is loaded with polyphenols, which are concentrated in the oil extracted from the pulp of this fruit. These polyphenols accord antioxidant properties to the avocado oil, which can benefit your health in multiple ways. (6)
Including this healthy oil in your daily diet can offer the following benefits:
Insulin regulation
Glycemic control
Reduction in total cholesterol and low-density lipoprotein levels
Lowering of triglycerides
Curbing inflammatory response (7)
4. Other vegetable oils
Vegetable oils are a category of edible oils that are found in most kitchens and a lot of processed products, such as mustard, margarine, salad dressings, sandwich spreads, mayonnaise, canned fish, packaged chips, and French fries. These oils can be used raw in your salads or for roasting, frying, baking, sauteing, and other cooking processes.
Vegetable oils are typically extracted from the seeds, grains, or nuts of different plants, but in some cases, they may be derived from the flesh of the fruit.
The American Heart Association recommends using vegetable oils over solid fats such as butter, lard, margarine, and shortening, which may have a higher content of saturated fats. (8)
Coconut oil is itself a vegetable oil, but it is perhaps one of the unhealthiest ones. You can also use the following less damaging options in its place:
Sunflower oil
Soybean oil
Peanut oil
Canola oil
RBD vs. Cold-Pressed Oils: Which Is a Better Alternative?
Your guide to choosing the healthiest cooking oil:
RBD oils (canola, soybean, palm, corn)
RBD oils are refined, bleached, and deodorized (RBD) during processing and manufacturing.
The extracts from the plants are crushed with a solvent, typically hexane, to draw out the maximum amount of oil from the seeds. Residual hexane quantities in vegetable oils are too low to cause any harm.
Canola oil is a healthy alternative to animal fats and coconut oil because of its high omega-3 content while being relatively low in saturated and trans fats. (9)
Cold-pressed vegetable oils
If you choose to avoid RBD oils, cold-pressed vegetable oils are great alternatives as they are extracted without the use of any solvents or deodorizers. They are much more expensive than RBD oils but are widely available on the market.
Combination of both
The best method is to consume a variety of plant oils to obtain the greatest benefit of each and minimize the overconsumption of one product.
For example, use soybean and canola oil for stir-frying foods when a mild flavor is desired, and use cold-pressed nut oil and olive oil for a burst of flavor without cooking.
Limitations of Coconut Oil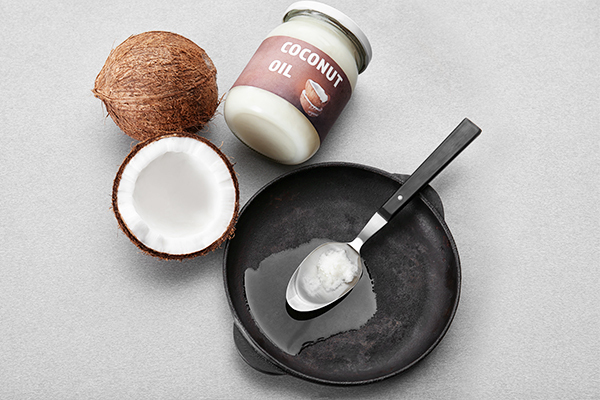 Research studies on the intake of coconut oil in humans are limited. Also, most of the studies are not conducted with large samples or precise research practices, which means the benefits and risks are not well reported.
Based on a review of seven studies, it is apparent that coconut oil consumption likely leads to increased total and LDL cholesterol levels, which increases the risk of developing heart disease. (2)
This negative increase in blood levels is due to the saturated fatty acid nature of coconut oil, which acts and is processed in the body in the same way as other saturated fats, (2) such as butter, animal fat, and lard.
Fats can be good or bad depending upon what type of fatty acids they contain. In coconut oil, 80%–90% of the fatty acids are the unhealthy kind, namely, saturated fatty acids, with lauric acid being its prime component.
The American Heart Association and USDA Dietary Guidelines for Americans recommend limiting saturated fat to no more than 10% of your daily energy intake to reduce the risk of heart disease.
To improve your cardiovascular health, it is important to select beneficial sources of fat that are high in monounsaturated and polyunsaturated fatty acids instead of solid fats such as coconut oil that are almost entirely composed of unhealthy saturated fats. (10)(11)
Note: As with any alternative products, please consult your medical provider with specific questions. This article is not meant to be considered medical advice.
Safety of Cooking With Different Oils
Oils have varied smoke points, which indicate the temperature at which smoke begins to release continuously when cooking. (12)
When an oil reaches its smoke point, a chemical process begins that breaks down its fat content into glycerol and free fatty acids. Heating oil beyond its smoke point can release potentially harmful carcinogens in the food.
It is important to know the smoke points and proper cooking temperatures of different oils used in cooking. Here are some of them:
Coconut oil: 293°F (+/- 4 degrees)
Canola oil: 460°F (+/- 5 degrees)
Extra virgin olive oil: 383°F (+/- 4 degrees)
Final Word
Every edible oil contains saturated fats and trans-fats, some more than the others. A lot of vegetable oils are available on the market – you should choose wisely after reviewing the inherent nutrient content of each kind to see which one suits your health needs best.
Was this article helpful?