Migraine is a common headache disorder characterized by severe, one-sided, throbbing pain that is often associated with nausea and extreme sensitivity to light, sound, and movement.
Migraine headaches last anywhere between 4 and 72 hours and can be quite debilitating to those who suffer from it.
Migraines tend to affect more women than men (18% vs. 6%), and in some women, there is a relationship between migraine attacks and their menstrual cycles (menstrual migraine). (1)
Acute Medical Treatment for Migraines
Talking with your healthcare provider about treatment options based on how frequently you suffer from migraine attacks, as well as any underlying health issues, is the best way of moving forward.
Sometimes one drug may be sufficient to tackle the headache, but frequently a combination of drugs may be more effective. The usual approach for the treatment of migraine headaches is:
Mild to moderate headaches may start with simple analgesics such as acetaminophen or a nonsteroidal anti-inflammatory drug (NSAID), such as ibuprofen (Advil) or naproxen (Aleve).
Severe headaches require more effective agents such as triptans.
1. NSAIDs
If you suffer from mild migraine headaches, you may find immediate relief with NSAIDs, some of which do not require a prescription. NSAIDs work by blocking the production of prostaglandins, which produce pain.
Commonly used NSAIDs include ibuprofen (400 mg), diclofenac sodium (50–150 mg max), and naproxen (500–550 mg). (2) Side effects of this group include gastric ulcers and gastric bleeding.
2. Acetaminophen
Also called paracetamol, acetaminophen is a commonly used analgesic used to abort acute attacks of mild to moderate migraine headaches. The recommended dose for migraines is 1,000 mg and should not exceed 4,000 mg/day to avoid liver damage.
In contrast to NSAIDs, acetaminophen does not cause gastric ulcers or bleeding tendencies. (3)
3. Triptans
These are the most commonly prescribed drugs for migraine headaches. They work by stimulating the effects of serotonin – decreasing inflammation and blood vessel dilation – both of which cause pain in migraine headaches.
Your healthcare provider may prescribe them as oral tablets or subcutaneous injections for moderate to severe migraine headaches.
In a large comparative trial involving oral triptans for migraine treatment, all oral triptans were effective and well-tolerated, with rizatriptan 10 mg, eletriptan 80 mg, and almotriptan 12.5 mg providing the highest likelihood of consistent treatment success. (4)
Side effects may include skin tingling, numbness, dizziness, chest tightness, nausea, and dry mouth. Before taking triptans, consult with your physician if you suffer from any heart conditions, hypertension, diabetes, or stroke.
Preventive Treatment for Migraines
Migraine treatment includes both acute and preventive treatment, an approach that may be needed in patients suffering from severe and frequent headaches.
Preventive therapy can help reduce not only the frequency and severity of headaches before it occurs, but it can also help improve response to acute treatment and health care costs. This, combined with acute treatment, such as drugs used to reduce the migraine pain during an attack, has shown to greatly improve quality of life.
A preventive migraine drug is considered successful if it reduces migraine attack frequency or days by at least 50% within 3 months. (5) These can include medications used to treat seizures, depression, and high blood pressure, as well as vitamins and herbal supplements. Talk to your physician regarding safe and effective treatment options.
Most Recommended Vitamins and Supplements for Migraine-Relief
A lot of studies have demonstrated the effectiveness of vitamins and other supplements in reducing migraine frequency, but there is most evidence for the use of riboflavin (vitamin B2), coenzyme Q10 (CoQ10), magnesium, butterbur, and feverfew. (6)(7)
1. Riboflavin (vitamin B2)
Dietary sources of riboflavin include yeast, milk, eggs, malted barley, and green leafy vegetables. Riboflavin prevents the hyperexcitability of neurons in the brain by keeping free radicals at bay. Free radicals cause damage to cells and are produced during inflammation.
Studies in adults where riboflavin was used alone (dose 400 mg/day) or in combination with magnesium and feverfew have shown it to be effective in reducing the number of migraine attacks and the number of days with migraine. However, there is not enough evidence to support its use in children suffering from migraine.
Side effects reported are minor and include diarrhea and urinating large amounts of water. (6)(7)
2. CoQ10
CoQ10 can be obtained in foods such as fatty fish, organ meats, and grains. This vitamin-like substance is involved in the production of energy (ATP) in the body that drives many biological processes.
In one trial, CoQ10 150 mg/day has shown success in reducing the frequency and number of days with migraine. CoQ10 started showing maximum effectiveness between 5 and 12 weeks, and no side effects were reported.
Another study using CoQ10 for 4 months showed a 50% reduction in the frequency of migraines in almost half of the study participants. (8) Doses above 600 mg/day can produce mild side effects such as nausea, diarrhea, and loss of appetite.
3. Magnesium
Magnesium-rich foods include nuts, seeds, dry beans, and whole grains, to name a few. Studies have revealed decreased levels of micronutrients magnesium and CoQ10 in the brain of patients with migraine. (7)
Magnesium plays an important role in maintaining blood vessel integrity and prevents excessive firing of neurons, factors that have roles to play in migraine pain.
In adults with migraine, high-dose oral magnesium 600 mg/day for 12 weeks reduced frequency, days of migraine, and drug consumption. Side effects reported were diarrhea and gastric irritation.
4. Butterbur
Butterbur is a medicinal shrub that is known to curb inflammation and spasms while dilating blood vessels, all of which can help in reducing the intensity and frequency of migraines. (9) This healing plant is considered safe and effective for both adults and children.
5. Feverfew
One of the oldest and well-recognized plant-derived compounds for migraine prevention is feverfew. It is available as an over-the-counter preparation.
A trial involving 72 participants with migraine reported a 24% reduction in the number of migraine episodes, in addition to severity reduction.
Due to its side effect profile that includes oral ulcers, gastric irritation, allergic reactions, and rebound headaches, feverfew is not considered a first-line agent for prevention. It is also unsafe for women who are pregnant and breastfeeding, as well as in children. (6)
Summary:
The supplements mentioned above have at least one well-designed clinical trial where they are compared to standard preventative medication and/or placebo, and the evidence is taken to reflect the true effect.
Riboflavin, CoQ10, and magnesium are the commonly prescribed vitamin supplements, while butterbur and feverfew have historical data supporting their effectiveness. Even though the use of vitamins/herbal agents may be safer, it is better to consult your healthcare provider before starting on such supplements.
Other Supplements With Potential to Relieve Migraine
Listed below are other vitamins/supplements that have a theoretical possibility of preventing migraine headaches by their anti-inflammatory effect. Some studies have shown promising results with these vitamins/supplements.
Although this list provides multiple options to people with migraines, there is a need for collection of more evidence from comparative trials before they can be prescribed.
1. Vitamins B6, B9, B12
Hyperhomocysteinemia is a metabolic disorder characterized by increased levels of homocysteine. This increase in homocysteine results in high levels of free radicals, which cause damage to cells, including blood vessels.
Two studies on patients who have migraine with aura demonstrated that vitamin supplementation lowered homocysteine levels and reduced migraine severity, frequency, and disability. (8)
2. Vitamin E
Women who suffer from migraine attacks that occur around their menstrual cycle may find relief in the use of vitamin E.
Vitamin E 400 IU/day for 5 days during 3 menstrual cycles has been studied in women suffering from menstrual migraines. Vitamin E supplementation has been documented to relieve headaches and to lower the need for rescue medication. It is believed that vitamin E exerts its action through the inhibition of prostaglandin synthesis. (10)
3. Vitamins C and D
Rich sources of vitamin C are fruits and vegetables, which provide the body with ascorbic acid, an important antioxidant.
Some studies have found that vitamin C reduces migraine headaches due to its free radical scavenging actions. (11) A vitamin D deficiency may be more common in people with a migraine problem, and some evidence suggested that vitamin D supplementation may help improve the condition. (12)
4. Ginkgolide B
Ginkgolide B is a plant-derived compound from the leaves of Ginkgo biloba and has been used for the treatment of depression, anxiety, and memory loss. It is thought to exert antioxidant and neuroprotective effects, which may be helpful for migraine headaches. (13)
5. Melatonin
Produced by the pineal gland, melatonin regulates the body's ability to differentiate between day and night. It is believed to decrease the levels of excitatory neurotransmitters in the brain and also affords pain relief.
Melatonin in the dose 3 mg for at least 3 months has shown efficacy in preventing migraine headaches.
Side effects are mild and include sleepiness, fatigue, and increased libido. A formulation of melatonin along with a serotonin antagonist called agomelatine has reportedly high liver toxic effects and needs monitoring of liver function. (14)
Safety Profile of Vitamins/Supplements/Herbal Supplements
All water-soluble vitamins are safe and only cause mild side effects when administered in higher doses. The usual side effects include diarrhea and gastric irritation.
Other plant-derived compounds, although effective, have many toxic effects and are not recommended. Feverfew is contraindicated in pregnant and breastfeeding women. Butterbur root is not recommended as a preventive treatment due to hepatotoxicity.
Dietary Recommendations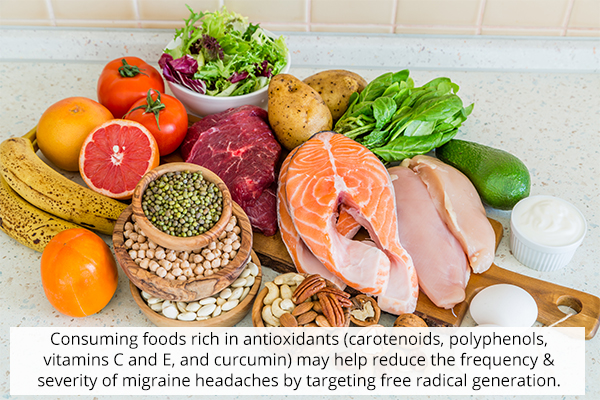 Nutraceuticals are foods or supplements that provide health benefits.
In chronic conditions such as migraine, nutraceuticals are emerging as a popular option to get relief without the multiple side effects of conventional treatment. (15)
Consuming foods rich in antioxidants, such as carotenoids, polyphenols, vitamin C, vitamin E, and curcumin, may help reduce the frequency and severity of migraine headaches by targeting free radical generation. They also carry with them a host of other effects such as anti-atherosclerotic, antiaging, anti-inflammatory, and anti-cancer. (16)
Also, increasing omega-3 and reducing omega-6 fatty acid intake in the diet may be helpful in producing an anti-inflammatory effect. (17)
Note: Keep in mind that these vitamins and supplements are food items and not regulated by the FDA.
Preventive Tips
Migraine prevention mainly involves identifying and avoiding triggers:
Avoid stress – Mindful breathing, meditation, and relaxation techniques can alleviate stressful situations.
Stay hydrated – Be conscious of your water intake and avoid diuretics such as tea.
Avoid alcohol and caffeine – Both can be triggers for migraine.
Get adequate sleep – Get about 7–8 hours of sleep daily, and avoid reading, watching TV, or using your phone while in bed.
Balance your hormones – Women who suffer from menstrual migraine can consult their doctor regarding the use of hormonal contraceptives to regulate hormone levels.
Avoid food triggers – Identify specific food groups that can trigger a migraine attack. For many, these are cheese, chocolate, tomatoes, artificial sweeteners, foods rich in histamine, and MSG, to name a few.
Final Word
Migraine is a chronic complex disorder with multiple mechanisms, making treatment challenging. Preventive treatment can reduce migraine frequency and use of rescue medication, but allow 2–6 months for the maximal response.
Nutraceuticals include supplements and food that benefit migraine prevention and are an attractive option for many due to their tolerability and safety. Consult your physician regarding the use of alternate agents such as vitamins, minerals, and herbal preparations.
Was this article helpful?