Eggs are a common item in your refrigerator or on your kitchen shelves, but did you know some people have eggs in their hair care cabinets? Yes, it's true!
You may have come across people, in real life or movies, who have a plastic wrap on their head because they are applying a smelly or drippy hair mask. Many times, this hair mask is nothing but an egg mix.
Using eggs on the hair may seem strange to many, but it is actually a cultural habit for others. This is because both egg white and egg yolk are incredibly beneficial for your hair. (1)(2)
Egg yolks are rich in nutrients that promote hair growth and improve hair texture, such as lecithin and biotin. They can be exceptionally good for those with hair dryness. (1)(3)
Egg whites protect the scalp from the negative impacts of microbial infections and humidity, thereby allowing a healthy environment for hair to grow. (4)
How to Use Eggs for Hair Growth
Several natural ingredients can be added to eggs to prepare a hair treatment that supports hair growth.
1. Coconut oil and egg hair mask
It is no surprise that coconut oil is a must-have for everyone because it does so much for the hair. It stimulates the healthful development of hair and is the go-to hair oil in many cultures. It is very abundant in vitamins and minerals that help with hair growth. (5)
For many young kids, the reason for poor hair growth is often lice infestation. The good news is coconut oil is almost as effective as the lice medicine permethrin. According to a study, coconut oil is around 40% more effective than this medication when it comes to lice eradication. (6)
Another reason for hair loss in men and women is dandruff, which can also prevent healthy hair growth. The antifungal properties of coconut oil can come in handy to combat dandruff and thus facilitate better hair growth. (7)
So, it is good to use coconut with eggs.
How to use:
Break and whisk 1 egg in a clean bowl.
Add 2-3 tbsp of coconut oil and mix well.
Apply the mixture to your hair as a mask.
Wash after 2 hours with normal water and mild shampoo.
2. Yogurt and egg hair mask
Using yogurt on the hair may be a new thing to many people, but it is a tried-and-tested hair remedy.
Yogurt is rich in so many amazing nutrients from zinc, calcium, and vitamins to probiotics. In fact, it has a lot of vitamin D in it, which is amazing for your overall health and not just the hair. (8)
People use yogurt on their hair because it helps with issues such as hair damage, hair loss, frizziness, dandruff, and delayed hair growth. (9)
There may be a lack of clinical research on the topical benefits of yogurt for the hair, but there is ample anecdotal evidence supporting its positive effects on hair. (10)
How to use:
Whisk 1 egg and add 2 tbsp of yogurt to it.
Mix them well to make a paste.
Apply the mixture to your scalp and hair, and leave it on for around half an hour.
Rinse it well with normal water.
3. Olive oil and egg hair mask
Olive oil is very famous in the healthcare world as it is considered one of the healthiest oils, but did you know this amazing oil is good not only for your body but also for hair health?
Olive oil is taken from the fruits of Oleo europaea and has been used in the cosmetic industry for many years now. (11) This oil promotes the growth of your hair because of its high content of polyphenols that fight hair loss.
According to a study, olive oil can increase the number and size of the hair follicles, making it an amazing agent for enabling hair growth. (12)
Furthermore, olive oil protects your hair from various damaging factors such as the sun's UV rays as it has a high SPF value. (13) The oil can also make sure your hair is dandruff-free because of its notable antifungal properties. (14)
How to use:
Blend 1 egg with 1 tbsp of olive oil.
Apply the mixture to your hair, and leave it on for 15 minutes.
Wash it off with cold water.
4. Milk and egg hair mask
Milk is something every doctor and healthcare professional will encourage you to drink at least once a day. This is because of the countless nutrients present in this delicious beverage.
So, it may not come as a surprise that milk is a great ingredient for a hair mask.
Milk contains calcium and important proteins that are needed for hair growth. (15) Experts claim it will also condition your hair and repair your locks.
It is even believed that royalties of ancient times bathed themselves in milk for its hair care benefits.
How to use:
To 1 cup of milk, add 1 egg, and blend them by hand or using a mixer.
Apply the mixture to your scalp and strands.
Leave it on for an hour or two, and then wash it off.
5. Honey and egg hair mask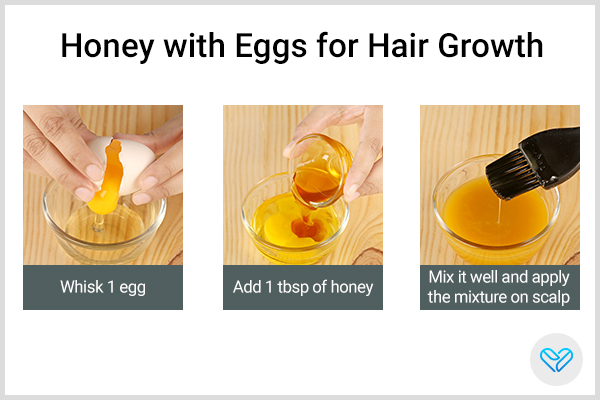 Your hair often needs conditioning treatments. This is what honey does for you – it conditions your hair.
Honey is a humectant, which acts as a conditioner for your strands and keeps your hair hydrated.
Because of its nourishing nature, honey can also promote hair growth, and as a humectant (16), it will prevent split ends and frizziness, all of which are enemies of healthy hair growth.
Moreover, research has found that honey can help keep you away from hair issues such as dandruff, psoriasis, and itching. This makes your scalp more suitable for hair growth. (17)(18)
How to use:
Whisk 1 egg and add 2 tbsp of honey to it. Mix well.
Apply the mixture evenly to your scalp.
Let it sit for an hour.
Wash it off with normal water.
6. Bananas and egg hair mask
Bananas are a favorite fruit of many. Those who are trying to build body mass or have low potassium levels often can be seen eating as many as six bananas a day. Some even go overboard and eat more than that.
But can you believe that banana is great for your hair too?
Bananas are replete with potassium, calcium, and other hair-nourishing nutrients that keep your hair healthy and shiny (19) and support hair growth.
How to use:
Mash a banana in a bowl until it becomes a paste.
Add 1 egg, and blend them well.
Apply the mixture to your hair, and leave it on for a minimum of 30 minutes.
Rinse your hair afterward.
Most-Asked Questions
Can I use eggs on oiled hair?
It is better to use eggs before oiling your hair. In some cases, you can use them on oiled hair, but make sure you wait for at least a few hours between oiling and applying the egg mask.
Is egg yolk better for the hair than egg white?
Both egg yolks and egg whites have unique benefits, and neither can be said to be better than the other.
How to wash eggs from the hair?
Use cold water and a cleansing shampoo to wash eggs from your hair.
How to avoid egg smell on hair?
Apply a hair mask that contains lemon juice (1 tsp) to mask the egg smell.
Final Word
Although there may be a shortage of clinical research on the benefits of eggs for the hair, there are enough studies and anecdotal evidence that suggest eggs can be great for your hair.
Applying eggs as a hair treatment is a great hair treatment, and adding other beneficial ingredients to them just takes the benefits to the next level and stimulates healthy hair growth.
Was this article helpful?