Lavender essential oil (LEO) is a potent liquid extracted from the lavender plant through steam distillation.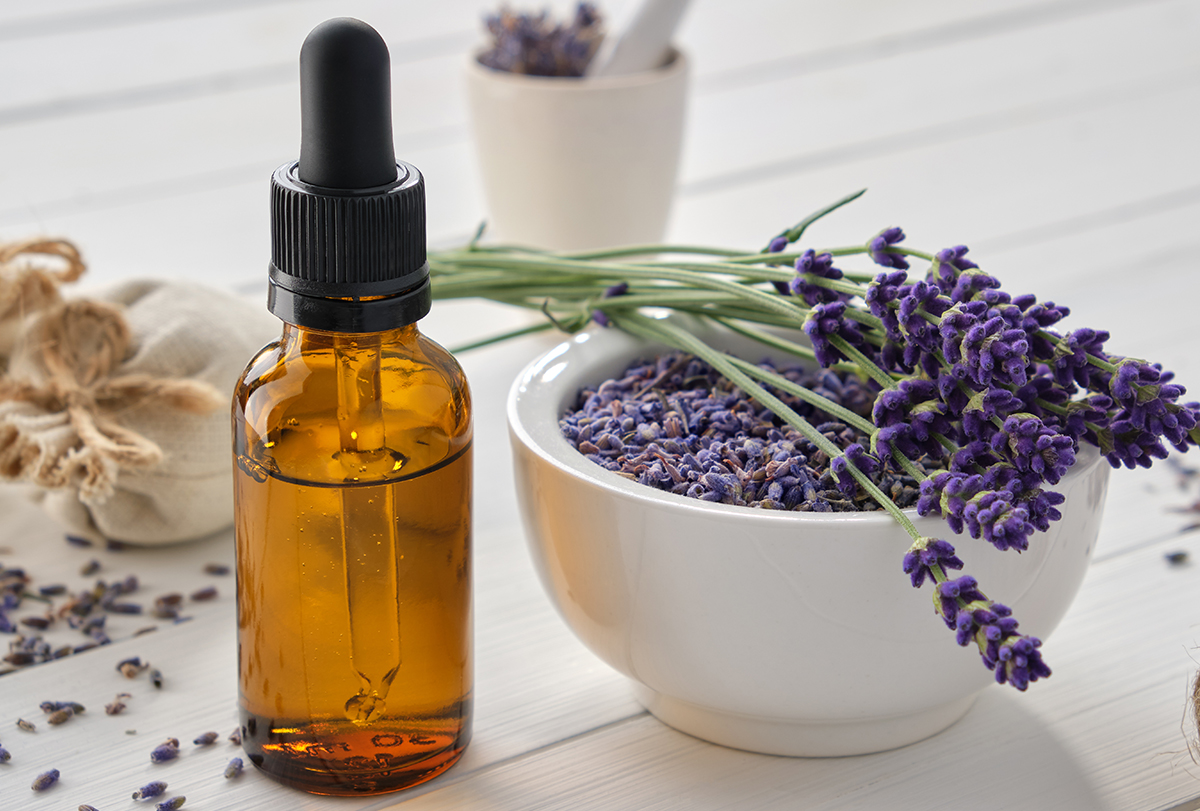 It carries the pleasant fragrance of the lavender flower, which has a soothing effect on both the mind and body. Plus, it contains concentrated amounts of various bioactive compounds that exhibit a myriad of medicinal properties. (1)(2)
No wonder lavender essential oil is one of the most widely used healing agents in aromatherapy to cure a variety of ailments. (3) It is safe, inexpensive, and readily available.
This article will take you through some easy ways to reap the therapeutic potential of this aromatic oil for improved mental and physical health.
Disclaimer:
Lavender essential oil is highly potent at its original concentration and can, therefore, damage or irritate the skin if applied directly. You must always dilute it with a carrier oil, such as coconut oil, before topical use.
Lavender essential oil is generally considered safe for topical use and aromatherapy, but it can cause skin irritation or allergic reactions in some people. So, it's best to conduct a patch test before trying any of these remedies to rule out the risk of adverse reactions.
Pregnant and breastfeeding women should consult their doctor before using lavender essential oil for healing purposes.
Benefits of Lavender Essential Oil
Here are the top 9 therapeutic uses of lavender essential oil.
1. Supports brain health
Lavender essential oil can soothe the senses, uplift mood, and improve brain function. It is often used as an adjunct to the treatment of various mood disorders such as stress, anxiety, and depression. (1)(4)
Breathing in its relaxing vapors can help calm your tired, restless mind to help you stay attentive and focused. It can even help reduce disorientation and cognitive decline in patients with dementia. (5)
These therapeutic effects can be attributed to the active components of lavender essential oil, namely, linalool, linalyl acetate, and monoterpene alcohol. (4)
How to use:
Pour a few drops of lavender essential oil into a bowl of hot water and breathe in the steam.
Put a few drops of lavender essential oil in your diffuser so that its therapeutic vapors are dispersed into the surroundings.
Mix a few drops of lavender essential oil with your regular massage oil, and gently rub this mixture on your neck, back, and shoulders.
2. Promotes good sleep
Getting enough hours of restful sleep regularly is essential for good health.
Lack of sleep, on the other hand, can wear out your mind and body and hamper their daytime function. Plus, sleep deprivation can lead to the onset of many diseases and lower your overall quality of life.
If you struggle with poor sleep, aromatherapy with lavender essential oil might help. Research has shown that inhaling the therapeutic vapors of this oil may trigger low-frequency brain waves that promote the flow of cerebrospinal fluid (CSF) and flush out toxins from the brain to induce deep sleep and improve your overall sleep quality. (6)(7)(8)
This sleep therapy also helps relieve stress and anxiety. Once your mind is relaxed, it is easier to fall and stay asleep for long hours. (9)
How to use:
Pour 3–4 drops of lavender essential oil on a tissue and keep it under your pillow when going to sleep.
Put 10–12 drops of lavender essential oil in a diffuser and place it in your bedroom.
3. Helps in relieving pain and migraine headaches
Lavender essential oil can help ease acute, chronic, and severe uncontrollable pain without the risk of side effects that are usually associated with pain medication. It has been found effective in the management of lower back pain, neck pain, and migraines. (10)(11)
A 2016 study showed that lavender essential oil-based aromatherapy was successfully included in the multidisciplinary treatment of post-cesarean pain and was even used to reduce labor pain during childbirth.
This goes to show that this intervention is quite safe and effective for alleviating a broad spectrum of pain conditions.
How to use:
Mix a few drops of lavender essential oil with olive oil, and use this mixture to regularly massage your painful joints and muscles.
Add a few drops of lavender essential oil to hot water and breathe in the steam to relieve headaches.
Put lavender essential oil in a humidifier or diffuser and keep it in your room.
4. Treats infections of the skin, hair, and nails
Lavender essential oil exhibits strong fungicidal properties that can help treat a range of superficial infections caused by the dermatophyte fungi that affect the skin, hair, and nails. (12) These infections are collectively referred to as tinea or dermatophytosis, which includes different types of ringworm infections such as athlete's foot and jock itch.
The problem with pathogens is that they keep evolving and gradually learn to override commonly used medications and treatments. However, lavender essential oil is not so widely used, so it even works on resistant strains of fungi to clear stubborn infections.
A 2015 study found lavender essential oil to be just as effective as clotrimazole, which is a common medication used for treating a variety of fungal infections such as ringworm, oral thrush, and vaginal yeast infections. (13)
How to use:
Add a few drops of lavender essential oil to 1 teaspoon of olive oil and mix them well.
Use a cotton ball to dab this oil mix onto the infected area.
Let it sit for at least 30 minutes.
Wash it off with lukewarm water.
Thoroughly pat the area dry.
5. Helps in soothing skin burns, wounds, and insect bites
Lavender essential oil helps curb skin inflammation to alleviate the pain, swelling, itching, and redness associated with insect bites and allergic skin reactions. Its anti-inflammatory effects also help soothe burn injuries as well as eczema, dermatitis, and psoriasis patches. (14)(15)(16)
Moreover, lavender essential oil is credited with potent antiseptic properties that can be used to disinfect wounds. These properties work together to promote faster skin healing and reduce skin discomfort. They can be traced back to the active compounds in the oil, namely, linalool and linalyl acetate. (17)
How to use:
Mix lavender essential oil in equal amounts with coconut oil or olive oil or with aloe vera.
Do a patch test.
If no skin irritation occurs, apply the mixture to the problematic area.
6. Treats respiratory problems
Aromatherapy with lavender essential oil can help open up your airways to facilitate normal breathing. This makes it quite useful for treating respiratory problems such as bronchial asthma, which is characterized by swelling and mucus formation in the airways, which make it hard to breathe and leads to coughing. (18)
The anti-inflammatory nature of lavender essential oil helps your airways to relax and dilate while also inhibiting mucus formation to allow easy passage of air. Similarly, this intervention can be used for alleviating the respiratory distress caused by the flu, the common cold, and other such infections.
The good thing is that lavender essential oil is devoid of the adverse side effects associated with regular decongestants or cough medicine. (19)(20)
How to use:
Pour a few drops of lavender essential oil into a bowl of hot water.
Lean your head over the bowl and inhale the steam. Make sure the steam is not so hot that it burns your skin.
Move your head away from time to time to avoid prolonged exposure to heat.
7. Masks unpleasant odors
Lavender essential oil works as a great air freshener, thanks to its nice flowery aroma that is strong enough to cover up some stubborn unpleasant odors.
Pets tend to urinate or defecate around the house, leaving behind a nasty smell that is hard to get rid of despite your best cleaning efforts. Plus, they generally give off a stink that can ruin your living environment.
Lavender essential oil can help overpower this stink to make the room breathable again. You can use it in smelly areas of the house such as toilets or even in your bedroom and living room for a relaxing and rejuvenating effect.
It freshens up the space without releasing any toxic fumes that can trigger headaches, breathing problems, and other adverse side effects. Commercial air fresheners, on the other hand, contain harmful chemicals that can damage your health as well as the environment.
You can also use this sweet-smelling oil to fight body odor. (21)
How to use:
Add a few drops of lavender essential oil to your bathwater or shower gel.
Fill a spray bottle with water and mix in a few drops of lavender essential oil to make your own body mist. Spritz this solution on the sweaty areas of your body after taking a bath when the skin is still moist.
Put a few drops of lavender essential oil into your humidifier to keep your house smelling good.
8. May promote hair growth
Lavender essential oil is credited with antimicrobial properties that can protect your scalp from infections, such as dandruff, which are often responsible for undue hair loss.
Mental stress is known to hamper hair follicle activity and trigger hair loss. It is the main culprit behind alopecia areata, which is an autoimmune condition where the immune system damages healthy hair follicles to induce considerable hair loss, which often results in bald patches or complete baldness.
The soothing aroma of lavender essential oil can help relax your mind and rejuvenate your senses to reduce this stress-induced hair loss.
Lavender essential oil can also help ease scalp inflammation and irritation to facilitate proper hair follicle function. Furthermore, this potent oil stimulates blood circulation in the scalp. More blood brings more nutrients and oxygen to the hair follicles so that they can produce healthy, strong, thick hair. (22)
How to use:
Mix a few drops of lavender essential oil in 2 tablespoons of jojoba oil or other carrier oils.
Massage your scalp with this mixture twice a week for several months to stimulate hair regrowth.
9. Acts as a natural insect repellent
Lavender essential oil exerts a potent toxic effect against common insects such as fleas, ticks, moths, mosquitoes, black beetles, and flies and helps keep them away. (23)
Conventional insect repellents often contain strong chemicals that can give rise to undue side effects and are bad for the environment. (24)(25) Lavender essential oil provides a safe, cheap, and environmentally friendly alternative to commercial pesticides.
Another plus is that it leaves your skin smelling good while keeping it safe from insect stings/bites.
How to use:
In a bottle, mix 1½ tablespoons of distilled water, 1 teaspoon each of vodka or witch hazel and your preferred carrier oil, and 15–25 drops of lavender essential oil. You can use twice or thrice the amount of ingredients to make more of this solution so that it lasts a longer time or is sufficient for more people.
Give the bottle a good shake before spraying this solution all over the exposed areas of the body, but keep it away from your eyes and mouth.
How to Get Good-Quality Lavender Essential Oil
When buying lavender essential oil, look out for the following indications to make sure the product is of good quality:
The ingredient list should mention the common as well as scientific names of all the active and carrier oils used.
It should be labeled "therapeutic"
It should be sold in a dark opaque glass bottle, which keeps the light out as it can diminish the potency of the oil.
It should not be close to its expiration date to ensure maximum potency and plenty of time to use it.
It doesn't have to be expensive since lavender essential oil has a relatively low cost of production.
Final Word
There is no denying the healing properties of lavender essential oil, but it is not a magic cure. It has to be used correctly and consistently to be truly effective. However, for serious or chronic illnesses, you must use it as an adjunct to your main treatment rather than a standalone treatment.
This natural plant-based oil provides a safe, low-cost, and eco-friendly alternative to certain medications and formulations that contain damaging chemicals. Thus, it can reduce the toxic load on your body as well as the environment.
Bear in mind that the same remedy may not yield the same results for everybody and more extensive research is needed to conclusively establish the benefits associated with this oil.
Was this article helpful?