Steam-based therapies have been traditionally used to treat a variety of common conditions. Most of the world has seen its efficacy in relieving cold symptoms during the COVID-19 pandemic. (1)(2)
This article will present the therapeutic benefits of steam therapy. (3)
Amazing Benefits of Steam Therapy
Steam therapy is used for the following medical benefits.
1. Decongests the nasal passages
Inhaling steam helps decongest the nasal pathways and makes it easier to breathe.
Multiple studies have shown the effects of steam inhalation on patients suffering from allergic rhinitis. Inhaling steam within a temperature range of 40–45°C is considered to be effective in loosening up mucus. (4)
2. Relieves chest congestion and facilitates easy breathing
Steam inhalation provides relief from respiratory stress due to phlegm accumulation. It is a low-cost and effective treatment for chest congestion and wheezing. (5)
3. Relieves headaches
Steam inhalation provides relief from nasal congestion due to mucus. This helps you breathe easier and may indirectly help relieve headaches. (6)
4. Improves the skin
Steam exposure helps cleanse the skin and get rid of blackheads and acne. It also helps open up pores and unclog them, thus cleansing the skin.
Steam therapy also helps hydrate the skin and increase the absorption of skin care products. (7)(8)
Note: Steam can irritate the skin and cause redness in people with sensitive skin.
5. Prepares the hair for treatment
Steam exposure also helps open up the hair cuticles to allow easy penetration of oils and hair care products deep into the shaft. It also increases blood flow to the scalp and nourishes it. (9)
6. Expels toxins
Since steam therapy helps in opening skin pores, it can lead to the elimination of toxins from the skin. (10)
7. Reduces stress
Steam therapy helps lower inflammatory responses in the body and can help reduce anxiety. This may calm your nerves and reduce stress. (11)
8. Reduces muscle soreness and relaxes stiff joints
Steam baths can increase blood flow to the muscles and reduce stiffness and soreness. It also helps eliminate toxin production due to muscle weight, and soothes joint and muscle pains. (12)(13)
9. Aids in weight loss
Steam exposure helps you sweat more, which can aid in weight loss. (14)(15)
10. Supports healing of the female
Vaginal steaming is helpful for a number of conditions women may face. For instance, it helps reduce dryness and irritation in menopausal women. Steam therapies may also help promote vaginal healing after childbirth by increasing blood flow to the area. (16)
How to Use Steam Therapy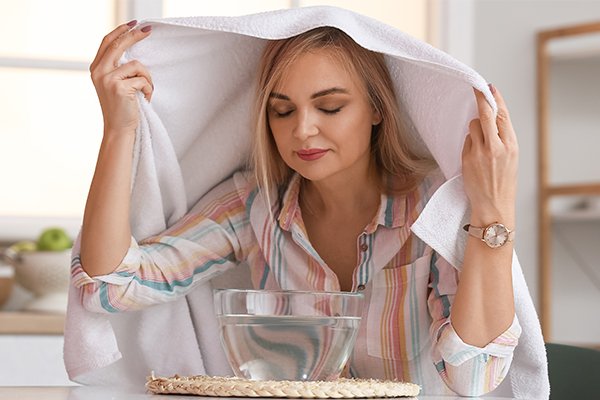 Here are the two most common ways people use steam therapy:
1. By taking a steam shower
A steam shower can be taken at home or in a steam room. A steam room or sauna is designed to be airtight and preserve more than 95% of the room's humidity. (14)
2. By using a bowl of hot water
You can go the traditional way and use hot water in a bowl to inhale the steam for respiratory purposes.
Boil 2 cups of water.
Pour this water into a large bowl.
Cover your head with a towel and trap the steam from the bowl.
Inhale the steam for 10–15 minutes.
Side Effects of Steam Therapy
There are very few risks associated with steam therapy. It is generally considered safe and affordable. However, it can cause accidental burns if you are not careful about the temperature, especially in children. (17)
Most-Asked Questions About Steam Therapy
Can I use steam therapy in the treatment of COVID-19?
Yes, steam inhalation can provide temporary relief from nasal, throat, and chest congestion. (18)
Are steam and sauna the same?
No. Steam baths involve steam that is derived by heating water, whereas saunas use dry heat that is obtained by heating rocks. (16)
Final Word
Steam inhalation and steam baths are age-old remedies for common medical conditions. They have a wide range of benefits: from better sleep to clearer skin and relief from the common cold. However, it is important to use caution and maintain the right temperature of the steam.
Very high temperatures can cause respiratory injuries and accidental skin burns.
Was this article helpful?