Your eyes are your window to the world. Purely for this reason alone, it is essential you take good care of them. However, most of us tend to take this gift of vision for granted by disregarding the need to shield our delicate eyes from damage.
We are increasingly becoming a digital generation with most of our waking hours spent in front of an LED screen, whether it be computers at work or TV and smartphones at leisurely hours. The surge in social media has further contributed to making us slaves to these portable digital devices.
As you strain to read the miniature text on your LED screen, your eyes work doubly hard to make the words legible. The same holds true for avid bibliophiles who keep ticking book after book off their checklist, often at the expense of their vision.
Reading fine print makes huge demands of your eyes and leaves them overworked and fatigued. Something as simple as trying to see in the dark is also a visually intensive task that can contribute to this problem without you even realizing it.
All these culpable factors inadvertently tense the muscles of the eyelids, face, temples, and jaws. Repeated overuse of these muscles is what paves the way for further ocular distress.
Tips and Remedies to Get Relief From Eye Strain
Here are some ways to reduce eye strain.
1. Cold water will relieve discomfort
You don't have to have a medical degree to know that splashing your eyes with cold water is the go-to cure for relieving mild eye strain and irritation. The mechanism at work here is that cold water helps improve circulation, relax tired muscles around your eyes, and reduce eye swelling and puffiness.
Although there aren't any full-blown studies to scientifically establish these claims, the fact that rinsing your eyes with cold water has become an instantaneous response to any kind of eye irritation should stand to testify its merits.
How to use:
Splash cold water on your face and closed eyes when your eyes feel strained or tired. It will have a quick relaxing impact on your eyes.
For a more concentrated remedy, dip a soft washcloth in cold water and wring out the extra moisture. Place the cold washcloth on your closed eyelids for 1 minute. Repeat as needed.
If you have puffiness along with strained eyes, use a cold compress. Wrap a few ice cubes in a clean cloth. Place it on your closed eyelids. The puffiness will decrease after 5 to 10 minutes of application.
2. Try palming technique
Palming is a great technique to relax strained eyes, especially in the midst of reading or when viewing your desktop, laptop, or television screen. The main goal of palming is to create a restful state for your eyes so they do not become tired.
How to use:
Sit up straight in a comfortable position.
Warm your hands by rubbing them together rapidly.
Close your eyes and place your warm palms over them, without applying pressure on the eyelids.
Relax and enjoy the darkness for about 30 seconds.
Slowly open your eyes and look around.
Repeat the process three to five times per sitting.
Follow this technique frequently throughout the day.
Note: Much like the previously mentioned remedy, palming derives much of its appeal and credibility through anecdotal evidence and not scientific research.
3. Ease pain with eye massage
To reduce eye strain, gently massage your eyelids daily. It will improve circulation to the eyes and relax the muscles that surround your eyes. It will also stimulate the tear glands, which will help prevent dry eyes.
How to do:
Use your fingers to gently massage your eyelids and muscles above the eyebrows for about 10 to 20 seconds.
Gently massage your lower eyelid against the lower bone for about 10 to 20 seconds.
Massage the temple and upper cheekbones also.
You can do this massage one or two times daily.
Note: You can use a few drops of olive oil or eye cream for a smooth massage. Also, bear in mind that massaging your eyes is purely an anecdotal remedy to alleviate eye strain, without little to no scientific support. However, it has garnered widespread acknowledgment by a cross-section of users as a legitimate way to comfort irritated eyes.
4. Reap the benefits of cucumber
Cucumber slices can help alleviate eye strain due to its astringent properties. It can even help reduce under-eye puffiness and dark circles. (1)
How to use:
Cool a medium-sized cucumber in the refrigerator for 20 to 30 minutes.
Cut it into thick slices and put them on your tired eyes.
Follow this remedy one or two times daily.
This remedy can also be done with potatoes.
5. Relax your eyes with a warm compress
A warm compress is another way to reduce eye strain. It relaxes the muscles around your eyes, reduces strain, and soothes dry eyes. It is also effective in reducing the pain and swelling of a stye. (2)
How to use:
Dip a clean, soft cloth in warm water and wring out the excess moisture.
Lie down comfortably, close your eyes, and place the warm cloth over your eyelids.
Relax and breathe slowly for 1 minute.
Repeat the process three or four times.
Follow this treatment one or two times daily.
You can also add 2–3 drops of menthol on the compress for a soothing effect.
6. Do eye exercises
Regular eye exercises can alleviate eye strain. These exercises improve blood circulation to the eyes, make the eye muscles more flexible, and improve your focus and concentration. (3)
How to do:
Hold a pen or pencil at an arm's length and focus on it. Slowly bring the object closer to your eyes for as long as you can focus on it clearly. Then, move the object farther from your vision. Repeat this exercise 10 to 15 times. This remedy is particularly recommended for patients that have accommodative difficulties.
Roll your eyes in clockwise and counterclockwise directions for a few seconds. Take a break and blink your eyes. Repeat the same exercise four or five times consecutively, every few hours.
Perform these eye exercises daily to prevent eye strain and improve your eyesight.
7. Healing potential of rose water
Rose water works as a natural relaxer for strained and tired eyes. It has a soothing effect. It can rejuvenate the skin around the eyes and fade dark circles and eye puffiness.
Even though using rose water for alleviating eye strain has no scientific basis, this remedy has registered overwhelming approval from a vast majority of users who have tried it.
How to use:
Splash your eyes with some cold water and pat dry with a clean towel.
Dip 2 cotton balls in rose water.
Lie down, close your eyes, and place the wet cotton balls over your eyes.
Allow the cotton balls to rest on your eyes for 15 minutes.
Do this twice daily.
8. Give chamomile tea a go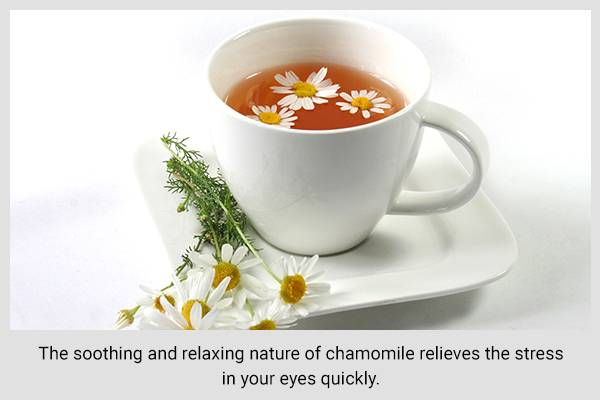 Another quick treatment for eye strain is chamomile tea bags. The soothing and relaxing nature of chamomile relieves the stress in your eyes quickly. (4) It can even help reduce swelling around your eyes.
How to use:
Steep 2 chamomile tea bags in a cup of hot water for 5 minutes.
Remove the tea bags, and put one in the refrigerator and the other on the kitchen counter.
For a warm treatment, put the tea bag from the kitchen counter on your closed eyelids for 5 minutes. But before applying the tea bag, make sure it's not too hot to the touch.
For a cool treatment, place the refrigerated tea bag on your eyelids.
Repeat this treatment as often as you like.
Drink 2 to 3 cups of chamomile tea to alleviate a headache, one of the common symptoms of eye strain.
How Do People Usually Strain Their Eyes?
Eye strain is a common complaint that occurs for a variety of reasons, and it is not exclusive to adults. Some of the common causes of eye strain include:
Lack of sleep
Staring at digital devices such as a computer, gaming consoles, video monitor, and smartphones for long stretches of time and at a close range
Not blinking enough during visually extensive and intensive tasks can dry out your eyes
Extensive exposure to blue-light emission from digital screens
Reading in dim light for an extended period of time without breaks
Allergies
Incorrect vision prescription
Exposure to bright light
Underlying eye problems (5)
Common Discomforts Associated With Strained Eyes
Eye strain can produce quite a bit of discomfort. Symptoms associated with eyestrain are:
Redness or irritation
Difficulty focusing
Dry or watery eyes
Blurred or double vision
Increased sensitivity to light
Headaches
Pain in the neck, shoulders, or back (6)
Symptoms typically do not occur in the morning, but they appear when you do something that will cause the eyes to strain in order to focus.
Although there are many over-the-counter eye drops and medicines that can offer help, you can go the natural way as well. To that end, there are some simple remedies that can effectively comfort your tired eyes.
Preventing Eye Strain
For every 20 minutes that you spend near a screen, stare at an object 20 feet away from you for 20 seconds. (7)
If you work on computers for long periods of time, use special software that reminds you to take regular breaks, such as Eye Leo, Eye Rave, and others.
Place your computer and laptop screen 20 to 26 inches away from your eyes and a little below eye level.
Avoid using excessive eye cosmetics as long as the eye strain persists. This tip pertains to the cosmetics that seep into your eyes.
Wear sunglasses when going out in the sun during the day.
Use artificial tears to refresh your eyes when they feel dry.
To help prevent dry eyes while working indoors, use a humidifier to add moisture to the air.
Get enough sleep as sleep deprivation can contribute to more frequent eye strain.
Blink often to keep the eyes moist and healthy.
Follow a diet high in antioxidants and omega-3 fatty acids.
Consider taking vitamin A and beta-carotene supplements for overall eye health.
Drink plenty of water to help reduce eye strain.
Get your eyes checked regularly by a specialist to make sure your eyes are healthy.
Expert Answers (Q&A)
Answered by Dr. Mark Eltis (Optometrist)
What are the most common symptoms of eye strain?
Eye strain is a vague term with various causes, but today when people talk about eyestrain, they are more often than not describing the symptoms they experience using computers and digital devices for prolonged periods. These symptoms can be visual, muscular, and dry eye related.

Symptoms can include fatigue, blur when looking out into the distance after staring at a monitor for hours, muscle strain around the eyes, as well as signs of dryness (itching, burning, tearing, foreign body sensation). Patients can also have difficulty reading up close for a variety of reasons resulting in eyestrain.
Are strained eyes a serious condition?
It really depends on the cause and severity. It's generally not an emergency, but should be addressed as soon as possible. It can be related to an issue that can be resolved with glasses or can also be due to something health-related.

Dry eye (one of the leading causes of eye strain) is a chronic condition that tends to get worse when left untreated and can lead to complications. Most of the time dry eye isn't due to lack of moisture at its core. It is rather an inflammatory condition which many believe to be essentially an autoimmune disorder.

Paradoxically people with dry eye may find their eyes tearing at the computer or outdoors, particularly in windy conditions. Obviously, eyestrain in some cases can be associated with a more serious disease, and only an eye-care professional can determine the exact cause.
What is the fastest way to get rid of eye strain during working hours?
The fastest way to address it is to get an accurate diagnosis by an eye-care professional. If the strain is related to extensive computer work, then taking a break every twenty minutes and looking out into the distance for twenty seconds can help.

Although it sounds a bit strange, we also forget to blink when doing computer work as we override our natural blink reflex. So consciously remembering to blink our eyes frequently does help reduce the blur. A humidifier at your desk can decrease the dryness due to heating and cooling systems.

A warm compress for ten minutes followed by a lid cleaning towelette recommended by an eye care professional, once a day, can also be of value in dry eye cases to address the underlying inflammation.
Are eye drops helpful in reducing eye strain?
This depends on the cause of the strain. If it is dry eye related, then eye drops can help, but there is a vast difference in quality between various brands. It is generally true that you get what you pay for. Drops that have no preservatives will cost more but are likely to cause less irritation. In more advanced cases, which often require more frequent dosing, the quality of the ingredients becomes even more critical.

It's usually best to stay away from brands that promise instant redness reduction, as the chemicals in those drops can cause the redness to come back with greater intensity once the drops are discontinued. Besides, they usually work to mask the symptoms rather than address the root cause which is inflammation.

There is no magic solution, and drops are only a part of effective treatment. Most dry eye involves an inflammatory condition called blepharitis that can be identified and treated by your eye care professional. There are also more serious conditions that need to be ruled out if a person is having other systemic signs or symptoms alongside dry eye-related eyestrain.
How can one undo the eye damage caused by excessive exposure to LED screens?
There is no concrete evidence to my knowledge at the moment that screens damage the eyes irreversibly in adults. However, just like anything else, abusing electronic devices via overuse can aggravate conditions such as dry eye.

Our eyes weren't designed to stare at a screen for 8 or more hours a day. As I tell my patients, you can't run a marathon every day and not expect your feet to be sore. What I try to do is minimize the negative effects by taking proper precautions.

As I have mentioned, strain, blur, and dryness are the big issues related to electronic devices. Frequent breaks, blinking, humidifiers, and dry eye treatments are ways to improve symptoms related to electronic device usage.
Are strained eyes a symptom of glaucoma?
No, eyestrain on its own is generally not a common symptom of glaucoma. However, the most common form of glaucoma does not have any obvious signs or symptoms until a substantial amount of vision is lost.

Approximately half of the people who have glaucoma remain undiagnosed. Therefore, even people with perfect eyesight not experiencing eye strain should have regular examinations, which not only check the vision but the health of their eyes as well.

Another interesting fact is that about half of glaucoma patients never experience abnormally high eye pressure, so more advanced diagnostic tools need to be used to find the disease. Glaucoma is an area of interest of mine and is a particularly mysterious and fascinating condition.

Although there is no cure for glaucoma, the technological advances in detection and treatment over the last couple of decades have been remarkable. Proper diagnosis can take multiple visits, and that's why establishing a baseline early on and comparing for changes over time (ideally while the patient is still healthy) can be extremely valuable.
Final Word
Eyestrain is a symptom which can be caused by various conditions and needs to be treated accordingly. While it can be commonly associated with fatigue, change in prescription, dryness, and overuse of electronic devices, a visit to an eye-care professional is key in determining the cause and treatment.
The eye is one of the most complex parts of the body, and it has many dedicated subspecialties associated with it. Patients should avoid self-diagnosis or ignoring any concerns associated with their vision.
Preventative care and early detection of disease are preferable as it results in better outcomes than when such actions are delayed.
Was this article helpful?