Healthy knees are extremely important in carrying on day-to-day activities and chores. Knee joints help you in walking, climbing stairs, running, jumping, sitting, and changing your posture.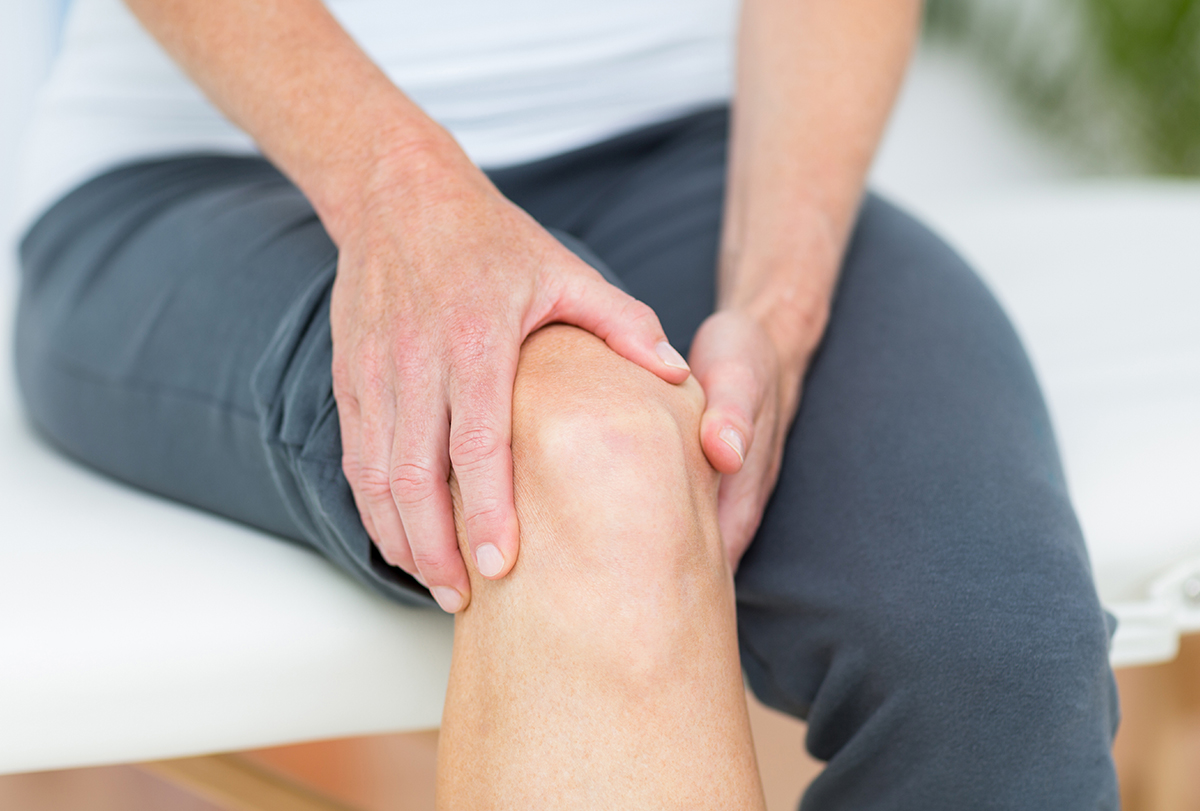 It is very important for your knees to be in the pink of health to ensure a good quality of life. The knee joints are the largest joint in the body, but because of how much they are used, they can very easily be injured.
Also with age, the knee joints can become weaker. Thus, it is extremely important to perform exercises and adopt good habits that are good for strengthening your knees and the muscles surrounding them. (1)
Although knee pain is mostly seen in the elderly, anyone can get it, irrespective of age. People who are into sports or athletes are more prone to knee injuries and knee pain. Knee pain is also seen in those who suffer from arthritis, which is a very common health issue nowadays.
The best way to strengthen your knees is by performing a few types of exercises regularly. (2)
Exercises to Strengthen the Knees
Regular exercise can make you healthy and happy, but there's a risk of getting hurt if you don't take the proper precautions. This is especially true if you exercise too much or have a medical condition that you're not aware of.
To avoid injury, it's important to talk to a physiotherapist before starting any exercise routine and to be aware of any preexisting medical conditions. (2)
The following are some exercises that can maintain and improve the strength of your knees.
1. Hamstring curls
Hamstring curls can help make your hamstrings and gluteal muscles strong. Hamstrings are muscles in your legs that you can control and help you move. The gluteal muscles are big muscles that help keep your upper body upright.
To perform hamstring curls:
Stand straight and take support from one side by putting your hand on a table or an elevated surface.
Bend one leg behind. You have to lift it till it makes a 90° angle with your upper body.
Hold it up for a few seconds and then slowly bring it back down.
Do this 3–5 times for each leg. (3)
2. Step downs
The step-down exercise is good for your hamstrings and gluteal muscles and strengthens your quadriceps as well.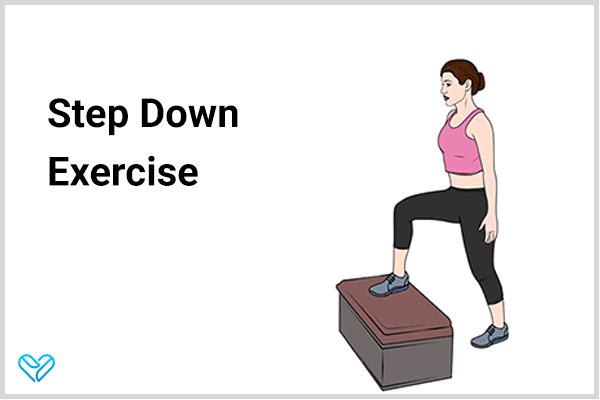 To perform step downs:
Place one leg on a slightly elevated surface; it should not be taller than a few inches. The other leg will not be on the surface but it should be hanging right next to it.
Using the leg that is hanging, touch the floor as you step down and then step up again.
Only slightly bend your knees as you step up and down and not at a 90° angle. Also, ensure that you balance yourself well on one leg elevated slightly higher than the other.
3. Leg lifts
Leg lifts are good for your quadriceps and your abdominal muscles.
To perform leg lifts:
Lie on your back and keep your hands to the side.
Keep one of your legs bent with your foot touching the ground and the other leg straight.
Lift the straight leg without moving the other leg or your hands. Try to lift it as much as you can but make sure it is not higher than the bent knee of the other leg.
Hold it in the lifted position for a few seconds, and then slowly bring it back down.
Repeat 2–3 times for both legs. (5)
When you are lifting your leg, do it gently and not with a lot of force. Keep your back straight on the floor and do not arch your back: there should be no space between your back and the ground.
4. Squats with support
Squats with support are another exercise that works very well in strengthening your quadriceps and gluteal muscles. In this exercise, all you have to do is squat but you take support from a wall.
To perform squats with support:
Stand in front of a wall with your back and buttocks pressed against the wall. Keep your feet a few inches away from the wall.
Slide down the wall gently as you come into a seated position.
Hold for a few seconds, and then rise back up.
Repeat the exercise a few times. (6)
Make sure that you squat up and down gently and do not be too fast with it. Your exercises should be smooth to avoid any jerks or injury.
5. Stretching
Stretching your hamstrings is a good way of maintaining the strength of your legs strengthened. One of the most famous and extremely simple stretching exercises is touching the toes.
To perform a hamstring stretch:
Stand with your feet close to each other.
Slowly bend and stretch your arms downward as you try to touch your toes.
Hold it for a few seconds and try to get your fingers as close to your toes as possible.
Do not continue or hold for too long if the stretch is causing pain. (7)
What Is a Good Diet to Strengthen the Knees?
You can include several foods that will keep your joints strong in your diet.
An anti-inflammatory diet is the best way to go. Also, try to eat food that is not processed, does not contain trans fats, or is fried.
Here are some of the foods that are good for knee joints:
1. Cherries
Cherries are anti-inflammatory and are good for your joints. They're also good for preventing arthritis. (8)
2. Bell peppers
Bell peppers are very rich in vitamin C, which helps in keeping your ligaments and tendons healthy, which, in turn, is good for your joints.
Other foods that are high in vitamin C include tomatoes, pineapple, and citrus fruits such as oranges. (9)
3. Salmon
Salmon contains high amounts of calcium, which contributes to strong bones. It also helps avoid inflammation. (10)
Symptoms of Weak Knees
According to research and experts, some symptoms of weak knees may include: (11)
Pain or discomfort in the knee joint during or after physical activity.
Stiffness or limited range of motion in the knee joint.
Swelling or inflammation in the knee joint.
A popping or cracking sound when moving the knee joint.
Difficulty bearing weight on the affected knee.
Instability or a feeling that the knee may give out or buckle under pressure.
It's important to see a doctor if you experience any of these symptoms, as they may be indicative of a more serious knee condition such as osteoarthritis.
What Are the Warning Signs of Knee Problems That Shouldn't Be Ignored?
Here are some warning signs of knee problems that you should not ignore: (12)(11)
Redness, swelling, warmth, and difficulty moving your knee could be signs of a knee problem.
A fever along with knee pain or discomfort may be a sign of an infection.
If you're a sexually active young adult and experience sudden joint pain in your knee, seek medical attention as it could be a sign of a sexually transmitted infection.
A skin break or wound near your knee that becomes swollen and red could be a sign of an infection in the joint.
If you have a bleeding disorder, are taking blood-thinning medication, or have hemoglobinopathy, it's important to be aware that you may be at higher risk of knee problems. Seek medical attention if you experience any knee pain or discomfort.
If you experience symptoms throughout your body, such as fatigue, weakness, or weight loss, along with knee pain or discomfort, see a doctor as these could indicate a more serious condition.
What Can Be Done at Home for Knee Pain?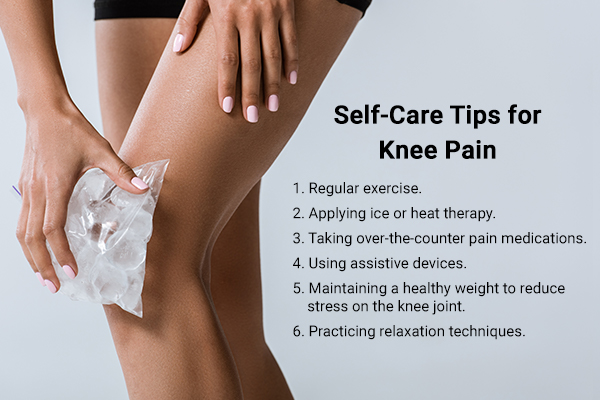 According to research on home-based management of knee osteoarthritis, there are several things you can do at home if you have knee pain, including:
Regular exercise, such as low-impact activities including walking, swimming, and cycling.
Applying ice or heat therapy to the affected knee.
Taking over-the-counter pain medications, such as acetaminophen or ibuprofen, as directed by your healthcare provider.
Using assistive devices, such as a knee brace or cane, to reduce pressure on the knee joint.
Maintaining a healthy weight to reduce stress on the knee joint.
Practicing relaxation techniques, such as deep breathing and meditation, to manage pain and reduce stress levels.
It's important to note that these home-based management strategies are not substitutes for proper medical treatment, and you should always consult with a doctor before starting any new exercise or treatment plan for knee pain.
Note: As a rule, experts say that patients with a history of gastrointestinal bleeding should never take strong painkillers orally. (13)
When to See a Doctor
You should see a doctor for knee pain if you experience any of the following:
Severe pain, swelling, or redness around the knee
Difficulty moving your knee or putting weight on it
Knee pain that lasts more than a few days, even with rest and over-the-counter pain medication
A popping sound or sensation at the time of injury
Pain that occurs at night or while resting
Knee instability or feeling like your knee may give out
Signs of infection, such as fever, redness, warmth, or drainage around the knee
Most-Asked Questions About Knee Strengthening
Why should I perform knee-strengthening exercises regularly?
Although knee-strengthening exercises will not directly affect your knee joint positively, they are responsible for strengthening the muscles surrounding your knees.
If the muscles around the knees are strong, they will provide your leg enough strength to give your knee the right support. This support is important to ensure that there is no strain on the joint, which also ensures that they remain healthy.
A person who performs knee-strengthening exercises regularly experiences less pain and knee injury. (7)(3)
If you are already experiencing pain before performing exercises, you should first consult a doctor before trying any exercise by yourself. Also, if you experience sharp pain while performing these exercises, seek medical advice at once.
Is it important to warm up before performing any strengthening exercises?
It is always best to start with a few warmup exercises before getting into the actual knee-strengthening exercises. You can warm up by doing aerobic activities such as cycling, jogging, walking, and aerobics. (14)
Warming up is important because it allows your muscles to be more flexible and prepare them for the exercises you are about to perform by increasing blood flow to the muscles.
What are the medical reasons that can cause knee problems?
According to a prospective study, the medical reasons that can cause knee problems and their risk factors are:
Age
Obesity
Previous knee injury
Occupational physical activity
Prolonged standing or walking
Strenuous sports or exercise
Poor muscle strength or flexibility
Malalignment of the knee joint
Familial predisposition
Systemic diseases such as diabetes and osteoporosis
Arthritis
It's important to seek medical attention for proper diagnosis and treatment if you experience knee pain. (15)
What is needed for the diagnosis of serious knee issues?
To diagnose serious knee issues, it's important for the doctor to know your medical history, especially if you've had knee problems before such as arthritis or other conditions that may cause knee pain.
The doctor will also ask about any medications you're taking, including steroids, as they can affect your knee health. If you're experiencing knee pain or discomfort, it's important to see a doctor for proper diagnosis and treatment.
Final Word
In conclusion, strong knees are crucial for leading a healthy and active lifestyle. With age and overuse, knee joints can become weak, leading to pain and injuries. Therefore, incorporating exercises that focus on strengthening the muscles around the knee joint is essential.
In addition, an anti-inflammatory diet that includes foods such as cherries and bell peppers can be helpful in maintaining joint health.
Before starting any exercise routine, consulting a physiotherapist is important, especially if one has pre-existing medical conditions. By taking proper care of your knees, you can ensure that they continue to support yourself throughout your life.
Was this article helpful?