In vitro fertilization (IVF) was first successfully performed in 1978 in the United Kingdom. The most advanced reproductive technology, IVF, is performed all over the world and is responsible for the live birth of more than 8 million babies.
"In vitro" is derived from Latin that literally means "in glass," as the first fertilization of eggs to result in embryos occurred in laboratory glass dishes.
In What Cases Is IVF Needed?
The original purpose of IVF was to assist a woman with fallopian tube damage. Since IVF fertilizes an egg with a sperm in the laboratory, the procedure bypasses the fallopian tubes, where natural fertilization occurs.
Today, virtually all women diagnosed with infertility are candidates for IVF (which involves using their own eggs), except for primary ovarian insufficiency (previously called premature ovarian failure).
It is also done for genetic testing of embryos from couples who have a high chance of transmitting abnormal genes, thereby placing a child at risk of genetic disease.
The IVF Procedure
The IVF procedure involves retrieval of the eggs and fertilizing them with the sperm, outside the human body.
Most IVF cycles use injectable drugs to "superovulate" a woman's ovaries to produce multiple mature eggs. This helps potentially increase the number of embryos and the opportunity for pregnancy.
During stimulation, eggs grow in ovarian cysts called follicles that are monitored using vaginal ultrasound through measurements, usually over 10 days.
Once the eggs have grown inside ovarian follicle cysts (follicles) to near 20 mm, a different hormone injection or "trigger" is given to mature the eggs for fertilization. Depending upon the woman's stimulation protocol and response to medication, she will receive one of two types of trigger shots: hCG (human chorionic gonadotropin) and Leuprolide acetate (Lupron®).
The "trigger" shot matures the egg. Then, a strictly timed procedure (usually 36 hours following the trigger) is done to obtain the eggs from the follicles, called egg retrieval. During this outpatient procedure, usually performed under intravenous conscious sedation, your physician uses a vaginal ultrasound-guided needle to pierce the ovary and aspirate the eggs from each of the follicles. On average, the procedure lasts for 15–20 minutes. While complications are uncommon, a patient may experience intra-abdominal bleeding or an injury to an internal organ that may require surgery. She can also develop an infection of her ovary.
After the eggs are collected, they are mixed with the partner's (or donor's) sperm in the laboratory and incubated for 5–6 days to produce embryos.
During this entire time, the patient has to take certain medications to promote the growth of the uterine lining in preparation for receiving an embryo.
After 5 days, an embryo is selected and transferred into the uterus under ultrasound guidance. This is also a simple outpatient procedure that requires no anesthesia or sedation.
If there were any additional embryos formed, they could be frozen and used in future cycles. Some patients choose to freeze all the embryos created and perform the embryo transfer at a later time.
Success Rate of IVF
The outcome of IVF embryo transfer has dramatically improved from its beginnings. Success rates are usually based on the woman's age, with the highest percentage of the likelihood for pregnancy in women less than age 35.
Due to ovarian aging, the rate of success continues to decline thereafter: 10%–15% monthly fertility at age 35, declining to approximately 5% at age 40. So, IVF is greatly affected by a woman's age, among other prognostic factors. Nevertheless, the monthly success rates with IVF are typically higher than natural pregnancy rates.
The popularity and effectiveness of assisted reproductive technology (ART) can be gauged from the fact that nearly 1.7% of all infants born in the United States every year are conceived through this procedure. (1)
Preparing for an IVF Procedure
Committing to an IVF treatment can be overwhelming for a woman due to various reasons. Here are some ways to help deal with your upcoming IVF cycle: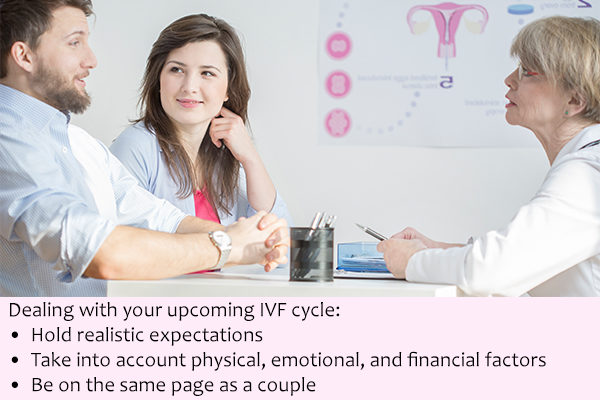 1. Realistic expectations
Patients who opt for IVF place a lot of hope in the treatment and naturally worry about its results. However, stress is counterproductive to fertility. It is imperative to consult your fertility doctor about what to expect from the treatment and just how likely is it to be successful.
2. Consider physical, emotional, and financial factors
Infertility decisions are based on three important factors: the invasiveness of the treatment, its impact on the quality of your life, and the cost of the procedure.
3. If you are a couple, be on the same page
The decision to proceed with IVF must be mutual between the couple, and the support for each other must be constant.
4. Ensure you have options if IVF is unsuccessful
Having a well-thought-out plan B before your cycle can help maintain your pursuit of a family if IVF does not result in a pregnancy.
5. Vet your physician and clinic
Most infertility practices have websites that introduce you to their practice and express their expertise. By doing your homework before deciding on IVF, you will determine the correct center that matches your needs.
6. Be your own advocate and avoid non-evidence-based medical procedures
Physicians must only provide evidence-based medicine to optimize outcomes and reduce unnecessary patient expenses. This is vital to avoid the risk of patient exploitation.
7. Maintain a healthy weight
While no diet has been definitively proven to increase fertility through IVF, patients are advised to have a normal BMI and an appropriate level of exercise.
8. Limit your alcohol intake
Women should limit their alcohol intake while trying to conceive (and avoid it completely throughout the pregnancy). Both women and men should avoid tobacco/vaping/marijuana or any recreational drug use.
What Are the Chances of an IVF-Born Baby Having Birth Defects?
In the United States, the risk of birth defects is estimated at 3%–5% of all deliveries. (2)
Medical studies demonstrate a slightly higher risk of birth defects in a child conceived from any infertility patient/couple irrespective of the method of conception, whether IVF, intrauterine insemination (IUI), or a natural cycle without fertility treatment. (3)(4)
So, it appears that the risk of birth defects in the infertility population may be due to the condition of infertility rather than any treatment.
Are IVF Injections Necessary for Every Individual?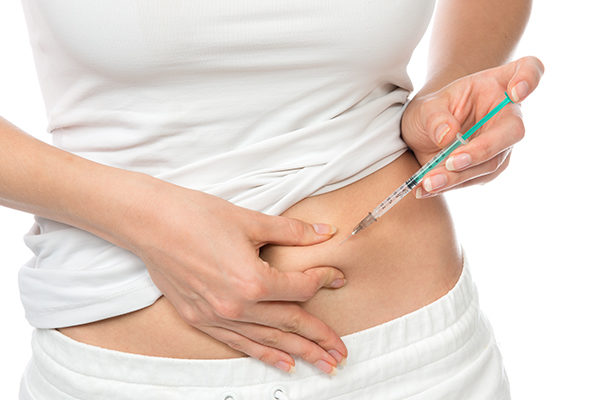 While there is no "one-size fits all," there are several different ovarian stimulation protocols in which IVF-ET (embryo transfer) can be performed.
In these protocols, the patient is generally administered a relatively low-cost oral fertility drug, like clomiphene citrate or letrozole, early in the cycle, followed by a low dose of injectable drugs called gonadotropins.
During stimulation, another injectable medication is used to prevent premature ovulation and the release of the eggs – a GnRH agonist or GnRH antagonists.
Full stimulation protocols are generally more successful than minimal stimulation protocols, but the latter can work better for certain populations, including:
Women who are not very responsive to fertility medication and do not produce many follicles even with the highest dose stimulation.
Women who are highly responsive to fertility medication, which puts them at an increased risk of developing ovarian hyperstimulation syndrome (OHSS).
Women who do not wish to freeze their embryo or want to limit the number of eggs to be fertilized, for ethical or religious reasons.
Side Effects of IVF
In general, IVF can increase the risk of multiple pregnancies, ectopic pregnancy, or miscarriage. IVF treatment may also be associated with weight gain, which is typically temporary.
IVF treatment is seen to increase the risk of depression. Studies have shown the psychological impact of infertility is very intense. (5) This desire to procreate is often one of life's major goals.
As a result, the inability or difficulty in building a family can result in significant mental health challenges that may require the involvement of a reproductive health counselor.
Risk Factors for IVF
Before any infertility treatment, a woman's health must be optimized to avoid harming her health and pregnancy. Although not meant to be a complete list, the following health conditions contraindicate a pregnancy:
Severe pulmonary hypertension or Eisenmenger's syndrome
Unrepaired cyanotic congenital heart disease
History of peripartum cardiomyopathy
Severe uncorrected valvular stenosis
Cardiomyopathy with NYHA class III or IV symptoms
Marfan syndrome with an abnormal aorta
Complications Associated With IVF
IVF involves two processes with separate risks. One is ovarian stimulation and the other is the egg retrieval.
1. Ovarian stimulation
Complications from ovarian stimulation include the following:
Typically, the side effects of fertility medications involve nausea, breast tenderness, mood swings, and abdominal bloating.
Unique to ovarian stimulation is the risk of ovarian hyperstimulation syndrome, which results in an excessive number of ovarian follicles (cysts growing eggs). This causes abdominal pain, fluid collection in the abdomen, lightheadedness, and nausea/vomiting. If OHSS is very serious, blood clotting and mortality may occur.
Another rare risk is ovarian torsion. This occurs when the enlarged stimulated ovary twists on its blood supply, reducing ovarian blood flow and causing pain. Surgery may be required to usually untwist or remove the ovary.
2. Egg retrieval
The risk of complications from an egg retrieval is very low and involves infection, bleeding, and injury to internal organs, which may require surgery.
Final Word
IVF is a clinical procedure that helps patients overcome infertility problems. It has a high success rate and is safe and simple. However, it is advised to couple the prescribed medical treatment with mental support, as IVF, whether successful or not, can deeply impact a woman's life.
Was this article helpful?