Healthy nails not only enhance the appearance of your hands but also indicate good health. Normally, nails are strong and translucent and you can see the pinkish flesh underneath them.
However, many factors can turn your nails yellow and brittle, which is often considered a sign of poor hygiene and underlying illness. (1)
This article discusses the various possible reasons behind yellowing of the nails of your fingers and toes and how to overcome the problem.
Causes of Yellow Nails
Your nails can turn yellow due to a number of reasons, including the following:
Prolonged use of nail polish. Frequent use of nail polishes, especially those with a dark stain or gel-based nail polish, along with repeated use of strong acetone-based nail polish removers, can turn your nail plate a pale-yellow color. (2) This can also happen if you leave your nail polish on for too long because the dyes in your nail polish affect your nail keratin, often also leading to brittleness.
Getting gel nails. Gel nails help people get long, natural-looking nails. These are made from a hard gel that is set under UV or LED light to make them stronger. Repetitive or prolonged use of UV gel coatings can inhibit your nails from breathing or receiving natural light, thus preventing healthy growth and leading to yellowing of nails.
Wearing nail extensions. Nail extensions refer to artificial nails that are attached over natural nails and painted over with nail art. Leaving these artificial nails on for long times or not placing them correctly can damage the nail bed. Artificial nails also block natural air and light from reaching the nails, increasing the risk of fungal infections and thus yellow nails.
Smoking. When you smoke, your nails are exposed to the harmful toxins in the cigarette smoke, such as nicotine and tar, which can turn your nails yellow. (3)(4)
Fungal infections. Discoloration of the nails can also be indicative of a fungal infection, especially if the yellowing is present in your toenails along with thickening of the nail plate. (5)(6) The yellowing may become more prominent after a traumatic injury to the nail or due to ill-fitting shoes. The most common fungal infections that cause yellowing of nails are those caused by Trichophyton fungi. (6) Fungal infections can also thicken and deform your nail plate.
Certain medical conditions. Medical problems such as onycholysis, psoriasis, (7) diabetes, and thyroid, (8) liver, and lung diseases (9) can cause yellowing of nails.
Yellow nail syndrome. A rare systemic disease, yellow nail syndrome causes discoloration of fingernails and toenails along with respiratory problems and swelling in the legs. (10)
Treatment for Yellow Nails
The treatment for regaining the translucent appearance of your nails is highly dependent on the cause of the yellowing. It is best to consult your doctor to get a proper diagnosis and a suitable treatment for your yellow nails.
The doctor may suggest interventions depending on the underlying cause, which commonly include:
Antifungal medications: If your yellow nails are caused by a fungal infection, you may be prescribed oral or topical antifungal medication. The treatment for a fungal infection may last up to weeks or even a year.
Laser therapy: In severe cases of fungal infections, your doctor may suggest laser therapy to treat the problem. (11)
Restricted use of nail polish: If the discoloration in your nails is caused by overuse of nail polish, the doctor may suggest keeping your nails bare for at least a week to allow them to breathe and regain health.
Other medications: If your yellow nails are caused by underlying health issues such as thyroid and diabetes, treating these issues can improve your nail health over time.
Home Remedies to Treat Yellow Nails
You can try a wide range of at-home treatments using household ingredients to improve the condition of your nails.
Note: Make sure to conduct a patch test before using these remedies if you have sensitive skin. Additionally, always apply a moisturizer after the treatment to keep your nails and surrounding skin hydrated.
1. Apply lemon to your nails
Lemon is a natural bleaching agent, which can therefore help whiten the nails. It has antifungal and antibacterial properties (12) that can fight off fungal infections that cause nail discoloration in the first place.
How to use:
Mix 1 tsp of olive oil with 1 tsp honey, and apply the mixture to your cuticles. Then squeeze a lemon to extract fresh juice and apply the juice to your nails. Wash your nails with lukewarm water after 15 minutes to avoid brittleness.
Alternatively, soak your nails in diluted lemon juice for 10–15 minutes, and then gently scrub them using a soft toothbrush. Rinse your nails and apply a moisturizer. Repeat this remedy twice a day. You can also use lemon essential oil instead of lemon juice.
2. Dip your nails in a hydrogen peroxide solution
Hydrogen peroxide is both a whitening agent and disinfectant and can therefore treat yellow nails. (13) Commonly used in whitening toothpaste, hydrogen peroxide can penetrate your nails and work from within.
Ensure that you use hydrogen peroxide with a 3% concentration or less.
How to use:
Mix 3 tbsp of hydrogen peroxide with 1½ cup of lukewarm water. Dip your hands in the diluted hydrogen peroxide solution for 15 minutes. Gently brush your nails using a soft toothbrush and then wash them with lukewarm water.
Alternatively, mix 1 tsp of hydrogen peroxide, 1 tbsp of baking soda, and 125 ml of hot water. Once the powder dissolves, dip your nails in the solution for 10 minutes. Wash your hands with water and soap and moisturize.
If you can't get access to hydrogen peroxide, apply whitening toothpaste to your nails. Scrub off the toothpaste after 5–10 minutes using a soft brush, and then wash your hands using warm water.
3. Soak your nails in apple cider vinegar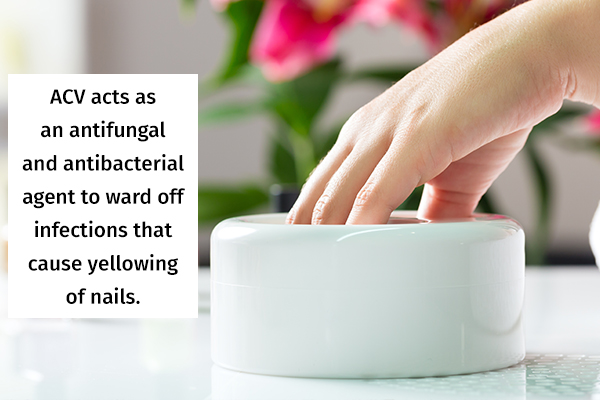 Apple cider vinegar (ACV) contains malic acid and acetic acid, which may lighten the discoloration on your nails. ACV also acts as an antifungal and antibacterial agent (14) to ward off infections that cause yellowing of nails.
How to use:
Dilute apple cider vinegar with warm water in a 1:1 ratio.
Dip your hands in the solution for about 20 minutes, and then wash them with cold water.
Pat your hands dry, and apply olive oil on your cuticles.
Repeat this remedy twice a day for best results.
4. Rub orange peel on your nails
Orange peel has a high content of citric acid and vitamin C, which helps clear off spots and stains from the nails. (15) Moreover, the antioxidants in orange peel nourish your nails, improving their health and strength.
How to use:
Rub a fresh orange peel on your nails for around 10 minutes daily.
You can also mix orange peel powder with rose water to form a paste. Apply the paste to your nails, and scrub it off using a brush after 10 minutes.
5. Use a denture cleaner
Denture cleaners mainly contain diluted sodium hypochlorite, (16) which is a mild bleaching agent. Denture cleaners can remove stains from any hard surface, including your nails.
How to use:
Dissolve 2–3 denture cleaner tablets in a bowl of warm water.
Soak your nails in the liquid for 5 minutes.
Rinse your hands with warm water, and pat them dry.
Repeat this remedy twice a week until you see improvement.
6. Apply tea tree oil to your nails
Tea tree oil is an excellent antiseptic, antifungal, and antibacterial agent (17) and can prove helpful in treating yellowing of nails caused by infections.
How to use:
Use an eyedropper to apply tea tree oil to your nails. Wait for a few minutes, and then rinse off the oil with lukewarm water. Repeat this remedy twice a day for best results.
Alternatively, mix a few drops of tea tree oil with 1 tbsp of nourishing oil such as avocado, almond, jojoba, or olive oil. Use this mixture to massage your nails. Rinse off the oil after a few minutes. Repeat the remedy twice a day until you see improvement.
7. Massage some oregano oil
Similar to tea tree oil, oregano oil has antimicrobial properties that can fight off bacterial and fungal infections that cause yellowing of nails.
How to use:
Dilute a few drops of oregano oil with 1 tbsp of any carrier oil such as jojoba, coconut, or olive oil. Use this mixture to massage your nails.
Rinse it off after a few minutes.
Repeat the treatment twice a day until the infection is treated.
8. Use juniper berries
Juniper berries have potent disinfectant properties (18) that can help in the treatment of yellow nails caused by fungal infections.
How to use:
Crush some juniper berries, and mix 1 tsp of it with 1 tsp of rose water.
Add this mixture to a bowl of warm water and soak your nails in it.
Wash your hands after 10 minutes of soaking and apply a moisturizer.
Repeat this remedy daily before bedtime for a few months.
How to Prevent Yellowing of Nails
Yellow nails are a common nuisance that can be easily treated with home remedies and OTC medications. But it is quite easy to prevent yellowing of nails in the first place, until and unless they are caused by an underlying medical issue.
The following tips are helpful in preventing discoloration of nails:
1. Keep your nails trimmed
Keeping your nails short helps prevent trauma to the nails. Moreover, long nails easily trap dirt beneath them, leading to problems such as infections.
2. Maintain foot hygiene
Always wash your feet, especially after excessively sweaty exercises, to prevent toenail infections such as athlete's foot. Wear fresh socks and clean shoes. Buy well-fitting shoes that do not put any pressure on your toes.
3. Avoid the frequent use of nail polish removers
Refrain from using nail polish removers more than once weekly to prevent brittleness and yellowing of nails.
4. Do not use dark-colored nail polish
Darkly colored nail polishes of poor quality may have a long wear time, but they also stain your nails and cause discoloration. It is advised to choose lighter, natural colors over dark colors.
5. Wear a clear base coat
Applying a base coat protects your nails from the dark staining dyes in nail polishes, thus helping avoid discoloration of nails.
6. Ask for clean salon kits
It is common to contact a nail infection from a nail salon if they use the same tools on different people without cleaning them first. Make sure to ask your nail technician to sanitize the nail kit before use or to use a new kit.
7. Use a buffing board
You can remove the top layer of your nail, along with the discoloration, by using a buffing board. However, this only works if your nails have just started to turn yellow. Avoid excessive buffing to preserve the strength of your nails.
8. Improve your diet
It is advised to include foods rich in keratin and biotin in your diet to keep your nails and cuticles healthy. These foods include omega-3 fatty acids, eggs, almonds, blueberries, red meat, oysters, and avocados. (19)
Additionally, increase your intake of vitamins B and E, iron, calcium, and zinc by consuming fresh fruits and vegetables. Also, consume plenty of water every day.
9. Exercise regularly
Regular physical movement can stimulate blood circulation to the extremities, helping maintain nail health.
10. Quit smoking
Smoking cessation is vital to prevent the yellowing of nails and to improve your general health.
Final Word
Yellow nails can be a source of concern, either for their appearance or for the fact that they may indicate a medical problem. It is best to get nail discoloration treated to prevent any complications.
You can try different home remedies, get a professional manicure, improve your eating habits, and use OTC medications for a fungal infection to help treat yellowing of nails, depending on the cause.
However, it is best to consult your doctor for a proper diagnosis and suitable treatment, especially if the problem persists despite the proper care and using home remedies.
Was this article helpful?