Imagine this: it is raining outside, the chilly air is as refreshing as ever, and you decide to put on your favorite floral shirt and take a quick walk in the nearby garden or pick up some dinner rolls.
There is practically nothing that can ruin this weather for you, but when you sit to do your hair, you notice the annoying little hair called "frizzies" or "flyaways," ruining your entire look.
These are nothing but split ends or, in scientific terms, trichoptilosis. It is often very common to see split ends in black hair such as in people of African descent. (1)
Split ends occur when the lowermost part of the hair strand splits or frays along the stretch of its length. This can be due to a vast variety of reasons, such as physical distress caused by aggressive brushing or chemical distress caused by heat-styling devices as they damage the outer protective covering of the hair known as the cuticle. (2)
It is important to understand why split ends occur in black hair and, if you do have black hair, how you can solve the problem.
What Is Black Hair Prone to Split Ends?
According to studies that have examined black hair and how it differs from other hair types, some interesting aspects promote the formation of split ends in black hair. (3)
When scientists looked into black hair such as African descent hair, they found that the hair has an asymmetrical arrangement of its keratin fibers, which are the basic building units of the hair. This distinct structural design of black hair can make them more susceptible to splitting.
Thus, black hair is highly vulnerable to split ends when exposed to various stressors such as physical damage, heat, and chemical treatments. (1)
What Factors Can Contribute to Split Ends in Black Hair?
Just because you are born with black hair, it does not necessarily mean that you will always suffer from the problem of split ends. Very often, some external factors will increase your risk and chances of struggling with split ends.
1. Wearing tight hairstyles
You may have come across different types of hairdos that women with black hair rock almost every day. However, most of these hairstyles include tight pulling of the hair, which causes traction and can damage the hair in a lot of ways. One such example is the development of split ends. (3)
2. Indulging in chemical hair treatments
Research has shown, time and again, that chemical hair treatments can lead to the weathering and oxidation of hair, which make it more prone to issues such as split ends.
People with black hair also usually indulge in a lot of hair treatments that can contribute to the deterioration of the cuticle hair, leaving the hair susceptible to fraying and splitting. (4)
3. Being aggressive when combing the hair
Not following the right hair combing or brushing techniques causes more harm to the hair than you can anticipate, which is why it can be a major contributing factor to split ends in black hair.
Whether to comb the hair wet or dry must also be looked into. Research has shown that combing black hair when they are dry causes split ends to form.
So, if you have a habit of brushing your hair too harshly or when they are dry, you may be unknowingly paving the path to split ends. (4)
4. Practicing very frequent heat straightening of the hair
According to scientists, it is common to have split ends as a side effect of straightening the hair.
Although having straight hair can make them look very manageable or may suit your outfit of the day, in the long term, it puts you at an elevated risk of split ends.
In fact, research shows that split ends are observed in 17% of people who straighten their hair quite regularly. (4)
How to Prevent Split Ends in Black Hair?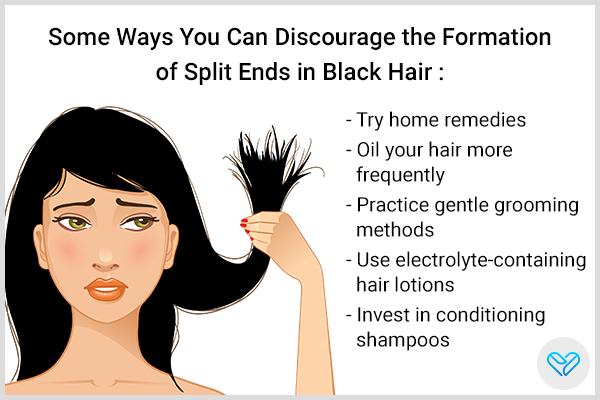 The most important part of any hair issue after understanding what's causing it is to know how to stop it from getting any worse.
Here are some ways you can discourage the formation of split ends in black hair.
1. Try home remedies
Many experts have come forward to share their tips and tricks on split end management. Most of these remedies are based on anecdotal evidence by experts and positive responses by the users.
Massage your hair with coconut oil to keep it hydrated.
Apply an egg yolk mask once weekly. Prepare the mask by mixing egg yolk with olive oil.
Mix honey and yogurt to form a paste, and then apply the mixture to the scalp for nourishment.
Apply aloe vera gel to your hair strands to prevent further splitting of the hair.
2. Oil your hair more frequently
When your grandmother asks you to visit her and fondly oils your hair every night, it is best you trust her instincts because now this remedy has been backed up by scientific studies.
Research has shown that treating hair with oils can reduce the chances or occurrence of split ends in black hair.
If you wonder which oil is the most suitable for this job, scientific findings suggest the use of mineral oils or Brazilian nut oil. (4)
3. Practice gentle grooming methods
Many experts will ask you to treat your hair very gently. When you're grooming your hair, it is best to be extra careful and gentle.
Comb your hair slowly and steadily instead of being too harsh on it. This is extremely important as poor grooming practices contribute to the formation of split ends. (4)(5)
4. Use electrolyte-containing hair lotions
According to a study, formulations such as electrolyte complex solutions and lotions have been developed solely to mend split ends in black hair and other hair types. These lotions can be applied to the hair before combing to protect it from split end formation. (5)
5. Invest in conditioning shampoos
Shampooing the hair regularly is important for keeping the scalp clean and enabling healthy hair growth.
The correct frequency of hair washing with shampoo is not a fixed number but instead depends on your hair type (oily or dry). For this reason, everyone should know how much shampooing is required to maintain hair health not to underwash the hair.
However, overwashing the hair with shampoo can be just as bad. Research shows that shampooing excessively can make the hair dry and prone to split ends.
So, people with black hair who struggle with split ends should look for conditioning shampoos that contain ingredients such as dimethicone and glycerin to improve split ends. (6)
Expert Advice on Preventing Split Ends in Black Hair
Religiously observe these measures to lower your chances of having split ends if you have black hair:
Do not heat style your hair every day.
Condition your hair after every shampoo wash.
Be gentle when you detangle your hair.
Use a heat-protectant spray on your hair before straightening.
Trim your hair regularly.
Use a wide-tooth comb.
Use satin or silk bedding.
Stay hydrated as much as possible.
Most-Asked Questions
Can split ends be repaired without trimming?
Trimming is usually required to repair split ends.
How often should I trim to prevent split ends?
Regularly trim your hair every 6-8 weeks.
Can split ends be avoided by using specific hair products?
Certain products containing conditioners can help minimize split ends.
Are there certain hairstyles that help prevent split ends?
Loose hairstyles can be good for split end prevention.
Can split ends be caused by a lack of proper nutrition?
Yes, as poor nutrition causes poor hair health.
Can split ends lead to hair breakage?
Untreated split ends can progress to cause hair breakage.
Final Word
Split ends in black hair are a very common everyday problem that many people face throughout their lives. Some people even assume that they are natural as it seems almost impossible to get rid of them.
The good news is that you can reduce or prevent split ends with proper hair care.
Was this article helpful?