Bleaching hair is a common practice. It is a unique service as it does not really give any color to your hair, but instead scatters the already present color molecules to lighten the hair.
As a result, "removing" bleach from the hair is not a feasible choice because it is not a substance that can be just washed away, experts explain. Instead, the hair must be dealt with in such a way that permits it to slowly return to its natural color or a distinct desired color.
It is crucial to report that this technique can be long and may need numerous treatments over a span of time.
It is also significant to pursue professional advice when attempting to change from bleached hair to another hair color or returning to your natural color.
Ways to Remove Bleach From Hair
Here are some treatments you can try to manage bleached hair.
1. Color correction
If the hair color has become too faint or muted from being bleached, the best method to fix it is by dyeing it a darker shade, hair stylists advise. Also, it is important to carefully choose a dyeing procedure to discourage further harm to your hair.
A qualified stylist will start by sealing the hair with pigment to restore warmth and dissuade the final color from appearing muted. Then, a second dye session will be required to get the right color and put in some depth.
By conforming to these measures, it is probable to rectify bleached or overly lightened hair.
2. Deep conditioning
Deep conditioning is a technique that can aid in the rehabilitation of the harm induced by bleach and in rejuvenating the hair.
Intensive hair conditioners, also known as deep conditioners, are hair care products that furnish more potent and longer-lasting hydration than ordinary conditioners. These conditioners are generally allowed to sit on the hair for extended periods, normally 20–30 minutes, to allow the hair to completely soak up the useful ingredients.
Deep conditioners are extremely useful for people with exceptionally dry or damaged hair (such as bleached hair), as well as those who are planning to go through chemical techniques such as bleaching. (1)
3. Haircut
Experts advise that, occasionally, the best way to extract bleach from the hair is to trim it off. If the hair is severely damaged and brittle, cutting it off can remove the damaged parts and promote healthy hair growth.
4. Keratin hair treatment
Bleaching can drain the hair's strength and integrity, making it more prone to breakage. In one study, keratin treatments demonstrated substantial progress in strengthening bleached hair. (2)
Therefore, keratin treatments are a promising option for bleached hair as they can boost hair health. (3)
Home Remedies to Manage Bleached Hair
Home remedies are popular and inexpensive ways to remove bleach from the hair. Here are some of the most effective ones.
1. Lemon juice and apple cider vinegar
Acidic pH levels are established to be beneficial for bleached hair, with a pH of 5 ascertaining the most promising structural integrity for hair proteins. This indicates that acidic remedies, such as lemon juice and vinegar, can be valuable for bleached hair and can be employed to wipe out the bleaching. (4)
Vinegar, especially apple cider vinegar, is well known for its acidic properties that can help counteract the yellow stain of the bleach and revive the hair's pH balance.
Many experts also claim that lemon juice can help in discouraging product buildup and fixing up the hair's innate shine. (5)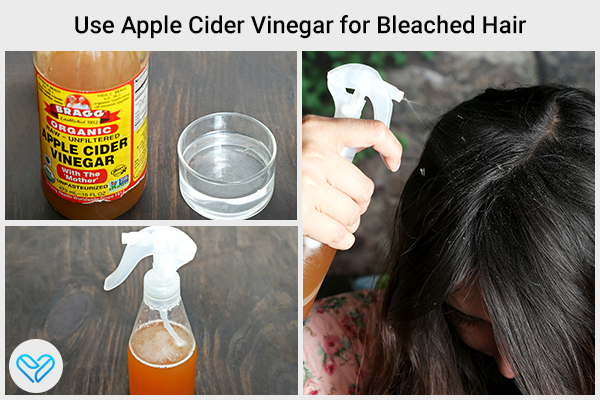 How to use lemon juice and vinegar for bleached hair:
To use apple cider vinegar, dilute it with water in a 1:2–3 ratio, apply the solution to the hair for 30 minutes, and rinse it off.
To use lemon juice, mix it with water in a 1:1 ratio, apply the solution to the hair for 5–10 minutes, and rinse it off.
2. Mayonnaise hair mask
Some experts and people who have tried mayonnaise on their hair have shared positive results of this remedy. This may be because mayonnaise has a high content of fatty acids that can condition the hair, and thus it can be a great ingredient for rejuvenating bleached hair.
How to use mayonnaise for bleached hair:
Add around 1 cup of mayonnaise to a bowl.
Crack an egg and add it to the bowl as well.
Mix the two ingredients well.
Apply the mixture to your hair. Leave it on for 30 minutes.
Wash it off.
Expert Advice on Maintaining Bleached Hair
Here are some points that may help rejuvenate bleached hair:
Don't wash your hair every day.
Protect your hair from the sun's rays.
Sleep on pillows that are wrapped in silk cases.
Eat a healthy balanced diet.
Use warm water for hair washing.
Understanding Hair Bleaching and Its Effects
Bleaching hair refers to the use of a chemical called hydrogen peroxide to lighten the hair. The technique extracts the natural pigments from hair strands, leaving them lighter or entirely white.
The higher the concentration of hydrogen peroxide, the lighter the hair gets.
Unfortunately, bleaching does not come without any adverse effects. It can damage the hair cuticles, forcing them to become brittle, dry, and susceptible to breakage. Furthermore, bleach can also cause damage to the scalp, resulting in itching, redness, and flakiness. (6)(7)
Most-Asked Questions
Can I dye my hair after removing the bleach?
It is not suggested to dye your hair instantly after removing the bleach, as your hair may be damaged and more porous than usual. Wait at least a week before dyeing your hair.
How can I prevent bleach damage in the future?
To prevent bleach damage, use high-quality hair products that are particularly prepared for color-treated hair. Also, avoid using heat styling devices repeatedly, as heat can deteriorate your hair quality and make it more sensitive to breakage.
Final Word
Bleaching hair is a common hair service, but it can sometimes result in damage and discoloration. Removing bleach from the hair is challenging as it cannot be washed or stripped away, but there are methods to gradually make the hair return to its natural color or a different color.
Was this article helpful?