Marula oil is a good ingredient to have in skin care products because it can make the skin feel soft and healthy. However, if you're hoping it will lighten your skin, there isn't much proof for that.
Marula oil is mostly known for its moisturizing properties (1) and has been thoroughly researched for that, but not for changing or lightening skin color.
If you want to lighten your skin, it's better to use products that are known for skin lightening. Continue reading to know all the information about marula oil.
Marula Oil and Its Effect on Skin Lightening
When it comes to skin lightening, there is not enough research evidence to advocate the efficacy of marula oil. It is not specifically formulated or widely known for skin lightening.
However, some experts do recommend the use of marula oil to combat dark spots or acne marks, but for general skin lightening, there is not much data or evidence available.
So, if you're looking to lighten your skin, it's important to explore other proven options, such as products containing ingredients like licorice, kojic acid, and vitamin C (lemon extracts), which have been studied for their skin-lightening effects. (2)(3)
Benefits of Marula Oil on Skin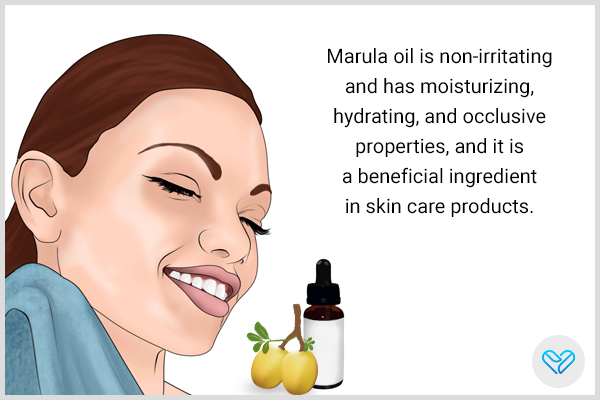 Marula oil, derived from the nuts of the marula tree, is a popular ingredient in cosmetics, such as lotions and lipsticks. Biologically known as Sclerocarya birrea nut oil, the Zulu people in South Africa have traditionally used it to maintain healthy skin.
Marula oil contains various fatty acids, with oleic acid being the most abundant. The fatty acids in marula oil are identical to those present in the skin, making it a potentially useful ingredient for skin care. (1)
Marula oil is nonirritating and has moisturizing, hydrating, and occlusive properties, and it is a beneficial ingredient in skin care products.
1. Moisturizing
Marula oil moisturizes the skin, preventing dryness and maintaining softness. It is soft on the skin and does not result in irritation, deeming it to be great for people with skin sensitivity. (1)
2. Antiaging
Scientific studies have shown that marula stem extracts have powerful properties that help preserve skin elasticity and protect collagen from degradation. The ethanolic extract of marula stems, which contains epigallocatechin gallate and epicatechin gallate, exhibits excellent antiaging activity.
By adding marula oil to your skin care regimen, you can enjoy youthful, firm, and radiant skin. (4)
3. Occlusive
Marula oil builds a protective shield on the skin to retain moisture and protect the skin from external elements. (5)(1)
How to Use Marula Oil?
Using marula oil is pretty straightforward. Follow these steps:
Cleanse your face and pat it dry.
Put drops of this oil on your face and massage it into your skin.
Let the oil be soaked by the skin for a few minutes, and do not apply any other product immediately after.
Use marula oil twice daily for best results.
Precautions When Using Marula Oil
If you're using marula oil, remember these points:
Carry out a patch test before using marula oil to confirm that you are not allergic to it.
Do not let it get into or come near your eyes.
Keep the oil in a cool, dry place where it is not under direct sunlight.
Side Effects of Using Marula Oil
Marula oil is generally considered safe to use, and it has no adverse effects. A study found that marula oil was well tolerated when applied to the skin and did not cause any irritation. (1)
However, it's important to note that more scientific research is needed to fully understand the potential side effects, both short and long term, of marula oil.
Most-Asked Questions
Is marula oil effective for reducing acne scars?
Marula oil may help reduce the impression of acne scars over time.
Can marula oil be used in place of skin-bleaching products?
Marula oil is not a substitute for skin-bleaching products.
How often should I use marula oil for skin whitening?
Marula oil can be used daily or as needed for moisturizing the skin, but it does not specifically target skin whitening.
Final Word
Marula oil is a valuable skin care ingredient that offers various benefits, such as improved skin hydration and elasticity. However, if you are seeking skin-whitening effects, it is recommended to explore other suitable options that are precisely developed for that intent.
Was this article helpful?