Cystic acne is a severe form of acne that extends deep into the skin layers and is often persistent. It is generally painful, usually ending in the formation of scars once it clears up. Cystic acne may also be accompanied by the formation of blackheads and whiteheads.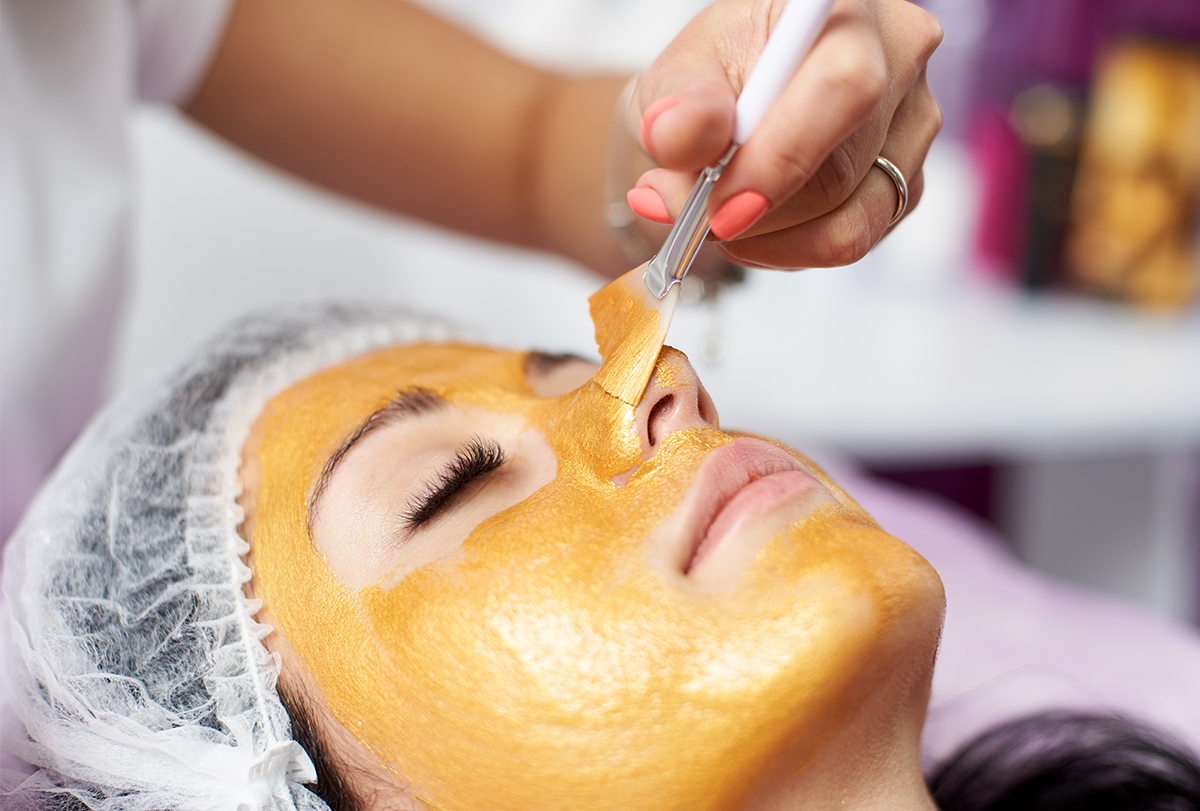 While medical treatment is necessary to help manage cystic acne, you can also try different natural remedies to assist treatment. Besides, it is wise to follow self-care measures that help prevent acne flare-ups.
Home Remedies for Cystic Acne
The following at-home treatments might be helpful in treating cystic acne.
Disclaimer: Since your facial skin is extremely thin and delicate, it can get easily irritated by any new topical ingredient. So, to avoid any adverse skin reactions such as burns and rashes, perform a patch test of the ingredients on the underside of your arm. If irritation occurs, avoid using the remedy.
Needless to say, people who are allergic to any of the ingredients in the remedy should not use it. Those with sensitive skin are advised to take special precautions before trying out any topical remedy. Discontinue use if the condition worsens.
1. Apply turmeric
Turmeric possesses antimicrobial, anti-inflammatory, and antioxidant properties that may be beneficial in the treatment of acne. (1)
How to use:
Mix 1–2 tsp of turmeric powder with water or unrefined sesame oil. Apply the paste to the affected area and rinse after an hour. Use the remedy twice a day.
Mix ½ tsp of turmeric in a glass of warm milk and consume twice daily.
2. Apply green tea
Green tea is rich in polyphenol antioxidants (2) that help break down damaging waste and chemicals present in body cells, (3) thus helping clear and open acne pores.
Moreover, it is observed that people with acne have excessive sebum in their skin pores, while lacking antioxidants. Therefore, green tea can help manage as well as prevent the formation of cystic acne.
How to use:
Make a cup of green tea by steeping a tea bag in hot water for 3 minutes. Remove the tea bag and cut it open once cool. Mix honey in the tea leaves and apply this mixture to your face after cleansing it. Leave it on for 20 minutes and rinse with cold water.
You can consume the prepared tea for internal cleansing and other health benefits.
3. Apply lavender essential oil
The lavender essential oil has antimicrobial properties that can help control acne-causing surface bacteria without irritating the skin. (4) Lavender oil can also be used for aromatherapy, which provides benefits by supporting proper sleep through the night, contributing to hormonal balance.
How to use:
Dilute 3 drops of lavender oil in 2 tbsp of water or any carrier oil, and apply the oil blend to the affected areas before bedtime.
4. Use tea tree essential oil
Similar to lavender oil, tea tree essential oil possess antimicrobial properties that can help in the treatment of cystic acne. (5) 
How to use:
Mix 1–2 drops of tea tree oil in distilled water, and apply it to the acne. You can also add the oil to your bathwater if the acne develops in areas other than the face.
5. Drink spearmint tea
Spearmint is found to have testosterone-reducing properties, (6) therefore aiding in controlling sebum production and, eventually, cystic acne formation.
How to use:
Steep spearmint leaves in hot water for 3–5 minutes and strain. Add honey or lemon to the tea, and consume the tea once every day to help regulate hormonal imbalance.
Self-Care Measures to Treat Cystic Acne
The following tips can help prevent cystic acne flare-ups:
1. Cleanse your skin daily
Use a mild cleanser at least once every day, at bedtime, to help clear excess oil and dirt from your face daily. Avoid the use of harsh scrubs as they can dry out the skin, leading to increased sebum production. Moreover, avoid overwashing your face.
2. Moisturize your skin
It is essential to keep your skin moisturized to help the natural skin repair process function efficiently. Moreover, dry skin is prone to acne. Use only noncomedogenic and oil-free products to prevent clogging of pores.
3. Consume a balanced diet
Consume skin-friendly foods such as fresh fruits and vegetables to help keep your skin glowing. Moreover, avoid foods rich in carbs, fats, and sugars.
4. Take in probiotics
Consuming probiotic-rich foods such as yogurt improves the composition of your gut bacteria and can help manage skin inflammation and acne.
5. Keep yourself hydrated
Drink plenty of water to help keep your skin moisturized. (7)
6. Use OTC products
Use OTC creams containing benzoyl peroxide, hydrocortisone, and salicylic acid for acne management. Benzoyl peroxide helps control acne-causing bacteria, salicylic acid helps dry out pimples, and hydrocortisone reduces inflammation.
7. Refrain from popping the lesions
Picking or squeezing the acne can worsen the condition.
8. Get facials
Since acne generally develops due to clogged pores, getting regular facials can be beneficial as it helps keep the pores clean.
9. Manage your stress
Acne flare-ups are often associated with the release of stress hormones. Try stress management techniques such as walking, yoga, and meditation to help manage your stress.
10. Get proper sleep
As mentioned above, proper sleep can help balance your hormone levels and also manage inflammation. It also allows the cystic acne can heal uninterrupted at night.
11. Exercise regularly
Daily physical exercise can help detoxify your body by boosting the lymphatic system. Exercising can help manage your mood and self-esteem as well, which are generally lowered due to cystic acne.
12. Use light makeup
When choosing makeup products, make sure to go for noncomedogenic, water-based formulations. Moreover, always remove your makeup before bedtime to allow your skin to breathe.
13. Apply sunscreen daily
It is recommended to wear sunscreen before stepping outdoors to prevent sunburns. (8) This is essential as most cystic acne medications can increase the risk of sunburn.
Most-Asked Questions About Cystic Acne
Can cystic acne be prevented?
While it is not possible to prevent cystic acne in all cases, it is generally recommended to avoid medications that can cause cystic acne as a side effect.
Moreover, get your acne treated when it is in the mild stages before they turn into large cysts. Additionally, refrain from excessive milk consumption and quit smoking.
Are cystic acne scars permanent?
The scars left by cystic acne are usually permanent, unless treated with cosmetic procedures. It is best to take measures to prevent scar formation in the first place rather than try to treat it.
Can toothpaste help dry out cystic acne?
The topical application of toothpaste can help dry out cystic acne as it contains alcohol, menthol, hydrogen peroxide, baking soda, and essential oils.
However, it is recommended to avoid this remedy as it irritates the skin and causes redness and peeling. Moreover, the use of toothpaste can increase oil production and thus acne in the long run.
Final Word
Cystic acne is a painful and discomforting condition that often causes scarring. In rare cases, cystic acne may cause complications such as deep skin infections and cellulitis and can even affect your mental health. Therefore, it is vital to get proper and timely treatment for cystic acne to prevent complications.

Continue ReadingCystic Acne: Causes, Symptoms, and Medical Treatment
Was this article helpful?