Acne is one of the leading dermatological complaints worldwide that affect all genders and ages.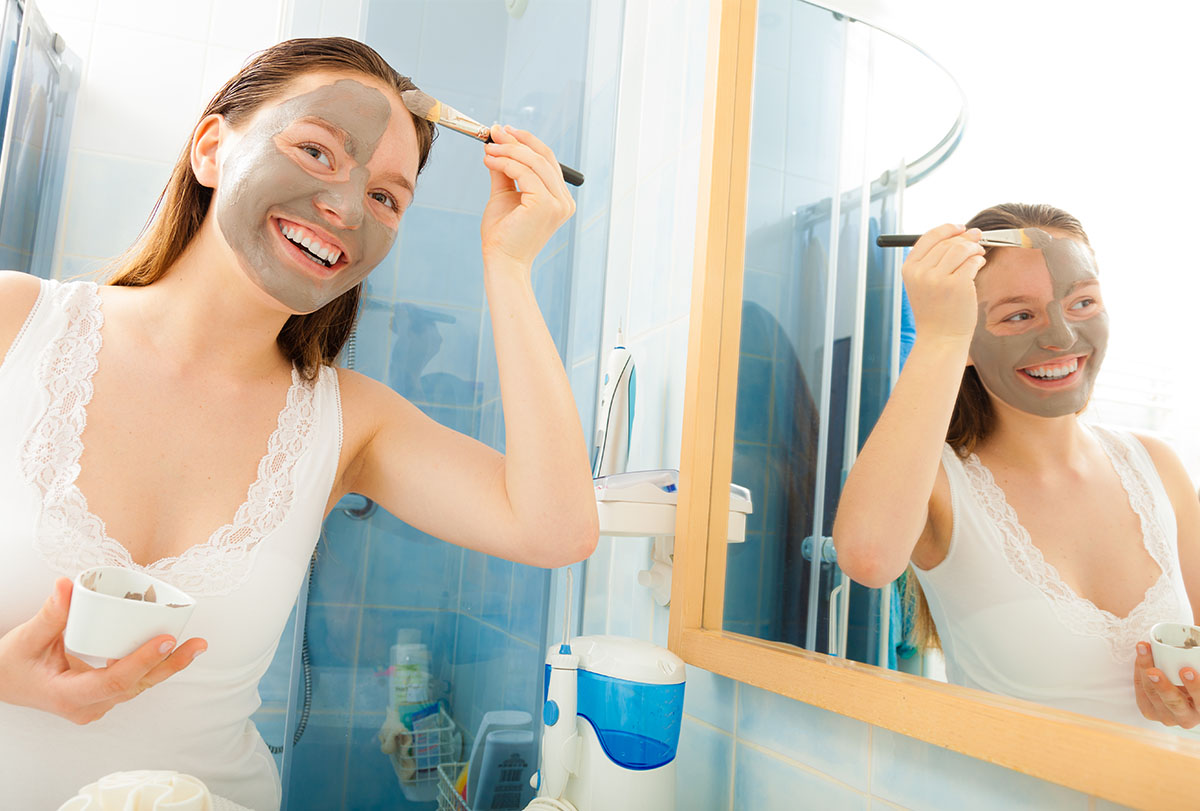 Not only is acne painful and irritating, but having your face riddled with zits, pimples, and stubborn acne scars or pits can make you extremely self-conscious. Even those who don't have it bad look for ways to banish each acne bump to keep their skin clear and flawless.
Acne is mainly triggered by hormonal changes, oily or extremely dry skin, or negligent skin hygiene. Your hormones can only be controlled through medication, but there are plenty of things you can do to keep your skin clean and oil-free.
While there are several acne-specific skin care products available, most of them contain some form of chemicals or preservatives, which can be harsh on your skin. Fortunately, there are also many natural ingredients that can manage acne-prone skin to reduce the frequency, intensity, and duration of breakouts.
One such star ingredient is bentonite clay, which can soothe and nourish irritated skin and also extract and absorb the excess oil, toxins, and dirt trapped inside the skin pores. Both these effects are crucial for managing acne breakouts in all skin types.
Bentonite becomes even more powerful when combined with other skin-enhancing ingredients in the form of a healing facial mask. This article will discuss how you can fix yourself a bentonite clay facial mask at home.
Know the Ingredients
Here is a list of the various ingredients, along with their benefits, which you can use in making bentonite clay facial masks at home:
1. Bentonite clay
Bentonite clay is enriched with skin-enhancing minerals including magnesium, calcium, copper, silica, potassium, sodium, and iron. (1) It thoroughly cleanses the skin by drawing out the toxins, excess sebum, and other impurities settled deep inside the pores. 
The buildup of these impurities inside the pores invites overgrowth of microbes, which are responsible for skin infections such as acne. Also, clogged pores don't allow your skin to breathe, giving it a dull and tired appearance.
When used topically, bentonite clay extracts hydrogen from the skin cells to leave more space for oxygen to enter. This oxygenation helps revitalize and brighten dull, lackluster skin.
Bentonite clay also exhibits antimicrobial properties that can reduce the buildup of acne-causing bacteria on the skin to prevent breakouts.
2. Activated charcoal
Like bentonite clay, activated charcoal is also renowned for its skin-purifying properties. It is a strong adsorbent, which binds to the impurities on the surface and inside the pores of your skin to facilitate their easy removal. (2)
Using activated charcoal on your skin not only will unclog but also will shrink your pores to give it a smooth finish and to prevent acne breakouts. Tight skin pores are less likely to collect dirt, dead cells, and other environmental toxins that breed acne-causing bacteria.
Moreover, activated charcoal exhibits anti-inflammatory properties that can soothe the skin irritation, swelling, and redness associated with acne.
3. Honey
Both bentonite clay and activated charcoal deeply cleanse your skin, but they can also strip away essential moisture, making your skin dry.
As a result, your oil glands will go into overdrive and produce excess sebum to compensate for the skin dryness. The excess sebum will then build up inside your pores, triggering acne breakouts. Thus, it is important to balance the drying effect of the cleaning agents with a moisturizing ingredient, and nothing does the job better than honey.
Honey is made up of water and natural sugars that hydrate and nourish the skin. Honey is a natural humectant, which means it helps your skin retain its moisture for prolonged hydration. It does so by binding to the water molecules present in the skin and seals them in.
Honey also exhibits significant antimicrobial activity, which can kill the bacteria on your skin to reduce the frequency and severity of acne breakouts. (3) What's more, the high amounts of antioxidants in honey can fight free radicals that damage skin cells and induce inflammation and premature skin aging, among other skin problems.
4. Tea tree oil
Like all essential oils, tea tree oil is also credited with multiple medicinal properties, but it is especially distinguished for its acne-fighting effects.
This oil is a powerful antimicrobial that can combat acne-causing bacteria for lesser or milder breakouts. It can also ease the swelling, redness, and pain associated with inflammatory acne. (4)
5. Green tea
Green tea is packed full of catechins, which are phenolic compounds that demonstrate strong antioxidant and anti-inflammatory properties. Both these therapeutic properties can go a long way in managing acne breakouts.
Epigallocatechin-3-gallate (EGCG) is the most abundant catechin in green tea, and it helps curb sebum production and soothe existing acne. (5)
6. Oats
Saponins are organic chemical compounds in oats that produce lather when dissolved in water. They are natural cleansers that can remove the dirt and sebum clogging your pores.
Oats also have a gentle scrubbing effect that can dislodge dead cells from the surface of the skin to make it squeaky clean. They are also credited with antioxidant, anti-inflammatory, and moisturizing properties that can alleviate irritated skin. (6)
7. Apple cider vinegar
Apple cider vinegar (ACV) is a weak acid that can benefit the skin in numerous ways when used in diluted concentrations.
Healthy skin is slightly acidic, which makes it inhospitable for the growth of microbes, including acne-causing bacteria. But regular exposure to water, soaps, shampoos, and skin products along with other factors can disrupt this natural pH, making your skin more alkaline and thereby more hospitable for the growth of acne-causing bacteria.
Application of diluted ACV can restore acidity to your skin so that it returns to its normal pH, which ultimately helps banish acne. 
Moreover, topical ACV gently exfoliates the outermost layer of the skin to reveal fresh smooth layers from underneath that have tighter, cleaner pores. This effect can be attributed to the presence of certain alpha-hydroxy acids in ACV, namely lactic, citric, and malic acids. When applied to the skin, these acids dissolve the bonds between dead epidermal cells so that they shed easily.
If these dead, damaged cells are allowed to accumulate on the surface of the skin, they will eventually trickle into your pores and clog them. The acne-causing bacteria feed on these cells, multiply rapidly, and give rise to infectious breakouts.  
Note: ACV at its original concentration is extremely potent and can irritate or damage your skin when used topically. Thus, you must dilute it with water before application.
Bentonite Clay Facial Mask Recipes
Here are two easy DIY bentonite clay face mask recipes for acne-free skin.
1. Bentonite clay, oats, and ACV facial mask
Put 2 tablespoons of bentonite clay and 1½ tablespoons of grounded oats in a mixing bowl.
Add 3 drops of tea tree oil and ¼ tablespoon of ACV into the bowl.
Mix all the ingredients, adding required amounts of rose water, to form a thick, lump-free paste.
Note: You can substitute rose water with brewed green tea.
2. Bentonite clay and activated charcoal facial mask
Take 1 tablespoon of bentonite clay in a bowl.
Empty 2 capsules of activated charcoal into the bowl.
Add 1 tablespoon of honey and 2 drops of tea tree essential oil into the mix.
Put in a few drops of water (if needed) and stir the mixture to form a paste-like consistency.
How to use a bentonite clay facial mask
Wash your face and let it dry.
Evenly apply the paste all over your face, except on the sensitive area around your eyes.
Let it sit for about 15–20 minutes.
Rinse it off with lukewarm water.
Use this mask once or twice a week for best results.
Important Points
Applying these masks more than two times a week can dry out or irritate your skin. So, don't overuse it, especially if you already have dry skin. 
Use nonmetallic utensils to prepare these masks since metal can strip away the healing properties of bentonite clay and activated charcoal.
You can prepare extra paste for later use, but it must be stored properly to retain its beneficial effects. The trick is to store the extra product in a glass jar and stash it in the refrigerator.
Grind your oats in a grinder, blender, or food processor until they become flour-like.
Green tea can be simply prepared by steeping your preferred tea bag in a cup of hot water for 5 minutes.
Final Word
These bentonite clay facial masks are totally safe for application, so long as you are not allergic to any of the ingredients. So, it's best to patch test the ingredients before adding them to the mask mix.
These masks work differently on different skin types, so everyone will not get the same results. By and large, they have been shown to be quite effective for soothing acne-prone skin, but still the results may vary from person to person.
You will have to plan your schedule for using these masks depending on how well your skin responds to them. Besides, you have to use them consistently and as part of an overall wholesome skin care routine. No single remedy by itself can banish your skin problem.
The importance of eating nutritious foods for healthy skin cannot be stressed enough. If your breakouts keep recurring or become worse even with proper self-care, then it is wise to see a dermatologist for the appropriate treatment.
Was this article helpful?