If you have ever woken up with a hangover and a mouth that smells like a brewery, then you know how embarrassing alcohol breath can be. It can affect your social interactions, job, and even relationships.
Whether you are going to work or a special event, it is important to know how to get rid of alcohol breath effectively.
Read on to explore some proven techniques for eliminating alcohol breath, so you can feel confident and fresh no matter where you go.
How to Deal with Alcohol Breath
Take these measures to keep your breath smelling fresh even after having a few drinks.
1. Hydrate yourself
One of the best ways to get rid of alcohol breath is to drink plenty of water. It can help flush out toxins and reduce the concentration of odor-causing agents in your mouth. (1)
2. Eat peanut butter
Many experts have reported that eating peanut butter works wonders in hiding alcohol breath.
The powerful and specific aroma of peanut butter, combined with its thick and creamy consistency, can leave a coating in your mouth and throat. It is a simple and quick fix that is worth trying out.
3. Chew gum
Another effective way to get rid of alcohol breath is to chew gum. It increases saliva production, which can help to wash away the odor-causing compounds in your mouth. (2)
Choose sugar-free gum to avoid adding more sugar to your mouth, which can exacerbate bad breath.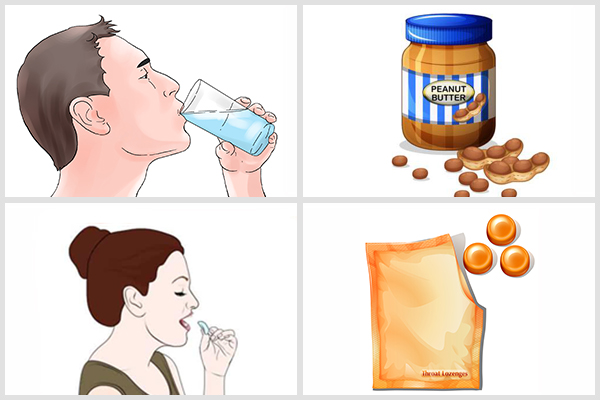 4. Pop a cough drop
Cough drops can help freshen your breath temporarily. The flavor of the cough drop is not a significant factor as any cough drop will help mask bad odor.
A nonfruity or nonsugary one is recommended for better results.
5. Chew mint leaves
Try chewing fresh mint leaves instead of gargling with mouthwash. Mint can be helpful in disguising bad breath. In fact, mint is used in toothpaste as a masking agent to give you a nice-smelling breath. (2)(3)
Roll up two or three mint leaves and give them a good chew. Then, just keep them between your teeth. If they start to tingle too much, take a quick sip of water, but don't swallow the leaves!
6. Chew cardamom
If you want to hide the smell of alcohol on your breath, try chewing on some green cardamom. It may not completely get rid of the scent, but it's definitely better than doing nothing. 
This spice contains a powerful ingredient called cineole, which is good at fighting bacteria and infections that cause bad breath. (4)
Plus, you can easily find green cardamom at tea and grocery shops, as well as at the bars and pubs you're probably drinking at.
7. Drink coffee or black tea
We all know that caffeine breath can be overpowering. Consuming one or two cups of coffee or black tea can temporarily mask the smell of alcohol on your breath.
In fact, coffee and black tea have been used traditionally to reduce bad breath, especially in the morning.
A recent study showed that both beverages had a short-term effect on reducing volatile sulfur compound (VSC) levels, which are responsible for bad breath. This effect may be due to the antimicrobial and antioxidant properties of caffeine. (5)
8. Drink some green tea
Green tea extract mouthwash was found to have an immediate inhibitory effect on the production of VSCs, which causes bad breath, although the effect did not last after 90–180 minutes. Nevertheless, green tea can help reduce bad breath caused by alcohol.
Additionally, green tea has a higher concentration of zinc, which plays an important role in reducing the expression of VSCs in breath.
So, grab a cup of green tea and enjoy it as it works its magic. (5)
9. Sip on peppermint tea
Peppermint is one of the varieties of mint that is added for its flavor and aroma to a number of preparations and products.
Peppermint tea has a refreshing flavor and aroma that can help combat bad breath. Sipping on a cup of peppermint tea after drinking can help freshen up your breath and keep it smelling sweet.
10. Gargle with lemon oil
Sucking on a lemon wedge can help combat bad breath caused by alcohol.
A study found that when lower amounts of lemon oil combined with saliva, the smelly compounds and growth of bacteria were reduced.
Moreover, when lemon oil was used for gargling, bad breath improved for about an hour. Lemon oil also increases the pH levels in the mouth, which can be good for fighting bad breath.
Thus, lemon oil could be a natural and effective way to fight bad breath! (6)
11. Floss your teeth and clean your tongue
Using a tongue cleaner and flossing your teeth are some of the most effective ways of getting rid of alcohol breath. A study found that using dental floss was linked to less bad breath.
Also, a coated tongue makes bad breath worse, which is why cleaning the tongue is also effective in reducing bad breath. (7)
Note: Brushing can help to remove any particles or bacteria that may be lingering in your mouth, so experts advise brushing twice a day and using fluoride toothpaste at least once a day to maintain good oral hygiene.
12. Use mouthwash or mouth rinses
Certain mouth rinses contain chlorine dioxide and zinc salts, which can help mask bad breath by preventing the odor from escaping. These can be great options if you need a quick fix, but they don't address the issue permanently like most of the remedies already mentioned. (2)
Peppermint mouthwash can help eliminate bad breath. The results of a study showed that using peppermint mouthwash is more effective than doing nothing to mask bad breath. (8)
Tips to Prevent Bad Breath from Alcohol
To avoid bad breath from alcohol: (9)
Drink water between alcoholic drinks to offset the drying effects of alcohol and minimize alcohol breath.
Avoid smelly foods such as garlic.
Avoid sugary soft drinks, as they can make bad breath worse.
Brush your tongue twice a day, in the morning and evening.
Consider using oral probiotics or an antibacterial mouthwash to help keep bad bacteria in check. Consult with a dentist who specializes in bad breath to determine the best option for you.
Brush your teeth and floss daily to keep your mouth clean and fresh.
Most-Asked Questions
How long does alcohol breath last?
The duration of alcohol breath depends on several factors, including the amount of alcohol consumed, the type of alcohol, and individual metabolism. Generally, alcohol breath can last from a few hours to several days.
Can alcohol-based mouthwash help with alcohol breath?
Alcohol-based mouthwash can temporarily mask alcohol breath.
Final Word
Alcohol breath can be a nuisance, but it is not impossible to get rid of. By following the tips outlined in this article, you can effectively eliminate alcohol breath and feel fresh and confident no matter where you go.
Remember to stay hydrated, practice good oral hygiene, and avoid strong-smelling foods to keep your breath smelling fresh and clean.
Was this article helpful?