When the blood is pumped through the arteries or blood vessels, it exerts a force against the walls of these tubal structures. This force, known as blood pressure, may become high at times, leading to hypertension or high blood pressure.
Hypertension often leads to an increased risk of aneurysm, stroke, heart attack, heart failure, and kidney damage. In 2013, hypertension was the primary or contributing cause of more than 360,000 American deaths, averaging 1,000 deaths every day. (1)
Measuring Blood Pressure
Determining blood pressure includes two measurements: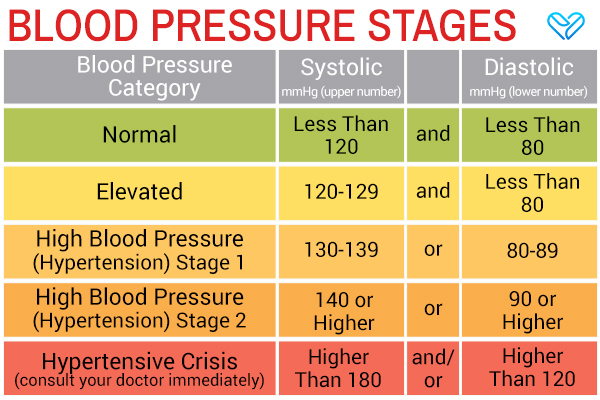 Systolic pressure: The first number, which indicates the pressure generated when the heart contracts while pumping out blood
Diastolic pressure: The second number, which represents the pressure in the arteries when the heart relaxes between beats
A reading of 120/80 mmHg is the standard healthy reference. Blood pressure higher than 140/90 mmHg taken professionally or reading of 135/85 mmHg or higher taken at home indicates hypertension. (2)
If a patient has diabetes, then a pressure above 130/80 is considered hypertension. Extremely high blood pressures are fatal and thus require immediate medical attention. (3)
Causes of High Blood Pressure
Hypertension is classified into two types – primary and secondary, each having different causes.
1. Primary (essential) hypertension
Primary hypertension develops over time and doesn't have any particular cause. It may develop as a result of lifestyle, environment, or body aging. Different factors that contribute to the development of primary hypertension include:
High stress levels
Obesity or overweight
Tobacco use
Excessive alcohol consumption
Use of oral contraceptives
High-saturated-fat diet
High-salt consumption
Sedentary lifestyle
Diabetes
2. Secondary hypertension
This type of hypertension has an underlying cause and develops suddenly. It generally causes higher blood pressure than seen in primary hypertension. The various conditions and medications that can cause secondary hypertension include:
Sleep apnea
Kidney diseases
Thyroid problem
Congenital blood vessel defects
Tumor in the adrenal gland
Medications such as decongestants, pain relievers, cold remedies, and birth control pills
Drug use, such as cocaine and amphetamines
Signs and Symptoms of High Blood Pressure
Hypertension typically does not manifest any symptoms other than a high blood pressure reading.
The body gradually adjusts and becomes conditioned to functioning at a high blood pressure level. For this reason, hypertension is also known as the "silent killer."
However, hypertension may present the following symptoms in a few cases:
Headache
Vomiting
Excessive sweating
Mild dizziness
Standard Medical Treatment
A course of treatment for hypertension is based on the individual's blood pressure levels and the assessment of risk factors contributing to cardiovascular problems such as stroke or heart attack.
On consultation, the doctor may advise a combination of the following methods to treat hypertension:
1. Lifestyle changes
These changes help in managing the condition and preventing blood pressure from increasing.
2. Blood pressure monitoring
It is vital to track your blood pressure by measuring it at home, along with occasional visits to the clinic.
3. Medications
Several classes of drugs can be used to treat hypertension, including:
Calcium channel blockers
Angiotensin-converting enzyme (ACE) inhibitors
Angiotensin receptor blockers (ARBs)
Aldosterone receptor antagonists
Thiazide diuretics
Alpha-blockers
Beta-blockers
If you experience side effects from any drug, talk to your doctor so a different medicine will be prescribed.
In rare cases, high blood pressure, such as one caused by renal artery stenosis, fails to respond to lifestyle changes and medications and may require further investigation or surgery.
Diagnosing High Blood Pressure
The diagnosis of blood pressure primarily involves blood pressure readings and taking a medical history. Additionally, the doctor may also suggest blood tests to check for conditions such as diabetes, high cholesterol levels, thyroid problem, and kidney damage.
You will also be asked to take regular readings of your blood pressure at home or wear a blood pressure monitor for 24 hours to record your blood pressure levels.
Risk Factors for Hypertension
While it is difficult to detect the exact reason for high blood pressure in a majority of cases, the following factors may predispose you to hypertension:
Family history: Genetics play a role in the development of high blood pressure.
Age: Men above 35 and women above 45 years of age are more likely to have hypertension.
Gender: Hypertension is more prevalent in men than in women.
Smoking: Cigarette smoking increases the risk of high blood pressure conditions.
Race: African Americans are at the highest risk of hypertension, with 33% of the population affected, followed by Caucasians at 25%.
Complications Associated With Hypertension
Prolonged hypertension can cause organ damage and complications, such as:
Cardiovascular diseases, including left ventricular hypertrophy, angina, myocardial infarction or heart attack, heart failure, and/or coronary artery disease
Brain-related problems, such as stroke, vascular dementia, and transient ischemic attack
Chronic kidney disease
Retinopathy
Cognitive changes
Peripheral artery disease
Aneurysms
When to See a Doctor
Keep track of your blood pressure by getting it measured at a doctor's clinic or daily at home, and get medical consultation if:
It is in the prehypertension range, that is, between 120/80 mmHg and 139/89 mmHg.
It is constantly high (130/88 mmHg or above).
The prescribed drugs and remedies are unable to lower the blood pressure.
The medications to lower your blood pressure are causing side effects.
Expert Answers (Q&A)
Answered by Yasmine S. Ali, MD, MSCI, FACC, FACP
Is weight gain linked to high blood pressure?
Yes, excess weight (overweight and obesity) is absolutely a known cause of high blood pressure.
What food items should be avoided when suffering from high blood pressure?
Avoid salty foods and highly processed foods. Always try to eat a variety of fresh vegetables and fruits. A plant-based diet can help maintain or lower blood pressure.

Two diets that have been found to be particularly helpful are the DASH diet from the American Heart Association (DASH stands for "dietary approaches to stop hypertension") (4) and the Mediterranean diet.
Can lying down reduce the blood pressure immediately?
This is not a sustainable or recommended treatment for high blood pressure. If one is suffering from a hypertensive crisis, medical attention should be sought immediately as it is a medical emergency.
What types of exercises are beneficial for people suffering from blood pressure?
Regular physical activity, including staying in motion throughout the day, and regularly scheduled aerobic and strength-training exercises are recommended.

Brisk walking for an hour, 5 days per week, has been found to reduce death from cardiovascular causes, so that is a minimum to aim for.
Can birth control pills lead to high blood pressure?
Taking birth control pills may lead to high blood pressure but it depends on the type of pill, the age and other health conditions of the woman taking the pill, and other factors. Thus, it should be discussed with one's gynecologist before beginning the medication.
Final Word
High blood pressure (hypertension) can occur as a result of the narrowing, hardening, or constriction of arteries.
Around 80 million Americans (33%) have hypertension, of which 16 million are unaware of the condition. Patients with untreated cases of high blood pressure are at a high risk of having a stroke and heart attack.

Continue ReadingWays to Reduce High Blood Pressure
Was this article helpful?