Silverfish are tiny, wingless, multilegged insects with a flat carrot-shaped body covered with translucent fish-like scales and 3 long bristle-like tails growing out of their rear end. (1) They are one of the most common indoor pests that live within cracks and crevices in walls, floors, and furniture.
Silverfish can wreak havoc on your personal belongings as they feed on paper, old books, photographs, and plant-based fabrics such as cotton and linen. (2) Plus, their feces leave behind stains on your walls, clothes, and other surfaces that they roam on.
A single silverfish can lay nearly 100 eggs, which will quickly turn into a full-blown infestation, so you must act fast to eradicate them. They only come out at night, move fast, and are adapted to hiding, all of which make this task quite difficult.
This article will share some useful tips and insights that can help you get rid of silverfish without calling in the professionals or spending exorbitant amounts.
Ways to Stop a Silverfish Infestation
Here are some things you can do to control a silverfish infestation at home:
1. Use boric acid
Boric acid has a long history of use as an insecticide by the general public as well as pest control professionals in agricultural, urban, and public health settings. It is available in the form of powder, paste, aerosol, liquid, granular bait, and gels that can be safely used within the home to effectively kill crawling insects such as silverfish. (3)
How to use:
Prepare a 5% solution of boric acid in water.
Pour it into a spray bottle or turkey baster and apply it to cracks and crevices. (4)
2. Sprinkle diatomaceous earth on the infested area
Diatomaceous earth has an abrasive and absorbent quality that allows it to remove the waxy protective coating on silverfish to make them lose moisture, dry out, and die. (5)
Experts suggest that this may be the best way to get rid of a silverfish infestation. (6) In fact, this insecticidal activity of diatomaceous earth is credited for the complete eradication of cockroaches and silverfish in the USA. (6)
How to use:
Sprinkle diatomaceous earth over the surfaces where you have seen silverfish, and do this for several days in a row.
3. Moisture reduction can help
Silverfish require extremely humid conditions to survive, and denying them such conditions is one of the most basic steps for controlling an infestation. (7)(8)
How to do:
4. Clearing the clutter
Silverfish derive their sustenance from a variety of organic materials such as paper, plant-based cloth, dead insects, vegetable litter, food residue, dust, and microscopic fungi.
Deep cleaning your house and keeping it clutter-free can help get rid of these food sources to starve the insects to death.
How to do:
5. Employ silverfish traps
Silverfish are fast-moving nocturnal insects that are hard to catch, but here are two simple ways to trap them:
Preventive Measures Against Silverfish
Besides regular vacuuming, humidity control, and getting rid of clutter, here are some extra steps you can take to reduce the risk of silverfish infestation inside your house:
Are Silverfish Dangerous to Humans and Animals?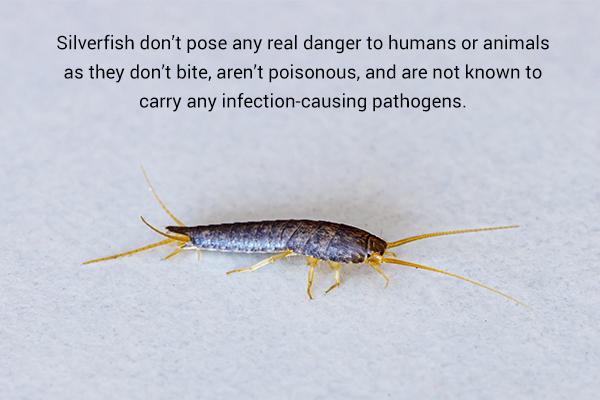 Silverfish don't pose any real danger to humans or animals as they don't bite, aren't poisonous, and are not known to carry any infection-causing pathogens. However, these tiny critters may trigger allergic reactions in some people. (4)
Final Word
If you suspect a silverfish infestation in your home, the above-mentioned techniques can help get rid of it when used properly and consistently.
If you opt for professional pest control, your entire house will be treated with a heavy dose of strong chemical pesticides that will inadvertently leave behind a lot of toxic residue that will slowly degrade inside the house and will put you at an increased risk of long-term exposure. Breathing in the toxins can cause deleterious health effects. (3) Plus, such services can be quite expensive.
On the contrary, the above-mentioned home interventions can be judiciously used only in areas where silverfish have been spotted to minimize toxin exposure while also being cost effective. However, if you feel that the infestation is beyond the scope of home treatment, it's best to call a licensed pest control professional to get the job done. (1)
Was this article helpful?