Autism spectrum disorder (ASD) is a spectrum of neurodevelopmental disorder that affects about 1.7% of the population in the United States. (1)
ASD is characterized by deficits in social-emotional reciprocity, language development, and problem-solving or cognitive skills and by restrictive and repetitive patterns of behavior, but the level of impairment can vary among patients.
Levels of Autism
The new Diagnostic and Statistical Manual of Mental Disorders, 5th Edition (DSM-5), has consolidated the terms that were previously used to describe patients that have different levels of needs, such as Asperger syndrome and so on, to one single diagnosis of ASD.
As the new term suggests, it is a spectrum of disorders that encompasses a wide variety of presentations and severities.
Once a child is diagnosed with ASD, their condition is further categorized according to its severity, from level one to three. (2) Each level specifies the seriousness of the symptoms and degree of assistance the child requires to remain functional in the general community setting.
Level 1 generally means mild disease with minimal assistance and therapy required.
Level 2 is the moderate form of autism in terms of symptom severity and support needs.
Level 3 means the child would require more extensive assistance with daily life.
Causes and Risk Factors for ASD
The causes of ASD are multifactorial, ranging from genetic predisposition and dietary/environmental influences to acquired illness throughout life.
Numerous studies have attempted to link various acquired diseases, genes, food, and environmental factors to autism. While each study result has its merit, no single study has been proven as absolute.
Some working hypotheses for the increased risk of ASD include:
Gender – Boys are four times more susceptible to developing this than girls. (3)
Advanced parental age when the child is born
Lack of maternal folic acid during pregnancy
Certain genetic disorders, including Down syndrome, Rett syndrome, and fragile X syndrome
Common Symptoms of ASD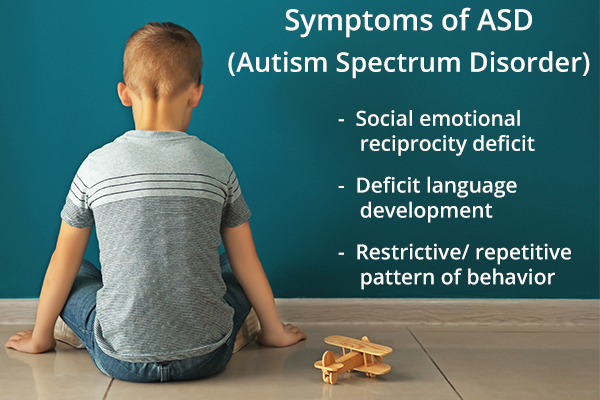 ASD is a disease with a genetic and neurological base that manifests as behavioral problems. The behavioral concerns are often rooted in a child's innate deficits from the disease itself.
1. Social-emotional reciprocity deficit
Social-emotional reciprocity deficit makes the child appear to be very awkward socially. During their infant-toddler period, they often have difficulty bonding with their parents. Toddlers often become more interested in objects rather than other individuals. 
Most autistic children never develop appropriate eye contact or exhibit no eye contact at all. Early on, these children also have no ability to point for demand or point to show interest.
Once the child is older, in grade-school age, they tend to be deemed as awkward among their peers. They tend to miss social cues all the time such as being unable to detect sarcasm and are often being the target of bullying among their peers. 
In pop culture, a mild case of ASD is shown in the movie Mean Girls, where Rachel McAdams sarcastically tells Lindsey Lohan, "You are so pretty." However, Lohan did not recognize the sarcasm until much later in the movie.
A more severe case of ASD is demonstrated by Sheldon Cooper in The Big Bang Theory, where he can never detect sarcasm from his peers and is constantly the subject of ridicule in the series.
2. Language development deficit
As most experts would agree, language development is strongly tied to social development. Children who are affected by autism tend to have speech delays. 
Some of the red flags for early speech delay are unable to babble by 6 months of age, unable to say mama and dada by 15 months of age, and unable to say a single word other than mama and dada by 18 months of age.
Speech is extremely important in any child's development, especially among children with autism. It is well accepted that the better the child's speech ability, the better their ASD overall prognosis.
3. Restrictive and repetitive patterns of behavior
Restrictive and repetitive patterns of behavior are the more stereotypic presentations of patients with autism that the media portrays. Most of the children with ASD do have some restrictive and repetitive patterns, but the presentation can vary markedly depending on the severity of the disease.
Some repetitive behaviors are head banging and toe walking. Meanwhile, restrictive behavior can take place in various aspects of life, ranging from extremely picky eaters to requiring extremely rigid daily routines and more.
Due to the need for a rigid daily schedule, the child with ASD tends to have difficulty transitioning or adapting to any changes to routine. They can often throw excessive tantrums and become very irritable during the episode.
Treatment for ASD
Children with ASD are generally treated by a multidisciplinary team that generally includes but is not limited to the following modalities:
Physical therapy
Occupational therapy
Psychology
Speech therapy
Applied behavioral analysis (ABA) therapy
These interventions help children in their daily function.
ABA therapy is probably the most important therapy of all and it is the mainstay of ASD treatment. ABA therapy helps children to cope with maladaptive behavior. (4) More importantly, ABA therapy can help children with transitions, often by using intermittent acts and objects.
Diagnosing ASD
ASD is diagnosed by analyzing the child's behavior and development patterns. The standard screen for ASD for all children takes place at their 18- and 24-month well-child visits through a standard parental questionnaire known as the modified checklist for autism in toddlers (MCHAT). 
Although MCHAT is a great screening tool, it is not very sensitive nor specific. One study shows the MCHAT is about 40% sensitive. (5) Even if the child tested positive in the MCHAT, additional evaluation with more extensive developmental testing such as ADOS is needed to confirm the diagnosis. (6)
Lifestyle Measures to Help Children With ASD
Here are some ways to build a safe and nurturing environment for children with ASD:
Create a good daily routine and schedule for the child.
If your child finds it difficult to communicate or has a tendency to wander off, make them wear a medical alert bracelet or necklace to track them in case they get lost. You can also place an emergency form in your child's bag or pocket that contains your contact details and communication symbols.
Identify your child's interests and hobbies and nurture them. Keeping your child engaged in their preferred activities will help reduce repetitive behaviors while also promoting overall fitness. Some popular options to explore include dancing, yoga, jogging, horse riding, and martial arts.
When to See a Doctor
Your child's primary care physician should screen them for ASD at 18 and 24 months of age. As mentioned above, the screening test is not sensitive.
If your child exhibits any concerning symptoms such as delayed speech and extreme maladaptive behaviors or if you have any suspicions for ASD, bring your child to the medical office for immediate evaluation.
Most-Asked Questions About ASD
Can diet have an impact on ASD?
The mainstay of ASD treatment is a multidisciplinary treatment that includes physical therapy, occupational therapy, psychology, speech therapy, and ABA. 
While numerous studies have cited that various dietary regimens – such as the ketogenic diet, decreasing the sugar intake, and decreasing overall BMI – demonstrated some interesting correlations on preventing ASD, none of them has shown proven results for prevention. Thus, currently, there are no proven specific dietary regimens to prevent ASD.
Can autistic people lead a normal life?
Yes, with adequate therapies and social support, an autistic individual can live a normal life. With adequate treatments, a child with autism can realize their potential and use their autistic tendency toward their advantage in life and work.
Final Word
There is no cure for ASD, but it can be managed through proper treatment and therapy to attain an adequate degree of functionality.
Children with autism have special needs, and tending to these needs is a 24/7 task for parents and caretakers, which can take its toll. So, as parents or caretakers, it is important that you also look after your physical and emotional well-being without any guilt.
Neglecting your health will only compromise your ability to take care of your child and push you to the brink of exhaustion. To this end, you can join support groups and seek professional counseling. Plus educating yourself about the disorder, the challenges it entails, and the best ways to address them through proper channels is the way forward.
Was this article helpful?