Key Points
An imbalance in the number and types of bacteria in your vagina may lead to bacterial vaginosis (BV).
In many cases, this imbalance in bacteria may return to normal without treatment. 
Women with persistent abnormal discharge, odor, or itching should seek medical attention.
Bacterial vaginosis is common and can affect women of all ages, even those who are sexually inactive.
Risk factors for BV include the use of an intrauterine device (IUD) and women who have new, multiple, or same-sex partners.
Bacterial vaginosis may increase the risk for preterm labor, postpartum infections, or other infections such as HIV.
The vagina may get infected due to the overgrowth of certain bacteria. This is known as bacterial vaginosis (BV). It is the most prevalent vaginal infection among young women.
The vagina normally harbors a balance of different bacteria. In a healthy vagina, lactobacillus is the predominant bacteria, and it helps in maintaining the natural acidic pH of the vagina.
A disturbance in this acidic environment can make the vagina susceptible to infections. An increase in the number of harmful bacteria can disturb the healthy balance in the vagina, resulting in BV.
In most cases of BV, the growth of Gardnerella vaginalis (harmful bacteria) in the vagina causes a decrease in the lactobacillus (healthy bacteria) population. Bacterial vaginosis can also be caused by the growth of other bacteria that are capable of replacing the good bacteria. (1)(2)
Gardnerella vaginalis can grow spontaneously in the vagina. It can also be transferred during sexual intercourse.
BV is not considered a sexually transmitted infection (STI), and sexual partners do not need to be treated. BV can be effectively treated with prescription medications.
Causes of Bacterial Vaginosis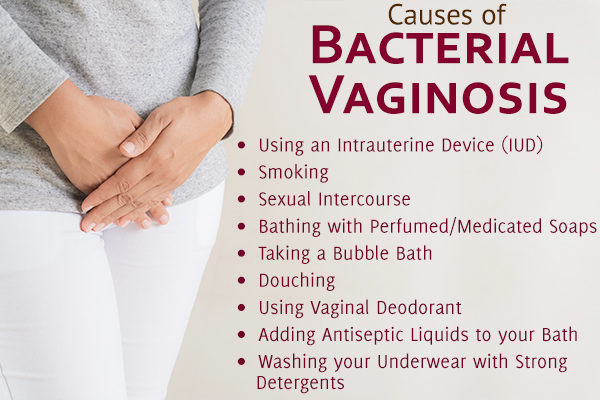 BV is caused by an imbalance in vaginal microflora. The reason behind the overgrowth of harmful bacteria is not precisely known. However, certain factors can make you prone to the infection, some of which are listed below:
Using an intrauterine device (IUD)
Smoking
Sexual intercourse, especially when you have multiple partners
Bathing with perfumed or medicated soaps
Taking a bubble bath
Douching
Using vaginal deodorant
Adding antiseptic liquids to your bath
Washing your underwear with strong detergents
While sexual intercourse is one of the biggest risk factors for BV, women who haven't had sex can still get infected. (3)
Symptoms of Bacterial Vaginosis
Common symptoms of BV include:
Itching around the vaginal area
Malodor in the vaginal discharge
Abnormal discharge from the vagina
These symptoms may worsen after sexual intercourse or after a menstrual cycle. A "fishy"- smelling, grayish or yellow vaginal discharge can be observed.
Other causes of vaginal discharge can be sexually transmitted infections (STIs) and yeast infections. However, the discharge due to BV is usually thinner in comparison to that caused by yeast infections. (4)
Who Should Get Tested for Bacterial Vaginosis?
If you experience any symptoms of BV, seek medical attention. In the absence of symptoms, screening for BV may be necessary in the following cases:
During pregnancy: If you are pregnant and have vaginal discharge, you need to be tested.  BV can increase the risk of preterm delivery.
Before gynecological operations: BV can increase the risk of infection after surgery. Evaluating and treating BV before surgery can reduce your risk of postoperative infections.
Diagnosing Bacterial Vaginosis
Diagnosing BV begins with a medical history, a physical examination, and lab tests by a medical provider to check the discharge and presence of malodor if any.
During this assessment, a vaginal swab test is performed. Checking the pH of the vagina and the bacteria present in the vaginal discharge is important for the diagnosis of BV.
Samples of vaginal fluids are collected for the following laboratory tests for the diagnosis of BV:
Wet mount: The sample is observed under a microscope to check the presence of white blood cells, bacterial cells, and clue cells. Clue cells are normal vaginal cells that are coated with bacteria. The presence of clue cells confirms BV.
Vaginal pH: The normal vaginal pH is 3.8-4.5. The decrease in the number of lactobacilli caused by BV disturbs the vaginal pH. In cases of BV, the pH becomes higher than 4.5.
Whiff test: The presence of a fishy vaginal smell is suggestive of BV. In the whiff test, a sample of vaginal discharge is mixed with potassium hydroxide solution (KOH), often producing a fishy odor.
The presence of at least three of the following factors confirms BV:
Vaginal pH greater than 4.5
Fishy odor in the discharge
Greyish vaginal discharge
Presence of clue cells
It is recommended to get checked for STIs, as they may occur at the same time as BV. Before being tested, you need to take the following preparatory measures:
Avoid using vaginal irritants such as sprays.
Do not insert anything, such as a tampon, in your vagina.
Schedule your appointment on your non-menstruating days.
Avoid douching or using any vaginal medication for at least 3 days.
Do not have sexual intercourse for 24 hours before the test.
Self-Care Tips to Prevent Bacterial Vaginosis
Several measures can be adopted to decrease the risk of developing BV. These include the following:
Avoid taking baths in hot tubs.
To lower the chances of BV recurrence, use protection while having sexual intercourse. (19)
Keep your genital area clean and dry. Use only plain water for rinsing.
Use unscented pads and tampons.
Avoid using antiseptics in bathing.
Avoid smoking.
Do not wear tight-fitting clothes.
Do not wash your underwear with strong detergents.
Wipe in a front-to-back motion, from the vagina to the anus.
Clean sex toys before and after use.
In the case of recurrent BV, your treatment may be prolonged to decrease the risk of recurrence.
Treatments for Bacterial Vaginosis
Bacterial Vaginosis can be treated with prescription medications in the form of gels, creams, and pills. The infection may recur in 3-12 months, which requires further treatment and possibly further evaluation.
Antibiotics are prescribed to stop the growth of harmful bacteria. These antibiotics are available in the form of pills, creams, and capsules (ovules, which are inserted into the vagina). In pregnancy, antibiotic pills are the only option. (5)
The antibiotics that are generally prescribed include:
Clindamycin: Cleocin
Metronidazole: Flagyl or MetroGel-Vaginal
Metronidazole formulations have higher efficacy than vaginal creams containing clindamycin. (6) Do not consume alcohol for 24 hours after taking metronidazole.
BV symptoms subside within 3-5 days of starting the treatment. However, it is necessary to complete the treatment to prevent a relapse of the infection.
Antibiotics are generally well tolerated. However, the use of antibiotics may cause a vaginal yeast infection, which is characterized by redness, itching, and a thick discharge.
Alternative Treatments for Bacterial Vaginosis
A systematic review and meta-analysis published in 2019 highlighted that BV is a common condition, and women from different parts of the world suffer from it. (20)
Here are a few ways to manage BV.
1. Probiotics
Probiotics are formulations of bacteria that may encourage a healthy bacterial microbiome. They help in improving the composition of bacteria present in our body.
Probiotics may also help in preventing infections. They are available as capsules, pills, drinks, and certain food products.
Antibiotic treatment for BV is not always successful, and the chances of reinfection are high. Since BV causes a decline in the lactobacillus population, the use of probiotic Lactobacillus strains could be helpful in treatment.
Many clinical trials have shown a positive effect of probiotics on vaginal microbiota. The efficacy of the treatment depended upon the strain of bacteria as well as the dosage of the bacterial formulation used. (7)
The use of probiotics may also help in reducing the risk of BV recurrence. Probiotics act by restoring the balance between the good and bad bacteria present in the gut and vagina.
Oral administration of probiotics is the most efficient. However, vaginal capsules may also be helpful. (8)(9)(10)(11)
Probiotics may also help to alleviate the symptoms, including malodor and discharge. They can also be used as a preventive measure against BV. (12)
2. Vitamin C
Vitamin C can help alleviate BV by lowering the vaginal pH and preventing vaginal irritation. Studies have shown that vitamin C tablets can help in maintaining the vaginal microflora and pH. It also decreases the chance of recurrent BV.
A clinical trial was conducted to study the efficacy of vitamin C for BV treatment. The participants who had been pretreated against BV using metronidazole or clindamycin were given 250mg vitamin C vaginal tablets. These had to be taken after their periods for 6 days each month. Repeating this treatment for 6 months provided relief and reduced the risk of recurrence. (14)(15)
Complications of Bacterial Vaginosis
BV can give rise to the following complications:
The harmful bacteria may increase the risk of infection in the fallopian tubes or uterus, including pelvic inflammatory disease.
There is an increased risk of contracting infections after operations, such as a cesarean section or surgery of the uterus, in patients suffering from BV.
General Queries
How does bacterial vaginosis spread?
It is normal to have the bacteria that cause BV in your body. BV occurs when there is an imbalance between the good lactobacilli and the BV bacteria. BV is confined to the vagina and does not spread to other body parts.
How does bacterial vaginosis affect pregnancy?
BV has an association with preterm contractions and possibly labor, which increases the chance of delivering a preterm baby.
Can stress cause bacterial vaginosis?
The body's response to any threat or challenge is called stress. Stress can be caused by situations, feelings, and life events that disturb your mental or physical well-being. (17)
A study published in 2011 in the American Journal of Obstetrics and Gynecology showed that recurrent BV was common in people who had suffered from childhood sexual abuse, discrimination, and a feeling of non-belongingness. BV was found to be associated with stress, even upon considering different socioeconomic statuses and current stress factors. (18)
Is bacterial vaginosis an STI?
BV is known to occur post sexual intercourse. However, it is not a sexually transmitted infection. BV increases the chances of contracting an STI by disturbing the natural protective barriers such as the normal vaginal lining.
Is apple cider vinegar good for bacterial vaginosis?
No studies have been conducted that support the use of apple cider vinegar for BV treatment. However, some women report that adding apple cider vinegar to their bath has been helpful.
Women may also consume apple cider vinegar orally by mixing 1 tablespoon in 1 glass of water. It is highly recommended not to use vinegar for douching.
Can you get bacterial vaginosis after menopause?
Menopause causes a reduction in estrogen and progesterone levels. Such reduction can result in increased vaginal pH, which supports the growth of harmful bacteria and may cause BV. BV in postmenopausal women can be treated using local estrogen therapy.
Bacterial Vaginosis vs. Yeast Infection
While BV and yeast infections may have a few common symptoms, they differ greatly in the cause and treatment of the infection.
BV is due to an increased number of harmful bacteria. It produces a thin vaginal discharge with malodor and increases the vaginal pH.
A yeast infection, on the other hand, is caused by the overgrowth of fungus in the vagina. It produces a thick, cottage-cheese-like, and odorless discharge. Symptoms of yeast infection include itching and burning in the vaginal area.
The incidence of yeast infection is high in women who have diabetes. It is also associated with pregnancy, estrogen therapy, and the use of oral contraceptives.
When to See a Doctor
It is recommended to see a doctor as soon as you experience any symptoms associated with vaginal infections. A proper diagnosis is needed to differentiate between BV and other infections.
Seek immediate medical attention if you have a vaginal discharge along with lower abdominal pain and a high fever (above 101°F). Consult your doctor if you identify signs of vaginal infection during your pregnancy.
What you may ask your doctor:
What could be the reason behind my infection?
Should I get tested for sexually transmitted infections?
Do I need to take medications?
Can I have sexual intercourse without developing any complications?
How long will it take for the infection to subside?
What your doctor may ask you:
Are you pregnant?
Were you sexually active recently?
When was the last time you had sexual intercourse?
Have you had bacterial vaginosis before?
Do you drink or smoke?
Have you had an infection before?
What products do you use for cleaning your vagina?
Final Word
Bacterial vaginosis is a common reason many women seek medical attention. Women with BV should be tested for other sexually transmitted infections as well. If pregnant, any abnormal discharge or itching should be evaluated.
Expert Answers (Q&A)
Answered by Dr. Candice Fraser, MD (Obstetrics and Gynecology)
Is boric acid helpful in treating bacterial vaginosis?
Boric acid is beneficial in treating recurrent bacterial vaginosis. The standard treatment is an oral or vaginal antibiotic.

However, some women experience recurring symptoms multiple times a year. In this situation, boric acid vaginal suppositories are recommended.

Patients are reminded that boric acid is toxic if ingested by mouth, so they need to be careful to store it in a safe place and avoid receiving oral sex.

Gynecologists may recommend several different treatment regimens. I usually recommend a 21-day course after treatment with the standard antibiotic, but some may recommend 7-14 day regimens.

Always confirm with your gynecologist that you do have a recurrent bacterial vaginosis infection and ask if they can prescribe boric acid.

Boric acid suppositories can be obtained from a compounding pharmacy, but there are now some reputable over-the-counter brands that supply the recommended 600mg dose.
Can bacterial vaginosis be cured without any medical treatment?
Without any treatment, over time and with careful attention to eliminating the actions that can alter the vaginal pH, bacterial vaginosis can resolve on its own in some cases.

However, it is always recommended to get evaluated and treated for bacterial vaginosis by a gynecologist as it can increase a person's risk of contracting STDs, including HIV, from an infected partner.
Is bacterial vaginosis an STD?
Bacterial vaginosis is not considered an STD at this time. However, we do know that sex can change the pH of the vagina and be the precipitating factor for bacterial vaginosis.

Women who struggle with recurrent bacterial vaginosis often notice an improvement if they consistently use condoms during vaginal sex.
How can someone differentiate between bacterial vaginosis and yeast infection?
See a gynecologist to determine if you have an infection and what type it is, as some infections are not always clear to the naked eye. In general, bacterial vaginosis produces a fishy odor and a thin greyish discharge.

Yeast infections are usually odorless or produce a mildly abnormal odor, accompanied by a thick white discharge that looks like cottage cheese.

Both infections can cause vaginal itching and burning. However, this symptom is probably more common with yeast infections. The vagina and vulva (external genitalia) can also appear red and irritated with a yeast infection.

The pH of the vagina is higher during a bacterial vaginosis infection, and one can use over-the-counter vaginal test strips as a guide. However, it is not recommended to rely on these strips for diagnosis as other infections can be missed.
Is probiotic yogurt helpful in dealing with bacterial vaginosis?
Yogurt with live lactobacilli has been shown to have benefit in the treatment of bacterial vaginosis. A number of studies have explored the efficacy of yogurt as the primary treatment for bacterial vaginosis. However, there is no definite recommendation on how much yogurt needs to be taken. (21)(22)

Not all types of yogurt are useful. To be most effective, the yogurt should contain live Lactobacillus acidophilus. There are some recommendations that eating 8 oz of yogurt daily for a week can be helpful.

Using yogurt internally may be of benefit, but caution should be taken as it may lead to more irritation and pH alteration due to the unknown additives.
What happens if bacterial vaginosis is left untreated?
If left untreated, bacterial vaginosis may resolve on its own, but it is more likely to cause more irritation and discomfort.

The most concerning thing about untreated bacterial vaginosis is that it increases the risk of contracting an STD if one has sex with an infected partner. In addition, bacterial vaginosis during pregnancy has been linked to preterm labor.
What precautions can be taken against recurrent episodes of bacterial vaginosis?
To protect against bacterial vaginosis, practice "less is more." In general, the vagina is able to maintain its pH balance, being colonized by lactobacillus. It is when the lactobacillus is eradicated that other bacteria are able to infect the vagina.

To keep this balance, avoid soaps and douches in the vagina, wear cotton underwear, change out of wet underwear and pants as soon as possible, and wear condoms if feasible.
What important points should be kept in mind when dealing with bacterial vaginosis?
As mentioned, "less is more," so avoid trying all the latest vaginal products and inserts without good reason and checking with your doctor. Keep the vagina dry when possible.

Incorporating a probiotic with live lactobacilli, either in yogurt or a supplement, can also be effective in preventing recurrences.
About Dr. Candice Fraser, MD: Dr. Fraser is a Diplomate of the American Board of Obstetrics and Gynecology and the founder of Trinity Medical Care NY PLLC.
Dr. Fraser's passion is to provide excellent, comprehensive health care to the women of New York City. She loves developing relationships with her patients, allowing them to actively participate in their medical care.
Dr. Fraser is interested in mentoring children and youth and participates in career development forums and activities that empower and uplift.