We've all been there – the dreaded burnt hair smell!
Whether it's from straightening, curling, or blow-drying, the smell can remain there and linger for a very long time. Plus, it can be incredibly difficult to free yourself from this smell.
Fortunately, there are techniques to get rid of this smell without having to wash your hair and without ruining your hairstyle
This article will investigate burnt hair smell, why it's crucial to get rid of it, and how to do it effectively and safely.
Home Remedies for Getting Rid of a Burnt Hair Smell
Here are some home remedies you can attempt to get rid of your burnt hair smell.
1. Use essential oils
Essential oils are a popular choice for neutralizing offsetting odors, including a burnt hair smell. A few of the most promising oils for this purpose include lavender oil, tea tree oil, and citrus oil. (1)
To use essential oils:
In a small dish, combine a carrier oil such as coconut oil and the essential oil that you would like to use.
Combine them well using your fingers or a toothpick.
Gently apply it to your scalp.
2. Use a vinegar rinse
Vinegar is another treatment for getting rid of the burnt hair smell. The acidity of vinegar helps to counteract odors and restore the pH balance of your scalp.
To use vinegar:
Mix vinegar and water in a 1:1 ratio.
Apply the mixture to your hair and scalp.
Let the mixture sit for a few minutes.
Spray water on your scalp to wash it off.
3. Try baking soda
Baking soda is a universal household commodity that can be used to get rid of a bad smell. It has an innate deodorizing ability that can counteract foul odors (2) and thus may be useful in making your hair smell fresh.
To use baking soda:
Put a little quantity of baking soda on your scalp.
Rub it in with your fingertips.
Let it stay there for a few minutes.
Brush it out with a comb.
4. Use dry shampoo
One of the most straightforward methods to get rid of a burnt hair smell is to use a dry shampoo. Dry shampoo is a powder-based product that soaks up excess oil from the hair, leaving it looking and smelling fresh. (3)
Dry shampoo may also help combat odors, including a burnt hair smell.
To use dry shampoo:
Apply a small amount of dry shampoo to your scalp and massage it in.
Leave the dry shampoo on for a few minutes.
Spray a little water where the dry shampoo was applied to wash it off.
5. Spray perfume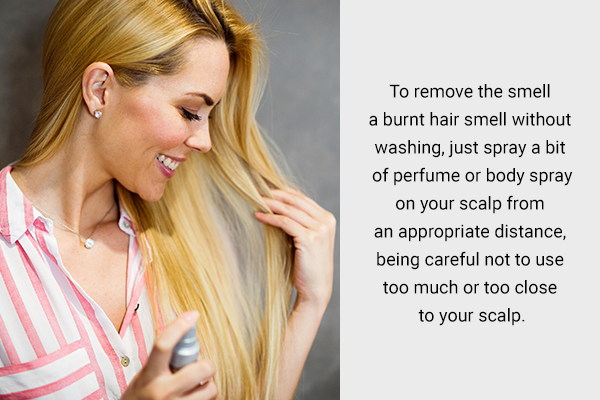 If you're in a hurry and wish to get away from the burnt hair smell quickly, there is one method that many stylists recommend – spraying a bit of perfume or body spray on your scalp from an appropriate distance, being careful not to use too much or too close to your scalp.
Can I Prevent a Burnt Hair Smell?
Yes, you can prevent a burnt hair smell by using heating tools correctly and taking proper precautions, such as: (4)
Always use a heat protectant spray or cream before using heating tools.
Avoid using high temperatures.
Limit the amount of time the tool is in contact with your hair.
Most-Asked Questions
What causes a burnt hair smell?
A burnt hair smell can be caused by a variety of factors, including the use of heat styling tools, getting chemical treatments, and exposure to smoke or fire.
Is a burnt hair smell harmful?
While a burnt hair smell is not harmful, it can be unpleasant and embarrassing.
Final Word
Getting rid of a burnt hair smell is possible, even if you don't have time to wash your hair. Experiment with different methods to find the one that works best for you and enjoy fresh, odor-free hair.
Was this article helpful?