Key Points
Okra possesses a variety of health benefits and is primarily known for its role in lowering blood sugar levels and maintaining a healthy pregnancy.
It is a highly nutritious green vegetable having pods rich in phosphorus, calcium, potassium, and magnesium.
Water constitutes around 89.6% of okra, making it a healthy choice.
Contact with okra may trigger an allergic reaction in a few individuals and, therefore, make sure to avoid its usage if you are allergic.
Okra can be consumed in several ways, including the use of leaves in salads and as a dressing.
Okra is known by different names in many parts of the world. In England, it is known as lady's finger due to its long and slender shape.
In the United States, it is referred to as gumbo. Its other names include guino-gombo in Spain, guibeiro in Portugal, and bhindi in India.
Abelmoschusesculentus is the scientific name of okra, and it is one of the most commonly known and utilized species of the family Malvaceae. (1)
Okra has a high nutrition content and is an economic crop grown in tropical and subtropical areas. This nonstarchy vegetable is resistant against extreme heat and drought conditions but susceptible to frosts, which can damage the pods.
The various plant parts of this tropical vegetable, namely, the fresh leaves, flowers, stems, buds, pods, and seeds, have an array of uses. The pods are harvested young and eaten in a variety of methods.
When cooked, okra becomes mucilaginous and acquires a slimy texture. It is a popular vegetable consumed all around the world. A favorite southern dish is an okra with peppers, tomato, seafood, chicken, or sausage.
The okra plant is a perennial but frequently grown as an annual in temperate climates. It belongs to the Malvaceae family, which includes cocoa, cotton, and hibiscus species.
Depending on the variety, the plant may grow 3-6 feet tall. Its flowers have a 1.5-3.5 inch diameter with five petals, which may be yellow to white with a purple or red spot at the center of every petal. The fruit or pod is a capsule containing numerous white seeds.
Most okra plants have hair, which may cause skin irritation and itching. The use of gloves and long sleeves are recommended when harvesting to protect the skin. The hairs on the pods can be easily removed by washing.
Origin of Okra
The origin of okra is unclear. It is suspected to have either a South Asian, Ethiopian, or West African origin.
Many also believe that okra originated in Ethiopia and later spread to Arabia, North Africa, the Mediterranean, and India by the 12th century BC.
Okra then arrived in the Southern United States in the early 1700s through the slave trade and reached the Northern United States by mid-1700s.
Nutritional Content of Okra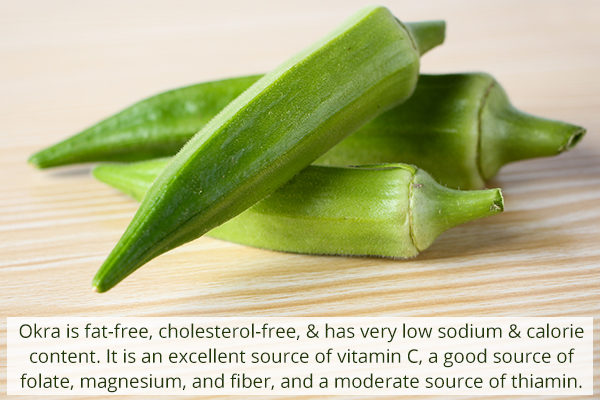 Okra is a nonstarchy vegetable and contains a number of essential vitamins and minerals. It is fat-free, cholesterol-free, very low in sodium, and low in calories. It is an excellent source of vitamin C, a good source of magnesium, fiber, folate and a moderate source of thiamin. (3)
Okra is a nutritious addition to a balanced diet. The seed contains proteins that have an amino acid composition similar to that of soybeans, making it a potential supplement to legume- or cereal-based diets.
Nutritional value of raw okra per 1 cup serving:
| Nutrient | Unit | Amount |
| --- | --- | --- |
| Water | g |  89.58 |
| Energy | kcal | 33 |
| Protein | g |  1.93 |
| Total lipid (fat) | g |  0.19 |
| Carbohydrate | g |  7.45 |
| Fiber | g |  3.2 |
| Sugars | g | 1.48 |
| Calcium, Ca | mg | 82 |
| Iron, Fe | mg |  0.62 |
| Magnesium, Mg | mg |  57 |
| Phosphorus, P | mg |  61 |
| Potassium, K | mg | 299 |
| Sodium, Na | mg |  7 |
| Zinc, Zn | mg |  0.58 |
| Vitamin C | mg | 23 |
| Thiamin | mg | 0.2 |
| Niacin | mg |  1.0 |
| Vitamin B6 | mg |  0.215 |
| Folate | mcg | 60 |
| Vitamin A | mcg | 36 |
| Vitamin K | mcg | 31.3 |
Advantages of Including Okra in your Diet
Okra is a versatile crop with multiple uses of its leaves, buds, flowers, and pods. For long, it has been used as a vegetable and a source of antioxidants as well. (4) Here are the known benefits of okra.
1. May reduce blood sugar levels
Diabetes mellitus is a complex metabolic disorder that can lead to many complications. This disease condition is prevalent worldwide.
Several studies have explored okra's effect on blood glucose levels. Okra is rich in fiber and phytochemicals, which promote stable blood sugars.
A review found that okra extracts decreased blood glucose and cholesterol levels. (5)(6) Another study found that okra supplementation significantly decreased the elevated levels of fasting blood sugars, total cholesterol, and triglycerides. (7)
Conclusion:
Several studies have shown the benefits of okra in promoting stable blood sugar levels. Incorporating okra in the diet may contribute to improved glucose control.
2. May contribute to a healthy pregnancy
Okra is a good source of folate, which is an important nutrient for pregnant women. Adequate folate intake promotes healthy fetal development and prevents neural tube defects such as spina bifida. It may also prevent early miscarriage.
Folate is present in a variety of vegetables (especially dark green leafy varieties), such as okra, spinach, and broccoli, nuts, and dairy products. (8)(1)
Conclusion:
Incorporating okra into a balanced diet is an excellent way of taking in folate, which is vital for a healthy pregnancy.
Other Benefits of Okra
In addition to the benefits of okra already mentioned, here are additional proclaimed benefits of incorporating okra in your diet. However, these benefits still require additional research.
1. Helps to reduce cholesterol levels
Animal studies have reported that okra extracts may help reduce cholesterol levels, although further human studies are needed to reach conclusions. (9)(10)(11) Okra is naturally saturated, fat-free and cholesterol-free.
2. May maintain healthy bones
Balanced eating is essential for bone health. Multiple nutrients contribute to bone mineralization, including calcium, vitamin D, phosphorus, magnesium, and protein.
A serving of okra provides 6% of the daily value of calcium and 16% of the daily value of magnesium. Thus, okra, in addition to balanced eating and weight-bearing exercises, may contribute to bone health. (12)
3. Helps to maintain healthy skin
Okra protein and oil extracts have been added to various skin care products. In one study, an alcohol-based hand rub was incorporated with okra polysaccharide to reduce the skin dryness caused by traditional hand cleansing products. Results showed that the hand rub significantly hydrated the skin. (13)
Another study suggested that the flavonoids in okra can potentially act as UVB protective agents and, therefore, may be used in topical herbal sunscreens. (14)
A third study evaluated okra oil extraction and demonstrated its use in making soaps, quick-drying oils, and emulsifiers. (15)
4. Fights fatigue
Okra pods are rich in flavonoids, polysaccharides, and polyphenols that have strong antioxidant and antifatigue effects. (16)(17)
However, fatigue is a complex condition, and additional research is necessary to establish the link between consuming okra and fatigue.
5. May protect against liver diseases
Animal studies have revealed that okra seed oil consumption could effectively protect against liver damage due to its potent antioxidant property. (18)(19)
6. Helps to manage weight
One study found okra polysaccharide lowered body weight and glucose levels, improved glucose tolerance, and decreased serum total cholesterol levels in mice. (20)
7. Aids in digestion
Okra is a high-fiber food and may contribute to a healthy digestive tract. Adequate fiber adds bulk to food and helps move food through the digestive tract. Thus, consuming this vegetable may reduce constipation.
A study found that okra's mucilaginous properties may protect the gut against H. pylori, the bacteria that cause ulcers. (21)
8. May boost immunity
Studies have explored the relationship between okra and immunity. A study found that okra polysaccharides may improve immune response in mice. (22)
9. May help fight cancer
Several in-vitro studies have highlighted the antitumor effects of okra polysaccharides on cancer cells. Further studies are still needed to establish its efficacy in fighting cancer cells. (23)(24)
Okra Varieties
There are two types of okra:
The long duration
The short duration.
Okra usually prefers a long, hot growing season. However, dwarf varieties were created that have a short stature, mature quickly, and bear small fruits.
Okra comes in green or red colors but with similar taste profiles. The red will turn green when cooked.
Okra varieties include:
Red Burgundy
Emerald
Louisiana Green Velvet
Clemson Spineless
Dwarf Green Long Pod
Hastings Improved Perkins
Annie Oakley
UGA Red
Lee
Chinese Okra
Purple Okra.
Young Versus Mature Okra: Which Is Better?
Okra pods must be harvested young if they are to be eaten. The ideal harvest time is within 3-5 days of blooming for optimal quality. The pods mature quickly, and as they age, they become tougher, more fibrous, and less acceptable to eat.
How to Consume Okra
Fresh unripe okra pods and okra leaves are used in a variety of cuisines and can be enjoyed fried, boiled, pickled, or stir-fried whole. This mucilaginous plant is commonly used as a thickening agent in soups and stews.
Young leaves are frequently used in salads and prepared, similar to spinach. Seeds can be pressed for oil or roasted and used as a coffee substitute.
Preparation and Serving
Water enhances the sliminess of okra. Thus, wash okra only right before use. Rinse it with water and pat dry before cooking. The vegetable may be prepared whole or cut into pieces. Limit how much you cut okra to decrease the release of the slime from the vegetable.
The more okra is cut, the slimier it becomes. Try cutting it into large chunks or leaving on the stem. Additional tips to decrease the slimy texture include precooking okra at a high temperature, cutting frozen okra, or soaking it in vinegar for 30 minutes before use.
Okra is a fragile vegetable and may turn black when cooked in pans made of iron, copper, or brass. To avoid this, carefully trim the stems while leaving on the caps, being careful not to puncture the okra pod.
Selection and Storage
When buying or harvesting okra, choose brightly colored green pods no more than 4 inches in length. Avoid dull, bruised, soft, or blemished pods.
Okra should be firm and snaps easily. Older pods are tough with dark tops and are more sticky or gooey.
Follow these tips when storing okra:
Store okra in the refrigerator in a paper bag or wrapped in a paper towel in a perforated plastic bag. The okra will be good for 2-3 days in the crisp section.
If storing for later use, trim the ends, blanch for 3-4 minutes, and then quickly cool in ice water. Dry and freeze in a Ziploc bag.
Okra Allergy
An individual with an okra allergy may develop symptoms after okra consumption or handling. The signs of a food allergy may include itchiness, hives, tingling around or in the mouth, difficulty breathing, and nasal congestion.
If you have an allergy to okra, it is best to avoid handling the vegetable or eating it. People with an allergy to okra may also have reactions to althea tea and cottonseed oil and meal.
Drug Interactions
It is advisable for people taking metformin to be aware of the interaction with okra. A study revealed that an okra solution decreased the absorption of metformin and, thus, reduced the medication's effectiveness. It is advised to eat okra in moderate amounts. (25)
Okra Products
Pods: Fruit pods are ready for eating when they are young at a length of 2-3 inches, 4-7 days after full blossom, which occurs 60-180 days after seed sowing.
The fruit pods are frequently consumed fried, pickled, stewed, or boiled. They become woody and hard as they age, which are not great for eating. Okra can flower and fruit up to 6 months if ripe fruits are picked regularly.
Leaves: Okra leaves are a popular addition to the diet of people in West Africa and Southeast Asia. The leaves may be prepared like spinach or the greens of beets and dandelion added to stews and soups or eaten raw in salads.
The leaves are slightly acidic in taste. They may be dried and then crushed and ground into powder for later use.
Seeds: The seeds are extracted after the hand-harvested pods have been allowed to become dry and brittle on the vine. The pods can easily be removed by hand or by using a sharp knife.
The seeds are multipurpose. They can be roasted and ground to make a non-caffeinated substitute for coffee. They can also yield a greenish-yellow edible oil that is the equal of many other cooking oils.
The seeds contain approximately 40% oil and a high amount of unsaturated fats, including oleic acid and linoleic acid. 
Okra for Industrial Use
Okra has attributes that allow it to be used for other purposes. Okra mucilage has a composition similar to that of polysaccharides and is being developed as an option for biodegradable food packaging. (2) It is combined with corn starch to create films for food packaging.
Okra is also used as foliage for biomass and construction material. Okra handicrafts are also available. Additionally, the dried stems may be utilized as paper pulp or a fuel source.
General Queries
Is okra good for blood pressure?
A nutrient-rich diet helps in lowering blood pressure. Okra is a moderate source of magnesium, which helps maintain and regulate blood pressure.
Can I eat okra raw?
The entire okra plant is edible. Okra leaves are routinely eaten raw in salads similar to spinach, but okra is typically enjoyed cooked.
What does okra taste like?
Okra has a mild flavor that is slightly grassy. It is often compared to eggplant or green beans. It easily takes on the flavor of spices and ingredients prepared along with it.
How can okra be cooked such that it will not be too slimy?
Always choose fresh, brightly colored okra. Using high heat when cooking may decrease the slimy texture. Dry the okra completely before cooking.
Other tips to decrease the slimy texture include limiting cuts to the vegetable, leaving on the top, precooking it at a high temperature, cutting okra while frozen, or soaking it in vinegar for 30 minutes before use.
Will drinking okra water make me lose weight and improve my blood sugar level?
It has become common among people to drink okra water. Okra pods are nutrient-dense, but there is no scientific evidence that drinking okra water will benefit your health.
If you would like to try, soak okra overnight in water and drink it in the morning after removing the okra.
Okra Recipes
Okra can be enjoyed in many ways. If you are new to using okra in the kitchen, here are some easy okra recipes that you can try.
1. Okra and Green Beans
Ingredients:
1 pound okra
1 tablespoon olive oil
2 large cloves of garlic, crushed and chopped
1 pound fresh green beans
1 medium-sized onion, diced
16 ounces canned tomato paste
1 cup of water
½ teaspoon ground pepper
½ teaspoon salt
Directions:
Wash the okra pods and cut the stems. Do not remove the caps.
Cut the beans into 3-inch-long pieces after washing. 
Mix the water, onion, garlic, pepper, salt, tomato paste, and olive oil in a saucepan.
Heat the mixture with frequent stirring until it comes to a boil. 
Add in the okra and beans.
If needed, add water enough to cover the vegetables.
Cover the pan and simmer on low heat until the vegetables are crisp-tender (for about 20-30 minutes).
Serve hot or cold.
You can also oven-bake the vegetables at 350°F for 30 minutes. Make sure to cover the pan with foil.
This makes 6 servings, with each serving having:
Calories: 106
Protein: 5 g
Fat: 3 g
Cholesterol: 0 mg
Carbohydrates: 19 g
Fiber: 7 g
Sodium: 187 mg
2. Crispy Okra Salad
Ingredients:
1 1/4 teaspoons garam masala
1/4 teaspoon dry mango powder (optional)
Vegetable oil
1 pound young okra
Kosher salt
1/2 small red onion
1 medium tomato
1/4 cup cilantro
2 tablespoons fresh lemon juice
Directions:
Mix the garam masala and dry mango powder in a small bowl.
Cut the okra into two halves lengthwise and then into long, thin strips.
In a large, deep skillet, heat some vegetable oil (up to 1 inch) to 350°F.
Fry the okra until golden and crisp in batches, approximately 4 minutes per batch.
Take out the okra pieces from the oil using a slotted spoon and place them on a plate lined with a paper towel.
Sprinkle the fried okra pieces with the spice mixture and salt and transfer them into a large bowl.
Add the seeded, cored, and sliced tomato, coarsely chopped cilantro, sliced red onion, and lemon juice and toss.
Season the salad with salt and the spice mixture according to taste and serve.
3. Shrimp and Okra Gumbo Recipe
Ingredients:
6 tablespoons butter
1 1/2 cups green bell pepper
5 garlic cloves, minced
1 1/2 cups celery
2 cups onion
1 teaspoon fresh black pepper powder
1 1/2 teaspoons dried thyme
1 1/2 teaspoons table salt
1 can chicken broth (32 ounces)
2 packets cut and frozen okra, thawed (16 ounces)
2 pounds of medium-sized raw shrimp (peel and deveined)
3 cans diced tomatoes (14.5 ounces.)
2 bay leaves
1 tablespoon hot sauce
1 teaspoon filé powder
Hot cooked rice
Directions:
Heat butter in a Dutch oven.
Finely chop the onion, green bell pepper, and celery, and add them into the pot.
Add the garlic and sauté for approximately 15 minutes or until the vegetables are tender.
Add in the salt, pepper, and thyme, and stir for a couple of minutes.
Stir in the okra, bay leaves, broth, and tomatoes.
Cook over medium-high heat until it boils.
Reduce the heat and let it simmer for half an hour.
Add the hot sauce, filé powder, and shrimp and cook for 3-5 minutes until the shrimp turns pink.
Turn off the heat.
Remove the bay leaves and serve with rice.
You may also try the following dishes:
Sauté okra, onion, garlic, and chopped tomatoes in oil. Garnish with fresh chopped parsley and lemon juice. Serve along with the main dish of chicken or lamb.
Prepare a light tempura batter using plain flour, iced water, and egg yolk. Coat the okra with the batter and deep-fry until crunchy and golden. Serve as a side dish.