Pregnancy rhinitis, or commonly termed vasomotor rhinitis of pregnancy, is one of the less talked about medical conditions of pregnancy that contribute to reasonable distress. This uncomfortable symptom of pregnancy generally refers to the nasal congestion encountered by pregnant women.
The nasal blockage usually appears without any other signs of respiratory tract infection or identifiable allergic cause. Symptoms can begin as early as the second month of your pregnancy, which gradually worsens in the last trimester and completely resolves two weeks after delivery.
While a stuffy nose may not be as much of a hallmark pregnancy feature as, say, morning nausea and backache, it is still very prevalent. This is reflected in a 2013 report published in Advances in Experimental Medicine and Biology, which states that about 39% of pregnant women suffer from pregnancy rhinitis, with most cases reported during the 13th and 21st weeks of gestation. (1)
The study goes on to suggest that pregnancy rhinitis can hamper the quality of life of pregnant women by significantly disrupting their sleep routine. Inadequate sleep can, in turn, have adverse overarching implications for the proper development of the fetus. (1)
Home Remedies for Pregnancy Rhinitis
Here are a few relief options for pregnancy rhinitis.
1. Try steam inhalation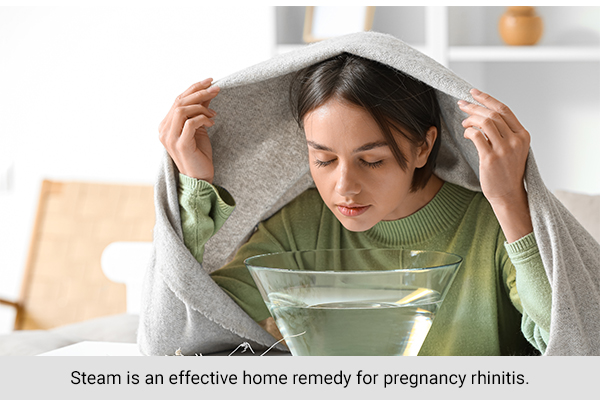 Steam is an effective home remedy for pregnancy rhinitis. It helps clear out excess mucus that causes a stuffy nose.
In fact, steam inhalation provides quick relief from nasal congestion and lets you breathe better. (2)
How to do:
Pour boiling water into a big bowl.
Add 3 or 4 drops of eucalyptus essential oil.
Cover your head with a towel and lean carefully over the bowl.
Deeply inhale the steam for 5 to 10 minutes.
Repeat a few times a day.
A warm, steamy shower or bath will also have a similar effect. However, going for a sauna or a steam bath is not advisable during pregnancy.
2. Add ginger to your diet
Another good remedy for pregnancy rhinitis is ginger. Ginger contains anti-inflammatory agents that help reduce inflammation in the nasal passages, thereby loosening up the mucus and allowing its expulsion.
It also works as a natural antihistamine and has immune-boosting properties. Plus, it helps keep the body warm. (3) When taken in the form of ginger tea, you can hit two birds with one stone as this remedy helps decongest your nose and adds to your fluid intake. (4)
There are several ways you can use ginger. Choose what suits you best.
How to consume:
Add 1 tablespoon of grated ginger to 1 cup of water. Boil it for 5 minutes, strain, and add a little honey (only use pasteurized honey) and lemon juice. Drink this herbal tea up to three times daily.
Alternatively, you can chew a small piece of ginger sprinkled with a little sea salt a few times a day.
Note: Do not consume ginger in excess during pregnancy. Also, ginger may not be suitable for those with a history of miscarriage or vaginal bleeding during pregnancy. Consult your ob-gyn for the maximum dosage per day.
3. Treat yourself to a warm bowl of chicken soup
Eating a few bowls of homemade chicken soup can help relieve the irritating symptoms of a stuffy nose during pregnancy.
Chicken soup improves the immune system functioning and even prevents infections of the upper respiratory tract. The steam from hot chicken soup also helps open the blocked nasal passages.
A study published in Chest (2000) suggests that chicken soup may contain a number of substances with beneficial medicinal activity. A mild anti-inflammatory effect could be one mechanism by which the soup could cause the mitigation of symptomatic upper respiratory tract infection. (5)
Plus, chicken soup works as a light and nutritious meal, fit for a pregnant woman.
To reap the benefits of chicken soup, make some at home using organic chicken and vegetables, such as carrots, beetroots, and spinach. Avoid the canned varieties completely.
4. Massage the affected area
To soothe a blocked nose and improve breathing, massaging the nostrils is a very effective treatment.
Massage helps increase circulation to the area and thereby curb the inflammation in nasal passages. This, in turn, thins the mucus and makes breathing better.
A 1999 study published in the American Journal of Rhinology & Allergy demonstrated the beneficial impact of nasal massage in alleviating nasal clogging. (6)
How to do:
Gently rub some warm olive or coconut oil on your nose.
Using your left thumb and index finger, apply slight pressure at the bridge of your nose and eye sockets for about 20 seconds.
Then, release the pressure.
Repeat the cycle five to seven times.
Follow this process a few times daily.
Note: When performing this massage, it is essential that you breathe through your mouth and not through your nose.
5. Use a humidifier
Using a humidifier to adjust the moisture in your house, especially in the room where you sleep, can provide a quick, easy way to get rid of a stuffy nose.
Running a humidifier will help keep your nasal passages damp, which will, in turn, facilitate easy elimination of the now slackened mucus by either coughing it out or blowing it out. (7)
Using a humidifier to add moisture to the room air helps you enjoy undisrupted sleep, which is a huge bonus because a well-rested mother gives birth to a healthy baby.
Note: Be sure to clean the humidifier regularly according to the instruction guide that comes with it, or else it can become a potential breeding ground for harmful bacteria, making you vulnerable to further infection. Always use distilled or sterile water.
6. Elevate your head
Sleeping with your nose above the level of your heart allows gravity to do its work and helps drain the mucus. A decongested nose, thereby, makes it easier for you to enjoy sound sleep. Hence, it is recommended to keep your head elevated while sleeping. (8)
Elevate the head of your bed by putting an extra blanket under the mattress.
Placing a block underneath the bed frame at the head end is also effective.
You can also prop an extra pillow under your head while sleeping for the desired sleeping position.
7. Stay hydrated
To get relief from a blocked or stuffy nose, it is important to keep your body hydrated. The water intake helps thin the mucus in your sinuses, making it easier to drain. Once the body gets rid of the mucus, you get relief from the stuffy nose.
Drinking enough fluid also helps maintain a good blood volume in the body, which is important for the health of the growing fetus.
Apart from water, you can also take fluids such as herbal tea (consult your pharmacist first as not all herbal teas are safe during pregnancy), water with lemon, sparkling mineral water, organic fruit juices, and broth.
However, try to avoid caffeine during pregnancy due to safety issues for the developing baby.
Causes of Pregnancy Rhinitis
During pregnancy, the body is subject to a number of hormonal changes. One of the fallouts is the secretion of excessive amounts of four common hormones, with primarily estrogen and progesterone excess promoting the lining of the nasal passages to become swollen or inflamed, giving the feeling of having a stuffy nose.
Additionally, there is increased blood flow to all the mucous membranes, including the nose, during pregnancy. This causes the tiny blood vessels in your nose to get inflamed, giving rise to nasal congestion.
In some rare instances, the nasal discomfort may stem from an allergic reaction and usually exhibits more intense symptoms than those of a regular case of pregnancy rhinitis.
Symptoms of Pregnancy Rhinitis
The symptoms tend to be worse for those suffering from chronic sinusitis.
Nasal congestion despite a normal state of health, resulting in shortness of breath
Itchy nose
A headache
Sinus pressure that seems to escalate as you bend forward
A stunted sense of smell
Pain in the upper jaw
Nasal discharge that can range from thick green or yellow to a thin and clear liquid
If you experience additional symptoms such as sneezing and coughing, sore throat, and fever along with a stuffy nose, the rhinitis could be related to other infections such as the common cold.
In cases where symptoms such as itchy eyes and throat along with watery mucus accompany a congested nose, an allergen might be at play. Such cases are well beyond the purview of home treatments and require professional medical assistance.
Importance of Treating Pregnancy Rhinitis
Even though gestational rhinitis is not an alarming condition that can result in an unfavorable pregnancy outcome, it still warrants proper attention and care to avert any unforeseen complications.
Pregnancy rhinitis needs to be treated because it can cause sleep disorders. Good sleep is essential for the health of the mother and the unborn baby.
Pregnancy rhinitis, if untreated, can lead to sleep disorders, which in turn can be detrimental to the health of both the mother and the unborn baby. A 2009 study published in Obstetric Medicine found that rhinitis during pregnancy could potentially increase the risk of sleep-disordered breathing in pregnant women. (9)
Women with gestational rhinitis tend to breathe through their mouth as their sinuses become increasingly congested. This kind of prolonged oral breathing leads to snoring and a decreased inhalation of nitric oxide (NO), which is produced mainly in the maxillary sinuses located near the nose. The reduced supply of NO to the lungs, in turn, lowers the mother's vascular resistance while enhancing local oxygenation in the body. This can also be detrimental to the health of the fetus by increasing the chances of Preeclampsia, Maternal Hypertension, Lower Apgar Scores of newborns, and Intrauterine Growth Retardation. (10)(11)
Treating Pregnancy Rhinitis
Some popular treatments are the following:
Some variants of antihistamines are safe to be used by pregnant women, especially to mitigate the discomforts associated with gestational rhinitis. (14)(15) Your healthcare provider can guide you in this regard and prescribe the appropriate drug and dosage after taking into account the safety of the fetus.
Over-the-counter saline drops are the go-to solution to address a case of nasal congestion in pregnant women. This saline solution is one of the easiest, safest, and thereby most recommended treatment for pregnancy rhinitis.
You can use over-the-counter decongestants to effectively deal with rhinitis-induced nasal blockages. However, just to be on the safe side, make sure to consult your ob-gyn or primary care provider (PCP) before taking any drug in this vulnerable state.
Preventing Pregnancy Rhinitis
Avoid irritants that may worsen your stuffy nose, such as cigarette smoke, strong-smelling perfumes, and fragrant household cleaners.
Light exercises or brisk walks in clean and fresh environments can also help clear nasal congestion. On days when the air pollution is particularly high, avoid stepping outdoors as it may worsen your nasal discomfort.
Additional Tips to Deal With Pregnancy Rhinitis
Do not take any form of medication, including an over-the-counter decongestant, without talking to your doctor.
It is best to avoid taking any medications during your first trimester because that's when your baby's organs are forming.
Avoid overuse of nasal spray decongestants, as this can actually make your congestion much worse. Not all nasal sprays are safe during pregnancy, and they are recommended only for immediate and short-term use.
To blow your nose more effectively, hold one nostril closed while gently blowing your nose.
Nasal strips placed on the nose can also help open up congested airways.
Make sure you are getting plenty of sleep to help the body heal.
Risk Factors Involved With Pregnancy Rhinitis
Smoking, secondhand smoke, and sensitivity to house dust mites are probable risk factors for underlying rhinitis.
When to See a Doctor
Your ob-gyn or PCP can be trusted to differentiate between the probable causes of your rhinitis condition and therefore should be the first person to call at the first sign of occurrence of any of its symptoms.
Given the complexity and fragility of your state, your doctor will help you determine the underlying cause of your condition and guide you towards the appropriate course of action to resolve it.
Thus, regardless of the severity and cause of your rhinitis condition, it is essential to seek counsel from your ob-gyn or PCP before pursuing any treatment, especially because your medical decisions will have a bearing not only on your own health but also on the well-being of the fetus.
Final Word
Fortunately, there is nothing to worry about if you have pregnancy rhinitis. There are many ways to relieve the symptoms of a stuffy nose. Moreover, pregnancy rhinitis tends to resolve on its own once the baby arrives, usually within 2 weeks after delivery.
Was this article helpful?