Many times, people or even physicians don't take period pain seriously, which leads to women thinking they just have to live with the pain during menstruation because it's an ordinary part of being a woman.
But pain that impacts your daily life for several days a month, possibly even discouraging you from working, isn't something that you should ignore.
Home Remedies to Relieve Dysmenorrhea
Here are some home remedies you can try to fight menstrual pain. (1)
1. Avoid junk food and excessive "snacking"
Research has implied that a diet that includes high consumption of the following is related to a raised risk of dysmenorrhea among young women:
Sugars
Salty snacks
Sweets and desserts
Tea and coffee
Salt
Fruit juices
Added fat
The excessive snacking pattern is associated with risks of dysmenorrhea. According to a study, unhealthy food or "junk food" provides suboptimal nourishment and disproportionate energy, fat, sugar, and sodium.
Also, overconsumption of these types of food lessens the consumption of nutrient-dense food, which affects serum concentrations of most micronutrients such as vitamins E and B6 and calcium. So, avoid consuming such foods. (2)
2. Use heating pads
Heat is useful compared to NSAIDs and appears to be an easy therapeutic choice with no side effects for many patients for the management of period cramps, although high-quality investigations are still needed on this topic.
Nonetheless, research has established encouraging impacts of heat therapy on menstrual discomfort compared with unheated placebo therapy or analgesic medication. (3)
One trial indicated useful outcomes of heat therapy on menstrual pain compared with no treatment. Additionally, scientists have given figurative evidence of the efficacy of heat therapy for primary dysmenorrhea management. (4)(5)
How to use:
Place a heating pad over the lower portion of your abdomen and back. You can utilize a normal bottle filled with hot water, too.
Apply the warmth until you get better.
3. Drink ginger tea
Different trials have evaluated ginger for ameliorating pain and inflammation. Several studies endorse ginger for its strength in providing relief from pain related to autoimmune diseases, migraine headaches, and constant lower back pain.
Ginger is useful for several kinds of aches, and the consumption of ginger in traditional medicine for the treatment of stomach issues, muscle aches, and arthritis has been reported in various studies
The results of the study have ascertained the efficacy of ginger in the treatment of primary dysmenorrhea, with no to minor side effects.
Ginger is easily available due to its low price. It is as efficacious as NSAIDs, and because of the rising craze in the usage of traditional and herbal medicine, especially for people who do not want to use chemical medications that have side effects, ginger has been famously employed in the therapy of primary dysmenorrhea. (6)
How to use:
Grind a small piece of ginger.
Boil it in a glass of water for a few minutes.
Strain it.
Add honey to taste.
Drink this tea thrice a day.
4. Drink cinnamon tea
Cinnamon can decrease the intensity of primary dysmenorrhea.
In one study, groups of women treated with cinnamon reported a considerable reduction in dysmenorrhea. This effect is due to cinnamon's anti-inflammatory action.
Two of the primary compounds of essential oils extracted from cinnamon are cinnamaldehyde and eugenol. Cinnamaldehyde has been documented to have antispasmodic activity (relieves spasms), while eugenol prevents the production of prostaglandins (compounds that cause period pain).
Cinnamon can be used for relief from period cramps in doses of 1–6 g per day. (7)(8)
How to use:
Add ¼ tsp of cinnamon powder into a cup of hot water.
Add honey to taste.
Boil and then let it cool.
Drink 2–3 cups of this cinnamon tea slowly every day of the period cycle.
5. Sip on some fennel tea
A research study indicated the usefulness of fennel in primary dysmenorrhea, and it was suggested that comfort from pain was documented in 80% of the subjects after the administration of fennel. (9)
Fennel essential oil can impede the contraction of the uterus that was caused by oxytocin and prostaglandins in rats. Based on these findings, it can be inferred that inhibition of contractions can lead to ease from pain in dysmenorrhea. (9)
Therefore, fennel can be utilized to alleviate the signs and symptoms of primary dysmenorrhea. (9)
How to use:
Add 1 tsp of fennel seeds to a cup of water.
Boil the mixture for a few minutes.
Strain the tea and add honey.
Drink this herbal tea twice daily.
6. Drink chamomile tea
Chamomile is included on the FDA's safe list. It is employed in different preparations. The most common form is tea.
Chamomile tea has antispasmodic activity, which can rid you of the painful cramps associated with periods. Also, it helps regulate the activities of dopamine and serotonin, reducing the effect of depressive symptoms associated with periods.
Moreover, chamomile essential oil has antispasmodic and relaxing activities, which are helpful in soothing the symptoms associated with premenstrual syndrome (PMS). In fact, chamomile extract can be as effective as mefenamic acid when it comes to alleviating pain from period cramps. (10)
How to use:
Boil a cup of water.
Add it into a glass with a chamomile tea bag.
Let it steep for a few minutes.
Drink this tea at least twice a day.
7. Practice yoga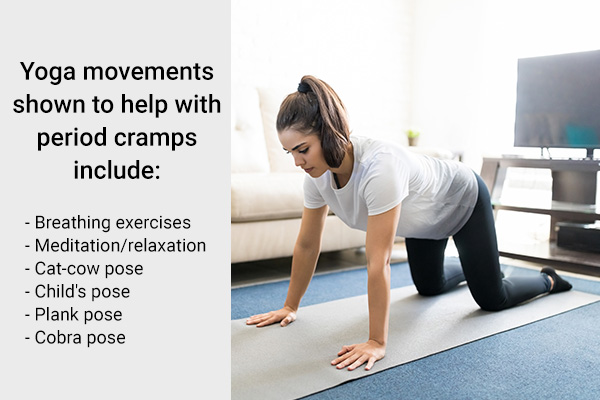 Yoga is a Sanskrit word that means the connection of the mind, body, emotions, logic, and attention to action. Yoga consists of physical (asana), breathing (pranayama), and mental (pratyahara) exercises that lead to improvements in health, relaxation, and a positive attitude.
Yoga is now suggested as a great way and promising intervention for pain relief that is safe and inexpensive with negligible or no side effects. Also, routine yoga practice has favorable impacts on the menstrual cycle.
Yoga decreases the stress-generated negative consequences on the immune system and lessens harmful inflammatory secretions, providing comfort during PMS.
Yoga movements that have been shown to help with period cramps include: (11)
Breathing exercises
Meditation/relaxation
Cat-cow pose
Child's pose
Plank
Cobra pose
Word From the Author
As I was writing this blog, I came across some good news that I want to share. In Mexico, females diagnosed with primary or secondary dysmenorrhea may soon be entitled to 2 days of paid leave per month if the proposed amendment to the Federal Labor Act and Federal Law on State Workers is approved by the Congress of the Union.
The proposal recognizes that women's pain during menstruation is often underestimated and that they may suffer in silence while performing their duties. It's a positive step that other countries should consider replicating.
Most-Asked Questions About Periods
When does period pain start?
Primary dysmenorrhea begins shortly after a girl begins having periods. In many women with primary dysmenorrhea, periods evolve to be less painful as they get older or after giving birth.
How long do menstrual cramps normally last?
Cramps start at the beginning of periods and commonly do not stay more than 2–3 days.
Which doctor should I talk with for painful periods?
You need to consult a gynecologist for period cramps.
Is having painful periods normal?
Numerous women experience some distress and pain during their periods. If the pain and cramping are serious enough to hinder your daily activities and are associated with other symptoms such as nausea and headaches, you need to talk with a gynecologist.
Final Word
Period cramps are very common, but when they intrude on your everyday life, steps should be taken to alleviate the pain and discomfort induced by these cramps.
If the pain doesn't get better after a couple of days or is so severe that you have a problem doing daily activities, be convinced to follow up with your doctor.
Moreover, it may be beneficial to take it easy when on your period and practice some relaxation techniques such as breathing exercises and yoga to feel better and lessen stress.

Continue ReadingMenstrual Cramps: Causes, Symptoms, Diagnosis, and More
Was this article helpful?