Everyone has breasts and nipples, irrespective of gender and age. The natural purpose of breasts in women is for feeding their infants. Breasts, or the mammary glands in them, produce milk under hormonal influence during the period of lactation.
The nipple undergoes a suckling response, after which the milk is released when a child sucks them.
Hormones responsible for the production and secretion of milk include: (1)(2)
Prolactin
Oxytocin
Progesterone
Estrogen
Women's breasts also have been associated with sexual arousal and interest. They're also an important consideration when it comes to fashion.
These are some things that you may have heard of, but there are many things about breasts and nipples that you may not know, which will be presented in this article.
Facts About Nipples and Breasts
Here are some interesting things about nipples and breasts.
1. Some women have nipple hair
Some people develop nipple hair and it's normal. The skin around the nipples is just like any other skin, which means it has hair follicles. Thus, hair growing around the nipples is pretty common.
Nipple hair doesn't actually grow on the nipple, but they grow on the areola, which is the area around the nipple. (3)
There's no fixed normal amount of hair near the nipple, and it varies from person to person, although in some women, their nipple hair can become long, coarse, and dark over time.
Sometimes, certain conditions that cause hormonal ups and downs can lead to the growth of nipple hair. These include:
Polycystic ovarian disease (PCOD)
Hirsutism
Pregnancy
Menopause
Puberty
Hormonal medications
2. Only humans have permanent breasts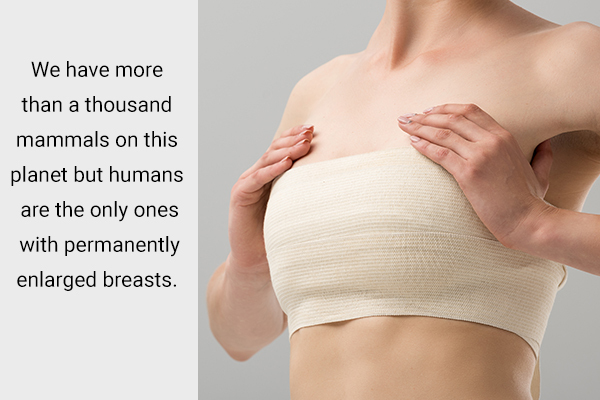 A lot of animal species have breasts. There are more than a thousand mammals on this planet, but humans are the only ones with permanently enlarged breasts. In other mammals, the breasts develop only temporarily during ovulation or lactation while nursing their infants.
Some researchers argue that these enlarged permanent breasts are evolution's way of reserving energy as fat can be stored in these areas. The presence of permanent breasts with adipose tissues in women is a trait unique to humans that start to develop during puberty. (4)
3. Both breasts are different
It is important to know that breasts aren't usually the same even in one person, and this is referred to as breast asymmetry. This is because breasts differ in size, positioning, or volume.
The majority of women have asymmetrical breasts and nipples; thus, they are very common. They can also occur due to various reasons such as trauma and hormonal changes during puberty. (5)
4. Breasts change all around the month
Women have a hormonal cycle in a month, which can affect many aspects of their breasts depending on the time of the month.
When your period starts, you may notice that your breasts are pretty uneven. They feel lumpy because of the enlargement of milk glands.
Milk glands become enlarged because your body prepares for pregnancy, and this change isn't permanent. When the body doesn't undergo pregnancy, the breasts will become smooth in texture again.
Towards the end of menstruation, the breasts tend to be softer and smaller. This is because of low levels of estrogen and progesterone. (6)
When your body is in the ovulation phase of the menstrual cycle, the breasts may become perky as estrogen levels begin to increase. After ovulation, the breasts are very full and you experience your largest size as progesterone levels are at their peak. (6)
5. Inward nipples can occur
Your nipples can be pulled inward if the nipple base or milk ducts were unable to fully develop in the mother's womb. An inward nipple does not stick out but instead lies flat against the areola. Inverted nipples point inward toward your breasts.
The main reason for inward nipples is that lactiferous ducts in your nipples are shortened or underdeveloped. The development of all this occurs in the uterus in the last trimester.
Thus, inward nipples are usually congenital, which means they've been like that since birth. But they can also be seen with: (7)
6. Nipple fluid can leak
Nipple discharge is defined as any fluid that comes out of your nipples or breasts. Nipple discharge is very common, especially during pregnancy and breastfeeding. However, this doesn't mean that women who aren't pregnant or lactating can't experience the same.
Leaking of nipples is associated with hormonal changes. Having a milky discharge when you're lactating or breastfeeding will affect both of your breasts. This leakage can continue for up to 2–3 years even when you've stopped nursing.
In men, nipple discharge requires medical assistance, and in women, bloody nipple discharge is a cause for concern too. (8)
7. There can be more than two nipples
Some people have more than two nipples. The third nipple is also known as the supernumerary nipple.
An extra nipple forms during development in the womb, just like the normally seen two nipples. People would hardly develop an extra nipple after birth or later in life. There have been cases where people have eight nipples. (9)
Most-Asked Questions
How can I remove nipple hair?
You can remove nipple hair by pulling them out using a pair of tweezers or trimming them off using a pair of small scissors. It is best not to wax or shave this area because of how sensitive it is.
What causes the erection of nipples?
Erect nipples can be due to various reasons, including: (10)(11)
Sexual arousal
Goosebumps/cold exposure
Shock
Breastfeeding
Cold environment
Rubbing of clothes with nipples
What effect does plastic surgery have on nipples?
Any kind of surgery on your breasts will cause reduced sensation in your nipples. Women who undergo surgery to either increase or decrease the size of their breasts can suffer from loss of nipple sensation. (12)
Final Word
Our body is a unique thing and deserves proper care and attention. Make sure you appreciate yourself for who you're and how you look. Your breasts may not be symmetrical or conform to the standards of beauty set by the outside world, but you've to remember to always look at yourself with love and acceptance.
The human body can undergo the strangest of changes and is still a mystery in many ways. Therefore, it is important to know about ourselves to better understand our health and lives.
Was this article helpful?